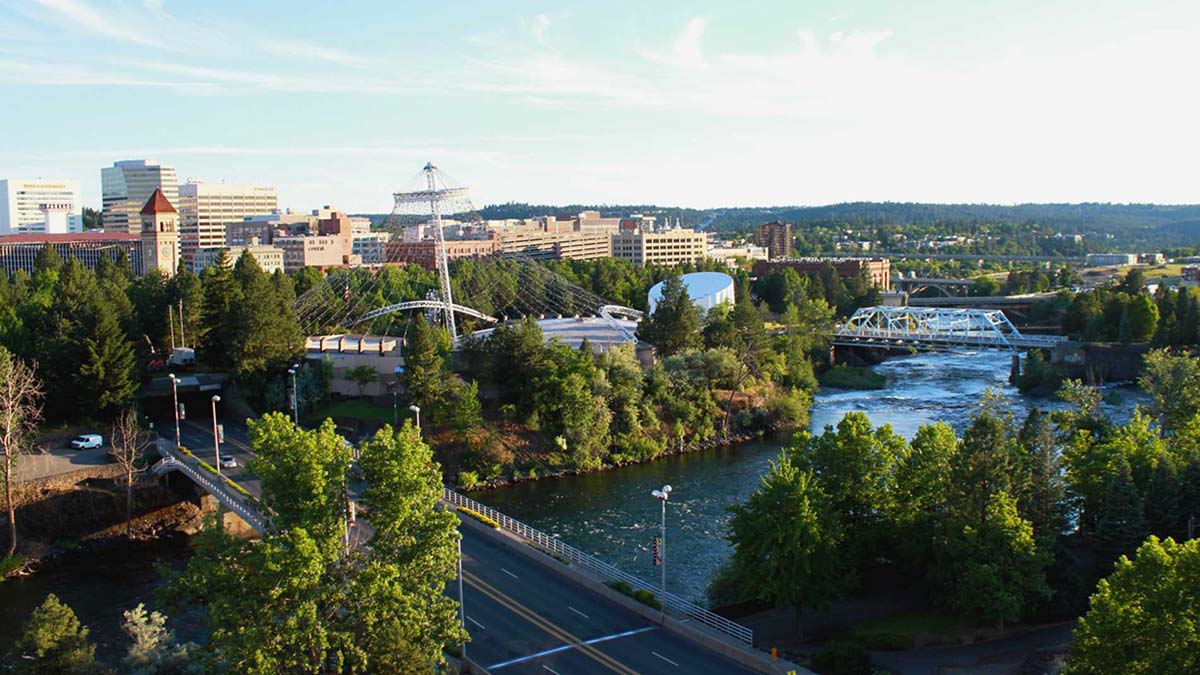 by Roy A. Barnes
As a mining, agriculture, and forestry hub, beginning in the late 19th century, Spokane has played an important role in shaping the Pacific Northwest, despite being overshadowed by other cities in the region like Seattle and Portland. But I found that the city offers so much colorful history and character, especially in downtown.
Out-of-this-world fish at a former steam plant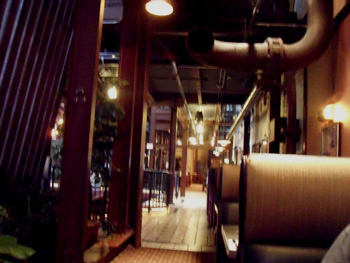 As I walked through the downtown area, I couldn't help but notice just how much brick, stone, and terra cotta dominated the exteriors of the buildings.  This came about after the fire in 1889, which destroyed 32 blocks. One of the city's landmarks, Steam Plant Square, once provided much of the steam heat and electrical power for the city from 1916-1986, then it would remained neglected for ten years. To make a long story short, the building has been restored with some of its original infrastructure in tact that helps make the existing businesses and offices a unique place to explore or work in.
Inside, I found a number of panels discussing the plant's history and was able to walk into one of the two smokestacks, which form part of the city's skyline. The coal elevator and pit exhibit can be viewed, and was once a place where coal trains were backed up some 30 cars waiting to dump coal into the pit just to feed the city's need for power.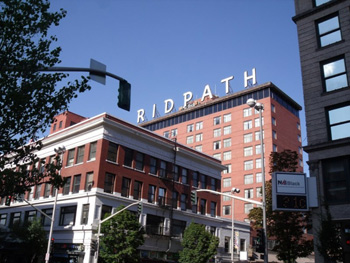 But I also savored some great-tasting beer and fish inside the landmark at the Stacks at Steam Plant. It has an intimate atmosphere dominated by an industrial brown and black motif. I dined amidst the factory's old fixtures. The restaurant features a full menu of seafood, beef, chicken, and pasta dishes and brews its own beer, including one uniquely-flavored and really smooth tasting Double Stack Stout, which contains chocolate, vanilla, and espresso. I highly recommend the Smoked Steelhead, which has a taste to die for, as the fish was smoked over alder wood and brined in the restaurant's Highland and Scottish ale and spices.
While this place has been lovingly restored, many other Spokane city landmarks like the Ridpath Hotel do yell for some attention through its large neon letters "RIDPATH." It had the designation of being Spokane's longest continuously-run hotel from 1900-2008, until it closed.
The Davenport Hotel helped put Spokane on the map
As a travel writer, a hotel is generally the first and last place I visit during a stay in a city. I'm more concerned about its functionality than anything else. Yet I couldn't appreciate Spokane's history without appreciating the history of a hotel that helped put Spokane on the map, The Davenport Hotel.
A flour mill clerk named Louis Davenport came to Spokane to help rebuild the city after that 1889 fire discussed above. The ambitious man later started a business of his own, but it burnt down, so he started another one, a restaurant. Yet this time, he had the foresight to build it out of brick.
As it flourished, he added on to it in the early 1900s by having a former bank clerk, Kirtland Cutter, design a grand ballroom inspired by the Doge's Palace in Venice. Eventually, and thanks to a hotel design by Kirtland, that complex would eventually become part of a hotel so famous, that if someone (anywhere on the globe) addressed a letter to "The Davenport Hotel" only, it would get to Spokane. Since 1914, celebrities like Elvis, The Kingston Trio, Bing Crosby, Theodore Roosevelt, and the like have graced themselves here. It was the first hotel to have air conditioning, a pipe organ, and to deliver free ice water to each of the 400-plus guest rooms' faucets. Even though I quickly accepted my deluxe room as a temporary home away from home because it functions so well with free high speed internet, ample work and closet space, and a comfortable bed, I became further impressed with the place after I took the walking tour on the first and second floors of hotel through the free hotel tour brochure. I was able to see such spectacles as the Marie Antoinette Ballroom on the second floor, which is elegantly adorned with crystal chandeliers, part of its French Neo-Classical Design. After Charles Lindbergh made his famous flight across the Atlantic, he was honored in this ballroom. Each guest had to pay $4 a plate, more than a night's stay at the hotel. Many couples first learned how to do the "hokey pokey" there.
I also got to see the Hall of the Doges nearby on the second floor, which was actually cut out of the old part of the complex Davenport first had built because much of the original structure was demolished to help serve the bigger part of the hotel better during its restoration from 2000 to 2002. It had been left to rot for 15 years and was on the verge of demolition.
To see the hotel's beautiful meeting rooms, check the hotel's website above under "Meetings & Events."
Art Deco comes alive at an old 20th Century Fox theater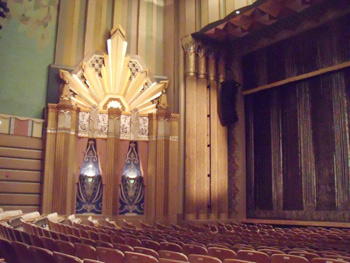 I'm impressed with Art Deco design, and in the heart of downtown an old movie house that originally showed 20th Century Fox pictures has become one of the city's cultural meccas. The Martin Woldson Theater at the Fox was first opened in 1931, and what drew people there weren't only the feature films, but the fact that it got to be the first place in town to get air conditioning, a must-see for Spokane's curious locals. After it was closed down in 2000 during its bargain-movie-showing period, the long road to restoring it to its Art Deco glory would begin. Seven years and $31 million later, the dream came to pass. I was especially impressed with the auditorium, which holds 1,620-1,720 people and has green and pink stripes on the walls. The lobby exudes tropical designs on blue and gold walls. It took considerable time to remove the thick layers of red paint that dominated those days of cheap second-run flicks.
The city's symphony orchestra and other top music acts now grace the stage here. Our tour guide told us that performing artists have complemented the excellent acoustics in the auditorium.
Dining Recommendation
After a hard day of exploring, nothing beats a bit of comfort food. Just a few blocks east of The Davenport Hotel is CHKN-N-MO, which serves up large (I mean LARGE) and yummy pieces of Southern fried chicken and catfish. My to-die-for chicken and catfish was cooked upon ordering. It's a quintessential "chicken shack," with booths, paper towels for napkins, plus a lot of retro advertising, license plates, and sports-themed pictures on the walls.
Disclosure: The author attended a press trip hosted by Visit Spokane, but what he wrote were his own observations without any vetting from his hosts. The author is a frequent contributor to Travel Thru History, and resides in southeastern Wyoming.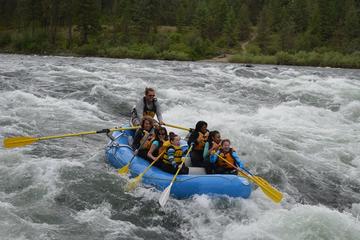 Scenic Rafting on the Spokane River
If You Go:
♦ Steam Plant restaurant
♦ Davenport Hotel
♦ Martin Woldson Theater at the Fox
♦ CHKN-N-MO
♦ Spokane Tourist Information
About the author:
Roy A. Barnes writes from southeastern Wyoming. During his lifetime, he's worked in the travel agent and airline industries, and has traveled on the North American, Asian, African, and European continents.
Photo credits:
With the exception of the Spokane Skyline and Davenport Hotel lobby photos (both credited to Visit Spokane), all pictures are credited to Roy A. Barnes and may not be used without permission:
Spokane Skyline
Dining in Steam Plant Square
Ridpath Hotel
Davenport Hotel Lobby
Martin Woldson Theater at the Fox