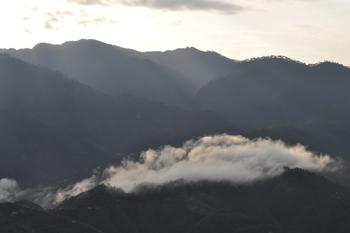 by Shweta Bhardwaj
Imagine taking a walk in the clouds, feeling light like a feather. Being up in the clouds and looking down at trees, hills and lakes as if it's a miniature world below you. Enjoying the cool breeze on your face while you come face to face with rising sun at sunrise. Counting the shades of orange and yellow in it and then watching the sun play hide and seek till it is rubbed by the soft cottony clouds and mist!
Well! This is how I felt when I went for my walk in the clouds at Lansdowne. It is a small hill station situated in Pauri Garwal district in Uttarakhand, India. A hill station where mornings and evenings give you your magical moments of walking in the clouds. A place where you are fully connected with nature and its ways.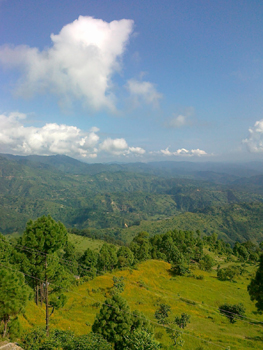 Still untouched by the modern tourism industry, this place was originally a popular hill station for Britishers (during pre-independence). Situated at an altitude of 1,706 metres (5,686 feet) enroute Kotdwar-Pauri road, it was founded and named after then Viceroy of India, Lord Lansdowne in 1887. Only 250 km from Delhi, this place is surrounded by tall, thick oak and blue pine forests. Lansdowne is not yet stained by tourists. Its tranquil and pristine beauty unlike other hill stations (like Shimla, Moussouri etc) is still intact. If you ask me, I would say it is an ideal place to 'Do nothing', just relax and spend time with your family or loved one. There are very few resorts n hotels which are situated a few kilometres prior to the hill station, all promising a mystique view of the valley. The one that we stayed at had a 180 degree view of the valley in front.
Spending your time doing nothing in the midst of mountain hills is one 'do nothing activity' that lets you admire the sunset, sunrise, clouds, chilly wind, flowers in the valley. All in all, the beauty of nature around you and there's no better place than Lansdowne to do so.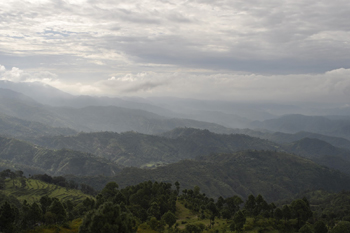 The sunrise and sunset are mesmerising here. Being born and brought up in city life, I never realized how beautiful and impactful these acts of nature could be. For me, it was this sheer magic of Nature that I thoroughly enjoyed watching. I used to get up around four in the morning daily so that I didn't miss the sunrise. To me this was the time when one could see all the possible shades of LIFE present on earth. Valley view is awe-inspiring, especially this time of the day. The sound of wind blowing swiftly, pine trees moving to the rhythm of wind, the colourful flower beds; all this makes it so peaceful that one feels a sense of calm and tranquillity here. Truly, a get- away from the hustle- bustle of fast moving city life. Just to stress on the peaceful time-mobile phones and internet don't work here.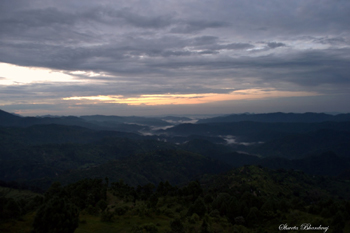 If you are a nature loving person who enjoys a trek to an unknown village down the hill, who likes the feel of being surrounded by huge mountain trees like-oak and pine, love waterfalls, zigzag mountain roads, then, this is the place for you. The magnificently changing colours in the sky during the sunrise each day that I witnessed, is still embedded in my memory. Sunrise every day seemed a different mix of colours, formation of clouds, surrounded by vibrant flower beds and mountains all around. And to describe about the view after the sunset- small individual houses scattered at a distance in the mountains and flower beds would change to 'twinkling stars' in darkness (lights of the houses in the valley as seen from far away gives this impression)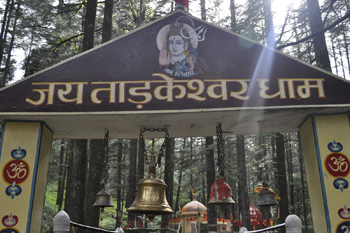 For those who are interested in sightseeing here, temples, churches, museum and a lake can easily be covered in a day. The famous Garhwal Rifles of the Indian Army has its command office here. The War Memorial at the Parade Ground of the Garhwal Rifles Center is another attraction for the visitors. Other places of interest around the city are 'Tip-n-Top' (one could see the mountain view of the western Himalayas from here), Santoshi Mata Temple, Bhulla Taal (a man-made lake), St. Mary's Church, Tarkeshwar Mahadev Temple. The temple is 36 km from Lansdowne and is at a height of 1,800 m, this place is known for its temple dedicated to Lord Shiva. Surrounded by thick forests of deodar and pine, it is another aw-inspiring place because of the beauty of nature, it is believed to be one of the Siddha Pithas (ancient holy sites for Hindus). The temple place is surrounded by thick blue pine forests, oak trees and dense Deodars. The spectacular feature of this place is that even at this high altitude, there are many water pools, flowing continuously. My fascination here, were the bells surrounding the temple vicinity, both big and small. This gave a special identity to the temple.
During our stay of two days, we enjoyed a small early morning trek near to the resort that we stayed. The forests are lovely, dark and deep, just ideal for those long walks. Leaving for Lansdowne on a Friday proved to be a perfect 'Get away' for our weekend.
If You Go:
♦ If you are going by road, like we did, then it is advisable to start early in the morning (around 4 or 5 am) from Delhi so as to avoid the traffic in Meerut. Also keep a light stomach while travelling in order to avoid mountain sickness, since you would be driving uphill after Najibabad. Do ensure to have your petrol full before you start as the nearest petrol pump is in Kotdwar only which is 37 kilometers from Lansdowne. And do carry your camera if when you venture outside, you never know what you may like to capture. I developed a fetish for temple bells here, which were in every temple and I had a fun time clicking my way to them.
♦ It is also advisable to hire a local taxi for sightseeing instead of driving yourself. The resort help desk readily arranged for us the same as per our requirements. When we were driving back from the Tarkeshwar Mahadev Temple, the road ahead couldn't be seen and there were clouds everywhere. But our driver was a local and knew this place around and we reached our destination safely.
♦ Lansdowne is easily accessible by road. The route that we followed New Delhi –> Meerut –> Bijnor –> Najibabad –> Kotdwar –> Lansdowne. One can hire a taxi or take a deluxe bus. It is 250 kilometers from New Delhi.
♦ Nearest airport is in Dehradun, about 100 km from Lansdowne. One has to hire a taxi from the airport to reach Lansdowne.
♦ Kotdwar is the nearest railway station, lying at a distance of 40 km. Affordable taxi service is available to go further to Lansdowne.
About the author:
Shweta is an HR professional and a blogger, currently working as a freelance travel writer. She loves to write about places that she visits, people that she meets and everyday things that touch her. She has a blog at www.travel-lanes.blogspot.in
All photos by Shweta Bhardwaj:
A walk in the clouds
Valley view from the hotel balcony
A valley view that I captured while taking a walk in the hills
All the hues of the rising sun
Notice the sun rays sifting through the tall trees at Tarkeshwar Mahadev Temple