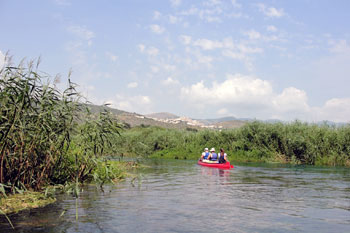 by Paola Fornari
I open the shutters and look out across the Maiella National Park. The Adriatic glints in the distance. Closer in, pale blue flowers in the field below bob their heads in greeting. The cool mountain air fills my lungs. It seems incredible that Rome is just a two-hour drive west.
After a warm shower, I head up the drive behind the stone house, plucking a handful of cherries as I go. I turn right on the country road, uphill. The sky behind the distant snow-capped peaks of the Maiella mountain range is streaked with pink. In the flowery verges butterflies tango in pairs. The air is heady with the scent of broom.
I wonder what it would be like to live here in Abruzzo all the time, far from the pressures of city life, far from tourist traps, close to nature, and to inner peace. Like Celestine. Back in the thirteenth century, he lived higher up these rugged slopes, in a cave, until he was called to the Papacy. But he hated all the glitz and glamour, and missed his life as a hermit, so he swiftly issued a decree allowing popes to abdicate, and returned to his cave.
Yesterday afternoon I trekked for an hour and a half to reach Celestine's hermitage. On the way, I passed the tholos, round stone shelters built in the nineteenth century by shepherds. I clambered down a ridge into a deep gorge, paddled in the river at the bottom, and scrambled up the other side to the hermitage. I dipped my blistered toes in the healing spring water inside the tiny chapel. This is the sort of place where miracles can happen.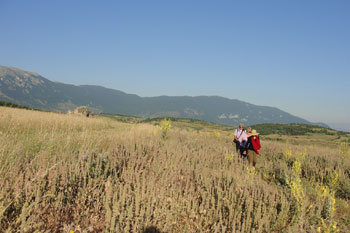 Yes, I think, turning back down the mountain, there's a spiritual energy here. But I would want a little more material comfort than Celestine had: perhaps I could buy that stone ruin over there on the slope, and convert it. Like Ezio and Mariangela did. A few years ago, they decided to flee the pressures of city life, and bought an eighteenth century property here. They restored it using original materials, and made it into a four-bedroom B&B. They named it Casa Giumentina, after this valley. That's where I'm staying…and I'm getting hungry. The sun is now warm on the back of my legs. As I approach the house, I see that breakfast has been laid out on the table under the oak tree. I can already smell the cappuccino…and Mariangela's freshly baked apple cake.
After breakfast, I consider what I might do with my day. There are many places to visit, less than an hour's drive away. I could swim in the Adriatic. Or I might spoil myself at the spa in Caramanico, a half-hour trip up into the mountains. Or visit Pacentro, the beautifully kept medieval village which is superstar Madonna's ancestral home. Or Sulmona, Italy's centre for sugar-coated almonds. No, today I'll stay closer to home, and stroll to the town of Abbateggio, just a quarter of an hour down the road.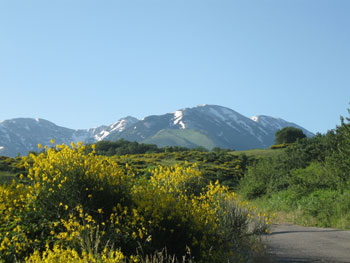 As I enter the village, I notice that the roads have been recently paved. There's a feeling of progress, of development. After the war, this was one of the most depressed areas in Italy. People left in their hundreds, looking for work, often in mines in northern Europe. The population dropped from 2000 to 450. But things are changing: people are trickling back.
Halfway down the main street an elderly woman eyes me curiously, then begins to chat. She is elegantly dressed, her black hair neatly permed, and she's wearing high-heeled shoes. This is Orsolina. She's ninety-seven. She invites me into her home, and prepares an espresso.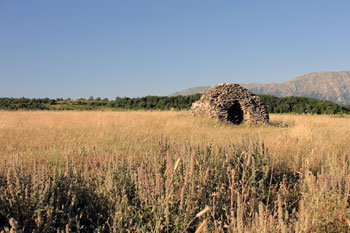 'My husband died in the war,' she says. 'I never married again. I couldn't have my sons calling another man "papà".'
She shows me her fine crochet work. 'I don't wear glasses to do it,' she says, smiling.
'What's your secret, Orsolina?' I ask.
'Lead an honest life, eat very little, do plenty of exercise, and have a glass of red wine with every meal.'
I take my leave, and climb up to the main church, the Madonna dell'Elcina. Legend has it that the Virgin appeared to two deaf-mute children. She was sitting in a holm oak tree, holding the baby Jesus. She asked that a church be built on that very spot. Miraculously, the children's power of speech was restored. The Madonna's feast day is celebrated in September every year.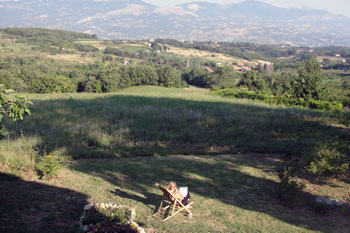 I stroll down to Il Carro, a restaurant which serves local delicacies. I start with an antipasto of salame and pecorino cheese, then have wild boar, with spelt, which is the staple cereal in this area. I accompany it with a glass of Montepulciano wine, and finish up with a fresh strawberry sorbet and an espresso.
Back at the Casa Giumentina, I'm ready for a siesta. Will it be the hammock today? No, I want to smell the warm earth, so I lie down on a towel under the fig tree. Perhaps I should come back in September, when the tree will be heavy with fruit. I watch a ladybird clamber slowly up a fine blade of grass, and admire her diligence. Then I drift off…
When I awaken, it's still early afternoon. I could go canoeing on the River Tirino, one of the cleanest in Italy, where the transparent spring water maintains a constant eleven degrees centigrade all year, and where the banks are lined with crunchy river celery. Or I could visit a local winery, or olive oil press, to see the production process, and stock up on wine and extra virgin olive oil.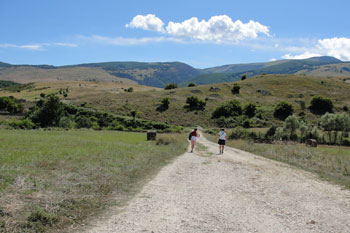 But no, here is where I want to be. The view is too beautiful. I feel warm and relaxed. I'll sit in a deckchair and read, or write, or perhaps just gaze into space until sunset.
As evening falls, the sky behind the mountains to the left becomes a fiery kaleidoscope of reds, oranges and purples, and I wonder how the sun can get any rest after such a dramatic exit.
Ezio and Mariangela draw up in their 4×4.
'Want to learn to make a good risotto?' Mariangela asks. 'I went to Tocco today and bought saffron. It's the best in Italy. And fresh mozzarella.'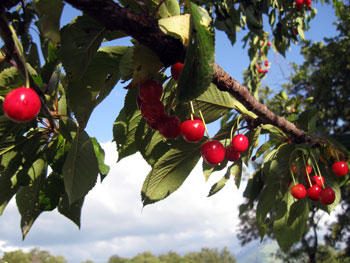 We chop and stir together in the large kitchen. Before settling down to dinner on the terrace I slip on a cardigan. Up here, fifteen hundred feet above the sultry plains below, the evening air is cool.
The moist, perfumed Arborio rice is accompanied by a smooth Trebbiano white wine.
'We have a surprise for you,' Mariangela says, covering my eyes with her hands. After a moment, she releases them. Ezio has turned off all the lights, inside and outside the house.
In front of me, all the way down into the valley as far as the eye can see, millions of sparkling fireflies dance, mirroring the spangled sky above. Yes, this is the place to be.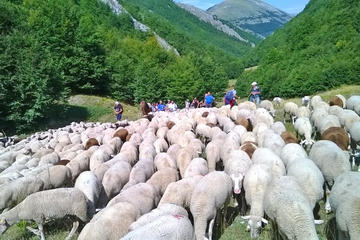 A day with the shepherd milking sheep and
making cheese in the National Park of Abruzzo
If You Go:
Flights: Ryanair flies from London Stansted to Pescara, which is forty-five minutes from the Casa Giumentina. www.ryanair.com
Accommodation: www.casagiumentina.it
Wines and Olive Oil: www.cantinazaccagnini.it and www.guardianifarchione.com
Caramanico Spa: www.termedicaramanico.it
Canoeing on the River Tirino: www.vacanzefaidate.com
Restaurant Il Carro: www.ilcarro.it
About the author:
Paola Fornari was born on an island in Lake Victoria, and was brought up in Tanzania. She has lived in almost a dozen countries over three continents, speaks five and a half languages, and describes herself as an "expatriate sine patria". Wherever she goes, she makes it her business to get involved in local activities, explore, and learn the language, thus making each new destination a real home.
All photos are by Paola Fornari:
1. Canoeing on the River Tirino
2. Casa Giumentina
3. In search of Celestine's Cave
4. Maiella Mountain Range
5. Tholos
6. View from the Casa Giumentina
7. Trekking to the hermitage
8. Cherries at the Casa Giumentina