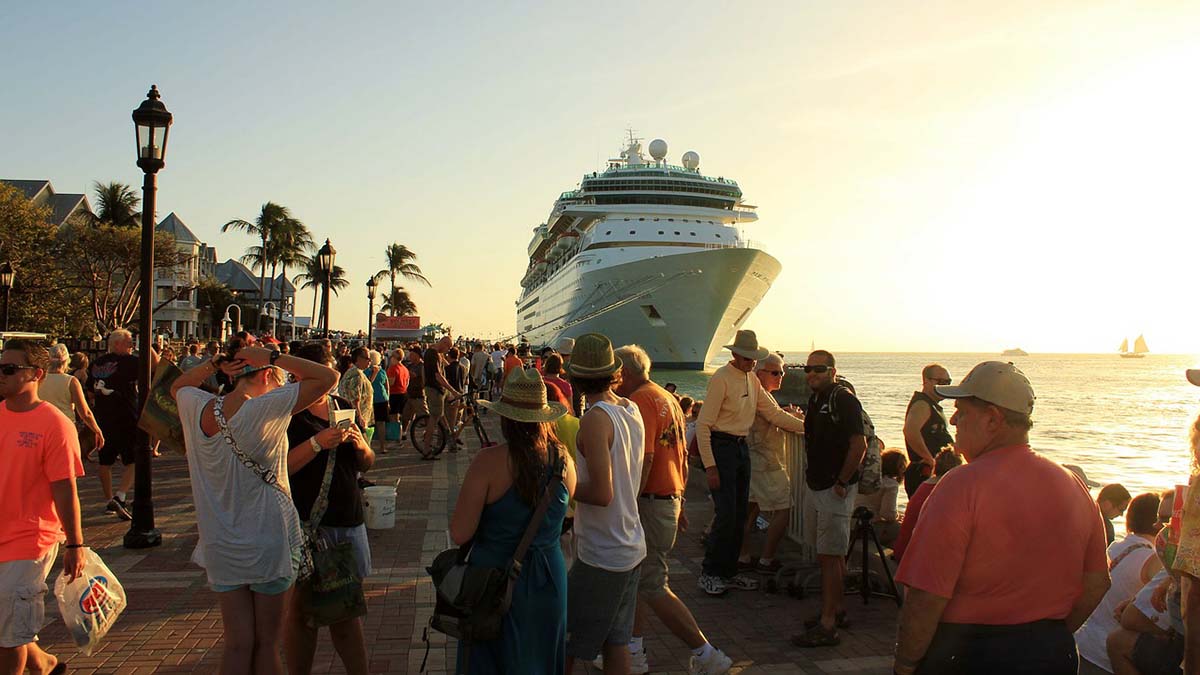 Where Pictures Speak More Than A Thousand Words
by Roy A. Barnes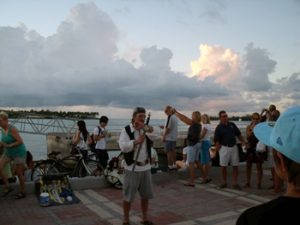 Key West, Florida, has come a long way from its days in the earlier 20th century when novelist Thelma Strabel wrote in 1940, "There is nothing for restless people to do. It is quiet and careless and charming." I found the Spring Break hotspot to be one of the country's most touristy places on the surface. Yet here, amidst all the sailboats, warm and breezy tropical conditions, outdoor cafes lining the city's main drag called Duvall Street where the words "I'll have Key Lime Pie" is uttered over and over, I found a place where its quirky aspects make it a memorable . For those things that reflect the culture, traditions, and unique flavors resonate more with me than the typical tourist quest to find "Margaritaville."
Why did the Key West Chickens cross the road?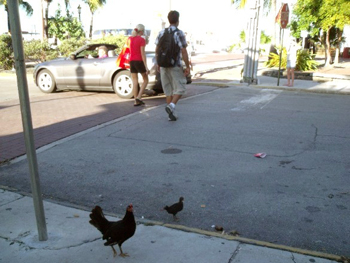 I soon found out while walking in Old Town that one doesn't just share sidewalks with droves of locals and tourists wearing short shorts, but many other two-footed creatures who have ditched any clothes altogether: chickens. While these fowl have been around for almost two centuries, their numbers especially grew in the 1950s after Cubans fleeing Cuba brought them for use in cock fighting, food, and eggs. Their numbers multiplied over time after cock fighting was outlawed and grocery stores provided easier access to eggs and poultry. The roosters don't just crow with the sunrise either as I found out at 230 a.m. in my hotel room. Nonetheless, there's what seems to be an uneasy tolerance for the chickens' presence here because they do feast on pesky insects, even though they have irritated many locals because of where they choose to poop, trespass, etc. This has resulted in various plans and schemes to deal with them over the years in what's been called the "Great Key West Chicken Controversy" or "Key West Chicken Wars."
I noticed that chickens will often scamper at the sight of a camera, but if you really want a good picture of them, they are more apt to stay put as you focus your camera at the post office on 400 Whitehead Street, which is just a couple of blocks west of the main drag Duvall Street.
Those sunsets, those sunsets!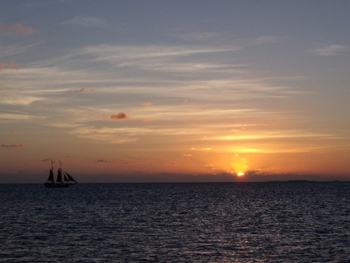 A setting sun has this ability to captivate the eyes of its admirers. I've seen beautiful sunsets in Wyoming, but I must say that the two I saw in Key West really gripped me so unexpectedly, for I never imagined sunsets being that impacting. I first watched one from the brick walkway of Mallory Square, which overlooks the Gulf of Mexico, and the other while on a sunset cruise.
As I got closer to Mallory Square to view my first Key West sunset, the sounds of blues music and the humming of the crowd dominated as I arrived at the adjacent outdoor restaurant called Sunset Pier. Many folks were snapping pictures as the setting sun tried to make it to the horizon before being overtaken by massive clouds, even while sailboats continuously darted across the gulf. At the square were other sights and scents I took note of, including the heavenly scent of buttered popcorn mixed with the saltiness of the sea, various musical and theatrical acts (which one performer employed his dog to take tips from the onlookers' hands and deposit it in a bucket). One outspoken guy was selling Jesus to the onlookers as if Mallory Square were the tropical version of London's Speakers' Corner.
The next night's sunset was even more impressive for me, as the Sebago Key West catamaran set sail around the shores of the island city via its "Champagne Sunset Sail" tour. The sun was still in full glory, but gusty winds helped to keep me and the other passengers cooler. I observed the other cruisers. They all seemed to be from another planet, given that their faces had this "never been stressed out look" on them. Jimmy Buffet music blared from the loudspeakers as the champagne and other liquid inducements flowed.
This place does seem to be the "land of the eternal summer," for others who live in the Northern Hemisphere were retreating to the warmth of their domiciles while I was alone with my thoughts in the open waters. Once the sun set, the skies entertained my eyes with a violet-orange haze before total darkness came except for the lights of distant ships, glowing like distant Christmas trees. Never had darkness brought so much beauty.
"Conch Architecture"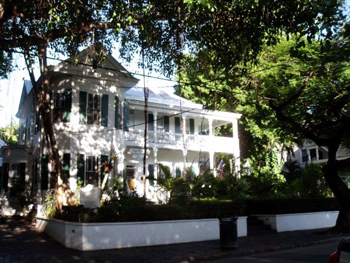 I strongly advise travelers in Key West to get off the beaten path from the touristy Duvall Street, and walk through the surrounding residential neighborhoods of Old Town. It's here where I found a respite from the hustle and bustle of traffic while getting a glimpse into a unique kind of architecture called Conch Architecture. This style compliments the various plantlife in the area like hibiscus, fiscus, gumbo limbo, and frangipani. Earlier settlers of Key West used lime made from burned Conch shells to help build their homes, which became known as "Conch Houses", a name which would stick even as wood became the prime building material.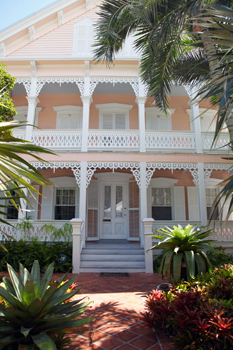 These homes implement different styles, influenced by New England, Gulf Coast, Bahamian, and African influences. To my eyes, they greatly reminded me of the old plantation homes still found in the "Deep South" such as seen in such movies like Gone with the Wind. They are built to help withstand the tropical climate. I especially noticed the sloping roofs, which help reflect the sun better and sent water down to the gutters more efficiently.
One of the best-preserved neighborhoods I found is just a few blocks from the pulsating energy of Duvall Street. From the intersection of Duvall Street and Truman Ave. (US 1), walk East several blocks until you get to Windsor Ave., then turn left and begin walking north (you'll come to a fork which gives you the option of continuing north on either Elizabeth, William, or Margaret Streets) until you get to the Key West Seaport. This walk alone will give you a good idea of what a residential tropical neighborhood is like. Many of these homes sell for a million dollars and up, but admiring from the sidewalk is still free.
As for Duvall Street itself, I noticed that even popular chain stores like Walgreens have had their structures conforming to the "Conch" aesthetics.
See a Little "White House" Without All the Fuss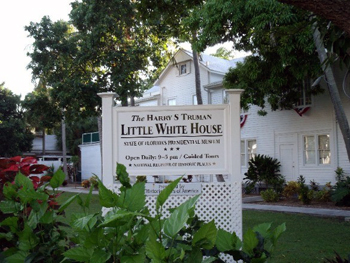 As a U.S. presidential history buff, I was pleasantly surprised to find that I could easily visit a place where numerous Presidents of the United States stayed and performed their duties, most notably Harry S. Truman. He lived and worked at "The Little White House" for 175 days via 11 working vacations from 1946-1952. Even on "vacation" here, he still had to sign his name 200-600 times a day to help keep the country running in a place originally built for the US Navy's base commander and paymaster in 1890. Unlike the other White House farther north, I didn't have to make any special arrangements or go through any other fuss to walk around a property containing the 8,700 square foot house and nicely-manicured lawn and gardens. It's in the midst of a quiet neighborhood, a short walk away from Duvall Street. I can see why our past leaders must've found the property to be a respite just as I did from the boisterous tourist crowds.
Besides Truman, other presidents have stayed here, so visiting means you've set foot on grounds that America's most famous people have, like Dwight W. Eisenhower, who recovered from a from a heart attack here in late 1955 to early 1956. John F. Kennedy met with British Prime Minister Harold Macmillan in 1961 a few weeks before the Bay of Pigs. Jimmy Carter and Bill Clinton have also stayed here. Other people of note who've used this place include former Secretary of State Colin Powell to hold peace talks between Armenia and Azerbaijan in 2001 while Thomas Edison stayed here half a year in 1918 to conjure up some new weapons during World War I. The Defense Department was created here by the Joint Chiefs of Staff.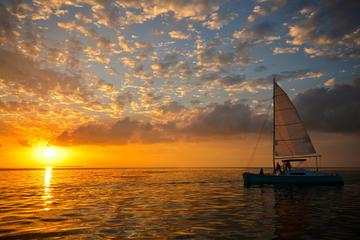 Private Key West Sunset Sail
If You Go:
♦ Sebago Key West
♦ Harry S. Truman Little White House:
♦ Florida Keys Tourism: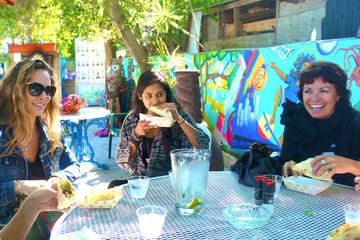 Small-Group Key West Food Tasting and Cultural Walking Tour
About the author:
Roy A. Barnes writes from southeastern Wyoming and is a frequent contributor to Travel thru History. The author attended a press trip sponsored by Florida Keys Tourism, but what he wrote is his own observations, and not vetted by the sponsor.
First Key West sunset photo by Yinan Chen from Pixabay
All other pictures credited to Roy A. Barnes, Carol Tedesco, and Carol Shaughnessy, and may not be used without permission.