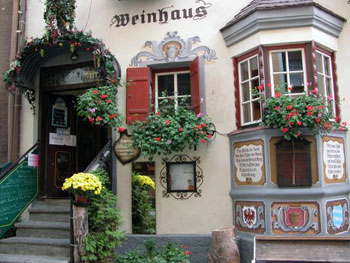 Kundle, Austria
by Josephine Montgomery
Fate, if you are willing to follow, can lead to some fascinating and extraordinary journeys. Never one to follow the beaten path I took the road less traveled and emailed embassies for wood-carving schools across the globe. A reply from the Austrian embassy intrigued me, it told of Kundle, a picturesque town in Austria and a Master Carver. Kundle also had a train station. Many small towns in Austria do not have transportation services beyond local buses; the quaint little train station in Kundle was our magic carpet.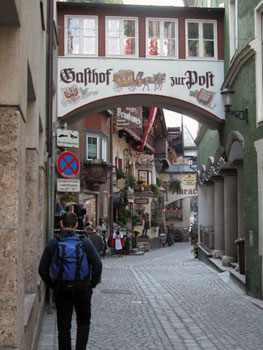 Joe, my husband, and I arrived in Munich, Germany on a sunny afternoon in September. Using the airport mini bus service we arrived in Kundle an hour and a half later. Anna, the Master Carver's wife, a small, slim lady with sparkling eyes ran down a flight of stairs to greet us. She whisked us to a spacious second floor guest room with a large deck overlooking gardens and a spectacular view of the mountains. We followed Anna as she ran across the garden and up another flight of stairs that led to a door with an impressive eagle carved in relief. Stepping through the door was akin to entering a tree house filled with industrious wood spirits. Sunlight filtered through floor to ceiling windows of a huge workshop, sharp tools sizzled across fragrant pine. Intricate carvings came to life under Herr Binder's soft spoken direction and shrewd eye.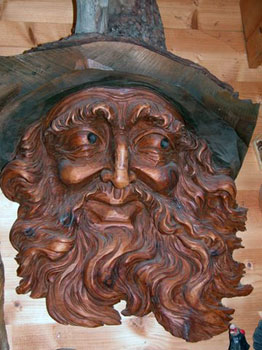 Carving in Kundle was a unique experience, surrounded by beautiful carvings it was impossible not to be inspired. Eagles, wings outstretched, perched near windows as though waiting to take flight. Alpine Ibex, with enormous backward curving horns, seemed ready to leap off craggy, wooden rocks. Larger than life faces with swirling beards, tangled hair and mischievous eyes smiled down from walls as we carved.
Herr Binder, a tall distinguished man with a mop of silver hair, greeted his students each morning with his wife Anna, and daughter Christa in the spacious dining room. The family spoke good English as did other students from northern and southern Germany. I thought Anna, with her boundless energy and sharp wit, to be in her mid sixties and daughter Christa her mid forties. After breakfast one morning I asked who had won the large silver trophy on the mantelpiece. The room fell silent when Anna explained it was hers. She once raced cars for a hobby and won the trophy when she was seventy eight years old. A swift calculation from the date on the trophy made Frau Anna Binder ninety one years old.
"Were you not afraid for your wife?" asked one of the students.
"Not at all," replied Herr Binder, "but I was afraid for the car."
"Mother skied until she was eighty five years old, she used to buy very modern ski outfits," said Christa with a sniff, "she thought they made her look younger on the slopes."
"I only stopped skiing after you broke your leg on the mountain and you wouldn't drive me to the slopes," Anna replied with a sharp sideways glance at her daughter.
With old world courtesy Herr Binder excused himself, he had a small errand to run before class. The students watched as he roared out of the garage on a streamlined silver and black electric vehicle, similar to a sporty motorcycle with four wheels. He gave a cheery wave as he drove past dressed in black leather jacket and cap set at a jaunty angle.
"In Austria," Anna said, "you cannot drive a car after your ninetieth birthday."
Christa said a couple of weeks previously her father purchased a pine tree and she helped him stack the pre-cut wood to dry ready for when he needed it in a year or two. Herr Binder at ninety years of age was an optimist.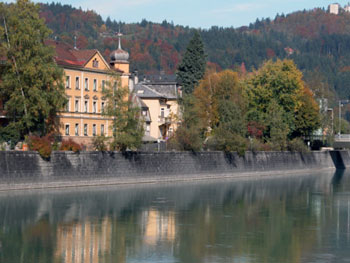 Postcards often depict glimpses of destinations quite unrelated to reality. Kundle is the exception. Intricately carved wooden balconies and eves changed pastel colored walls of houses, shops and restaurants into whimsical gingerbread creations. Geraniums, petunias and ferns tumbled in cascades of color from every balcony and window box. The Hanging Gardens of Babylon could not have looked more beautiful. Narrow winding streets led to fountains where children splashed on their way home from school and towns people gathered to eat lunch. Five restaurants served a variety of food, we enjoyed authentic Austrian dishes in a restaurant where massive wood furnishings, beams and doors were heavily decorated with carvings. Family members gathered in large groups for dinner and men in colorful lederhosen stopped for a pint of lager en-route to festival rehearsals. As the atmosphere filled with camaraderie, clinking glasses, bursts of regional songs and laughter, enhanced by wafts from the kitchen of frying Wiener Schnitzel, Goulash and apfelstrudel, we felt we were on stage, part of the cast in a movie extravaganza.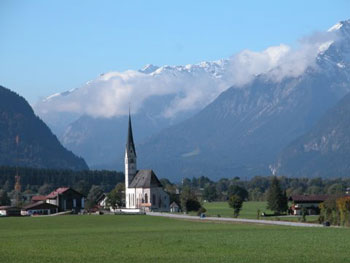 Strolling home one evening after a delicious meal of smoked trout in a mid seventeenth century Pension we heard the clanging of cow bells. A herd of cows came bustling up a side-street heading for their night quarters in a barn attached to a house. At seven o'clock in the evening it was the duty of anyone passing by to stand at the top of the street and encourage the animals not to make a detour through town.
Most days for lunch we bought fresh picked fruit, local cheese and crackers, walked over Kundle river bridge and ate our mid-day meal sitting in a tiny park by a big goldfish pond in the shadow of a tall pink and white church. Strolling past the grocery stores after lunch we marveled at the number of elderly ladies loading groceries into large baskets on the front and rear of their bicycles and threading more shopping bags along the handlebars. The shopping expeditions became even more hazardous one afternoon when a brief rain shower brought them to a halt. Undaunted the ladies clicked an umbrella over their head, climbed back on their bicycle and pedaled off, steering one handed, towards home.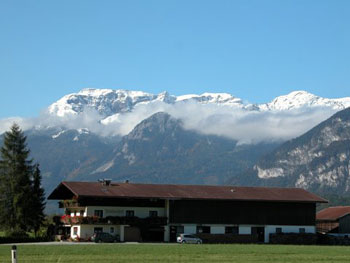 I signed up for three weeks carving instruction, choosing to carve mornings only, leaving time to catch the train to numerous small Tyrolean towns within thirty minutes ride of Kundle. Even the smallest town boasted a castle, large or small, huddled on mountain tops the castles looked down on the inhabitants like benevolent protectors. Rattenburg with a population of 440 is the smallest town in the country. Founded in the 14th century it was built in the shadow of Rat Mountain to protect it from marauders. Following ancient cobblestone streets we stumbled upon a glass blowing demonstration. A cavernous area hewn deep into rock displayed hand blown glass animals, birds, dragons and flowers. Suspended from the cave ceiling lit by soft, revolving colored lights the glass sculptures cast dancing shadows across ancient stone walls. Sparkling Austrian crystal, dazzling rainbows of color, glistened like stalactites in dark corners. This little town, characterized by its medieval ambience is known far and wide as "glass town."
About a two hour train ride from Kundle is Salzburg, an impressive baroque city with a stunning river walk leading towards the impressive white fortress, Festung Hohensalzburg. Magnificent Salzburg, home of Mozart, is not to be missed, but the town of Kufstein stole my heart.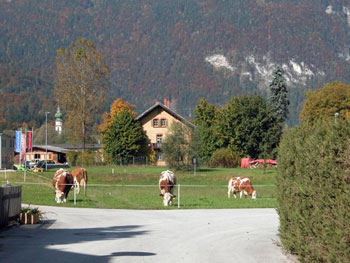 Kufstein, located between South Tyrol in Italy and Bavaria in Germany is known as the "pearl of the Tyrol." It has about 15,000 inhabitants, the majestic Kufstein Fortress, a massive fortification dating from the mid 12th century rears above the town on a precipitous crag. An interesting feature of the fortress is the "Heroes" organ built in 1931 it was the first open air organ in the world. During summer months concerts are played at noon each day in memory of those who died in the two world wars. In both world wars the Fortress tunnels were used for shelter. Sitting in an out-door café by the beautiful Inn River savoring chocolate cream cake while listening to the soulful organ music float down from the fortress and drift through the flower filled historical district below is a magical experience. The music can be heard eight miles away.
We left Kundle with requests to please come back again and hugs from the entire Binder family, climbing onboard the minibus they waved until we were out of sight. On the long flight home I pondered why the carving experience in Kundle had been so rewarding. There was no hurrying and scurrying from student to student. Herr Binder's chisels moved effortlessly over wood as though sketching, he recognized who needed help and sat with a student until, under his soft spoken guidance, problems were resolved. The town of Kundle generated the same air of tranquility, no graffiti, no litter, streets were swept clean each day and everyone enjoyed each others company, sharing their generosity of spirit with strangers. It was a unique world, where elderly ladies rode bicycles to shop and a ninety year old Master wood-carver gave classes.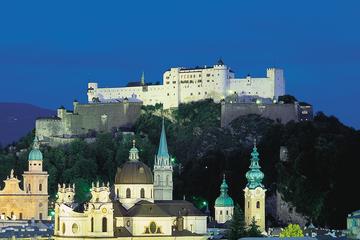 Dinner Experience at Salzburg Fortress and Mozart Concert in Salzburg
If You Go:
Slide views of Kufstein past and present day.
www.heimat-kufstein.at
Kufstein: Information on Fortress and Town.
www.planetware.com/kufstein/feste-kufstein-a-t-feskuf.htm
Rattenburg: Scroll down page to view 10 Photos
www.tirolaustria.co.uk/?Rattenberg_Tirol
Information on Rattenburg
www.tyrol.tl/en/tyrols-holiday-areas/kufstein-and-surroundings/rattenberg.html
Kundle: Information on 13th Century Kundle.
www.tyrol.tl/en/tyrols-holiday-areas/kufstein-and-surroundings/kundl.html
About the author:
Josephine Montgomery is a British subject and citizen of the world. She has traveled extensively in the Middle East, and for two years, while living in a small Arab village, studied written and spoken Arabic at Amman University in the Hashemite Kingdom of Jordan. She writes travel articles and children's stories.
All photos are by Josephine Montgomery.