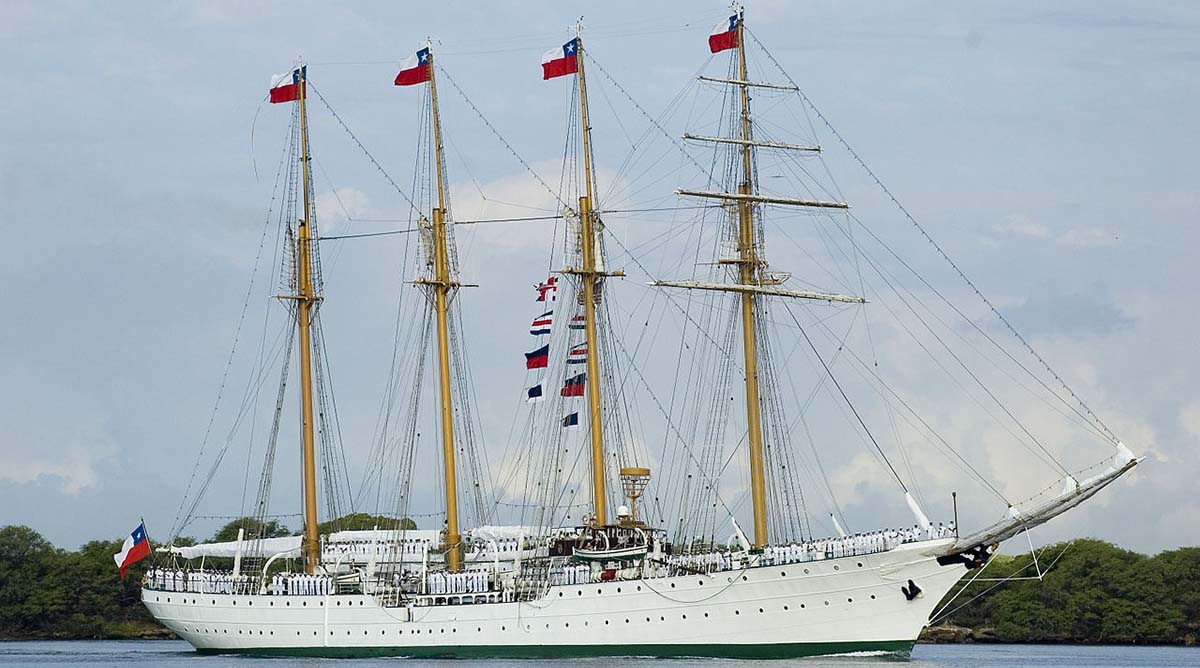 Valparaíso, Chile
by W. Ruth Kozak
She is affectionately known as "La Dama Blanca", the White Lady, but a sinister past has marked her with a blemish she can't seem to live down.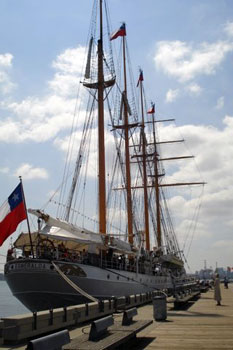 La Esmeralda, a stately four-masted barquentine, pride of the Chilean Navy, was built in Cadiz, Spain in 1946 and was to become Spain's national training ship. Due to several explosions at the shipyards, work was halted and eventually she was sold to Chile to help pay off debts incurred as a result of the Spanish Civil War. She was officially launched in 1953. Esmeralda is now a training ship for the Chilean Navy, visiting ports worldwide as a floating embassy for Chile.
She is the sixth ship to carry the name "Esmeralda". The first was a frigate, captured from the Spanish at Callao Peru in November 1820. The second was a Chilean corvette that fought a fierce sea battle in May 1879 at the Battle of Iquique and sank with colors flying. These historical events are important milestones for the Chilean Navy and the name "La Esmeralda" evoked courage and sacrifice.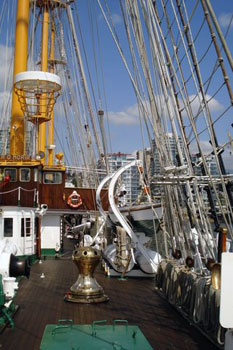 Unfortunately La Esmeralda's reputation was sullied during the infamous Augusto Pinochet regime from 1973 to 1980 when she was used as a floating jail and torture chamber for political prisoners. The Chilean Navy was the advance guard of Augusto Pinochet's coup and after the overthrow of Salvador Allende's democratically elected socialist government, naval patrols scoured the streets of Valparaiso broadcasting the names of people demanding them to hand themselves in. Among them was an Anglo-Chilean priest, Father Michael Woodward. He was arrested at his home by a naval patrol and taken to the headquarters of the local Carabineros where he was brutally assaulted, then transferred to La Esmeralda where he was reputedly tortured and died. Doctors claimed he had died of a heart attack and the navy refused to give him a proper burial but dumped his body in a mass grave. Michael Woodward was one of the most prominent of those tortured on the ship. Several hundred other detainees, sympathizers of the ousted socialist president Allende, were taken there and suffered various fates including beatings, sexual assaults, electrocution and water torture. Consequently these days when she sails into port, crowds of protestors – political groups and Chilean exiles –gather demanding retribution in the form of a formal apology from the Chilean government and request that a plaque in the shape of a dove be put on the ship bearing the names of the victims. To date, these requests have been refused.
I was invited aboard La Esmeralda for a reception,"Flavours of Chile", presented by the Chilean Trade Commissioner. At the time I had no idea of the ship's dark history but it made my visit somewhat more meaningful, because I wanted to learn more and see the ship for myself. I expected to find the wharf crowded with protestors but when I arrived there were none. I was greeted aboard by a couple of handsome young officers and from there to the reception area on the deck where tables of various Chilean wines were offered as samples as well as the plates of delicious Chilean appetizers brought round by the stewards.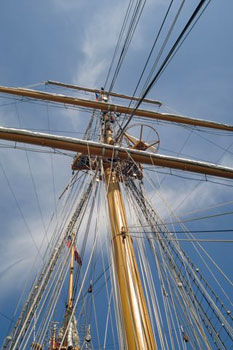 The ship itself truly is a beauty, a four-masted tall ship, one of the tallest and longest ships in the world. She has a crew of 300 sailors and 90 midshipmen, 46 of them women. Marcia, one of the lovely young female officers, took my friend and I around on a tour of the deck area, and explained the functions of the various pieces of equipment on board. The ship is spotless, the wooden decks polished and unmarred, the brass fittings shining in the afternoon sun. She pointed out the 21 sails and explained how every morning at 6 a.m. the trainees must climb to the top of the centre mast. If they falter or make a mistake they must do it again at noon. And if they make a bad error they must climb it again and again to get it right. She showed us the tasks she is responsible for every day as well as climbing up to secure the sails, although being a tall girl she only has to go part way up to do that. The shorter crew members are the ones who climb to the very top, a daunting job that not many people would have the courage to participate in.
None of these young trainees and likely many of the senior crew would not have been born at the time of Pinochet's brutal regime when the atrocities were carried out on board the ship. In fact, there were no 'bad vibes' aboard, only the friendly smiling crew who mingled with the guests and greeted us all with Chilean warmth. But for those who had suffered torture or had loved ones die aboard her, the stigma will remain, and it's a staunch reminder that political prisoner abuse and torture are not things of the past. Perhaps one day, the condor, a bird of prey, that decorates her bow will be replaced with a dove, the symbol of peace, but to date it remains to be seen if the Chilean Navy will ever admit to all the facts about La Esmeralda.
Other Information About La Esmeralda
Official web site: www.esmeralda.cl
Documentary film "The Dark Side of the White Lady": www.nfb.ca
Virtual Tour on Esmeralda: www.Chilexplora.com
"Una Vida Verdadera: El Sacrificio de Miquel Woodward" by Andres Brignardello and Jose Acevedo (documentary)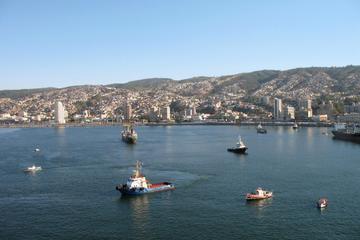 Valparaiso Like a Local: Private Walking Tour with Harbor Cruise Including Transport from Santiago
About the author:
Ruth is an avid traveler and has always felt a romantic attachment to sailing ships. She has also visited Chile and is well informed of the events that happened during the brutal regime of Augusto Pinochet. Her visit to La Esmeralda was a memorial to Chilean friends she knows who fled their homeland as exiles, and in this article as well as her blog about Esmeralda at http://travelthroughhistory.blogspot.com is in memory of those who suffered and died on this ship. www.ruthkozak.com
Photo credits:
Top photo by United States Navy, Photographer's Mate 1st Class Dennis C. Cantrell / Public domain
All other photos by W. Ruth Kozak.