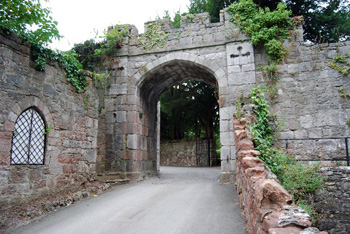 by Keith Kellett 
It's the tradition in England that the eldest son of the Monarch, or Heir Apparent, is titled the Prince of Wales. It dates from the 13th Century, when King Edward I invaded Wales, and defeated the last 'true' Prince of Wales, Llywyllyn ap Gruffydd, in battle in 1282.
Who was to replace Prince Llywyllyn? An apocryphal tale, which didn't surface until much later, has it that, from the battlements of Conwy Castle, Edward proclaimed: 'I will give you a Prince of Wales. He was born in Wales, and doesn't speak a word of English!'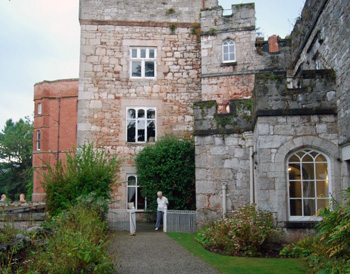 With that, he presented his infant son, born just a few days earlier.
Llywyllyn is often styled 'Llywylln the Last', although he wasn't, really. His younger brother, Dafydd proclaimed himself Prince on Llywylln's death, but it's one thing to 'proclaim yourself', another to be accepted. And, he was captured and executed the following year, anyway.
Perhaps the Welsh people wouldn't accept him because he changed sides and alliances so often? Even Welsh historians seldom had a good word for him. With another brother, Owain, he led an unsuccessful revolt against Llywyllyn, and later aligned himself with the English King, who commanded him to build Ruthin Castle.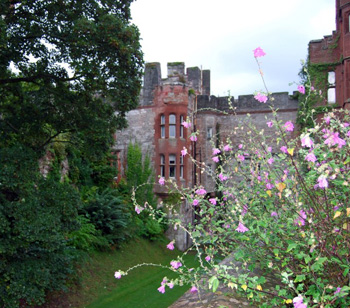 Ruthin Castle stands on a ridge overlooking the beautiful Vale of Clwyd. It was the castle that gave the town its name, for it's a corruption of Welsh words meaning 'red fort', referring to the sandstone from which it was built. The castle, which Dafydd built in 1277, is in ruins now, destroyed in the reign of Charles II.
But, enough remains to make a worthwhile exploration of the ruins. In 1830 a grand house in the Victorian Gothic style, with battlements and crenellations to recall a more romantic age was built in the grounds. Over the years it's been extended, eventually to become a hospital and is now the Ruthin Castle Hotel.
In 1282, Dafydd set out from Ruthin to Hawarden Castle, near Chester. Some say he'd been invited to a banquet there, but chose, instead, to attack it. This so incensed King Edward that, having been harried by the Welsh for several years, he invaded Wales, defeating and killing Dafydd's brother, Llywyllyn.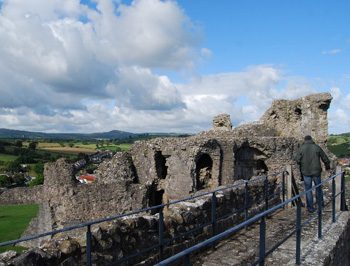 During this conflict, another of Dafydd's strongholds fell. This was at nearby Denbigh. The current stone castle was built after the stronghold fell, as part of Edward's 'Iron Ring' around North Wales. Henry de Lacy was commissioned by the King to build it, and was also granted a Borough Charter to establish the surrounding town of Denbigh … which also took its name from the castle; it's a corruption of the Welsh for 'little fort'.
It hadn't even been finished when it was captured and briefly occupied by Welsh rebels in 1294, but the rebellion collapsed the following year, and the castle was handed back to De Lacy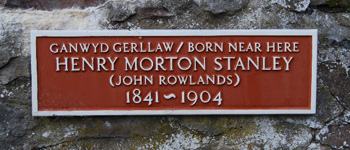 In the 15th Century, the castle was besieged twice, but held out, first, against the rebels of Owain Glyndwr then against the Lancastrians in the War of the Roses.
During the Civil War, the castle was held by Royalists for six months, before being captured by the Parliamentarians, who 'slighted' it to prevent further use. It has been in ruins ever since and is now under the protection of Cadw, the Welsh government's historical and environmental protection service.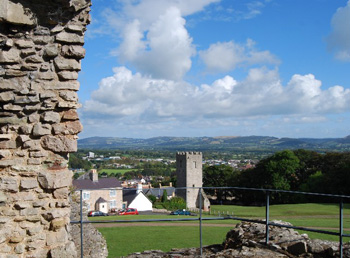 Ruthin Castle has connections with more modern Princes of Wales too. The 'Prince of Wales' suite and 'Bertie's Restaurant' at the hotel are named after Albert Edward (later, of course, King Edward VII) who visited the house frequently in Victorian times … because he was having an affair with Patsy, the owner's wife!
And, even more recently, in 1969, Prince Charles, the present Prince of Wales, stayed here on his way to his investiture at Caernarfon Castle. No doubt he, too, stayed in the 'Prince of Wales' suite?
Author's Footnote:
While doing the research for this story it reminded me of a story told to me by an RAF colleague, Barry. When he wasn't doing his thing for Queen and Country, Barry was a prolific writer, as well as a historian and book lover. One day, when stationed near Shrewsbury, he spent a happy day off browsing round a second-hand book shop. Having made a couple of purchases, one of which was a book of local history, he made his way to a tea-shop called Morris's, which, although a bit staid and old-fashioned, served (maybe still serves) excellent tea. He took his favourite seat, by a window on the first floor, overlooking the market place, and settled down to read.
The waitress asked if the book he was reading was interesting, and, through a mouthful of cake, he said it was. "Did you know," he said, indicating the market place, "that, down there is the place where Dafydd ap Gruffyd, the last Prince of Wales, was hung, drawn and quartered?"
The waitress was horrified. "O, Sir! They couldn't," she cried. "Not outside Morris's!"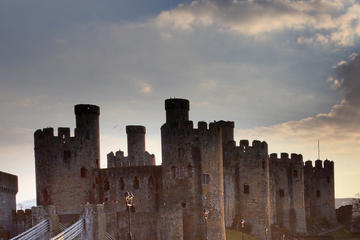 Private Conwy Valley Day Trip from Caernarfon with Hotel Transport
If You Go:
Unfortunately, neither Ruthin nor Denbigh are served by National Express coaches, nor are they accessible by rail. The nearest terminal for these are Wrexham or Rhyl, from where it is possible to catch a local bus (Service X50) which connects these places, and calls at both towns.
About the author:
Having written for fun while serving in the Royal Air Force, Keith Kellett developed his hobby into a business when he retired. He found, to his surprise, his work was good enough to finance his other hobbies; travelling, photography and computers. He lives near Salisbury, in the south of England.
All photos are by Keith Kellett