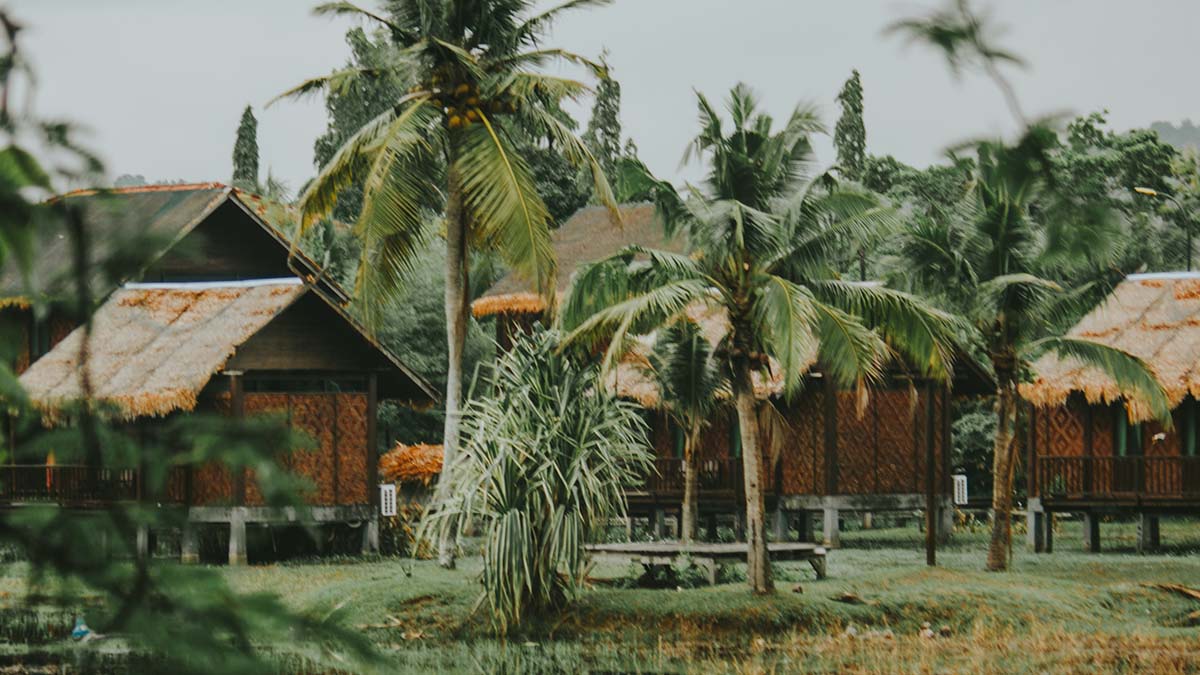 Malaysia
by W. Ruth Kozak
Ever since I was a child, entranced by pirate stories, I've wanted to explore a tropical island, so when I had an opportunity to visit Langkawi Island, in Malaysia it was a dream come true.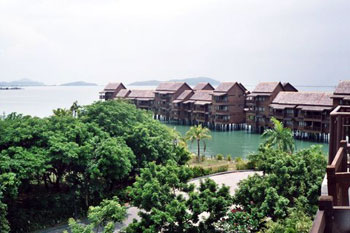 Langkawi is the largest in a group of 99 islands nestled off the north-west coast of Malaysia just south of Thailand. The island attracted seafarers and traders bringing spices and silks from China and India. But pirates plied the turquoise waters of the Adaman Sea and while Penang, Malacca and Singapore became significant trading centres, Langkawi lay forgotten, ignored by the passing merchant ships. Was it because they feared the pirates who lurked in the hidden coves? Or was it because of the curse that a beautiful maiden had put on the island when she was cruelly executed for a crime she did not commit. The story of Makran Maksuri is just one of Langkawi's many legends.
My friend and I arrived on the island by plane from Kuala Lumpur and were whisked by mini van to the Langkawi Lagoon Resort, a short drive along a roadway lined with palms and rice padis where lazy water buffalo wallow tended by snowy white egrets. The resort is located by a wide blue lagoon. Part of its charm are the wooden kampung houses built on stilts over the water.
Langkawi abounds with quiet coves and long stretches of white sand beaches. There are reefs and sea caves to explore and marine parks for snorkeling and diving enthusiasts. Boat tours are available to the many small jewel-green islands that surround Langkawi.
At Pulau Dayan Bunting we are greeted by swarms of long-tailed macaques: whole monkey families: — grumpy grandpas, over-protective dads, mothers with new babies held securely against their breasts and mischievous youngsters. Don't leave your bags unattended! My friend discovered a girl monkey rummaging through her back-pack searching for trinkets and food.
The jade green Lake of the Pregnant Maiden is a fifteen minute walk through the jungle. According to legend, a celestial princess married a mortal prince and gave birth to a baby which died soon after. Heartbroken she buried the baby in the lake, and before returning to her celestial home, blessed the lake so that any maiden who wishes to conceive who bathes there would become pregnant. It didn't deter me from enjoying a leisurely swim.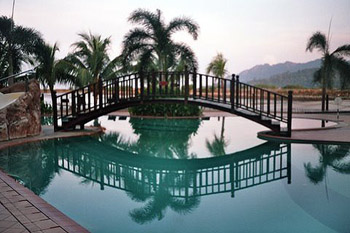 We left the island and cruised to a place where flocks of majestic bronze-coloured eagles surrounded our boat, diving and soaring around us. Continuing past by many small, jungle-covered islands we reach Pulau Beras Basah, "the Isle of Wet Rice" deserted except for the ubiquitous monkeys.
The main town on the island is Kuah (Kwa). In Malay this means "gravy" and is associated with the legend of two giants who spilled a pot of gravy at this spot. The island's two highest mountains – Mat Cincang and Mat Raya, are named after the giants. "Langkawi" means 'brown eagle' and an impressive eagle sculpture guards the harbour. Next to the Square is Taman Lagenda (Park of Legends) exhibiting the myths and legends of the island.
A good place to find bargains is in the small shopping mall or at the out-door market where you must bargain for goods. At the Batik Craft bazaar we are shown the technique of creating batiks with wax and paint. I even tried painting one myself.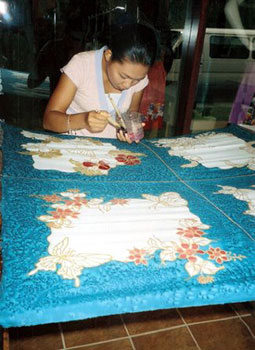 Next stop: a place that has great significance in the island's history and legends, the Mausoleum of Makran Mahsuri. This beautiful young maiden came from Thailand (Siam) in the 1800's and married the son of the tribal chief. She was respected and loved by everyone but her mother-in-law who was jealous and accused the girl of adultery. Mahsuri was sentenced to death despite her pleas of innocence. As she died, she cursed the island and said that for seven generations the island would not prosper. Fact or fiction, Langkawi did not begin to prosper again until 1987 after the movie "Anna and the King" starring Jodie Foster was filmed here.
The museum at the site of the mausoleum shows proof in the form of English newspaper clippings decrying her wrongful execution and a genealogy chart with photos tracing her history. There is also a movie re-enactment of the tragedy.
Langkawi is a culinary paradise with an impressive selection of Malay, Chinese, Indian and Thai restaurants. One first-class choice is the Matahari Malay Restaurant, a little compound of traditional Malay buildings surrounded by gardens, palms, flowering shrubs and cobbled pathways lit by little lamps. Absolutely charming! A bevy of lovely young Malay women graciously escorted us to our table. The menu offered Sayur Masaic Loder, vegetables cooked in coconut milk, vermicelli and bean curd, Ayam Gulai Kampung, chicken cooked in a clay pot with shallots, garlic, ginger, lemongrass, curry and lemon leaf, turmeric and coconut milk served with a plate of rice, each dish attractively garnished with a darling little red pepper cut into flower petals with green leaves. Traditional Malay music played while we dined.
After dinner we browsed around the lamp-lit gardens inspecting the bird baths full of flowers and tiny green frogs. Even a visit to the washroom was a delight. Sprays of fragrant plumeria were scattered around the counters and floated in the toilet bowls!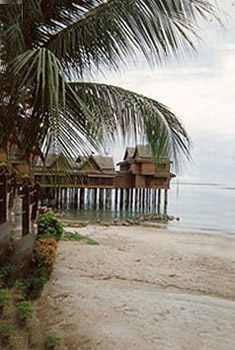 An adventurous boat trip from a Malay fishing village took us up the Kilim River through the dense and swampy mangrove forest passing by a rocky island (Flying Fox Island) to observe the hundreds of huge bats. These "flying foxes" or "flying dogs" have wing spans that can reach 1.2 meters. Dozens hung from the trees.
As the boat plied its way up past the river delta to the mangrove forest, we spotted some "mangrove dogs" (Malay dingos), a small russet-coloured dog that can run about in the muck and mire without sinking. The mangrove forest is home to many species of wild life such as pythons, monitor lizards, crocodiles and of course gangs of monkeys. Many shades of green reflect from the jungle. The mangrove trees grow right down into the water, their roots exposed at low tide. They are used for the production of charcoal. and are protected by the ecologists and forestry service.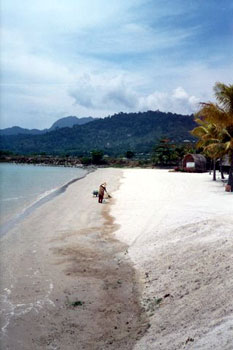 Farther along, we stopped at a fish farm We teetered along the wooden plank floats and watched our guide feed a manta ray named "Sexy Lips." He invited me to hold the horseshoe crab or pick up the slippery polka-dotted moral eel but I wasn't brave enough.
We sailed back downriver to a deserted beach at Tanjung Ruh, where we stopped for a most refreshing swim observed, of course, by a family of curious macaques.
As the sun set behind the palms dappling the Adaman Sea with shimmers of rose and gold, I reflected on my week in Langkawi. It was a memorable holiday, fulfilling my life's dream of lazing on a tropical island but the only 'pirates' I encountered were those pesky monkeys!
If You Go:
Getting there by Air: There are daily flights from Kuala Lumpur and Panang and Singapore. International flights arrive from London, Osaka and Taipei.
By sea: Ferries leave daily from Kuala Kedah and Kuala Perlis to Langkawi. There is also a ferry service between Penang and Langkawi.
Getting around the Island: Tours operate from most resorts. Taxis are readily available.
Accommodation: There is a wide range of accommodation to suit every budget from modest hotels to five-star resorts.
Contact: Tourism Malaysia
Canada Office:
1590 – 1111 W. Georgia Street, Vancouver B.C. V6E 4M3
Tel: (604) 689-8899 Fax: (604) 689-8894 Toll Free: 1-888-689-6872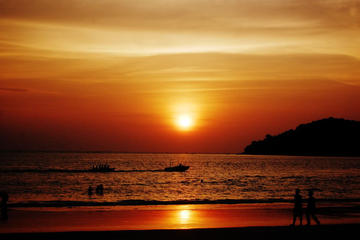 Langkawi Sunset Cruise with Dinner and Unlimited Drinks
About the author:
W. Ruth Kozak has always loved adventure and dreamed of being on a tropical island. Then one day the dream came true and she found herself in Langkawi, Malaysia. This is only one of Ruth's many adventures as a traveler. She writes travel stories and historical fiction novels and loves to be on the road exploring and researching.
Photo Credits:
First photo of Langkawi, Malaysia by: Ilyuza Mingazova on Unsplash
All other photos are by W. Ruth Kozak or Malaysian Tourism.