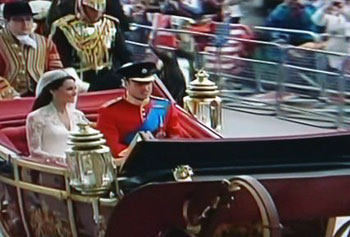 View From The Mall
by Alexis Brett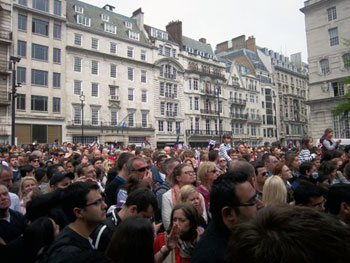 One third of the world's population tuned in to watch the Royal Wedding coverage on TV, and nearly one million people took to the streets of London on Friday, April 29th just to be at the epicenter of all the festivities. Luckily for me, I was one of those people.
The Royal Wedding is not only important because it means that Prince William, (the future King of England who is second to the throne after his father), will now have a future Queen to help him with his reign, it's also important because his wife (Kate Middleton) is Britain's first middle class queen-in-waiting, and some say her humble upbringing may change the future of the British monarchy forever.
The public's fascination with Kate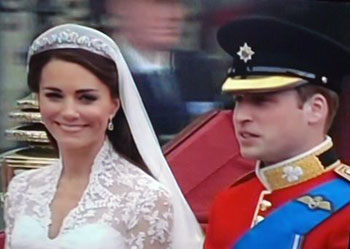 Believe it or not, when Kate was growing up in Bucklebury, England she used to have posters of Prince William and Prince Harry hanging up in her bedroom. Little did she know that a few years down the road she would end up meeting her beloved Prince William while studying at St. Andrews University in Scotland and end up becoming his wife nearly ten years later.
The Brits are fascinated with Kate not only because of her simple background which most British girls can identify with, but also because she seems to have a charming aura to her that has been comparable to the late Princess Diana, Prince William's mother. But unlike Princess Diana, Kate Middleton has a university education (she completed a degree in Art History), and also seems to be surprisingly prepared for life in the British monarchy given that she's 28, and Princess Diana was only 20 when she married Prince Charles.
But even though Kate Middleton grew up living the simple, middle-class life, she has now become one of the most talked about women on the planet; and within a few hours of me arriving in London I noticed that Kate was the topic of nearly every conversation in the streets of London.
The day of the ceremony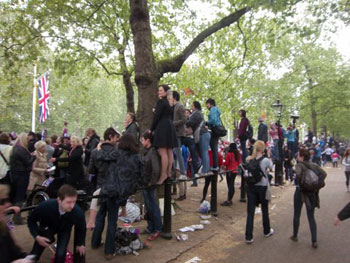 I woke up at the crack of dawn (6 a.m. to be exact) just so I could grab a good spot along the royal carriage route near Buckingham Palace. (Not being a particularly upbeat morning person I was committed to waking up early because I spent close to $100 USD so I could stay at a centrally-located hostel).
Even though it was early I could almost feel the buzzing of excitement as I quickly strolled through the streets. I saw people were wearing William, Harry and Kate masks, and there were tons of people waving around Canadian flags, American flags, South African flags…even Tesco and Hello Magazine flags.
You could tell there were many people who had camped in tents overnight just to get the first row along the carriage route, some of whom were still washing their teeth by the time I got there. I heard some parents claiming that they dragged their children out of bed at 4 a.m. just to see "Wills and Kate" in the flesh, but by mid-morning they had realized that this was probably not a good idea.
I walked down towards The Mall (the long stretch of road leading to Buckingham Palace) and as soon as I found a good spot I immediately searched for the shortest group of people in line so I could take my place behind them; (I ended up standing shoulder to shoulder with these people for the next eight hours and got to know them very well).
I talked to one Londoner who said he was in London celebrating Charles and Diana's wedding in 1981 and felt that it was only right to attend William and Kate's wedding 30 years later…only this time he was celebrating with his daughter.
By 8 a.m. the crowd was awake and festive, and many would start cheering whenever police cars or even garbage trucks would drive up and down The Mall. By 9 a.m. some people in the crowd started blasting their hand-held radios to listen to the local news for pre-service announcements. Some were gossiping about who the designer of Kate's wedding dress would be and there were even families recording their own bets about what color of dress Carole Middleton would be wearing or whether Kate's hair would be styled up or down.
By 10 a.m. the excitement in the streets was electrifying. There were people feverishly waving their flags whenever a film crew stopped to point a camera in their direction, and some started sitting on top of the porta-potties that were lined up behind us but were soon told to get off by the police. Being a stone's throw away from royalty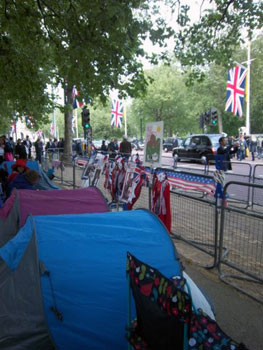 As the start of the ceremony edged closer and closer we started to see cars driving wedding guests and buses of foreign royals being escorted to Westminster Abbey. The ones who were smart enough to bring radios with them were listening through their headphones and shouting out reports about who was in the vehicle. Word started to spread that we would soon see members of the royal family being escorted to the service.
The crowd went wild as soon as the car driving Prince Charles and Camilla Parker-Bowles drove past us, but as soon as the Queen's car came into view there was a lot of friendly pushing and shoving just so everyone could get a good shot of the Queen from their camera; (the cars were all driving very fast so this proved to be difficult). You could almost hear the gasps in the crowd when everyone saw that the Queen was wearing a bright yellow dress, as there was much talk prior to the wedding that the Queen would wear blue or red.
But immediately after the Queen's car passed our section of the crowd started chanting "We Want Kate! We Want Kate!" And soon enough…Kate came. I couldn't get a good glimpse of her because the crowd was frantic by this point, but I saw a corner of her veil in the backseat window. After Kate's car drove past us teenage girls broke out into tears and sobbed about how beautiful she looked.
As soon as Kate arrived at Westminster Abbey at 11 a.m. the service started broadcasting over the megaphones and the crowd fell silent for the first time. It seemed as though the streets were at a complete standstill so people could listen to the service and sing along with the traditional British hymns.
Some members of the crowd sat down and took a cat nap or started eating the packed lunches that were in their backpacks all morning. Others were discussing how they were expecting a lot more people to show up along the route, but we found out later on that during the service policemen had blocked hundreds of people off from lining up behind us.
As soon as the couple started exchanging their vows the crowd started to get emotional and cheered as soon as they heard William or Kate's voice.
Then when the ceremony had wrapped up the streets immediately came back to life as people started cheering and waving their flags, and some even crying as soon as they heard the sound of the bagpipes. Soon the newlyweds would make their way from Westminster Abbey back to Buckingham Palace, and as soon as the royal carriage came into sight the whole crowd went wild yet again.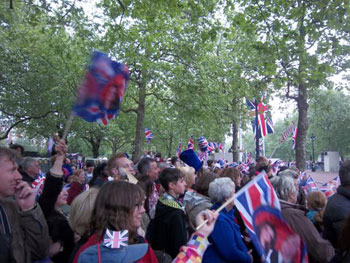 People were shoving each other and getting their cameras ready, and some children in the crowd broke out into tears because the atmosphere was so intense.
This time around I was lucky enough to get a good view of Kate as she and her now-husband were being escorted back to Buckingham Palace. She was smiling from ear to ear and her eyes lit up as she waved to the crowd and scanned over both sides of the street. It seemed as though she was trying to look at every single person in the crowd as if she was still taking it all in.
Seeing the Queen, Prince Charles and even Prince William was an experience I will never forget, but seeing Kate's big smile up close is something I will remember for a lifetime. This is truly what fairy tales are made of.
And although there were lots of complaints about how the Royal Wedding was a waste of money and that there were more important matters in the world to worry about, being in London during the Royal Wedding made me realize that this is just what the world needs right now: To forget about unemployment, rising gas costs, terrorists and war in the Middle East, and to come together to celebrate a fairy tale love story that came true for one middle-class girl from Bucklebury who ended up marrying her Prince Charming.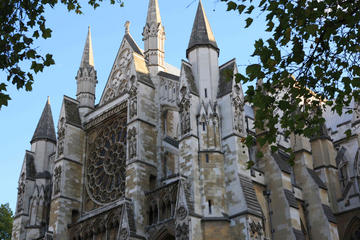 London Combo: Westminster Abbey with Changing of the Guard, Buckingham Palace and Afternoon Tea
About the author:
Alexis Brett is a Canadian journalism graduate who works as a freelance writer and recently moved to the UK. You can read her travel tweets @RambleOnEh.
All photos are by Alexis Brett.