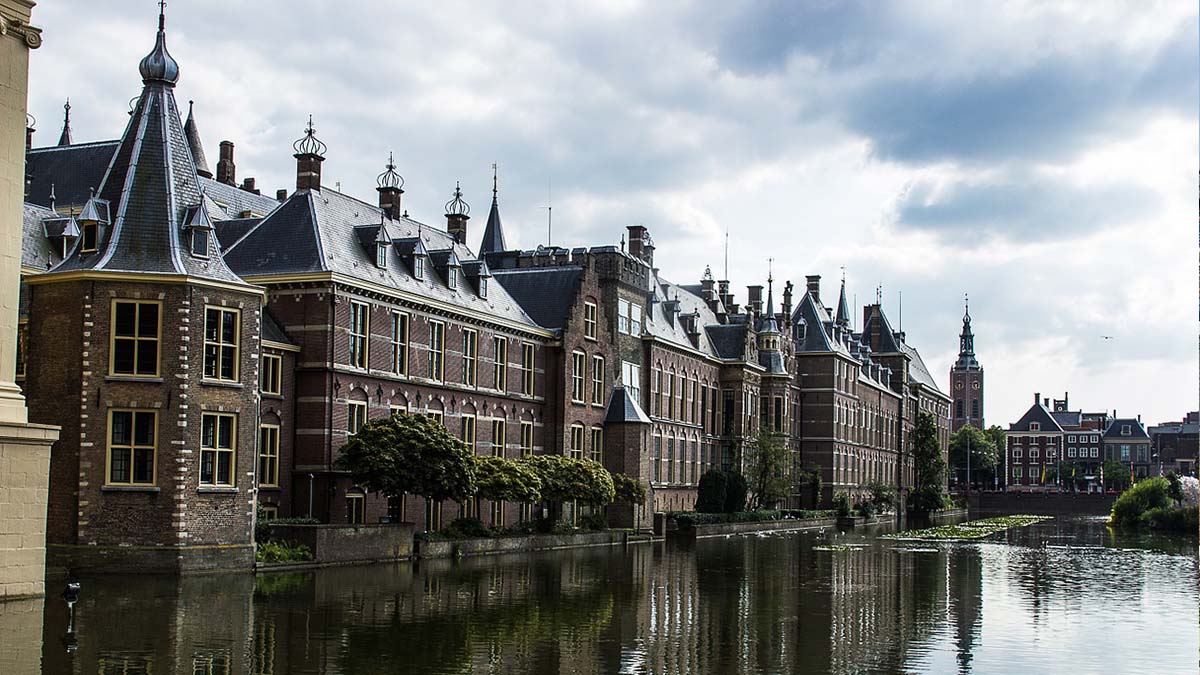 The Netherlands
by Angela Lapham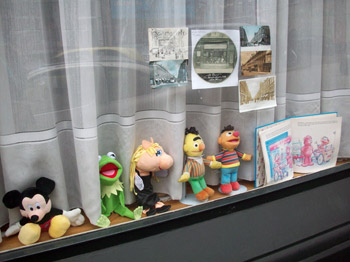 If you enjoyed the liberalism, museums and art galleries of Amsterdam, why not continue on less than an hour's train ride away in the far less touristy yet decidedly more international 'city of peace and justice,' Den Haag ('The Hague')? As well as these kinds of attractions, Den Haag's human rights law courts – the International Criminal Court, International Criminal Tribunal for Former Yugoslavia, and International Court of Justice – offer free, extraordinary experiences that can't be had anywhere else in the world. Den Haag is also home to the biggest outdoor market in Europe; a gorgeous antique market); old fashioned shop fronts; and friendly locals who decorate their bicycle baskets with ribbons and plastic flowers, and their front yards and apartment window sills with toys and ornaments. Locals also tend to be fluent in English, making it easy for you to get around and to better understand the culture.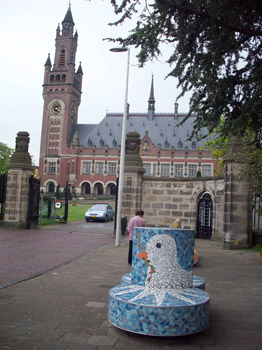 Most people visiting Den Haag visit the Peace Palace. Currently celebrating its 100th anniversary, the Peace Palace established Den Haag as an international centre for human rights. At the visitors centre, Tuesday – Friday, 10 – 5pm (4pm in winter), you can enjoy a free short film and interactive exhibition about all that is housed here: the International Court of Justice (United Nations court that settles legal disputes between the 192 United Nations member states), the Permanent Court of Arbitration, the Peace Palace Library and the Hague Academy for International Law (visit takes 30-45 mins). On weekends, you can tour the palace and its courtrooms for €8.50. Book tickets here (Scroll down to the bottom of the page!). In addition, the International Court of Justice has tours. These are free, but BOOKING IS REQUIRED 6 WEEKS ahead by submitting the online form found here. You can also view the Court's cases. For some cases, you can reserve a seat, while for those attracting considerable interest, such as whaling, it's first come, first served. Click here for the latest info.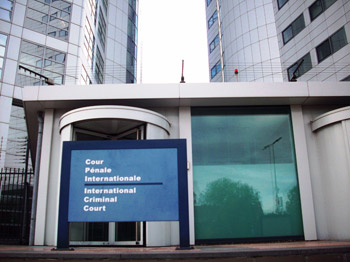 Over in another area of Den Haag, the International Criminal Court – which places on trial alleged perpetrators of crimes against humanity – also offers free tours: Tuesday to Friday, 10am – 12. Incredibly inspiring, the tour gave me an amazing insight into the lengths the court goes to, to enable victims of human rights abuses to testify: from organising visa-free travel to Den Haag, to teaching victims about computers and court rooms, giving them psychological counselling, and allowing them all the time they need to share their experiences with the court. BOOKING IS REQUIRED 1 MONTH ahead (2 months for groups of 5+) by emailing in the form found here. You can also watch cases. No need to book – just remember your passport. Check the court schedule.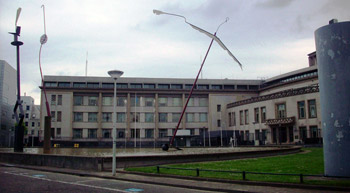 I watched a case, actually two – not at the International Criminal Court but at the International Criminal Tribunal for Former Yugoslavia (ICTY), the first international war crimes tribunal since WWII. If you've travelled to Bosnia, Croatia, Serbia or Kosovo, you'll be very aware of the 1990s conflicts that went on within these regions. Or perhaps you remember the horrific images in the news? Serbian soldiers holding the Bosnian city of Sarajevo under siege for almost 4 years, of refugees fleeing their newly declared nation of Kosovo, of mass slaughter upon mass slaughter. Perhaps while Europe suffered another genocide, you were in a classroom learning about Nazi Germany or in a movie theatre watching the newly released Schlinder's List? The ICTY is today's Nuremburg Trials.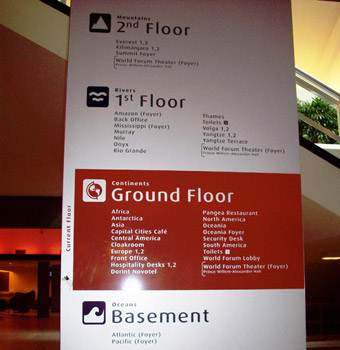 Infamous war criminals such as Radovan Karadžic attract visitors, but for the little-known, I was pretty much it. After passing through security, I was escorted to a small room with a large window into a court room. Watching a live court case of this magnitude was fascinating: two men charged with genocide, a policeman either side; an American lawyer; a British judge; two additional judges; a witness; the British judge instructing the witness to refrain from looking at the accused every time he began to speak; simultaneous language translation into English, French and Bosnian-Croatian-Serbian; the American lawyer defining the word 'payment' as a catch-all term in English as opposed to its more specific meanings in Bosnian-Croatian-Serbian.
Then…down dropped a blind, to stop me seeing a confidential piece of evidence. Was I disappointed? No, I found it exhilarating – a sign that I was amidst a real court case. These next few minutes I spent getting to know my security escort. Expecting him to have completed the standard security officer training, I was most impressed to hear he'd served 6 months in Bosnia followed by 3 years in Kosovo. Up went the blind again and I watched on until court adjourned for the day. Again, there's no need to book – just remember your passport.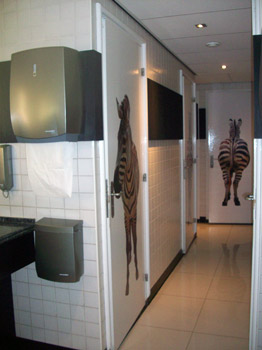 Leaving the ICTY, I notice the World Forum Convention Centre next door and decide to check it out. Glad I did. The interior is very, very interesting! There's a world map carpet, zebra toilets, a basement themed by the world's oceans, a ground floor themed by the world's continents, a first floor themed by the world's rivers, and a second floor themed by the world's mountains. Den Haag has a lot of novel surprises like that. Effort seems to be put into making things that extra bit fun, revealing another way the city cultivates all that is good about humanity. You can see it everywhere: in the bike and pedestrian culture, in the bustling historical squares full of cafes and bars, in the parks and forested areas (outnumbering those of any other Dutch city), and in the culturally diverse shops and events. There are so many things to do that I haven't even mentioned. Visit the official tourist website now!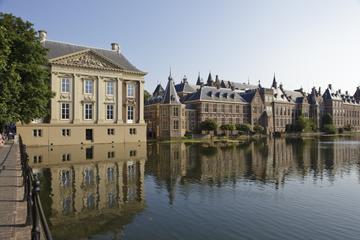 Private Tour: The Hague Walking Tour Including Peace Palace Visitors Center
If You Go:
♦ The Hague Tourism
♦ The Hague Market
♦ To visit the ICTY
♦ Court Schedules
♦ Well connected to Europe, you can quickly reach Den Haag by:
Train – 4 hours from London (2 hours to Brussels on the Eurostar; then 2 hours Brussels to Den Haag on the Thalys) OR 3 hours from Paris (Thalys). See www.bahn.com for the rest of Europe.
Plane – Easiest through Amsterdam's Schiphol Airport, a mere 22 minute train ride from Den Haag.
Bus – I took a Eurolines bus from London. Megabus also runs buses to Amsterdam. Buses take 10-12 hours. Both offer fares as low as £14.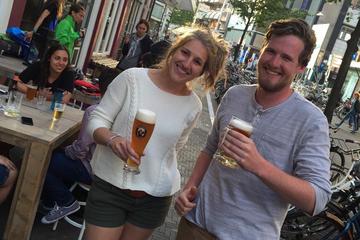 The Hague Beer Tasting
About the author:
Angela Lapham is a history graduate from Australia with a passion for randomness, travel, world events, and human rights, She found The Hague fascinating. She's currently enjoying Melbourne but forever looking forward to her next European adventure!
Photographs #2 – 7 are by Angela Lapham.