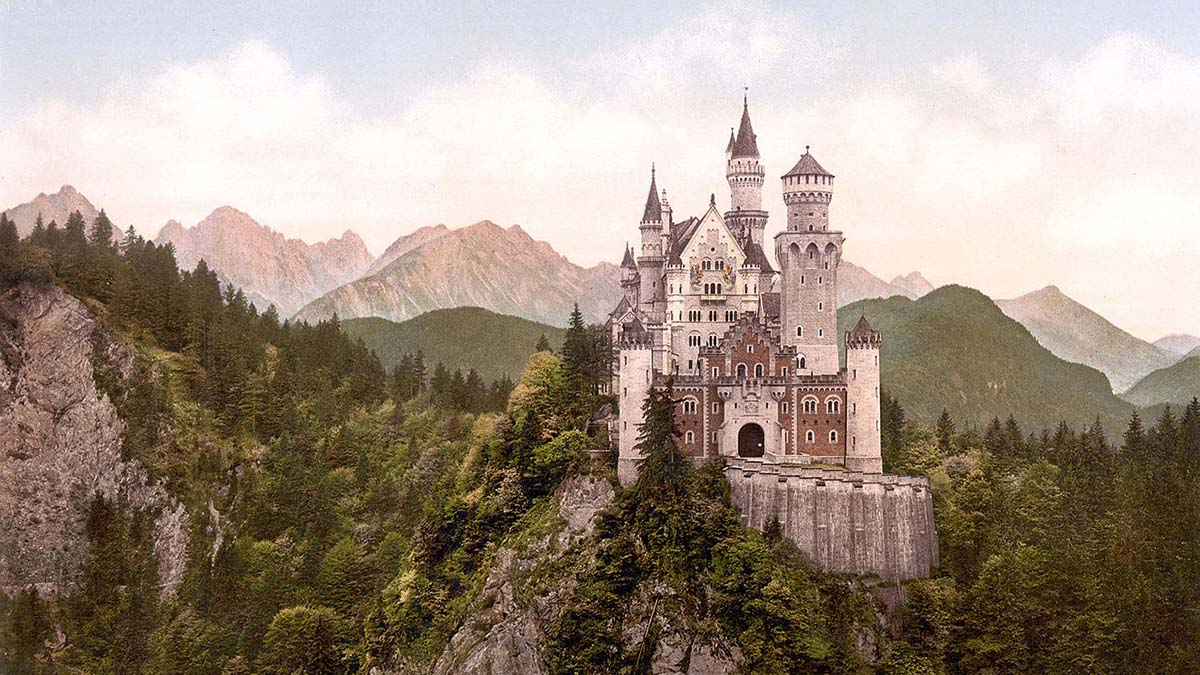 Bavaria, Germany
by Leslie Hebert 
Taking wrong turns is an unavoidable hazard of travel. But, as I discovered while in Bavaria, a wrong turn may sometimes lead to a delightful detour.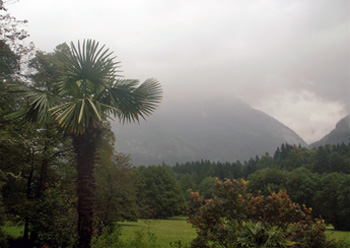 I had come to Bavaria for the Oberammergau Passion Play. On the day of my unanticipated detour I woke up planning to explore the picturesque village where I was staying. But dark grey clouds hid the peaks of the nearby mountains threatening rain, and it was obviously a day to head indoors.
I decided to visit the most famous castle in Bavaria. Most people would not recognize the castle's name, Neuschwanstein, but they would probably recognize its iconic turrets and spires. This fairy tale castle, which inspired Cinderella's Castle in Disney's Magic Kingdom, soars into the air from a spectacular perch atop a mountain ridge, appearing to defy gravity as it commands the valley below.
I caught the local bus into Oberammergau and headed for the bus terminal. A bus pulled up and I asked the driver if he was going to the castle. He gave a curt nod, so I climbed aboard and rode to the end of the line.
The day was not starting well. After a dreary ride in the rain my destination was disappointing. We were not high in the mountains but down in a valley. Following a crowd of tourists along a wide gravel path through the trees I turned a corner to see not soaring spires and turrets cresting a mountain peak but a rather unimpressive white house atop a small hill.
There was, however, a very impressive double staircase set into the hill. So having spent a good hour riding on the bus to get there, I decided to climb the three flights of stairs up the hill to check things out. As I got closer, the squat building at the top gradually began to appear more beautiful and ornate. When I arrived at the top, I paid the admission fee and waited for the English-speaking tour.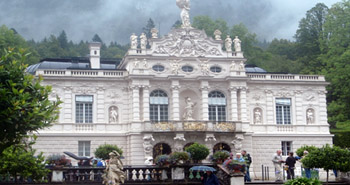 As it turned out, the tour was absolutely captivating. I had accidentally discovered Schloss Linderhof, built by Bavaria's "mad" King Ludwig II between 1869 and 1886. I had never heard of King Ludwig but discovered that he was one of history's great eccentrics. He was a fascinating study in contrasts. He was a shy and sensitive soul trained from birth for a very public royal role. He was a petty vassal owing allegiance to Prussia who, because he was born on the day Louis IX was canonized, felt an almost mystical connection to the great French House of Bourbon. He was also a modern constitutional monarch with very limited powers who wished he could have been one of history's absolute rulers.
Just as Bourbon queen Marie-Antoinette built a play village in the grounds of Versailles because she dreamed of living like a peasant, Ludwig built play castles to realize his dreams of regal self-indulgence. Neuschwanstein is a fairy-tale vision which immortalized medieval fantasy and earned Ludwig the nickname "Swan King" (Neuschwanstein means "new swan stone"). In contrast, Linderhof is a re-creation in miniature of Marie-Antoinette's Versailles where he could become the "Moon King" in imitation of the great Bourbon monarch, Sun King Louis XIV.
Although the exterior of the building appeared fairly unassuming, the interior, as befits a re-creation of the excesses of the Sun King, was absolutely over-the-top. There did not seem to be a square inch of wall or ceiling that was not ornately decorated with mirrors, gilt carvings, painted tapestries, silk, or embroidery.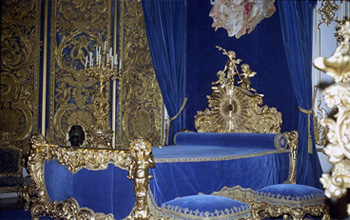 The tour started in the vestibule, an elegant space decorated with rose marble pillars which pays tribute to the Sun King. Our guide then led us through a series of rooms, each more opulent than the last, to Ludwig's massive bedroom where he slept in an enormous four poster bed covered in royal blue, gold-trimmed velvet.
We then entered the dining room. Here, we were told, Ludwig always ate alone and unseen. No servants entered the dining room to serve the king. Instead, his food was brought up on a mechanical table which rose up as if by magic from the kitchen below.
According to our guide, this reclusive monarch was ashamed of his bad teeth. However, I thought this was a rather odd explanation. After all, the servants would have been expected to show their king the greatest respect and would certainly not have been allowed to mock his poor dental health. So I did some checking on the Linderhof website. Here I discovered a much more interesting explanation. According to the memoirs of a royal cook, the table was always set to serve "at least three or four people" so that Ludwig could enjoy entertaining imaginary guests such as Louis XIV and Madame Pompadour with his brilliant and witty conversation.
The grand finale of the house tour was the Hall of Mirrors. Have you ever looked into a mirror that contains a reflection of a mirror behind you, and you see reflections of reflections going off into infinity? Imagine that phenomenon magnified a hundredfold in a room where every inch of wall seems to show a dizzying, mind-blowing reflection of a myriad other reflections. Now combine this vision with another tidbit of information I found on the Linderhof website. King Ludwig slept all day and stayed up all night. This room would therefore have likely been his nocturnal retreat. At night, illuminated by hundreds of flickering candles reflected over and over again in the room's hundreds of mirrors, it would have presented a truly hypnotic vision. What dreams, I wondered, did the Moon King play out in this magical room?
After the house tour, I wandered around the palace grounds through artfully designed gardens which were definitely not at their best on this dark, sunless afternoon. It began to rain just as I saw a sign to The Venus Grotto, a cave in the hillside which offered a dry escape.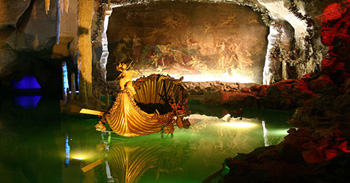 For King Ludwig, the Venus Grotto was much more than a simple escape from the rain. It was a total escape from reality. The King, it seems, was quite a patron of the arts. He commissioned private theatrical and musical performances in his very own theatre. He was also a great admirer and major sponsor of the great composer Richard Wagner, and the Venus Grotto was a man-made cave, a private retreat where Ludwig could enjoy Wagner's music in blissful solitude.
The Grotto was lit by colored electric lights. While I assumed at first these were a modern addition for the benefit of tourists, I was surprised to learn that they were actually installed by Ludwig himself, who used one of Germany's first electric generators to power them. In the cave, a waterfall fed a small lake on which floated a shell-shaped boat. The far end of the grotto was dominated by a large mural featuring a scene from a Wagnerian opera. Ludwig used to love spending time here, floating around the lake in the boat with Wagner, listening to stirring performances of Wagner's music.
But Ludwig would have been better spending less time at the Venus Grotto and more time worrying about how to pay for his building projects.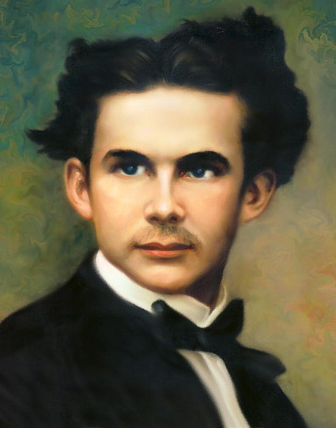 Marie-Antoinette was guillotined for the excesses of Bourbon royalty. Ludwig's end, although more prosaic, was also a consequence of his profligate lifestyle. It also holds a tantalizing element of mystery.
The king borrowed heavily from foreign banks to finance his fantasies, and in 1885 the banks began demanding repayment. The government, considering Ludwig unfit to govern, had psychiatrist Bernhard von Gudden diagnose him as insane. They deposed and imprisoned him. Three days after his internment, Ludwig went for a walk along the shore of Lake Starnberg with von Gudden. The two were later found dead, floating in the lake.
There were rumors of an accidental drowning or suicide, but these scenarios seem to be ruled out by the fact that there were two bodies. Murder was more likely, but who murdered Ludwig and von Gudden and why? Were they murdered to stop von Gudden helping the king to escape? Could it have been part of a government conspiracy? After more than 130 years, the jury is still out.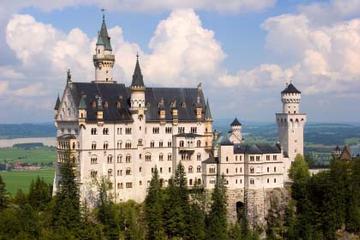 Royal Castles Tour from Frankfurt: Neuschwanstein Castle and Linderhof Palace
If You Go:
By Road:
Take the A95 motorway and then the B2 to Oberau. Look for road signs to Ettal (Ettaler Strasse, B23), drive through Ettal and turn left onto St2060. When you arrive in Linderhof turn right to the palace. You can find a trip planner at https://www.inspirock.com/germany/ettal/schloss-linderhof-a17253631
By Public Transport:
From elsewhere in Germany, take the train to Oberammergau. If you are staying in a village outside Oberammergau, take the local bus into town. Catch bus 9622 from Oberammergau station to Linderhof.
References:
Neuschwanstein Castle
Linderhof Palace
Study Claims Bavarian Monarch Was Sane
About the author:
Lesley Hebert is a graduate of Simon Fraser University. Now retired from teaching English as a second language in the classroom, she teaches ESL to international students via Skype. She also writes on-line articles which reflect a lively, inquiring mind and a love of travel, language, history and culture.
Photo Credits:
Print of Neuschwanstein Castle, ten years after its completion. US Library of Congress: Public domain via Wikimedia Commons.
Clouds over the Bavarian mountains: Photo by Lesley Hebert.
Linderhof Palace. Photo by Mike Hebert.
Bedroom, Linderhof Palace. Karl Gritschke (1923-1990), uploaded by: Moros (Own work) Public domain via Wikimedia Commons.
The Venus Grotto, Schloss Linderhof. By Softeis. Public Domain via Wikimedia Commons.
Ludwig II, the Swan King (ca. 1864). M Jacob (ARTQUID.com). Public domain via Wikimedia Commons.