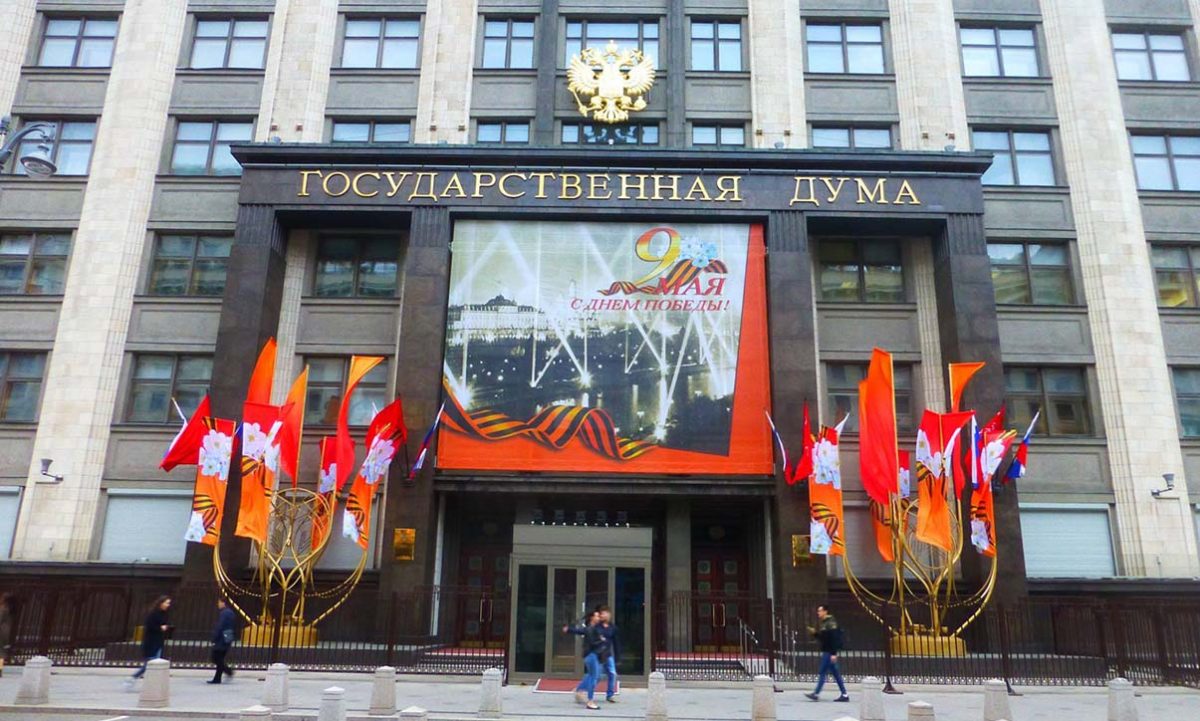 by Angela Lapham
I predict May might be a good time to visit Moscow. Not too touristy, not too cold and…
1 May is May Day. International Workers' Day was a big deal in Soviet Russia. Would it be in today's Russia?
&
9 May is Victory Day, the day Germany surrendered to the Allies in WWII. Moscow holds a huge military parade in commemoration.
May Day
As soon as we arrive, we see Victory Day decorations all over the city. Whether anything is planned for May Day, however, remains a mystery. We knew there were big parades in Communist times, but all we can find about the upcoming May Day is an online reference to the parade that took place two years prior. This mentions a midday start. What could we do but head for Red Square and hope for the best?
Oh no! Loads of people are walking away from the city waving Russian flags. Have we missed it?
No one appears to be dismantling the fence barrier though. In fact, people, including police, are standing alongside it. Is more planned?
The crowd keeps growing.
An hour later we're glad we stuck around.
 The parade isn't inside Red Square but in front of it. Nevertheless, just like the Soviet-era, it's big, red, and full of Lenin and hammer & sickle flags. Marchers are all ages, though predominantly older – presumably carrying the tradition on from their youth.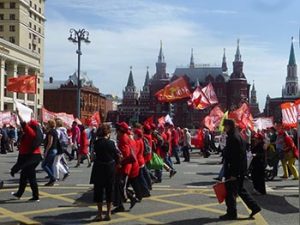 What's new is that they also clutch banners calling for revolution and an end to government corruption. Some get so passionate they come right up to the fence we're standing behind to vocalize their demands. I'm comforted to see the police tolerating it all.
The parade concludes with marchers and onlookers gathering in front of a temporary stage, fittingly parked beside Karl Marx's statue – now a platform for roaring speeches and the Communist anthem 'The Internationale.' There's even an operatically-trained choir to lead.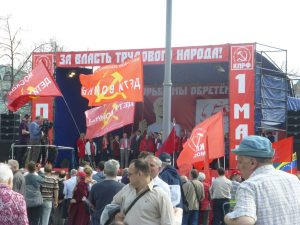 On the ground lie blankets from which the more enterprising communists hawk antique Soviet-era brooches, illustrated children's books on Lenin, and other reasonably priced, authentic souvenirs. Curious to see how the day had been covered on the news, that night we watch 'Russia Today,' the Russian international news channel. We discover that the crowd we'd seen leaving the city that morning had also been at a May Day parade: a pro-government, nationalist celebration of workers' rights at Red Square. Notably, the first May Day parade held at Red Square since 1992 took place in 2014 – the year Russia took over Crimea. Likewise, it wasn't until 1996 that the Victory Day parade came to be held annually, and 2008 that it included military vehicles. Before then, Victory Day parades only occurred in 1965, 1985 and 1990.
Victory Day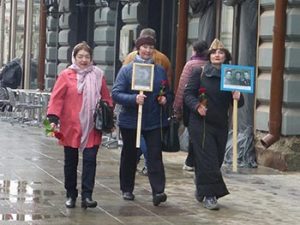 If Putin's aim was to bring people together under what was arguably Russia's greatest achievement – the winning of WWII for the allies – it worked! Millions are out. Many are wearing military fashions and the orange and black striped St Georges ribbon, which in 1769 became the highest military decoration of Imperial Russia. They carry red carnations to give out to veterans and lay at memorials, as well as these great professionally made signs displaying photos and short bios of family members that served. Much more informative than our practice of simply wearing their medals! Children dress in khaki uniform; toddlers pedal around in toy tanks.
Throughout the city, concerts entertain and projectors show war footage. Many pay their respects at the war memorial at Park Pobedy (pobedy meaning victory) and the co-located Museum of the Great Patriotic War, which offers free entry today. In the museum, people are keenly engaging with the exhibits, school choirs are busy warming hearts, and men are having their photos taken with Stalin's statue.
As for the Victory Day parade itself…
We didn't secure a position early enough to see it on the day. Not that we minded – it was still great to be amongst it. Plus, we'd already seen it. Twice! Attending full-scale rehearsals on the 3rd and 6th. While these also attract crowds, they're not so well attended as to obscure your view.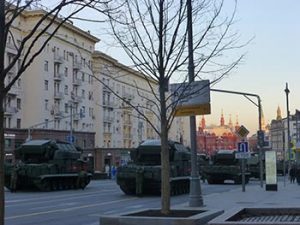 Each rehearsal requires the city center to be completely blocked off. Tanks, missile systems, armored and combat vehicles are all lined up ready to go, remaining stationary for 1-2 hours during which time you can take photos. Surreal. Wait until you see them powering down the street! The strong scent of kerosene in the air…the thunder of engines…
The grand finale is the jets overhead: red, white and blue smoke trailing behind them resembling the stripes of the Russian flag. That gets the previously austere, silent crowd clapping and cheering!
Whether or not you're against killing machines forming the centerpiece of a parade, if you enjoy travelling as a sort of journalism, you'll be eternally grateful for that first week and a half in May.
27 April to 9 May also sees the staging of the annual A Cappella Festival. Walking through the city, we're treated to many free performances, both traditional and modern.
 If You Go:
Moscow is awash with free/extraordinarily cheap activities, all of which provide fascinating insights into Russian culture, history and society.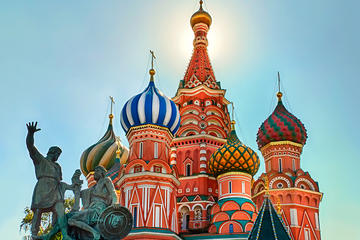 City Bus or Car Tour to Incredible Moscow
Lenin
See the embalmed leader of the Bolshevik Revolution and first leader of the USSR. (NOTE: the mausoleum closes late April and doesn't reopen until just after mid-May. Usual opening hours are 10am-1pm Tue, Wed, Thu, Sat, Sun).
Metro
Spend hours admiring the world's most beautiful metro stations, for less than $1:
Though not as extravagant as the Soviet-era stations, new stations, i.e. Dostoevskaya, continue to be works of art.
Get a good overview of Moscow by riding the entire circle of the new Central Circle line linking all its outer suburbs. This Western European-style train will cost you less than $1 (including a metro transfer!).
Parks
Hang out in some of Moscow's ninety six stunning parks where you'll enjoy free concerts from purpose-built stages, fountains choreographed to classical music, statues of famous Russians, and art exhibition spaces. Gorky Park is a must.
Russian State Library (one of the five great libraries of the world).
Enjoy statues of Russian writers and Soviet citizens, and a front door sign that still reads 'CCCP Lenin Library.'
Wander through old-fashioned reading rooms, each with their own specialized collection and typically a painting of Lenin on the wall (Open Mon to Sat 9am to 8pm EXCEPT the last Monday of the month).
Perhaps because Russians are the second biggest readers in the world (after China), Moscow also has an unusually high number of large and lively bookshops. At the very least, go for the atmosphere!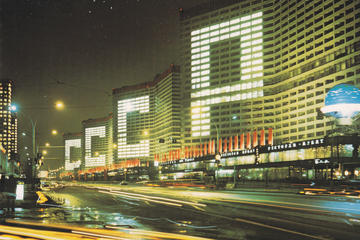 Private Moscow Walking Tour: Life in the Soviet Times
Panoramic view
Look out over Moscow from the observation deck of the 7th Floor of the Central Children's Store (Lubyanka Square, near Red Square). Historic buildings within view are described in English. Enter through the excellent free museum showcasing toys sold in the Soviet-era.
The world's largest mechanical clock also resides here, as does a 'Lego store' filled with Lego constructions of the Kremlin, Bolshoi Theatre, and Russian countryside.
Museums
State Central Museum of Contemporary Russian History
Tsarist-era luxury Shopping
GUM (Red Square). Built in the 19th century, this elegant arcade of shops was a department store during Soviet times.
Yeliseyevsky Gastronom (Tverskaya Street). Architecturally beautiful gourmet supermarket.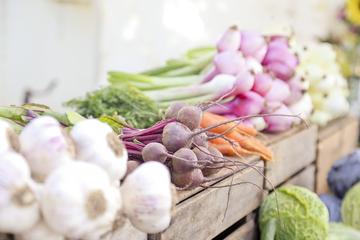 Gastronomic tour in Moscow
Soviet Exhibition grounds & Cosmonaut Memorial
Take the metro to Station VDNKh (acronym for 'Exhibition of Achievements of National Economy'). In Soviet times, the 130m squared grounds hosted more than 300 national and international exhibitions a year. Now largely a recreation space, on weekends its people-watching heaven.
The colossal size of the grounds, numerous tall Corinthian-columned pavilions – several of which carry the names of countries of the former USSR, and glistening gold Friendship of Nations fountain fill me with the kind of excitement I imagine a child gets when they see Disneyland for the first time. Pavillions 'Belarus' and 'Armenia' continue to sell their nation's produce, and Armenia has a fancy but inexpensive restaurant. The giant statue of 'Worker and Kolkhoz Woman', sculpted for the 1937 International Trade Show in Paris can be seen over 1 km away.
Next door you can marvel at the similarly extraordinary 107m high 'Lenin and the workers' cosmonaut memorial. The cosmonaut museum underneath is also worth visiting (Open 10-7pm every day EXCEPT Mon. Thurs until 9pm).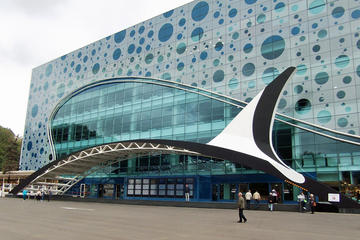 Amazing Tour to Mosquarium Space Museum of Cosmonautics and VDKH in Moscow Russia
About the author:
Angela is a Melbourne-based librarian and history graduate fascinated with Eastern Europe and different cultures and histories in general. Every few years it's time to take off to Europe for another lengthy adventure.
Photos by Angela Lapham