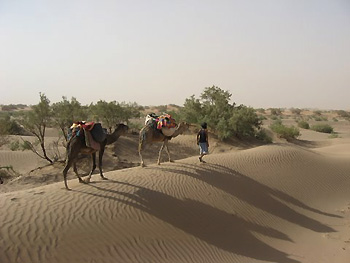 by Michael Ream
Heat waves rise from the sand as Ahmed hands me a canvas-wrapped water jug, a few beads of liquid glistening on its mouth. "Drink," he orders as the sun beats down on my back, sweat staining my dusty canvas LL Bean shirt. I tip the jug back with both hands and take a good long swig.
A day and a half earlier I walked into the Sahara, just me, a fellow traveler and Ahmed, our guide. Now the three of us have come to this spot, a windswept patch of sand in the shade of an acacia tree, after walking miles without map, compass or GPS. Setting down the jug, I watch Ahmed saddle up the camels and silently hope for the best.
The road to the desert
The Sahara begins in southern Morocco, its dunes sprawling across the border with Algeria. The village of M'Hamid, a base for desert treks, is located over the Atlas Mountains from Marrakech, where I catch a bus in the city's sprawling, chaotic transit station.
At Zagora, seven hours into the ride, my bus pulls into a forlorn, empty parking lot. Touts swarm the bus the moment I exit, offering desert treks. The hot breezes blowing across the lot are almost a relief after the erratic air conditioning on the bus.
The oldest – and biggest – of the touts, wearing faded jeans and a smudged polo shirt, pushes through the others, wedging himself between them and me, standing in an unshaded doorway, fanning myself with a map torn from my Lonely Planet. After his French brings only shrugs, he begins halting attempts in English. Simon, a Belgian whom I befriended on the bus, stands taciturnly behind me, arms crossed over his lanky frame.
Striking out with English, the tout follows us onto the bus as it pulls out of the lot. He sits down opposite Simon and jabbers away in French. Simon translates for me. "He's offering us a trek via camel and four wheel drive, plus two nights in a hotel." I start talking to the tout, with Simon serving as translator.
"We get two nights in the hotel as well as the trek?"
"Oh yes, very nice hotel," replies the tout. "Nice dinner as well." Nice seems to be a word he has practiced quite a bit.
"What about supplies, gear, stuff like that?"
"It's all included."
We go back and forth for a few more minutes, talking money, before we finally shake on a deal. The tout immediately dials his cell phone and talks excitedly for a few minutes. For the rest of the bus ride he hovers over us, following us outside whenever the bus stops, perhaps afraid to let us get away.
The sky has turned pitch black by the time the bus wheezes to a halt in M'Hamid's dusty square. Temperatures are still in the high 80s, and the chocolates I purchased at the duty-free shop in JFK airport have melted in their tin container.
The village is literally at the end of the road, with the two-lane desert highway we just rode across petering out in the drifts of sand that blow through the streets. A scattering of ramshackle shops and cafes stand like lonely beacons in the night. A new group of touts clamors to carry our bags. We make our way to the hotel, a squat, boxy structure built around two courtyards, with a concrete bathhouse. The rooms are cell-like, with mattresses on the floor and wooden shutters with peeling paint. After a sumptuous feast of Moroccan tajine, meat and vegetable stew, with delicious fresh-baked bread, I lie down and immediately doze off.
A Lonely Landscape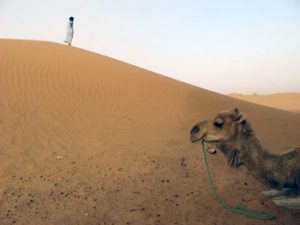 In the morning, we meet Ahmed in a vacant lot by the hotel. His sky blue djellaba flutters in the desert breeze as he busies himself heaving baskets bulging with food, water jugs and blankets into large wicker baskets slung over the saddles of two camels.
The temperature is already well into the 90s. We set off on foot through the narrow streets of the village, Ahmed hauling the camels on a length of rope. Within minutes, we have left the village and are heading into a landscape of palm trees and sandy scrubland. Dun-colored dunes loom in the distance.
Ahmed moves briskly, taking a call on his cell phone and greeting a passing goatherd. Without breaking stride, he strips off his robe and turban, revealing a black tank top stretched over a ropy, muscular physique and a mop of thick black hair. He snaps his cell phone shut.
"How old are you?" he says, asking the question using a combination of French, English and hand gestures. We answer and then ask Ahmed his age. "Twenty-One," he says, although he looks about sixteen.
Complete silence settles in. There's no hum of power lines or even the chirping of a lone bird. Soon we reach a mudbrick fort. Trickles of shade fall across the weathered walls from an adjacent grove of palm trees. "Entre," says Ahmed, gesturing toward a low doorway cut into a wall. I duck inside, past straw poking through the mudbrick, into a cool, cavelike room.
I lie down and doze off, wilted from the heat. Minutes later, Ahmed rouses me. He has rolled out a rug and set a sumptuous spread of Salade Marocaine, a colorful mélange of potatoes, green pepper, purple onion and ripe red tomatoes, swimming in the oil of sardines that are piled high on the communal platter. The three of us scoop up morsels of food with hunks of chewy, fresh-baked bread ripped directly from a round loaf. I lick my fingers clean and lounge on the rug, sitting up to accept a glass of sweet mint tea from a pot that Ahmed brews over a portable burner. Not even a buzzing fly can keep me from dozing off again.
Later, I blink in blinding rays of the sun that stream through the doorway. Ahmed and Simon are chatting away. "He's one of eight children – or maybe it's ten," says Simon. "He guides when tourists are here, the rest of the time…" he shrugs. Life is hard in the desert.
Ahmed scurries outside and returns with a plastic water bottle filled with a thick white liquid. Camel's milk. It's frothy and very sweet. I drift back to sleep, blissfully dreaming of aquamarine pools and crashing waves.
Under the Stars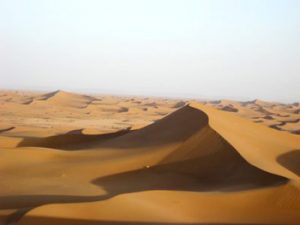 We head out, still pushing toward the dunes, traversing the humps of sand pockmarked with scrubby bushes. Suddenly, Ahmed turns to me and Simon and hands over the rope. He points into the distance and indicates he'll join us shortly.
"What's going on?" I say to Simon.
He shrugs, and we begin moving with the camels.
We stumble down a dune. I look over my shoulder. Ahmed turns to face east, drops to his knees and lowers his head to the ground. I continue moving forward. A few minutes later Ahmed catches up.
We crest dune after dune, the sun riding in the sky ahead and painting the sand a rich ocher. A nomad crosses our path, wrapped all in black, riding sidesaddle aboard a donkey laden down with canvas bags.
"Es salaam alaykum," Ahmed calls out to him.
"Wa alaykum salaam," replies the nomad, his donkey never breaking stride.
We reach an acacia tree, the only vegetation around, and Ahmed slows the camels, heeling them to the ground. "We camp here tonight," Simon tells me after conferring with Ahmed. The camels move lazily over the endless dunes, snapping up what few blades of grass they can find.
Soon, Ahmed has a steady fire going from a few branches. As darkness descends, he settles a pot of tajine over the flames. After eating, we recline on the rugs. Ahmed stokes the fire and begins to dance around it, his robe whirling like a dervish. A wailing, guttural sound comes from his lips as he moves past the flames. Then he's pointing at me and gesturing. "I think he wants you to sing a song from your country," says Simon. I think for a moment, then begin: "This land is your land…"
Aboard the ships of the sand
In the morning, a slight chill hangs in the air and there's a thin layer of moisture on my sleeping bag. Ahmed is already up, setting out a breakfast of bread with jam and butter. The water from the canvas jug is warm from the desert heat. I take a look around. No signs of life anywhere.
Ahmed motions to me. He's rounded up the camels and has the saddles on them. I heave myself into the lead camel and off we ride. Riding a camel is like being atop a slow, rippling wave (Water metaphors come easy in the desert). I rock back and forth, steadying myself with the metal handhold on the saddle's pommel. After just a few seconds, my hair is caked with sand, and grains have coated my hands like a second skin.
Return to civilization
For two more days we bounce about the desert, utterly alone with the silence and emptiness. At another desert camp, a four-wheel drive owned by the tour company picks us up for a trip to the Erg Chigaga dunes, the most impressive yet: Close to 1,000 feet high. From the top, the view is of a full palette of reds, browns and yellows across the desert, with the occasional glimmer of green.
Back in M'Hamid, Simon and I clink two Coke bottles to our journey and successful return. The frosty glass bottles drip condensation onto a café table set on a dusty patio. Ahmed strolls up, and at first I don't recognize him. He's swapped his classic desert garb for a t-shirt for a Portugese soccer team. "Inshallah" he says with a wide smile beneath his turban. I smile back. It's traditional here to tell one to "Go with God," but it's Ahmed who took us into the desert and back.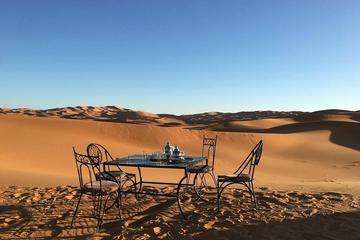 Private Tour: From Fez to Marrakech in 3 Days through the Sahara Desert
If You Go:
The official Moroccan National Tourist Office website: Visit Morocco
About the author:
Michael Ream is a journalist who has published travel articles about Tennessee, Mississippi and Louisiana and has been a reporter for newspapers in Arkansas, Mississippi and Illinois. He has traveled through Bolivia, Morocco, Spain, Ireland, the Netherlands, Germany, the Czech Republic, Slovakia and Hungary. Text and photos Copyright 2009 Michael Ream meream@rocketmail.com
All photos are by Michael Ream.