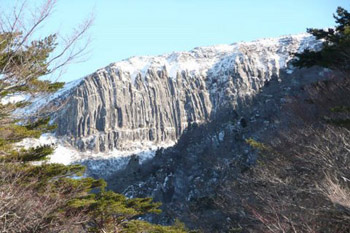 Mount Halla, South Korea
by Lee Beavington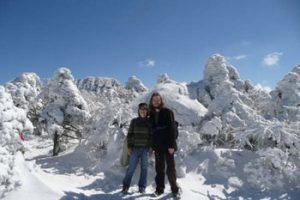 At the foot of Mount Halla, my girlfriend Jen and I stop and gape at the meter of snow clogging the trailhead. Our guidebook clearly specified: no special equipment required. Sure, it's the middle of winter. From a distance, the only visible snow lies atop Hallasan's trapezoidal summit, like a white fin on a surfacing whale. For two days we have explored the various temples and caves of Jeju Island. This offshore island boasts higher temperatures than the mainland and the nickname "Hawaii of South Korea." But we've dedicated our last day to hiking Mount Hallasan, starting early to reach the cloudless peak before the afternoon air rises, cools and condenses into concealing fog. The Yeongsil trail to the top – the shortest of four possible routes – should be an easy climb. Or so we thought.
Hallasan, a dormant shield volcano and the country's tallest peak, is the central figurehead of Jeju. A gentle slope descends on all sides of the prominent pinnacle, a volcanic crater that holds Baengnokdam Lake and dozens of white deer.
But in February, the topmost summit is closed for conservation, and even the start of the trail appears inaccessible.
After filling our water bottles from a natural spring, a local man waves us toward his store. We walk on, wary of a sales pitch, but he persists, barking frenetic Korean. "He's saying it's slippery, I think," Jen translates. As if in response, he emphatically hand-signals a near-vertical angle – no exaggeration, as we soon discover.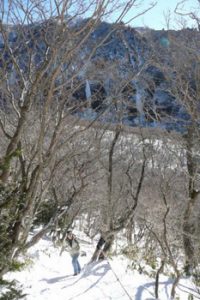 With a new pair of eight-dollar crampons now strapped to our running shoes, we begin the nearly four kilometre trek. At first, the path is relaxed, the metal spikes effortlessly stabbing into the packed snow. Waterfalls materialize beyond the leafless arms of Japanese oak, plunging down an enormous snow-lined bluff. But the cold breath of winter has frozen the streams into steeple-sized, dangling shards of ice.
Ahead, I spot a soaring ridge above a precipitous cliff. There is movement over the crest of rock. Recognition dawns on my face. "Guess what, Jen? That's where we're headed!"
She looks up, her eyes following the dark specks of people trudging along the imposing ridge high above us. "I hope it's not as dangerous as it looks…" Abruptly, the trail becomes sheer. We stand at the bottom of a daunting hill, as steep as a ladder. There are no rungs for our feet. A knotted rope provides a hold as we pull rather than push ourselves up the icy slope. Without crampons, our shoes would prove useless in finding footholds.
The going is slow but steady. Hand over hand, we haul ourselves to the top of the ridge that looked so impenetrable from afar, and reach our first viewpoint. I look to the west: dozens of craters dot the slope, the parasitic cones and lava domes like benign tumours on this ancient volcano. Cawing crows pester us for handouts as we refuel on water and chocolate. Despite freezing temperatures, the sun and sweat of the climb compels us to shed our outermost layer of clothes.
In warmer weather, Hallasan boasts over 2,000 species: fields of blooming azaleas paint the slopes purple, while weasels, snakes, frogs and 200 different birds call this unique alpine ecosystem home. Now, however, the flowers are buried, the trees wear a thick fur of hoarfrost, and all but the hardiest creatures have vanished. Yet the snow gives the grey mountainside a distinctive grandeur, transforming the harsh landscape into a shimmering white kingdom that rises right into the heavens.
I continue carefully along the ridge, digging in my crampons with forceful steps, fancying myself a mountaineer. Stairs have been hewn into the rock, and guideposts with a running rope steer hikers in the right direction—except in this deep snow, the line drags near our feet instead of at our hips. Vertigo threatens my balance. I try to focus by gluing my eyes to the narrow path, but can't help my gaze wandering to the distant shores of the South Sea, whose waves blend seamlessly into the misty cloud above, blurring the horizon. From here, everything seems so small and insignificant. I feel empowered, momentarily invincible.
My foot suddenly gives out from under me. Before I know what's happening, my left leg plummets through the crust. Having put my weight off the tightly packed main course, I find myself lodged in the sidewalk of deep, loose snow. I yank my leg free and shake the white dust from my pants. Not long after, Jen is down to her hip. She laughs, pulls herself out, and follows me into the ominous forest of firs.
The craggy, barren landscape has flattened, and we pass into one of the world's few naturally occurring sites of Korean fir. The three-meter trees stand like misshapen trolls, the summer guardians of Hallasan now frozen in time. Hoarfrost covers their stubby branches, encasing them in knobby white armour. Icicles hang from their limbs like crystal daggers. Their horizontal, windblown lines of snow salute the rising sun.
This feels like another planet. I walk between their boughs in silent awe, teary-eyed. Am I so enthralled by this unworldly place? Jen notices me squinting and has a different take. "We should put some sunscreen on your face. Snow is an excellent reflector." She's right: two days later my entire face begins to peel like old paint. A Korean woman who passed us near the trailhead now hastens by in the other direction. The summit must be near. Most Koreans favour a fast-paced, multiple-itinerary day. Jeju is inundated with "Express Tour" buses that seem to prepare for departure from a given site as soon as they arrive.
Four monks move leisurely by us. I think to myself, If we are trailing grey-robed Buddhists, we must really be taking our time.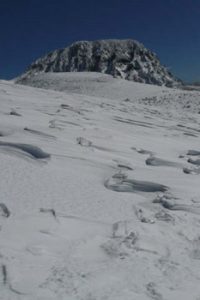 Mount Halla's summit soon rises majestically above the tree line. Its fiery core once spewed lava and rock; now, the breathtaking peak reminds me of the venerable Kilimanjaro. Jen and I move out from the trees and onto a smooth snowscape. Here, the signposts and safety ropes are completely buried, but the well-trodden path is easy enough to follow. A wisp of cloud floats beside us, then disappears. Months of wintry wind have carved snow dunes into the neighbouring slopes, forming white waves that lap toward the summit. Of all Jeju's attractions, none are as spectacular as Hallasan.
Closer now, having reached the 1700-meter mark, I scrutinize this godly stone sculpture. A flawless blue sky outlines the crater's toothed rim. We have beaten the afternoon clouds! Spines of snow-covered rock ripple down Hallasan's edges, the pillars of ice enough to dissuade further passage. Others ignore the warning signs, venturing over treacherous terrain to snap the perfect photo. We decide to be respectful of the environment – and our own well-being.
"All right," Jen says after we've devoured our packed lunch. It's high noon. The sun hangs directly over Mount Halla's noble peak. I feel tired yet exhilarated, galvanized by conquering a snow-covered mountain on foot.
Jen stands up. "Ka-ja," she says. Korean for let's go. Now it's time to go down the other side.
If You Go:
How To Get There: Jeju Island can be accessed by air or ferry. Buses will take you to the Eorimok, Gwaneumsa and Seongpanak trailheads. Yeosil requires a taxi or your own vehicle to reach the actual trailhead, which is 7.7 km from the bus stop. The cost for parking is about $2. As we arrived early in the morning by taxi ($20 from Jungmun) we didn't have to pay an entrance fee.

When To Go: Hallasan can be hiked any time of year. The spring bloom of azaleas is nothing short of spectacular. However, we found a most rewarding trek in the white landscapes of winter.

Facts about Mount Halla (Hallasan):
– shield volcano, elevation 1950 meters
– a large, 400-meter diameter crater is found in the prominent peak
– last eruption: 1007
– about 360 parasitic cones dot Hallasan's side slopes

The four trails:
Each trail boasts a unique set of sights and viewpoints. One option is to go up one trail and down another. This is easily done if you use public transport. Be sure to start early enough to reach the summit by noon, as the peak is often cloud-covered after this time. Also, park regulations require that you make your descent by a certain time, usually between 12 and 3 pm, depending on the trail, to avoid being caught out after dark. Watch for warning signs, and for the environment's sake, don't climb into the crater.
Eorimok: (4.8 km, one-way) – The easiest trail, although not the shortest. The slope is mostly gentle but steady, and can even be climbed by children (although I saw most dragging their feet toward the peak, or getting piggybacks from dad). 4 – 5 hours round trip.
Yeosil (3.7 km) – The shortest trail, but with very steep sections. More impressive viewpoints and scenery than Eorimok. Not recommended for young children or the unfit. About 4 hours roundtrip.
Gwaneumsa (8.7 km) and Seongpanak (9.6 km): Reserved for more ambitious trekkers. Start out at dawn, and leave at least nine hours to get up and down Hallasan.

What To Bring: Water, food and sunscreen are essentials any time of year. You can fill your water bottles at several natural springs. Some may find a hat and sunglasses helpful to fight the glare. Bring a light poncho in the summer. In the winter months (late November to March) you may also need hinged or semi-rigid crampons. Basic strap-on crampons are sold at the trailheads for $8. Hiking boots are recommended, though running shoes should suffice. There are outhouses near the summit.
Jeju Island Tours Now Available:
3-Day Tour of the Beautiful Jeju Island
Custom Private Group Tour of Jeju Island
Private Full Day Tour of UNESCO Global Geo Park in South Jeju Island
About the author:
Born in Canada as the 100th resident of Arkell, Ontario, Lee Beavington works as a biology lab instructor at Kwantlen University College in BC. In the past two years, he has traveled to India, Sri Lanka, Kenya, Iceland, Cambodia and South Korea. He writes in many genres, including memoir, science fiction and flash, and has had a novella published in Writers of the Future XXII.
Writing Website: www.leebeavington.com
Travel Blog: http://leeodyssey.blogspot.com/
Photo credits:
All photos are by Lee Beavington.