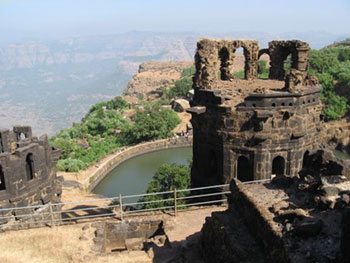 Maharashtra, India
by Deepak Amembal
When Chhatrapati Shivaji Maharaj calls, you just get up and go. And that is exactly what we did. On the dot of 5 a.m. we set out from Bandra, onto the Mumbai Goa highway NH17. The excitement at visiting a place that I had been trying to visit for the past twelve years, but somehow had never managed to do so, for a variety of reasons, was palpable. We finally reached Pachad at the base of the famous Fort Raigad. The road at times narrowed down to a single lane and had an exciting batch of about a dozen hairpin bends. Due to paucity of time and stamina, had decided to take the cable car which operates from the point where the navigable road ends and lifts you up to the fort in a matter of just four minutes.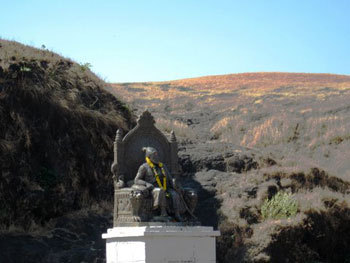 The Ropeway is like an elevator going up and down. Within minutes, it was our turn to get into the cable car and I readied my camera to get some pictures. Before I could catch my breath it was time to disembark at the Mena Darwaza – the alighting point for the Ropeway travelers. There we were met by Mr. Gaikwad, our guide on 'Raigad', who took us to a waiting group for further action. The starting point of our tour was the Mena Darwaza – the entrance through which the ladies of the Fort would enter. Fort Raigad was the capital of the most illustrious Maratha sovereign, Chhatrapati Shivaji Maharaj. European historians have described it as 'The Gibraltar of the East'. The sheer vertical rock face soaring into the sky above appears defiant and insurmountable. As the guide took us along through the various points on the Fort, he explained everything with a great amount of passion. Innumerable tales of Shivaji's strategies and valor were narrated as reasons towards his many wives. Apparently, he married princesses from various places to ensure that he would not be attacked by the rulers of those states! We counted eight living quarters specifically meant for his queens. He was so organized that he had a full-fledged 'Secretariat', the remnants of which can still be seen.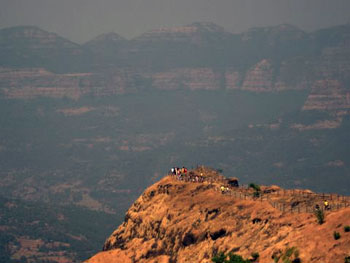 To ensure that his entourage and their families who lived with him on the Fort were comfortable, there was a 'Bazaar Peth' that was headed by one Nagappa Seth. Trading of daily consumables was carried out here for the convenience of the Fort residents. However, nowhere on the Fort was anyone allowed to display their name on any property and Nagappa wanted to feature somewhere somehow. Since he was not allowed to display his name anywhere, he displayed a 'Naag' or snake on the wall of his shop to symbolize his presence! We were then shown the 'TakMak' point, which is the edge of a sheer cliff from where traitors would be thrown off as punishment. This particular point also has a curious tale of steadfast devotion and obedience. Chhatrapati Shivaji used to visit the place often and would always be accompanied by a 'Chhatri' or an Umbrella bearer.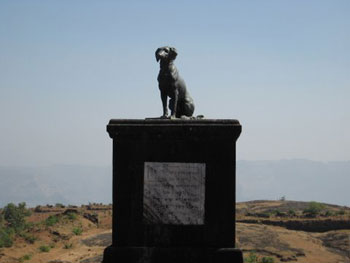 On one of these visits, due to strong winds, the Chhatri bearer who was under orders not to leave the Chhatri under any circumstances, was blown off the cliff but miraculously parachuted down to a village named Nizampur. Chhatrapati Shivaji then announced that the village would henceforth be called Chhatri Nizampur.
The most amazing place was where he held court or Durbar. Right from the doorway to his throne, anywhere in the court, if anyone even whispered, it could be heard very clearly at the throne. Our guide proved it to us by asking us to wait near the throne and he stood near the doorway and whispered 'Shivaji Maharaj ki', to which all of us promptly responded with a 'Jai Ho'. The architect has also carved his guarantee on the door leading to the Jagdishwar temple, which Shivaji visited daily, stating that it will stand the test of time and shall remain forever! Adjacent to this temple is the Samadhi of Chhatrapati Shivaji, behind which one can see the statue of a dog on a pedestal. This, we are told, was Shivaji's faithful dog 'Waghya' who committed suicide on learning about the death of his beloved master! Hence, he was immortalized next to his master.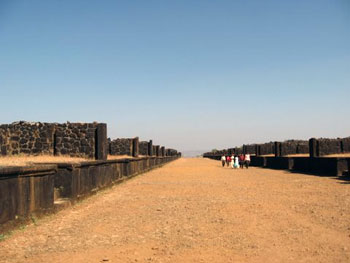 The overall area over which the Fort is built is huge and it would take at least a couple of days or more for a thorough absorption of the history therein. So, with a promise to return yet another day and spend a couple of days in the peaceful environs, we start on our way back. Lunch at 'Kulkarni's Suyash' restaurant near Mangaon on our return trip is memorable for a couple of reasons. The first of course is the delicious food in a natural ambience and second is the crows that descend on the tables at every opportunity to peck at the leftovers. This in spite of the catapult bearers who keep taking potshots at the intruders. It seems like a regular game between the birds and boys!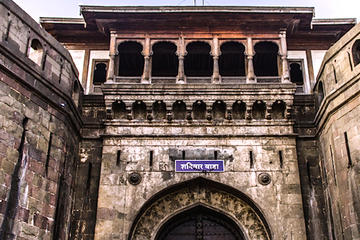 Cultural heritage walking tour in Pune
If You Go:
By Road
♦ From Pune: Chandni Chowk – Paud Road – Mulshi – Adarwadi – Nizampur – Mangaon – Mumbai-Goa Highway – Mahad – Raigad Distance from Pune to Raigad is 150 Km.
♦ From Mumbai: Mumbai to Panvel by Goa highway towards Goa up to Mahad-Raigad. Distance from Mumbai to Raigad is 190 Km.
♦ For details regarding the Ropeway, visit their website at www.raigadropeway.com
Accommodation
♦ MTDC has cottages on top and reservations can be made at www.maharashtratourism.gov.in The Ropeway organisation also has accommodation details of which can be obtained at www.raigadropeway.com
♦ Restaurants/cafes are run by MTDC and the Ropeway organisation at the Fort. You will also find locals selling typical Maharashtrian food and buttermilk at the Fort. The locals do not have any stalls but carry the food in baskets on their heads.
More Pune Tours Now Available:
Pune by foot, a cultural walking tour
The story of Pune through a Palace, a dargah and 2 temples
Private 4-Hour Food Walking Tour in Pune
Private Tour: Full-Day Bird Safari Excursion to Bhigwan from Pune
About the author:
Deepak Amembal has been a passionate traveler/photographer to satiate his thirst for history and culture. He used to travel on his 2 wheeler till a few years back. But with age having caught up, prefers to travel by his car. He firmly believes in the journey as much as the destination.
Do visit some of Deepka's blog sites.
magiceye.redbubble.com/works – To view/buy my Art
photings.blogspot.com – For jottings on photographs
magictravels.blogspot.com – For the magic of travel
mumbai-eyed.blogspot.com – For your daily dose of Mumbai
petsalways.blogspot.com – For rejoicing pet love!
instantwords.blogspot.com – A piece of my mind
All photos are by Deepak Amembal.