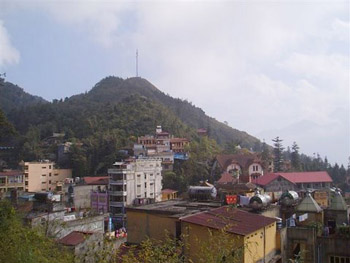 by Sandra Harper
Jumping off the Victoria Express train in 5:00am fog at Loa Cai, a Vietnamese border town next to China, is not the most inviting start to the day, but I am here – determined to find the Heavenly Gates near the mountain-top town of Sapa. I dash over to my name-sign held by a smiling guide, half hidden in the darkness. Ting introduces himself and grabs my knapsack. We run through the rain to a waiting van to drive along a narrow, zig-zagging road through the Hoang Lien Mountains which soar barren, 6,000 meters high. Pine trees are few, having being felled for fuel and for hand-built terraces where crops of rice flourish. Wandering water buffalo putter on the road alongside the minority H'mong women and children dressed in traditional blue pants and tunics.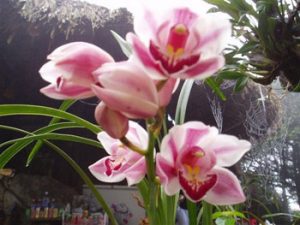 By the time we drive up into Sapa, the sun casts a momentary brilliant gleam over people, in heavy winter jackets, bustling about the market stalls. Sapa is formerly a hill station where the French sought refuge from the summer heat and hurly-burly of the cities. Sapa now is a large commercial city filled with local minority groups, Vietnamese, and tourists.
I wonder, in a soft voice, where the Heavenly Gates are. "Not to worry. Your arrival is auspicious," Ting says. "The sun shines! Normally fog seeps over everything at this time of year. Maybe this is heaven now."
Fog. I feel its coolness brush my cheek. I make a wish for continued good weather, as I pull on another layer of clothes for an early morning hike to the village where we will spend the night. The cold pierces my skin as I sling on my knapsack. Ting guides me up and down over a sliver of a rocky, narrow path, under the rhythmic waves of high mountain peaks. Farms of H'mong and Dzao minority peoples, in patchworks of terraced rice fields, surround a golden People's Committees house standing regally above.
By mid-morning, the sun is intense. Now I rarely look at the scenery – I must focus on the rocky trails. "No falling before I get to the Heavenly Gates" I keep saying. Four hours later I stagger into a Taphin Dzao family's home. My hosts, Po and Tan, are eager to show me their house before I sit down. It is compact, with four rooms downstairs, and a wooden ladder leading up to the second floor where I am to sleep among the huge bags of rice stored for the winter. Downstairs, two bedrooms, a kitchen with a fire-pit, a large room where a giant television brings news of the world to the two children sitting on the floor in front of huge bags of rice. Po eagerly shows me all the world-wide channels they receive daily from China. The dichotomy between their living conditions and immediate access to world news seems normal to him.
As Tan prepares dinner, she suggests that I sit on the outside porch. Finally, I rest! A continuous stream of Dzao ladies, with hands turned blue from dyeing cloth, engage me in conversation to practice their English and promote their jewelery. Ideas are exchanged, with laughter shared. It feels like heaven on earth here.
I go inside to sit on the floor by the fire-pit in the kitchen to watch the preparations and to talk with the family, Ting, and neighbours who drop in. Here is the centre of entertaining guests. Soon comes an array of foods –garlicy French Fries, egg-rolls, rice from their land, pork and vegetables, carrots shaped into flowers too good to eat. For dessert, the home-made rice liquor appears. Bottle after bottle. We shout in unison with the only English words Tan appears to know at this point of the evening, "Happy New Year. One. Two. Three." At three, we gulp the fire-laced liquid down. Over and over again. Conversation becomes merry. Finally I stagger up the ladder to my mattress on the floor and snuggle into the arms of immediate sleep, with no thoughts of my divine search.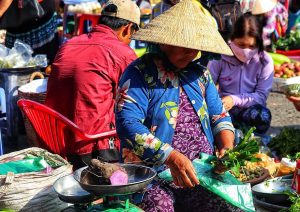 At sunrise, I waken to absolute quietness. Eventually Tan makes delicious crepes and the noise of eating rouses Ting. I tell him that I'm eager to find the Heavenly Gates to cleanse my soul after last night's celebration. Rather than a long hike back to Sapa in the brilliant sun, Ting wisely orders a van comes to pick us up by the river flowing through the valley near the farm.
Saba's large market is in full swing under puffy white clouds when we arrive. Hundreds of minority people, with their colourful costumes indicating their ethnic group, fill the market tables with jewelry, clothes and food. Fruits and vegetable abound. Tables, covered with chunks of meat and inner organs, are poised beside tubs of innocently swimming fish, unaware of their destiny. I dine at the Viet Emotion Café where a chair by the warm fireplace lures me from pursuing the Heavenly Gates today.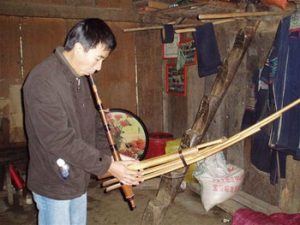 Next morning, with hints of fog whispering around the fir trees, we start to climb the thousand steps down to the Muong Hoa Valley. We are to visit the Cat Cat villages on our way to find the Heavenly Gates. In one tiny village, women show me how to dye material blue and Ting plays the ken instrument, which emits a sound like a prehistoric violin. He says men compose individual songs to play on the ken when they court a wife.
On the trail again, we move upwards past black pigs rooting among the grass with chickens, bare-bottomed babies sitting with little brown dogs, and water buffaloes with elegant horns watching us with cold eyes. The steps get steeper as we approach the Bac Falls that feed silvery water into a green-shuttered, power-generating station built long ago by the French. Soon I am pulling out my inhaler as I struggle to breathe. Steps carved out of the mountain's rock are nearly vertical. The fog suddenly starts to roll down from the peaks and casts a white veil over the pumpkins ripening of the shed roofs on the farms. Strips of ox skin, being stretched thin by the weight of heavy rocks, collect tiny dewdrops.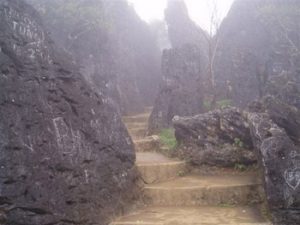 What goes up must come down. So we do. At the bottom of the other-side of the mountain, two guys with motorbikes motion to us to jump on and ride back to town in the cold, wet fog. They drop us off at Ham Rong Mountain, which has the shape of a Dragon, so Ting says. We skitter up steep, wet rocks and find a collection of orchids, with some in bloom. I am gasping for air when Ting announces we are now near the Gateway to Heaven. I realize once again that life unfolds when you least expect it.
The fog is now so heavy that we are clutching the black porous rocks, that form a tunnel, to find our way forward. When we reach the arched gate of black rocks, the vision of what is beyond is lost in thick, swirling grey clouds. Within a flash, I realize that the search for the heavenly gates is more the reward than what is beyond. I clutch the slippery rocks and walk down the mountain to hot soup in a warm café.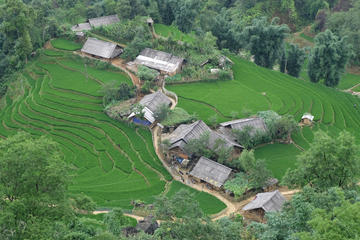 Sapa Morning Tour of Ma Tra Village with Valley Walk
If You Go:
General Information: www.FootprintsVietnam.com is a great website for information about Viet Nam. They provide very well organized and reasonably priced tours for one person to a group. Contact footprint@hn.vnn.vn
Accommodation: In Sapa I stayed in the pleasant, mid-range Hotel Goldsea. There is a range of hotels from the budget, Auberge Hotel to the top end, Victoria Sapa Hotel.
Things to Do: There are many areas to hike, with trekking maps easily available for those who want to go independently. Guides can be arranged at the hotels and home stay accommodations can be booked through Footprints. Markets in Sapa happen every day, but Saturday is the largest one.
Eateries: There's a wide variety of eateries. Gecko is a French-run restaurant with good food. Viet Emotion is run by a Vietnamese man and has excellent Vietnamese foods, traditional soups, sandwiches, coffee and warm fireplace. Pho soup is particularly revitalizing at the end of a hard day of hiking.
Transportation: To book a train from Hanoi, contact the Railway Booking Office (871 480). Presently, a sleeper ticket between Sapa and Hanoi can be booked only through hotels and agencies in Sapa, but you can book at the station in Hanoi.
Sapa Tours Now Available:
1 day Private tour Sapa Off The Beaten Path trekking start from Sapa
1 day Private tour Sapa trekking Y Linh Ho – Lao Chai – Ta Van (start from Sapa)
2-Day 3-Night Sapa Trek with Homestay Experience
About the author:
Sandra Harper combines two passions: traveling and writing. She has traveled all over the world and written about many of the countries she has visited. She's the author of two travel books: Traveling the Sun: A Healing Journey In Morocco, Tunisia and Spain
and Inside Kenya: Creating Tomorrow.
Contact: sharper7604@shaw.ca
Photographs:
All photos are by Sandra Harper.