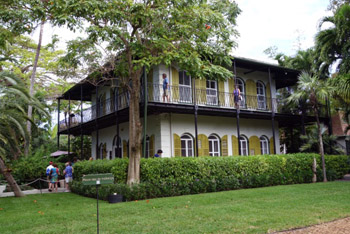 Key West Florida
by Edward Quan 
With a reputation as a womanizer, a heavy drinker, all while pursuing high adventure such as big game hunting in Africa, Ernest Hemingway was one of America's greatest novelists during the 20th century. He was also a highly disciplined writer who even after a long night of drinking, would rise at seven every morning to his private studio above his garage. This is where he composed some of his greatest literary novels, resulting in winning the Pulitzer Prize for Literature.
My journey to experience more of Hemingway's legendary life began with a flight to sun filled Miami, home to some of the most beautiful white sand beaches in America. It's a four-hour drive across the majestic Florida Keys islands to The Ernest Hemingway Home and Museum, located in Old Town district of Key West Florida, the farthest southern point in the continental United States. It's a small island community surrounded by the turquoise waters of the Caribbean where you can actually view Cuba, which is only 90 miles away.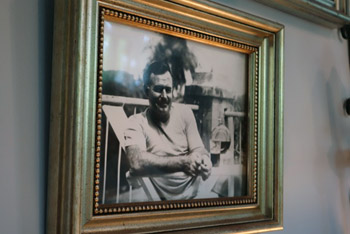 In 1928, Ernest Hemingway arrived at this tranquil island haven from Paris with his second wife, Pauline Pfeiffer, an accomplished journalist and contributor to Vogue Paris fashion magazine. The residence was a wedding gift from Pauline's wealthy uncle Gus Pfeiffer, given to them in 1931.
Built in a Spanish Colonial style, this two-story residence stands in grandeur painted in white with mustard color shutters, framing its large bay windows. Above, roof covered balconies surround the upstairs bedrooms offering a quiet sanctuary from hot summer days. Lush green gardens filled with colorful flowers surround the property, like a rich tropical oasis. It was and still is the largest residential property on the island of Key West. Located across the street from the front gate is the Key West lighthouse, which opened in 1848. This six and one-half story tall white tower was an important landmark for Hemingway personally, as it helped him find his way home after each night of drinking.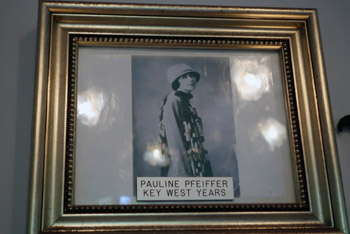 As I toured the house, you are immersed with Hemingway's remarkable literary achievements. Each bedroom commemorates one of his great novels. The rooms are filled with personal mementos such as European hand carved antique furniture, life size trophy heads and animal skins from his African's safaris and hunting trips from across the American west. He drew his inspiration for his boundless writings from many of these treasures.
Across from the main house and high above the garage Hemingway's private studio features an old manual typewriter on a rich mahogany table, paired with a sturdy leather-covered chair. The walls are covered with more of his personal hunting trophies. Shelves filled with his hardcover books sit between the floor to ceiling bay windows. You can sense Hemingway's true discipline as a writer when entering his studio; everything seems to have its place.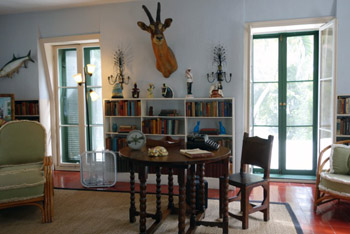 The most lavish feature of his residence is the 60 foot long, 24 foot wide, 10 foot deep in-ground aqua blue colored swimming pool, carved from the same solid coral bedrock which Key West Island sits upon. In the 1930's, no one had a swimming pool, as there was no fresh running water on the island. Therefore, the 80,000-gallon lighted swimming pool had to be filled by drilling down to the salt-water table and pumping the water into the pool. Filling the pool took nearly three days and during the summer months, salt water would only stay fresh for a few days. As a result, each week the pool had to be drained, the pool surfaces cleaned of algae, and then refilled again.
The cost of building the swimming pool was US$20,000, which was outlandish considering that Gus Pfeiffer only paid US$8,000 for the entire property. Hemingway is the one who proposed building the pool, yet he complained bitterly to Pauline about its high expense during construction. Our tour guide shared with us a story of Hemingway throwing down a penny at Pauline's feet on the pool patio shouting, "Pauline, you've spend all but my last penny, so you might as well have that!" As Hemingway's novels were rewritten as screenplays for motion pictures, Hollywood producers and movie stars were calling and Pauline was determined to host the most extravagant poolside parties on the island. Today, you can view a penny embedded in the concrete pool patio, which memorializes Hemingway's lost battle with his wife.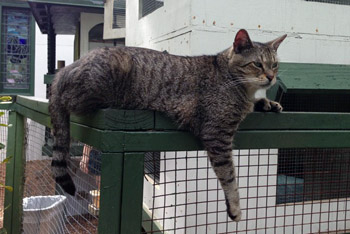 As I explored the residence grounds I came across several cats, all named after Hollywood stars from the 1930's such as Humphrey Bogart and Ingrid Bergman. Hemingway's household included a six-toed white cat named Snow White, which was given to him by a ship captain. Sailors considered these unique cats to be good luck, as they were very effective at catching vermin on board ships. Today, the only residences of The Hemingway Home and Museum are 47 polydactyl (six-toed) cats and it is believed that Snow White descendants live on the grounds today. Your average household cat has five front toes and four back toes. With the polydactyl gene in their DNA, that allows them to produce six-toed off spring.
Unsurprisingly, Ernest and Pauline Hemingway divorced in 1940 resulting in Ernest moving to his summer house in Cuba with fellow correspondent Martha Gellhorn, soon to be wife number three, for the next chapter of his dramatic life.
The Hemingway House and Museum gives you a unique window into the influence and legacy of one of the greatest writers of our time. It is well worth a visit during your next trip to Florida.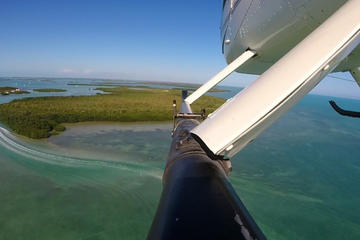 Key West Ultimate Island Experience
If You Go:
♦ The Hemingway Home & Museum 907 Whitehead St. Key West, Florida. Guided tours available. Hours: 9 am – 5 pm, open every day including holidays.
♦ Key West has an airport, cruise ship terminal and is the start of US Highway 1. Rent a vehicle in Miami and experience one of my top ten US scenic drives; Highway 1, a 113-mile drive over 42 magnificent bridges across Florida's Keys coral islands. Majority of the highway is only two lanes; allow up to four hours driving time from Miami.
♦ Caribbean hurricane season is from summer to fall, recommend the winter months to avoid rainy days.
♦ Truman Hotel, a trendy boutique hotel in the heart of Key West. Easy walking distance to Hemingway's House & Museum and Duval Street with restaurants, bars and shopping.
♦ Two local flavors that you must experience when visiting Key West. Crispy conch fritters, a large shelled sea creature and key lime pie made from locally grown limes. No visit would be complete without a visit to Jimmy Buffett's Margaritaville restaurant on Duval St. for drinks and souvenirs.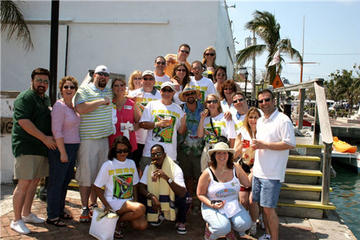 Key West Pub Crawl
About the author:
Edward Quan is a fashion and travel writer with a background as a European luxury fashion buyer. He lives and breathes the world of high fashion. From the style capitals across the globe, he shares their influences on designer fashion from art and culture, music and cinema, to history and architecture. Writing exceptional stories on personal style while traveling well, featuring the latest news on the fashion scene, luxury hotels and resorts, fine food and wine and of course, shopping. Learn more about Edward Quan by visiting his fashion column Style Drama that appears in The Bahamas Weekly In addition, he is a guest journalist with Retail-Insider, and member of the BC Association of Travel Writers.
All photos are by LM Quan:
The Ernest Hemingway Home and Museum in Old Town district of Key West, Florida.
One of the many photos on display that chronicles Ernest Hemingway's life and times during his nine years in the Florida Keys.
Pauline, Ernest Hemmingway's second wife, pursued a luxurious Hollywood lifestyle with extravagant poolside parties.
Ernest Hemingway studio resides above his garage with his desk and manual typewriter surrounded by his personal mementos.
One of 47 polydactyl (six-toed) cats that reside at the Ernest Hemingway House and Museum.