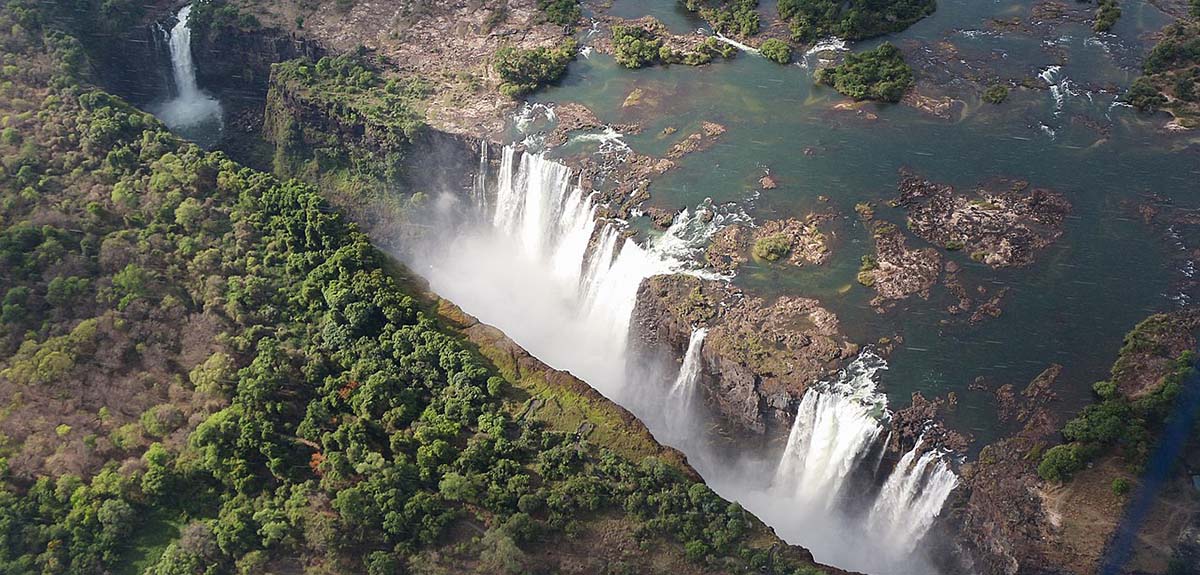 by Gail Meyer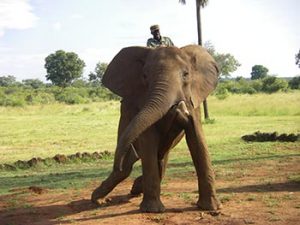 The elephant was covered with the red mud of Africa and walked with dignity into the clearing. Fortunately we weren't aware that he was an alpha male who sometimes had a strong streak of independence and had been known to charge. Pomelo, his handler, coaxed him into a kneeling position and Edmundo and I climbed onto his back with me in the middle and Pomelo up front. Once we were comfortably seated, the beast ascended to his full height and suddenly we were on the move.
This elephant africana felt graceful to me rather than lumbering and we were riding high above the scrub where we could watch giraffe graze in the distance. A family of common warthog, with long canine teeth curled over their snouts and tails held strictly vertical, scrambled out of the way. Edmundo and I were on a day safari in Zimbabwe because I needed a holiday before embarking on a volunteer teaching position in Namibia. We had ventured to the town of Victoria Falls and being a person "who rides," I had to ride an elephant even before visiting the largest waterfall in the world.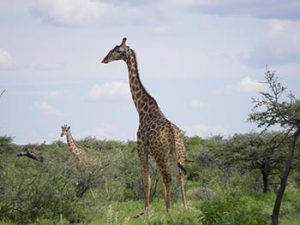 The giraffes' heads were above elephant height and I noticed their mouths turned crooked when they chewed on leaves ripped from lofty branches. They stood with an elegant giraffe aloofness, large ears and straight short horns positioned on proud heads; gold and milk chocolate geometric patterns glistening as the sun illuminated their bodies. We passed by the ugly scavenger marabou storks: black wings, unfeathered heads and necks, pink fleshy pouches under long clappering beaks and a two meter wingspan. Plains zebra babies nuzzled their mums and their bodies radiated black stripes alternating with black shadow stripes on a white background. Greater kudu, a timid antelope with curly horns on the male and prominent ears on the female, gave us a quick look. At the end of the afternoon, our rogue elephant meekly knelt down and we dismounted. Edmundo, who contrary to me is crazy about hugging animals, sat on his knee, fed him maize and molasses tidbits and then embraced his trunk in a gesture of farewell.
Pamusha Lodge had a friendly staff, a manager named Wisdom and a sweet flowery aroma in the tropical garden. A small hotel with simple rooms, I found it casual and welcoming and preferred it to the large hotels that tend to dominate well known tourist sites like Victoria Falls.
"Do you know what kind of tree that is?" I queried Edmundo, as we sipped dark brewed coffee and admired a 50 foot trunk growing through the thatched roof of the restaurant.
"Yes, he replied, it's a teak tree. Edmundo walked over to take a closer look and came back with a one inch fat frog sitting on his hand. As I admired it from a safe distance, fat frog urinated through his fingers and we both burst out laughing.
"That frog lives in the grass roof," our waiter Edwin remarked as he cleared away the coffee cups.
"Very cute," responded Edmundo, gently putting frog back on a low part of the restaurant's roof. I'll wash my hands and we'll swim before dinner."
The pool felt deliciously cool in the late afternoon heat. A Southern yellow billed hornbill flew overhead. Teak tree blossoms, smelling like honey suckle, floated down from above and Edmundo tucked one into my auburn hair. A short siesta seemed appropriate.
For dinner the waiter brought a delicious grilled Zambezi River bream served with stir fried peppers, onions and carrots plus steamed rice and a spicy mango salsa. While savouring a South African pinot gris, we chatted with a guest from Australia who worked as a nurse for Doctors Without Borders. Kelly had been working in a malnutrition clinic in Nigeria where women give birth to as many as 15 offspring and there is insufficient food. Parents eat first, then the oldest children and starvation is not abnormal for the youngest. Babies were near death when their mother's brought them to the clinic. Kelly was in Victoria Falls for a few days to de-stress from the tragedy of dying babies in Nigeria before flying home to Australia. Talking to Kelly put into perspective a harsh aspect of African life that most tourists never see. Victoria Falls itself is prosperous because of tourism, but Zimbabwe also has food shortages and extreme poverty, problems made worse under the dictatorship of Robert Mugabe. The Chinese harvest diamonds in Zimbabwe and consequently refused to vote against him at the United Nations. For those of us who love Africa, it's essential to come to terms with the dichotomy of economics. Some black Africans live a comfortable life but most are always struggling to have a job, to feed their children, to earn enough money for school fees and basic necessities.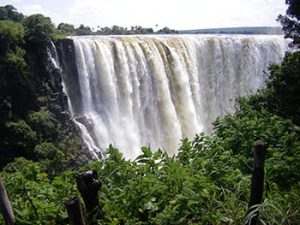 Victoria Falls is 108m high and 1708m wide. We rented green plastic rain capes at the entrance and carried them in the rising morning heat as we walked along stone pathways to get our first glimpse. The Zambezi River, golden with silt and flowing fast because of the rainy season, plunged into the depths of a narrow gorge creating billows of misty spray. Edmundo pulled the rain cape over my head and we shared a moment of euphoria gazing at a golden waterfall descending into wild rapids. As we continued along the walkway the clouds of mist intensified and a magic rainbow appeared. Each viewpoint demanded photos and I removed the zip lock camera protector from under the rain cape and quickly snapped for memories. After completing the circular walk we sat by a shady tree to digest the extraordinary experience. Vervet monkeys frolicked around us and their babies crawled along branches and were groomed by their mothers. As the monkey families leapt from branch to branch, we observed their alert black faces, long tails with a dark-brown tip, and blue male scrotums which provided a bright splash of colour.
Edmundo, as my soul mate, had also become "a person who rides" and now it was a helicopter to experience an aerial view of the Falls. He sat under the glass nose-dome beside Spanda, the South African trained pilot. The gorge was surprisingly narrow and long and looked mystical with its glistening puffs of spray. Spanda beamed when complimented for giving us exceptional vistas. An alluring ultra-light flew lower and closer and I quietly mentioned to Edmundo that we should consider it. The powerful rain-engorged Zambezi River, which divided the countries of Zambia and Zimbabwe, dropped the 108m to the rapids below. Edmundo and I agreed that our aerial view of the Zambezi River flowing over Victoria Falls, had created twelve minutes of bliss and an absolute adrenaline rush!
"High tea" at Victoria Falls Hotel permitted us to gaze across expansive lawns to the bridge, which was surrounded by mist and another brilliant rainbow. A full teapot arrived, then a three-tiered china plate piled high with delectables: dainty sandwiches, scones, strawberry jam, cream, and cakes made with banana, chocolate and vanilla cake filled with custard.
"Jolly nice," Edmundo said in his Argentinian accent.
"Yes, indeed," I replied in my Canadian as we laughed in appreciation.
There was one table of black Africans in a sea of white faces. Fortunately our black waiter knew them and gave them good service. The black faces look uncomfortably nervous but were determined to enjoy the occasion. Most of the white faces pretended the black table was invisible.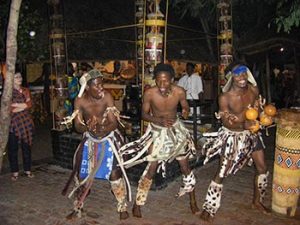 In the evening Bob Selinger, a Rotarian from the U.S., joined our table. In his retirement, Bob spends about half the year in Africa doing good works. He was raising money to build 600 bush wheelchairs which would go to four African countries and these would be built by disadvantaged youth in the U.S. He talked about the Rotarians funding a residence for abused women in Zambia; a playground where a USAID merry-go-round could pump water; and a science lab for a Zimbabwean secondary school.
The difference between tourism dollars and what filters down to the man on the street is substantial. We paid $50 each to go to a Boma restaurant where we dined on crocodile tail, warthog, Cape buffalo and stir fried ostrich. Barefoot tribal dancers entertained us with animal themed costumes and the men's bare torsos gleamed in the spotlight. Women danced opposite the men, sometimes confrontational, sometimes making fun, always seductive. The audience were each given a tall African drum decorated with geometric designs. We could feel the beat and participate. I stood drumming with my hands on the tonal skin and felt extraordinarily joyful.
Edmundo remarked, "You're dancing with your drum."
I responded, "Would you like to fly over the Falls in that ultralight tomorrow?"
If You Go: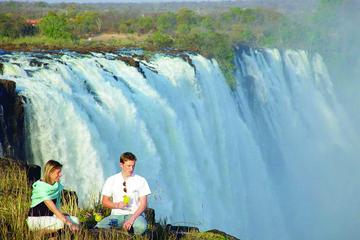 Majestic Victoria Falls 3 Day Package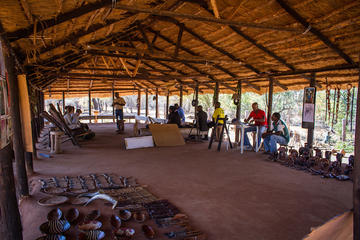 Half-Day Local Village Tour from Victoria Falls
About the author:
Gail Meyer's outdoor, travel writing and photos have been published in Canadian newspapers including the Times Colonist, Calgary Herald, Edmonton Journal, and the Gulf Islands Driftwood. She worked for many years as an educational video script writer and professional photographer. Her travel experience, often with a purpose, have been extensive. She taught English in Nicaragua, Galapagos, Malta, Buenos Aires, Tunisia, and Barcelona. Sub-Sahara Africa is a passion and she volunteered in Kenya for an education non-profit, in Uganda for an HIV project and spent three months in Namibia teaching grades 4,5,6,7 and 8 Life Skills. Gail is an inquisitive traveller who strives to gain more understanding of our complex world. To keep the memories alive, she writes about her travels and enjoys sharing her adventures with others.
Photo credits:
Victoria Falls, Zimbabwe #1 by Bernard Gagnon under the Creative Commons Attribution-Share Alike 4.0 International, 3.0 Unported, 2.5 Generic, 2.0 Generic and 1.0 Generic license.
Photos #2 – 5 by Gail Meyer