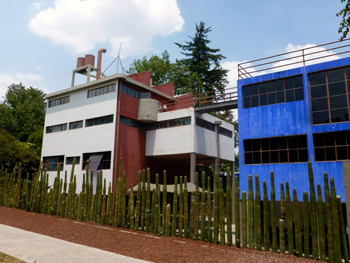 San Ángel, Mexico City
by Ellen Johnston 
It's one of the most famous artistic residences on this continent – Frida Kahlo's "Blue House," in the old village of Coyoacán, now part of Mexico City. Visitors who might otherwise avoid the grime and congestion of "el Distrito Federal" (as the capital is called) flock here in droves, not only to catch a glimpse of the artist's life, but also to enjoy the small pleasures of the neighborhood: cobblestone streets, artisan markets, painted tiles, shady public plazas, and blossoms that hang over almost every wall and doorway. It's a Mexico that feels lost in time, like Frida herself, despite the sprawl of the metropolis that surrounds it. And yet, Coyoacán is not the only part of Mexico City where such an experience can be had. Neighboring San Ángel, less visited and yet equally charming, supplies its own version of a rustic, historic Mexico—and it's own Frida Kahlo house to boot.
If the Blue House represents the individualism of Frida; her residence of childhood and late adult life (after her split with Diego Rivera), then the San Ángel house stands for what lay in between: her tumultuous marriage. Officially called the "Museo Casa Estudio Diego Rivera y Frida Kahlo," the house is a testament to the couple's amazing artistic partnership, but also to the deep fissures that drew them apart. Nothing represents this more inherently than the architecture itself, designed by Juan O'Gorman in the revolutionary functionalist style – two houses built into one, linked only by a narrow bridge that runs from rooftop to rooftop.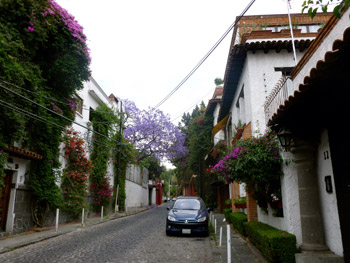 In San Ángel, the two artists fed, and bled, off each other. Medical problems plagued Frida, and her third pregnancy ended in yet another abortion. Diego had affairs, including one with Frida's own sister, Cristina, resulting in a temporary separation. But Frida's artistic and intellectual power also grew during this time, not only thanks to her husband, but also to the circle they drew around them. There, the surrealist André Breton recognized Frida's talent and offered to show her work in Paris. Not long after, she gave her first solo exhibition at Julien Levy's gallery in New York City. The San Ángel house was an incubator for both Frida's talent and her misery. The two went hand in hand, as she painted portrait after portrait of herself in the form of an invalid and scorned woman, sad and withering away just as her star began to grow. Yet, through all this, Frida was slowly, but surely, becoming recognized for something more than her marriage to Diego Rivera. She was an artist in her own right, standing on her own two, albeit crippled, feet.
Though Frida's feet were certainly not made for walking, the path between her homes in Coyoacán and San Ángel remains, to this day, one of Mexico City's most beautiful strolls. Avenida Francisco Sosa, which links the two former villages, is lined with colorful old colonial houses, draping gardens, crumbling stone walls and shaded churchyards. The walk takes about 40 minutes, beginning at Coyoacán's popular Jardín Centenario, and terminating in Plaza San Jacinto, San Ángel's central square.
Plaza San Jacinto is a popular gathering place, especially on Saturdays, when a giant arts and crafts market, known as El Bazaar Sábado, takes over. It's a place to buy handcrafted jewelry and ceramics, wooden trinkets and textiles—giving off a flavor that's a bit more 'artisanal' than the art you might find on the walls of Kahlo's San Ángel house (now a gallery). Not that that's a bad thing. Handicrafts (known as "artesania") are a staple of Mexican culture, and influenced Frida greatly. Like Diego Rivera, she strongly believed in the connection between Mexico's cultural past and its artistic present, and much of her inspiration (in color, dress and style) was derived from the work of the street artists and indigenous people who surrounded her. Many of the objects sold at San Ángel's Saturday market are timeless, the very same things Frida must have walked past so many years ago: colorful skulls for Día de los Muertos, embroidered blouses, and molcajetes (mortar and pestles) made from the volcanic rock of nearby, smoking, Popocatépetl.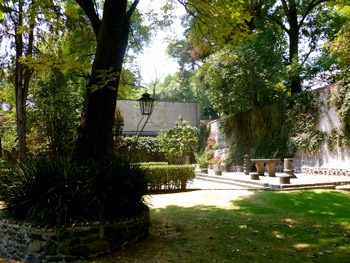 While Plaza San Jacinto is the neighborhood's most popular outdoor space, the neighboring church (of the same name) provides a much more beautiful and calm place in which to rest. The Iglesia de San Jacinto was built in the 16th century, and feels almost lost in time. Both the building and its garden predate the Great Fire of London, with an architecture and sensibility that might be more at home in Italy, or France, than Mexico. The cloister feels Tuscan, the sanctuary Spanish. The garden is wonderfully wild, almost English in style, hidden behind large stone walls, yet easily accessible through both the church and a stone archway. It's one of the most serene places in Mexico City, a beautiful spot to rest and contemplate, and begin to understand how truly ancient this country is, even in its colonial manifestations.
Would Frida have stopped and rested there from time to time? It's hard to say. As an atheist, communist and advocate of indigenous culture, she had every reason not to set foot in the garden of a church, even if it was aesthetically pleasing. But Frida also recognized that like Mexico itself, she was the product of multiple heritages: European and Indigenous, Catholic and not. The faces you see in the church's garden today tell the same story—they are inextricably linked to both sides of the ocean. The church of San Jacinto is a product of colonialism, but it's also indigenous to the modern-day culture of the mestizo Mexican nation.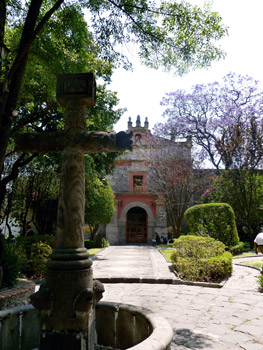 Frida's painting, The Two Fridas, tackles that very same subject, and dates from the years in which she lived in San Ángel. In the double self-portrait, a European Frida holds the hand of an indigenous Mexican version of herself. Even more importantly, their bloodstreams are connected by an artery flowing from heart to heart, bleeding out one end. In many ways, The Two Fridas is about acceptance – of Kahlo's ancestry, and of Mexico's—though it's also about struggle, both in her understanding of her own personal identity, and of her marriage. It's no accident that Frida needs to hold her own hand in the picture. The Two Fridas was painted just as her marriage was falling apart, and she divorced Diego for the first time.
The couple's San Ángel house is just a short walk away from plaza San Jacinto, northwest through the neighborhood's winding cobblestone streets. The roads are narrower than those in Coyoacán, and everything is a little bit more hidden, set back behind old stone walls. The Rivera-Kahlo house is a jolt from the norm, modern and airy, with no large fence to block the view. It operates as a museum, with Diego's side of the house preserved so that you can see what his studio actually looked like, while Frida's has been turned into an art gallery. The logic behind that decision, besides providing a nice balance of archival, historical information with curated art, comes from the sad truth of the situation. Frida's side of the house could not be preserved because she left it empty when she moved back to Coyoacán for good. Her things are no longer there, and so rotating exhibits have taken her place, a fitting treatment for a woman who was replaced over and over again by others in Diego's life.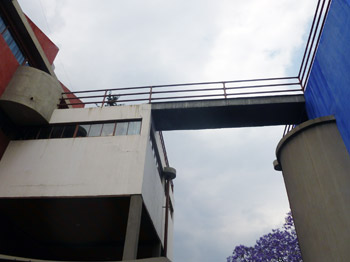 Despite the tragedy that surrounded their relationship, Frida's San Ángel house is not an inherently sad place to visit. It's architecturally interesting, and provides a hands-on, visceral glimpse into the two artists' lives—a chance to see the furniture, books and giant papier maché dolls that filled Diego's studio, and the ghosts that are left behind in Frida's. Outside, tall cactuses grow like relics of a great pre-Columbian past, and purple Jacaranda trees frame Frida's part of the building, which like her house in Coyoacán is painted a deep, vibrant blue. For all the pain and hardship she endured there, her resilience shines through.
San Ángel is a beautiful part of Mexico City that should not be missed by any devotee of Frida Kahlo's. The house was the centre of her life there, but her inspiration was, and still is, all around. Little shrines can be found on many street corners, built into the walls of gardens. Flower sellers and street vendors perambulate around Plaza San Jacinto, providing colors and flavors to those who are weary of walking. Many nearby artistic institutions can be perused for free. The Soumaya Museum in Plaza Loreto is a highlight, the older (but much smaller) brother of Carlos Slim's Polanco monolith of the same name. The Museo del Carmen, an old convent just a few blocks east, is also very worthwhile, as are the numerous commercial galleries that line the central square. It's not the same San Ángel that Frida once knew. It's too enmeshed with the urban fabric, and there are probably many more tourists these days than there were in her time. But the spirit of the place remains very much there: ancient, indigenous, colonial and new; a mix of them all, like Frida herself.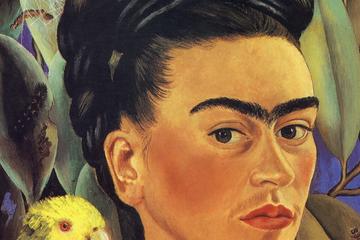 Frida Kahlo House, Xochimilco, and University City Tour
If You Go:
♦ San Ángel can be easily reached by public transportation. The Metrobus, Mexico City's Rapid Bus system, makes stops along Avenida Insurgentes, just a few blocks away. The closest stop is called "La Bombilla." If you're heading to Coyoacán first, it's faster to take the Metro, and get off at the Coyoacán stop.
♦ It's also possible to stay at a hotel in Coyoacán or San Ángel, though most are located more centrally, along Avenida Reforma or in neighbourhoods such as La Condesa and La Roma, about 30 minutes north.
♦ For an extended cultural visit, it's worth checking out the nearby campus of the National Autonomous University of Mexico, the country's finest institution of higher learning. A UNESCO heritage site, many of its murals and mosaics were done by famous Mexican artists (including Rivera) and its Ciudad Universitaria (located next to a Metrobus stop of the same name) has many theatres, concert halls and an excellent contemporary art museum.
♦ Good food abounds in both Coyoacán and San Ángel, with fancier tourist-oriented restaurants (and some of the few vegetarian spots in the whole city) located right next to cheap, local fare. Street vendors sell delicious blue-corn Tlacoyos right outside the Coyoacán metro stop, and in the Mercado of San Angel, you can try many local specialties at a very low price.
About the author:
Ellen Johnston is a cultural nomad – a traveller, writer and musician who bounces all over the world. Originally from Vancouver, Canada, she has West Coast roots, a Mediterranean soul and a Chilanga heart, thanks to a recent stint in the Mexican capital. She just returned from her first foray to South America, and will be moving to NYC in the fall to begin an MFA at NYU's Tisch School of the Arts. You can find links to her other writing and photography at www.ambiguoustraveller.wordpress.com
All photos by Ellen Johnston.