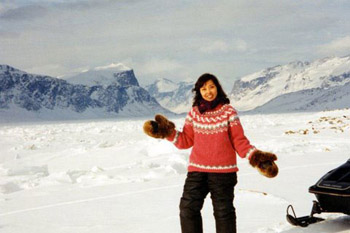 Nunavut, Canada
by Veronica Yeung
I had always dreamed of traveling to the Arctic North, a land full of wonder, mystery and adventure. Somehow, I felt a "calling" in my heart. I often wondered, maybe in my past life if I was an Inuit or a polar bear, yearning to return back to where I belong? I finally decided to realize my dream. So I packed all my heavy winter clothing and set off to Baffin Island.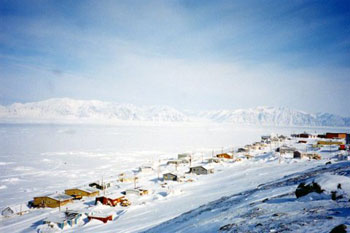 Baffin Island is part of the Canadian territory of Nunavut (formerly Northwest Territories) which is situated in the northeastern Arctic region of Canada. It is the fifth largest island in the world and is one of the least occupied places on earth. It is divided into North Baffin, Central Baffin and South Baffin. My journey includes Pond Inlet in North Baffin, Pangnirtung in Central Baffin and Iqaluit, the capital, in South Baffin. In this journal, my focus will be Pond Inlet, North Baffin.
While planning my trip, I kept asking myself: Can a city slicker like me handle the hardship in this Arctic frozen land which was once labeled "God-forsaken place?"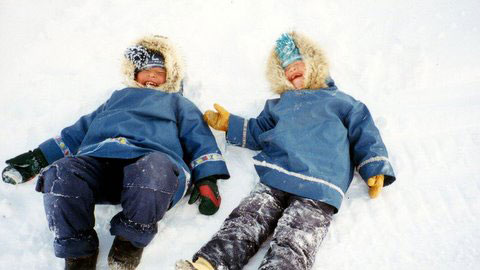 My first encounter with the Inuit was a telephone conversation with my guide-to-be, Josh. I asked him what the temperature would be. He said, "Not very cold," but I suspected our definition of "cold" might be quite different. Josh explained that as numbers do not mean much to them, the Inuit tend not to use degrees as a measure of cold. I would later find out from my travel guide book that the temperature in April usually ranges from –25 C to 0 C and that's what Josh describes as "not very cold!" I then asked if he needed me to bring him anything from "Down South."
"Yes, please bring me three roses for my wife." he answered. Totally surprised and touched by his request, I had a very good feeling about my impending trip.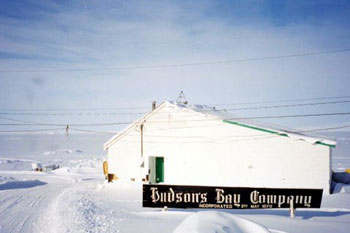 Pond Inlet is the biggest community in North Baffin with population of 900. Its rugged and mountainous coast is deeply carved by picturesque fjords, providing spectacular scenery. Pond Inlet has a school, a clinic, an Anglican church, a RCMP outpost, a co-op store (main grocery store in town) and a historic Hudson's Bay Company site which serves as a vivid reminder of Canada's rich fur trading heritage.
Josh arranged a few excursions for me with different local guides whom are all related. Their foremost concern was to make sure I had the right kind of clothing and gear for these excursions. Therefore, I showed them my winter clothes and snow boots that I brought from Toronto. To my surprise, none of my Inuit guides approved of my winter outfit. Before the excursions, they brought me clothes and boots borrowed from their family or relatives: caribou/seal-skin gloves, winter pants, colourful woven toque, thick wool sweaters and kamiks (hand-made snow boots of caribou and seal). I especially enjoyed wearing the kamiks which are comfortable and warm. Even though they were stained with blood from their hunted animals (caribou or seal or polar bear), I hoped that I could actually own a pair of these kamiks. Unfortunately, they are not for sale. Wearing all the clothing they provide for me, I almost felt like part of their Inuit family.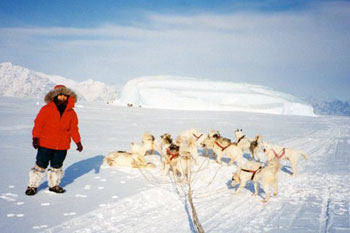 My first excursion was a dog-sled ride across the frozen sea to Bylot Island in the north. My Inuit guide, Peter (Josh's uncle), a very quiet man. Spoke only Inuktitut (the language of the Inuit). We managed to communicate through body languages. Most of the time, we enjoyed each other's company and the pristine and desolate environment in silence.
I was overwhelmed by the endless open space around me. However, the thought of falling through frozen ice into the sea below did send a shiver down my spine a few times. Nevertheless, I succumbed to the magic of the beauty, the immensity of the Arctic North. There are only two colours – the blue of the sky above and the white of the landscape around.
After a while, I lost my visual reference because everything looked the same. Even in broad daylight, it is possible to get lost without a functioning compass. Full of wonder, enthusiasm and awe, I began to see the peaks in the far distance as we approached Bylot Island in the north. Even though the adrenaline was pumping through my body, I could still feel the biting cold penetrating my clothing and I constantly needed to flex my frostbitten fingers in order to ward off the cold.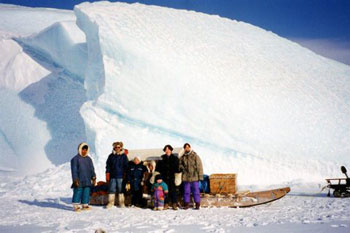 During our journey, we got out of the sled to take pictures. Then the huskies would run off on us, pulling the sled and our supplies away. The thought of my mortality hit me hard and I was haunted by the fear of being stranded in the Arctic without any supplies. Peter looked unbelievably calm and completely undisturbed. He gave me a big smile and whistled to his dogs. Enjoying their game, the huskies stopped a little distance away and waited for us to catch up.
After a few hours, we came across a huge piece of iceberg. There we met an Inuit family – the father was busy chopping ice from the iceberg to bring home to thaw and use as fresh water. The Inuits claim that it tastes better than the tap water in their village.
Another day, I set off with a young Inuit guide, David (Josh's cousin) on his snowmobile out on the Arctic tundra to look for the caribou herd. We traveled for what seemed like forever over the undulating tundra. Many times, I was on the verge of being thrown off of the Ski-Doo so I held on tight. Suddenly we came to an abrupt stop and there, standing tall on the Arctic tundra at a far distance, were six of these beautiful animals. The caribous turned their heads and stared at us. The joy of being so close to them and sharing a piece of their world was overwhelming.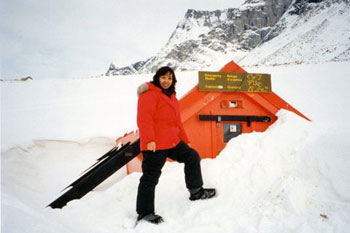 Every day I walked around town, chit-chatting with locals, playing with kids on the streets, visiting the co-op store, the school, the church and even the RCMP outpost and most of all, watching the Inuit do their daily chores. At that time, the major task was the repair and packing of sleds for the spring seal and caribou hunt. The caribou remains the most important land animal to the Inuit, providing fresh meat and a hide that insulates against the cold better than any other known material.
The Inuit are very family oriented and they welcome visitors in their homes. The Inuit consider it a great honour to receive guests because it means they are accepted as they are. While in Pond Inlet, I was honoured to be invited into the home of my Inuit guide, Josh, to meet his family. This provided me with the opportunity to learn about Inuit traditional beliefs and way of life. In my own Chinese culture, we never go into anybody's home empty-handed. As it was close to Easter time in April, I gave them Easter Bunny chocolates. After accepting my gift of chocolates Josh's wife went into the bedroom and came out with a small gift for me. She presented me with a necklace which was hand-made with a small "ulu" (Inuit woman's knife used to skin the animals). Josh explained that in the Inuit culture, whenever they receive a gift from anyone, they must reciprocate immediately. I wondered if this might be related to the concept of "trading" – the cycle of give and take. It would be unacceptable in the Inuit culture for anyone just to take and not to give. As a complete stranger in this community, their warm northern hospitality touched my heart deeply.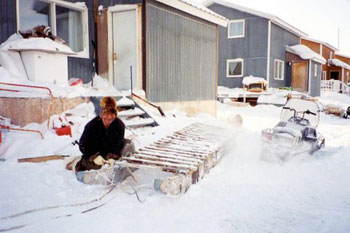 While visiting there, I had the privilege of trying several home cooked Inuit dishes. I sampled caribou, arctic char and muktuk (the thick skin of a whale – otherwise known as whale blubber!) – both cooked and raw. It is a daring eating adventure, definitely not for the faint-of-heart – or stomach.
The Inuit are struggling to adapt to modern life while keeping their traditional culture and way of life. For thousand years, they have been living in balance and harmony with the land, the sea and the animals. In spite of a changing world, they try to maintain their ancient values and respect for these things and to share what they can with others. Modern western civilization did bring them religion, education and technology, but it has also brought drugs, alcohol and other vices.
In exploring the grandeur of the landscape and the world of the Inuit people in Baffin Island, I entered a world at the threshold of my own, a land of discovery and revelation. The Inuit, like me, are truly Canadians even though their way of life is so different from mine. We are all the same – trying to survive and live in harmony in this world we call "Home"?
I am forever indebted to the warm Inuit people who open their hearts to me. Their kindness and generosity helped me to fulfill a dream open my mind to explore new horizons in life.
If You Go:
When planning a northern itinerary, two things should be considered: time and costs. Travel in the Baffin Region is expensive, as most of it is done by air, and living costs are high. You should allow yourself more time and money as travel can be easily delayed by bad weather. A missed flight in some places can mean a wait of two or three days, depending on flight schedules.
Nunavut Travel Association
How to get there:
By Air:
Connection can be made to Iqaluit (capital of Baffin Island, south Baffin) through Yellowknife. Contact a travel agent, NWT Air or First Air for up-to-date schedules and fares.
Regular scheduled air services link all Baffin Region communities. Most flights to the smaller communities operate two or three times a week. First Air serves flights between Iqaluit (South Baffin) and Pond Inlet (North Baffin) and Pangnirtung (Central Baffin). Reservation & Information: 1-613-839-1247.
Flights within the Baffin Region are frequently delayed by bad weather and instances when aircraft are taken off scheduled service to fly as air ambulances. Once in Iqaluit, be sure to check your air carrier for up-to-date information.
When to get there:
April:
Mean Temperature: -14 C
Low Average: -22 C
August:
Mean Temperature: 7 C
Low Average: 3 C
The farther north you go, the shorter the winter days will get, e.g. Pond Inlet will not see the sun at all for 8 weeks every winter.
Tour Planners, Licensed Outfitters & Guides:
Baffin Tourism Association
Iqaluit – Tel: 819-979-6551
Komatik Travel
Iqaluit – Tel: 819-979-0707
Eclipse Sound Outfitting Ltd.
Pond Inlet – Tel: 819-899-8870
Toonoonik Saoonik Co-Op
Pond Inlet – Tel: 819-899-8928
About the author:
Veronica Yeung is an independent traveler who enjoys traveling to Europe and various regions of Canada. With a passion for the Arctic North, Veronica answered her calling by exploring the magic of Baffin Island with her heart-felt wish to create some understanding for the Inuit people. This is a journey to another world and culture; a journey of learning and understanding. Currently, she is working on her Travel Memoir about all her memorable experiences.
All photos are by Veronica Yeung.