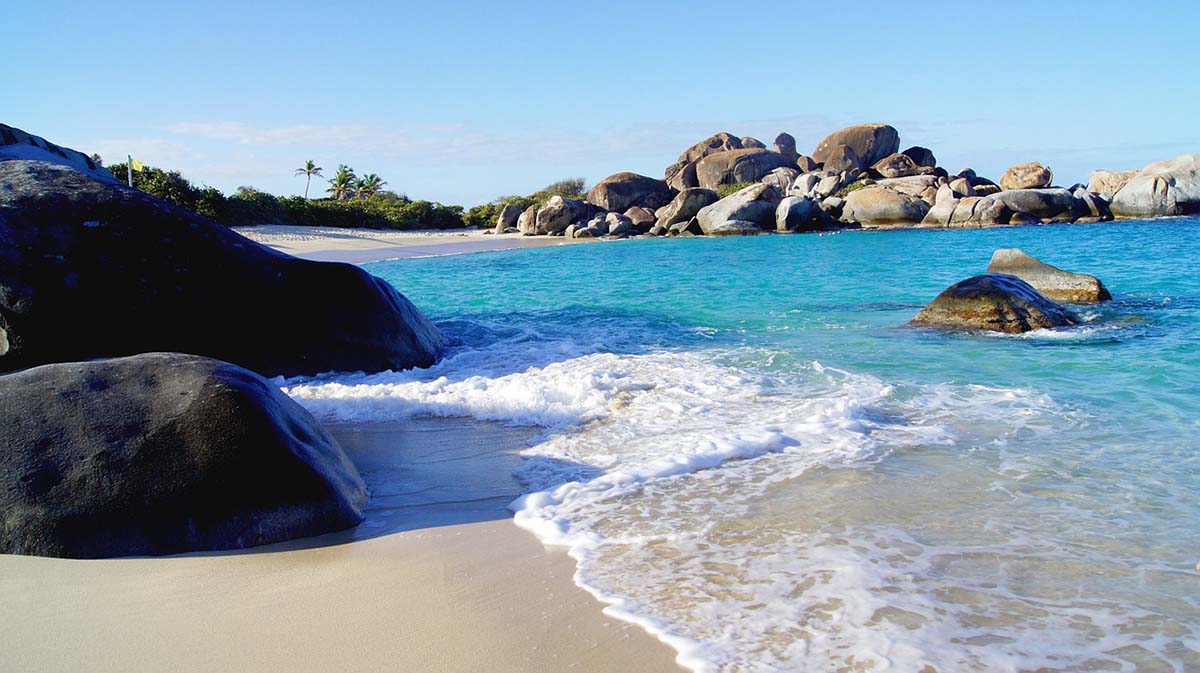 British Virgin Islands
by Noreen Kompanik 
The British Virgin Islands are home to a mystifying geological wonder commonly referred to as "The Baths". Framing the aquamarine waters of the Caribbean along a pristine, white sandy beach, the Baths invariably evoke an astonishing, jaw-dropping reaction from all who visit this grand feat of Mother Nature.
Located on the island of Virgin Gorda, the Baths (short for batholiths) are comprised of a labyrinth of massive, awe-inspiring granite boulders that form an amazing array of cavernous passages meandering through sheltered sea pools along a sun-drenched shoreline.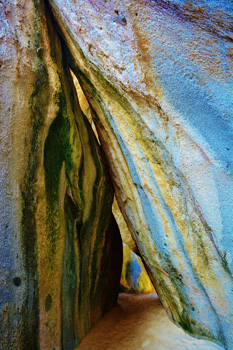 The granite-type rock formations and fascinating topography is the artistic creation of millions of years of geologic and geomorphic activity. The batholiths were formed during the Tertiary period by molten rock under immense pressure, seeping up into existing volcanic rock layers under a young Caribbean Sea. Unable to reach the surface, the seething hot molten rock slowly cooled underwater, forming a hard crystalline granite layer. Further shrinkage and cracking formed enormous blocks, exposed when the softer volcanic rock above eroded away. Once the batholith reached sea level, physical and chemical weathering rounded the sharp edges of these granite blocks, creating their unique boulder-like appearance.
Over millions of years these massive boulders continued to be shaped by the flowing water from rhythmic crashing waves and further seismic activity. These actions have forever etched the power of nature and the passage of time on the faces of the jumbled rock formations.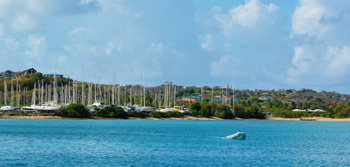 Sailboats and stretches of palm-fringed beaches with sugar-white sand came into view as our small boat, on a day trip from St Thomas, traversed the turquoise waters entering Virgin Gorda Yacht Harbour and Spanish Town. Covering only eight square miles and sparsely inhabited, this third largest of the Virgin Islands is a sleepy, idyllic Caribbean hideaway where goats and cattle own right away over island traffic. The name, given to the island by the explorer, Christopher Columbus is Spanish for "Fat Virgin", because to these sea-weary mariners, the island's profile on the horizon somewhat resembled a voluptuous woman lying on her side. A 10 to 15 minute open air taxi ride from the port transports island guests on a scenic slightly uphill drive to the southwest entrance of Baths National Park, a seven acre protected nature preserve.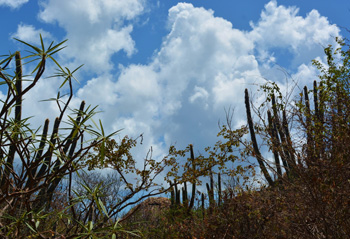 A winding, descending path of hardened sand from the park's entrance leads visitors downward through an arid, desert-like landscape lined with scrub vegetation and multi-hued and shaped cacti. An intriguing rock formation known as The Skull appears like a ghostly pirate sculpture, but no human hands played a role in its creation. Rather this unique and startling formation is an eerie but interesting example of natural weathering causing large dishes and holes that comprise the skull-like face.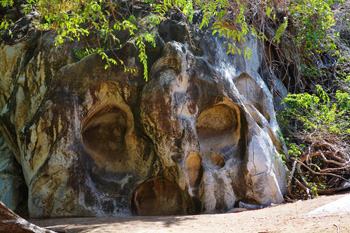 Nothing prepares visitors as they leave the arid-like environment behind to enter a magnificent, immense wall of massive boulders- on a Caribbean beach. This enormous jumble of stone seems so completely and unexpectedly out of place from the natural geology of these islands. A series of step and rope handrails guide explorers through a unique maze of tunnels, arches and tide pools located throughout the baths. Echoes of splashing water can be heard as explorers crawl through tight spaces and descending ladders.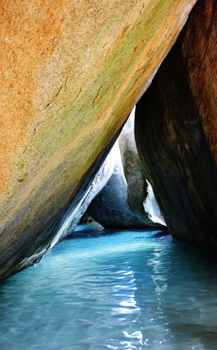 Every twist and turn yields yet another unbelievable site- hidden rooms with shafts of light streaming through, grottos which lead to more remarkable finds. The Cathedral Room, a stunning display of geological formation is the most photographed site inside the baths. Its vertical rocks form an astonishing tall, deep, triangular shaped cavern. Softly lit by ethereal rays of sunlight filtering down through small overhead gaps, this wondrous grotto is aptly named. Admiring visitors pose with a hushed reverence in its shallows as warm sea water gently rushes in and out, swirling around their legs.
The beauty and majesty of this geological wonder has not changed since war journalist Martha Gellhorn visited Virgin Gorda in 1942 as part of a Caribbean tour to assess World War II's impact on the region. She observed that on this peaceful isle even the concept of war seemed unreal. Gellhorn described it like this in her memoir, Travels With Myself and Another. "Giant boulders arranged by geologic upheaval eons ago create a scene that is both playful and spectacularly beautiful. The sound of waves, rustle of sea grape leaves, and brush of a gentle breeze- this is the sort of place that reminds me what a gift it is to be alive".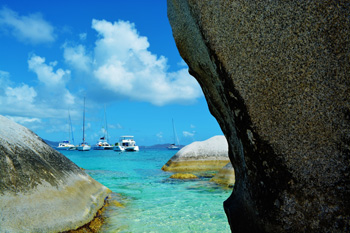 As if the spectacle of the Bath's cavernous beauty wasn't enough, the sinuous spelunking trail exits to a picturesque clearing with stunning views of horseshoe- shaped Devil's Bay. Snow white talcum powdered sand is perfect for a rest from the hike under a shaded umbrella. Sailboats glide in and out of the calm bay and seabirds soar in the azure blue skies overhead. Shallow clear waters and delightful coves are perfect for a relaxing swim. Turquoise, crystalline waters of the bay teem with elusive rays, blue tang and other tropical fish, inviting snorkelers and divers to explore more underground caves and magnificent coral reefs. Boulders strewn along the beach invite hikers to climb atop for even more astonishing views of the Baths.
At the southern end of the beach, a trail leads to nearby Stoney Bay. Unlike the tranquil waters of Devil's Bay, Stoney Bay's windswept beaches face the crashing Atlantic swells that cast weathered driftwood along her rocky coastline.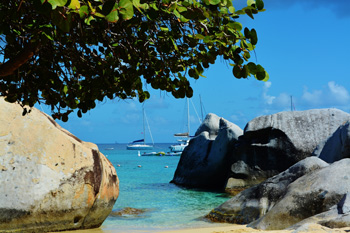 On our hike back to the top of Bath's National Park, we regaled in our amazement over the incredible, magnificent natural beauty of Virgin Gorda's fascinating Baths. Once experienced, one will forever hear the Bath's siren call.
Our sail back to St. Thomas took us past an archipelago of inlets, cays and islands, many uninhabited. Lush green layers of mountains, miles of secluded pristine beaches beckon in the distance. A quote by famous naturalist and preservationist John Muir came to mind. "When we contemplate the whole globe as one great dewdrop, striped and dotted with continents and islands, flying through space with other stars all singing and shining together as one, the whole universe appears as an infinite storm of beauty." And what a day filled with beauty and adventure it was!
If You Go:
British Virgin Islands Baths National Park website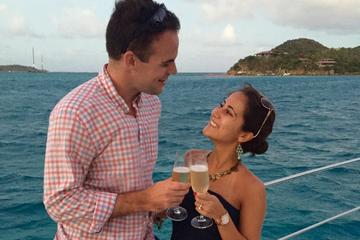 Private Sunset Sail of the British Virgin Islands
About the author:
Noreen Kompanik is a freelance travel writer and photographer based in San Diego, California and a member of the International Travel Writers and Photographers Alliance. Noreen has lived in Europe and thrilled to have had the opportunity to visit 21 European countries. Noreen travels often to the Hawaiian Islands, Mexico, and the Caribbean. Her articles have appeared in History Magazine, Lost Treasure Magazine, Vacation Rental Travels Magazine, San Diego Family Magazine, Travel Mag UK, Travel Post Monthly, San Diego Reader, and In Travel Mag.
Photo credits:
Devil's Bay (top) by jah9teen from Pixabay
All other photos by Noreen Kompanik:
The Baths of Virgin Gorda
Weathered granite blocks forming The Baths
Approaching Virgin Gorda Yacht Harbour
Arid desert landscape leading to The Baths
"The Skull" Rock Formation
The Cathedral Room inside The Baths
Exiting The Baths to Devil's Bay
Sailboats moored outside The Baths