ACTUNG! SIE VERLASSEN JETZT WEST BERLIN
by Wynne Crombie 
I had taken my fifth-graders down to the Berlin Wall on a field trip. Sets of binoculars, monitored by the East Germans, recorded our very actions. In those Berlin Cold War Days, I had been a teacher at the Department of Defense American School. My husband was an Air Force Security Captain. His job: decode the East Germans and Russians.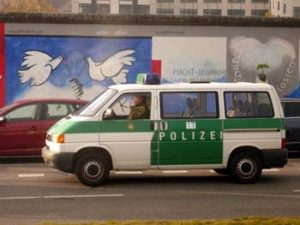 Kent was already in Berlin when I drove my 1965 VW Bug through the Berlin Corridor, an hour and a half journey from the West German Helmstadt/Marienborn Checkpoint. Daunting watchtowers appeared on either side of the road. My VW was inspected inside and, underneath. The latter was done with a long mirror. They inquired how much money I was carrying and demanded to see the money itself. I had inadvertently given them the incorrect amount and was detained for half an hour. They just pointed to a stool and told me to sit. I didn't protest. Fifteen minutes later they had better things to do than watch me.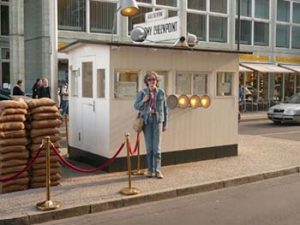 Checkpoint Charlie was serious business. This was the pedestrian crossing from West to East. It was staffed by solemn looking American MPs. Today the shack is manned by German civilians dressed in US Army uniforms and posing for pictures. Next to them, venders sell Cold War paraphernalia such as old Soviet fur hats and swords. This was not the Checkpoint Charlie Kent and I had known in the '60s; this one was a replica. The original shack is in the Allied Museum in the old American sector.
During our Berlin tenure, music would occasionally interrupt our phone conversations. Since neither Kent nor I had a radio on, we concluded it was "Sgt. Schultz" the East German Stasi assigned to "listen in". One morning East German radio came on singing Happy Birthday to Walter Ulbricht. (President of the DDR, or East Germany)
Spies and spying were going full throttle. We even had our picture taken while walking down, the Kurfurstendamn, Berlin's main street. (and yes, he wore a black leather coat!) Life on the Ku- damn was far different from East Berlin. The large Kaufhaus des Westerns (Ka-DeWeh Department store and the Kranzler Café anchored one end of the traffic congested thoroughfare. (The Kranzler is no longer in business.)
While Kent was not permitted entrance to the East, (because of his security clearance) I was able to take a tour of East Berlin. The difference was startling: billboards showered you with propaganda. Right by the, Brandenburg Gate (and elsewhere) the warning sign: Actung! Sie verlassen jetzt West Berlin. (You are now leaving the West Berlin) was made very apparent.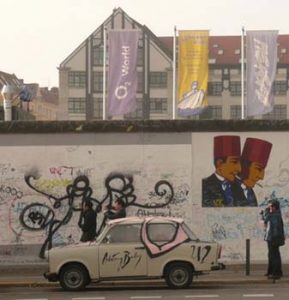 The buildings in the East were of a stark Soviet style. There were few people on the streets. The East German car, the Trabant seemed to be the only brand on the road.
The tour bus stopped in front of one of the Soviet World War II memorials. The tour leader gave us his Soviet PR and continued to tout all the accomplishments of the East Germans.
After World War II, Berlin became the spy capital of the world, with over 80 different spy agencies running missions in the shadow of the Berlin Wall. The Stasi had files not only on your fingerprints, but your phone calls, your letters, and your daily movements. Bugs and spy cameras came disguised as pens, lamp shades and radios and whatever else they could think of.
But not all spying was cloak and dagger. Kent remembers a light moment in the world of Cold War spying: the U.S. had information that it was Sgt. Schultz's birthday. Up went a big sign on the watch tower…Happy Birthday Sgt. Schultz!!!
We noticed on our return trip that one corner in the former East held a display of those old East German cars, the Trabants, a.k.a. the Trabis. A subject of much deserved derision, they have been painted garish colors and put up on pedestals.
We crossed over the Glienicke Bridge, where American spies had been exchanged for their Russian counterparts.
Tempelhof, the former Berlin airport, is now a park; the landing fields are no more. But, back then in the '60s, Hitler's old airfield had housed the American Air Force BOQ. Only the airlift memorial in front of the former BOQ was as we remembered it.
As we walked into the main building, a German guard sitting behind a glass partition stopped our memories short. Kent explained to him that he had been stationed here 48 years ago and wondered what had happened to his old BOQ room.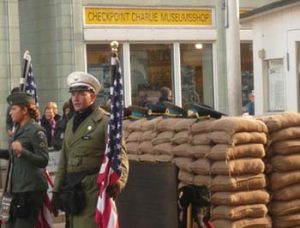 The officer informed us that Kent's old quarters were now offices for the German government.
Could we take a peek, then?
Well, Nein.
However, all was not lost; it was with some nostalgia that we found the Columbia (Base) movie theater still in place.
A new memorial had been put up since we were last in Berlin. As you stand in front of the Humboldt University, you can see a 5 x 5 feet piece of glass imbedded in the ground. Look down and you see a series of empty book shelves. They were emptied in the 1933 book burning.
Time to meet my cousin Christopher at the ESMT (European School of Management and Technology) International MBA program. The University is housed in the old DDR government headquarters in the Mitte. We had settled in for coffee when Christopher remarked we were now sitting in Erich Honecker's old office, nicely refurbished as a lounge. They had even preserved the DDR emblem.
Another new experience was lunch at the Adlon Hotel. In our day, the Adlon was behind the Wall. Now, its pricey digs have been restored to its glory days. We could only imagine all the citizenry who came through during its pre-WWII heyday.
On our final day, we did not drive. Our last stop was the Berlin train station where Berlin's new vibrancy was really in full swing. Trains were arriving now on more than one level, and shops and restaurants were bustling. The noise of suitcase wheels almost drowns out the trains. The last time we took the train out of Berlin, we were required to have "Movement Orders" …written in English, Russian and French. Now, we needed only a ticket stub.
If You Go:
Sightseeing:
With Berlin's, Hop on, Hop off bus tour, you can travel easily from one point to another learning about the history of the city along the way. There are numerous stops, where you're allowed to get off the bus to check out the neighborhood at your own pace. You can board the bus again at a different stop. Cost about $30.00
Eating experiences we recommend:
The 100-year-old Henne's at 25 Leusvchrerdamn, famous for its fried chicken. It reminded us of an old Berlin tavern. A standing up eating experience that's worth it. For an unusual eating experience: The Market Halle at 9 Eisenbahmstrasse. Kisoks serve gourmet foods from all over the world. Good wine also.
Hotel Best Western-Berlin…Berlin-Mitte Albrechtstrasse Berlin 10117
 About the author:
Wynne Crombie has a master's degree in adult education. Her work has appeared in: TravelThruHistory, Italy Magazine, Irish-American Post, Get-Lost, (Au) Catholic Digest, Birds and Blooms, Yours, Cat Fancy, Mature Living, Your Genealogy Today.
Photo credits:
First Checkpoint Charlie photo by Eintracht123 under the Creative Commons Attribution-Share Alike 4.0 International license.
All other photos by Wynne Crombie.