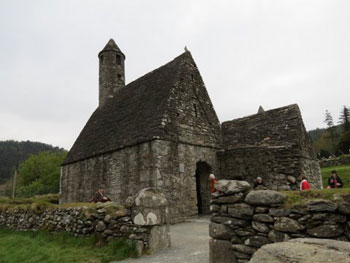 Ireland
by Ken McGoogan
300,000 people are set for the Gathering in Ireland. Some will be tracing their ancestors. Others will come to see the monasteries, or to follow in the footsteps of the writer James Joyce. Many will make their way to the Guinness Storehouse, where visitors journey through the 250-year history of Guinness and finish up in the Gravity Bar, free pint in hand, looking out over the City of Dublin.
Ireland is getting set for 2013. Every town, village, and hamlet looks to be preparing for The Gathering, a year-long celebration of all things Irish. Tourism Ireland is anticipating that more than 300,000 visitors will turn up, among them tens of thousands of Canadians. If you intend to become one of them, I've got good news for you, and maybe a few ideas.
My wife, Sheena, and I recently spent three weeks rambling around the Emerald Isle, our third visit in past few years. We had been hearing that Ireland was in the doldrums as a result of the recession in Europe. So what surprised us most was the vitality, energy, and good humour.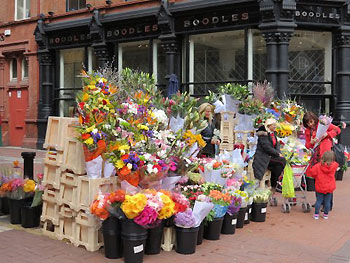 We started in Dublin, where Grafton Street has become a pedestrian mall. On any afternoon or evening, here we encountered a carnival atmosphere: people going both ways in streams or else standing in circles, entranced by one of the jugglers, musicians, comedians, or acrobats. At the foot of Grafton, we had no trouble finding the risque statue of that fictional fishmonger Molly Malone. The locals call it "the tart with the cart." Turns out every statue and even the new Spire has a nickname, though most are unprintable.
A couple of blocks east, the pubs in the colourful Temple Bar area were invariably heading for lift-off at what usually we consider bed time. The same was true even of the uptown pubs around St. Stephen's Green. But, hey, we were on holiday, we love Irish music, and sure, we gravitated to O'Donohue's on Merrion Row. The liveliness would keep growing, apparently, until 2 or 3 in the morning.
Having decided to splurge on one fine meal, we headed for Hugo's Restaurant, kitty-corner across the street from O'Donohue's (yes, that was how the night began). This five-star eatery is rightly renowned for its wine list (30 varieties by the glass), but it also provides outstanding food and service. Most entrees cost 20 to 23 Euros, or $25 to $30 Canadian dollars. Later, we also got good value at Peploe's Wine Bistro (slightly cheaper) and One Pico (more expensive), and in the Temple Bar area at Eden.
Our original must-see list included Christ Church Cathedral, founded in 1030; Trinity College and the Book of Kells; the National Museum (that Viking skeleton has to be seven feet long); and the National Gallery, which rightly devotes a room to the work of Jack B. Yeats.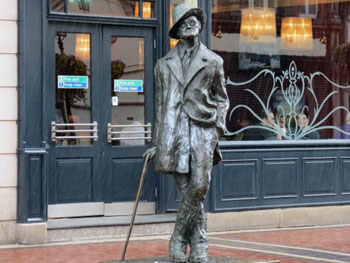 Dublin is a writers' city. Ireland has a population of just over six million, combined north-south, yet four Irish authors have won the Nobel Prize: William Butler Yeats, George Bernard Shaw, Samuel Beckett, and Seamus Heaney. We started at the Dublin Writers Museum to get a feel for the tradition, and then walked down the hill to the James Joyce Centre, and went on one of the numerous Dubliners walk.
We made a couple of sorties from Dublin that, even if we weren't driving, would have been feasible by bus (details at the Tourism Office just off Grafton Street). The first outing takes you south 90 minutes to Glendalough, a lakeside monastic centre. At the visitor's centre, there's a 20-minute video worth catching, Ireland of the Monasteries.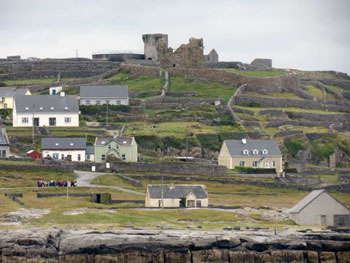 The stone buildings here date from 500 A.D., when a monk called Saint Kevin settled into a cave and spent seven years wearing animal skins and communing with birds and small mammals. Walking along the lake to the ruins is half the fun, as one of the glories of Glendalough is its situation between two picturesque lakes in a forested valley. You can see why Saint Kevin chose this spot to go hermit, and also why throngs of fellow monks turned up and put an end to his solitude.
The second outing takes you north to Bru Na Boinne, which comprises three neolithic monuments but is best known by the name of one of them: Newgrange. It is near a town called Drogheda, again just 90 minutes by bus. Built around 3200 B.C., or one thousand years before Stonehenge, Newgrange is the finest Stone Age passage tomb in Ireland, and one of the most evocative prehistoric sites in Europe.
After passing through a superb visitor's centre, we arrived at a stone-built dome, excavated for access, that is 80 metres in diameter and 13 metres high. To stand inside the ancient, high-ceilinged cavern and have the guide shut the doors behind you is an experience we won't forget. Of the two sister sites, Knowth and Dowth, the former affords a parallel experience, while the latter, not open to the public, offers a spectacular view to those willing to scramble to the top.
If You Go:
Driving in Ireland: From Skellig Michael to the Bronze Age
For us North Americans, it seems the Irish drive on the wrong side of the road. But once you've adjusted, you'll swear that "hiring" a car was the best decision you ever made. The distances in Ireland are as nothing. And the landscape is one of the most enchanting in the world.
Ten days would serve you well. But if you have one week, you can still circle the island. Why not head south out of Dublin and proceed clockwise. Here's few ideas that will take you off the beaten path.
If you visit Waterford, I suggest overnighting at Castlemartyr, a five-star resort 25 km east of Cork? We lucked into it, and suddenly found ourselves in a spectacular 18th-century manor house, expanded and elegantly appointed. It's situated on an estate that offers archery, boating, walled gardens, an 18-hole golf course, and a magnificent spa and fitness centre with a 25-metre pool. A short country walk takes you to the ruins of a castle built 800 years ago for the Knights Templar. Rooms start at 165 Euros ($212 Canadian), though special rates turn up on the Internet. You won't want to leave.
You might drive to the city of Cork and nearby Cobh (pronounced "cove"), the last port of call for the Titanic. A new museum takes you through "the Titanic experience," using a multi-media recreation that starts with the ship's departure. You experience the prideful welcome, explore the comfortable accommodations, and ultimately go through the dramatic sinking that happened April 12, 1912.
Directly ahead, one hour and twenty minutes away, you find one of the world's great drives: the Ring of Kerry. From Killarney, the road takes you past abbeys, castles, and picturesque cottages, and offers fantastic views of cliffs and ocean. You can't miss the dramatic Skellig Michael, a rocky island 12 km off the coast. Designated a UNESCO World Heritage site, it features a number of beehive meditation huts perched on a ledge 600 feet above the waves.
Christian monks and hermits built these stone huts between the 7th and 12th centuries. Given good weather, you can reach them by jumping aboard a local tour boat and climbing 600 narrow, steep steps. That people came out here to stay for months and even years boggles the mind. If you can't get onto the island, as we couldn't, you might want to investigate the Skellig Experience Centre on Valentia Island, which is accessible by bridge.
The town of Dingle, just over an hour from Killarney, is colourful, bustling, and sophisticated enough to have charmed such visitors as Paul Simon, Dolly Parton and Julia Roberts. We strolled the winding, hilly streets lined with craft shops, restaurants, and pubs. Deidre's Cafe on Orchard Lane serves a superb seafood chowder with brown bread, and the jam-covered scones aren't bad either. Dingle harbour is home to Fungie the Dolphin, and if you get onto the water for a short cruise, he will probably turn up to cavort alongside your boat. Really.
You should plan to visit the Aran Islands, a group of three islands at the mouth of Galway Bay. A passenger ferry operates from Rossaveal, 40 km west of Galway. On Inishmore, the largest of the islands, all of which are subdivided by countless walls of stone, you will buy a handknit sweater or suffer life-long regret. Grab a local taxi to a path that leads to Dun Aengus, which has been called "the most magnificent barbaric monument in Europe."
As you wend your way up the hill, the walled site looks like a stone fortress straight out of the Iron Age, and is sometimes identified as such. Recent research, however, puts people here in 1500 B.C., during the Bronze Age. To the west, facing out over the Atlantic, the wall has long since tumbled into the sea. Looking in that direction is like gazing across an infinity pool. If you get on your stomach and approach the edge, you can look straight down and see waves crashing into rocks 100 metres below.
Back on the mainland, call in at Bushmill's Distillery, get a taste of Irish whiskey, and then go swinging across an eighty-foot chasm using the Carrick-a-rede rope bridge. From a bit farther east, at a spot called Fair Head, you can gaze across the water at the Mull of Kintyre, just 20 km north.
The number one attraction on the north coast is the Giant's Causeway, another UNESCO World Heritage Site. It's not exactly off the beaten track, but this amazing phenomenon comprises 40,000 interlocking basalt columns created 60 million years ago by volcanic eruption. The tops of the hexagonal columns form what look like stepping stones sloping down into the sea, and have inspired a vast mythology.
If you venture beyond the columns to visit the rock formations known as the Giant's Shoe and the Organ Pipes, you will encounter signs insisting that the path ahead provides no access to the Causeway Centre. But if you like spectacular views and don't mind a hike, you can safely ignore those signs and follow the switchbacks up the cliff. When the path abruptly ends, climb the Shepherd's Steps (162 of them) and make your way west along a field-skirting footpath to the highway. That highway does provide access to the Causeway Centre, and there your chariot awaits.
Popular Ireland Tours:
Dingle and Fungie Dolphin Boat Tour from Killarney
Fast-Track Guinness and Jameson Irish Whiskey Experience Tour in Dublin
Private Day Tour of Wicklow and Glendalough from Dublin
Newgrange and Hill of Tara Private Guided Tour from Dublin
Giants causeway and Game of thrones filming locations bus tour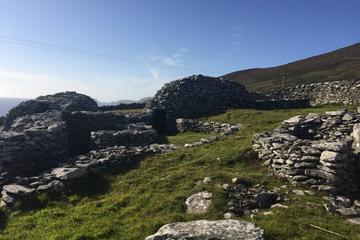 Private Tour of The Dingle Peninsula
About the author:
Ken McGoogan is the author of How The Scots Invented Canada
. Follow his blog at: www.kenmcgoogan.blogspot.com
Photographs are by Sheena Fraser McGoogan.