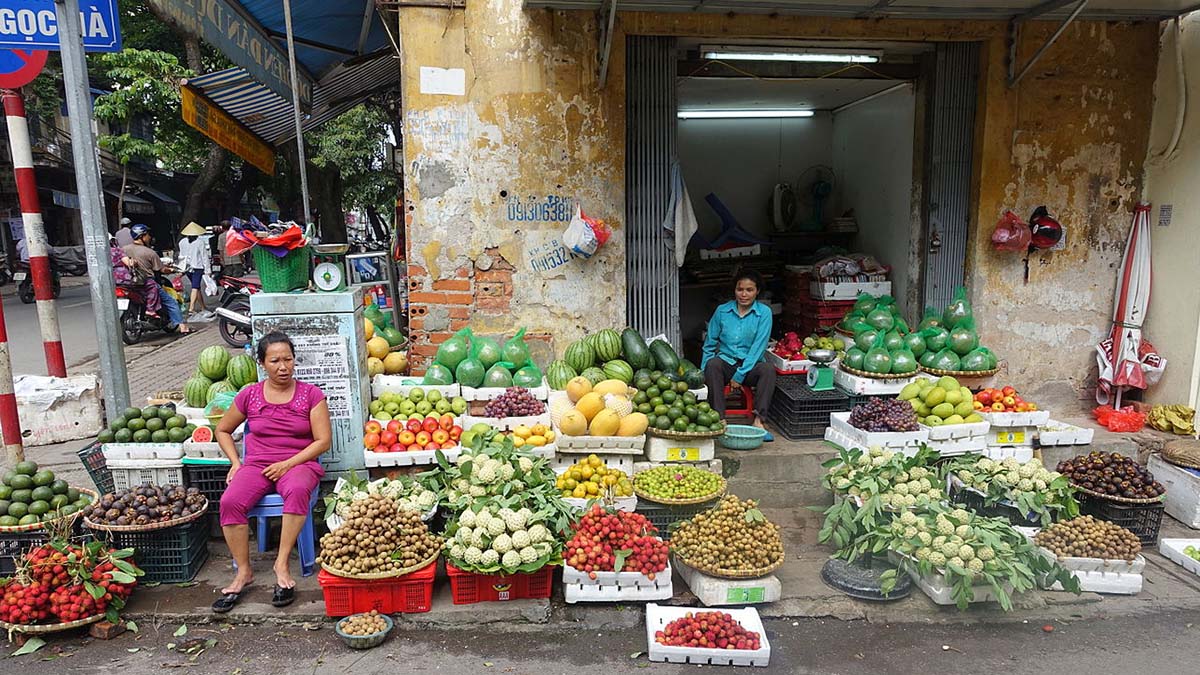 by John Thomson 
I landed in Hanoi with a mixture of curiosity and trepidation. I'm a history buff; I knew the settlement was prehistoric and I wanted to learn about Hanoi's transition from a fiefdom to a communist state and lately, to a rudimentary form of capitalism. But I was also nervous. It was 40 years after the end of the Vietnam War, or what the Vietnamese call the American War, and I must confess I was worried about any residual resentment the Vietnamese might harbour towards the West. We Canadians are similar to Americans. We look the same, eat the same foods and share a common language. In the eyes of the world, we are virtually indistinguishable from each other and as a North American, I felt conspicuous dropping into a capital city that had once been bombed.
Noi Bai International Airport was not particularly welcoming. My wife and I were whisked into a cold, grey, concrete outbuilding where we presented our passports to dour, unflinching officials and then to another counter where we paid 25 U.S. dollars each to get our visas stamped. I wanted to question the surtax but we pressed on.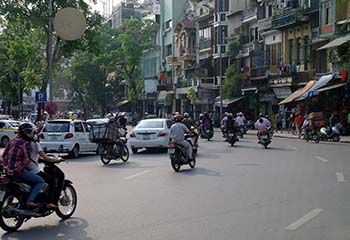 A 45-minute taxi ride from the airport took us to the Ba Dinh district, one of several prescribed tourist districts in the city and dropped us off at our hotel, the Hong Ngoc Cochinchine, an older but well-maintained establishment in a neighborhood loaded with English speaking merchants, lots of ATMs and a Kentucky Fried Chicken outlet. It was close to the prescribed sights, the Opera House, Bach Ma Temple and of course the Old Quarter. The friendly matron at the front desk greeted us in English but she could also converse in French. In fact we heard a lot of French during our stay.
Dinner time was particularly cacophonous. The tables were close together and I overheard a gaggle of French tourists discussing their day. No surprise there. But German? I struck up a conversation with the nearby table. Peter Wolff was from Berlin and his daughter Natalie was from Wellington, New Zealand. They had agreed to meet halfway between the two in Hanoi but Peter had another reason for visiting Vietnam's capital city. "My Dad remembers collecting bottles for Vietnam," said Natalie referring to the decade after Vietnam's reunification in 1975 when Berlin was in East Germany and Vietnam had an economic relationship with the Soviet bloc. Peter wanted to see Hanoi for himself. His impressions? "Vietnam doesn't think of itself as a third world country," he said, impressed with its positive, let's get on with it attitude.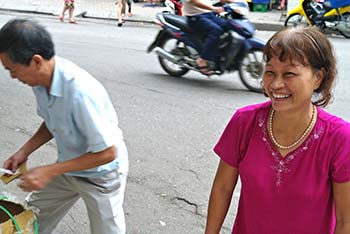 Truong Tran, the English-speaking manager of a nearby restaurant, Hanoi Fusion, elaborated as we dined sumptuously on stuffed squid and eggplant. Tran was finishing his commerce degree while running the family business. He told us his countrymen were very proud of what they had accomplished since the War ended in 1975. "When they see an opportunity, they take advantage of it," he said. "The Vietnamese nature is to be happy, cheerful and upbeat," he continued. "Content but not complacent."
Hanoi is a city of contrasts. On one hand, we saw leafy boulevards and opulent mansions. Hoan Kiem Lake is literally a sea of tranquility smack dab in the city core. A pagoda, Ngoc Son Temple, sits on an island in the middle of the lake. It's a peaceful refuge. Turning a corner reveals another side of the metropolis, dense Hanoi with tall, skinny structures fighting for space while thousands of scooters and motorbikes buzz about town.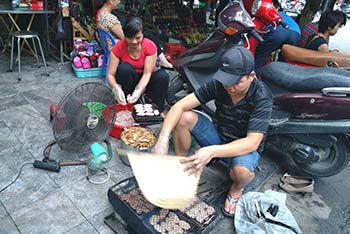 Walking revealed another facet of Hanoi life; whether it's conducting business, entertaining friends or eating meals, everything happens on the sidewalk. Hanoi is an outdoor society. It's also been called "a plastic chair society" because the locals sit on small plastic chairs – the kind you get in toy stores – accompanied by stubby, truncated tables. We passed families cooking the evening meal on curbside braziers while Hanoi youth congregated in the many outdoor cafes, hunched over their smart phones, addicted to western music and fashion.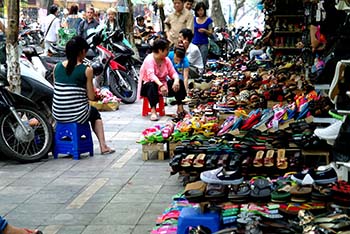 That entrepreneurial, let's get on with it attitude came to the fore in the Old Quarter. Sandwiched between Hoan Kiem Lake and the Red River, the Old Quarter is Hanoi's historic shopping district. Originally it was a maze of 36 streets, each one named after the good or service being offered. The jewellery street sold jewellery; the silk street sold silks. Today the area has expanded to more than 50 streets but Hang Dau, the Street of Shoes, still stands out. "Oh my God," gushed the teenaged street vendor as my wife and I walked along the Street of Shoes. "It's embarrassing," he said as he pointed to my wife's well-worn sandals. True, the sole looked like it was going to come off and the vendor, who had followed us for half a block with his toolkit in hand, was more than willing to do the repair. Now. At this very moment. And then as suddenly as it began the encounter was over. He flitted away, spying another tourist no doubt, waving us a fond adieu. "Have a nice day" he shouted as he vanished from sight as quickly as he appeared.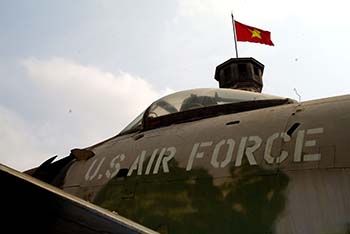 We tackled the Military History Museum next. This was the exhibit I was nervous about because I expected a jingoistic diatribe against the United States. The outdoor concourse was filled with captured American warplanes. The centrepiece was an obelisk fashioned out of the wreckage of a B-52 bomber. Was this setting the tone? Suddenly a column of schoolchildren filed past us on their way to an interior gallery. "Hello" they chanted in unison, anxious to practice their English, Vietnam's second language after the fall of Vietnam's economic partner, the Soviet Union, in 1991. "Xin chào" we replied in Vietnamese. Inside, homemade weaponry and dioramas showcased Vietnam's conflict with both France and America. Thankfully, the propaganda was toned down. Instead much was made about homegrown ingenuity and persistence, the point being Vietnam had endured centuries of conflict and it always would.
By week's end, we had acclimatized to the humidity, the congestion and yes, the people. Leaving the hotel at dawn one day to take advantage of the cool morning air we stumbled into a residential enclave bordering Truc Bach Lake. The community was just getting up. Families were eating their breakfasts on the sidewalk at those ubiquitous stubby tables and plastic chairs. "Hello," children yelled to us as we passed by. "Xin chào" we replied. We passed a group of men doing morning exercises in the communal park. One man was pulling himself up on parallel bars and I asked him if I could take his picture. He flexed his bicep and gave me a huge smile. Surprisingly, the camera seemed to draw people to us rather than scare them away. A young mother squatting on the stoop of her apartment wanted me to take a picture of her child. Her child, no more than four, formed the peace sign with her fingers. An older child, playing by herself on the sidewalk, followed her example by flashing us the peace sign too.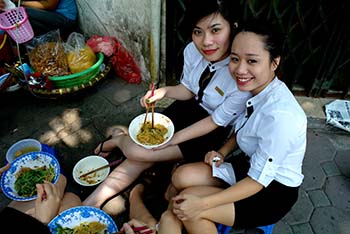 Hanoi is a young city, half the population is under the age of 35 and as our Vietnamese friend Truong Tran, the manager of the nearby eatery, pointed out his millennial friends are too young to remember the American War. Or to care. The young made us feel welcome. They were open and friendly and curious.
Make no mistake; Vietnam is a one-party state. Dissent is not encouraged. It is not an ideal situation. There's poverty, pollution and a ramshackle infrastructure but there's also optimism, enterprise and an easy going give-and-take vibe that, for me, can be illustrated in the simple act of crossing the street. Since there are few controlled crosswalks in Hanoi and the locals don't stop for pedestrians, getting to the other side required good timing and a stiff resolve. The trick was to look for a break in the traffic and walk slowly and confidently into the stream while looking the driver straight in the eye. It worked. Nobody cared if we were Canadian, American or whatever. Scooters and motorbikes gracefully swerved around us. We had miraculously melded into the rhythm of the street. Mission accomplished; my curiosity had been satisfied and my trepidation squelched.
If You Go:
There are no direct flights from Vancouver to Hanoi. BC travelers must connect through Europe, China, Australia or Indonesia. We travelled from Vancouver to Hong Kong via Cathay Pacific with a connecting flight to Hanoi via Dragonair.
Hanoi is awash in over 500 hotels, from the opulent to the perfunctory. The Hong Ngoc Cochinchine at CDN$55.00 a night came with free Internet and air conditioning. The legendary Sofitel Legend Metropole Hanoi can be yours for Cdn$400.00; the nearby Hilton Hanoi Opera costs CDN$200.00 a night.
The local currency is expressed in dong. For rapid calculations we reckoned on 20,000 dong to the Canadian dollar. Large 50,000, 500,000 and 1 million dong notes are commonplace.
Vietnamese food is phenomenal, a mixture of French, Thai and Chinese influences tempered with their own unique blend of herbs and spices. A simple, rice noodle soup called pho (pronounced fah) is the staple.
About the author:
John Thomson was trained in television news and current affairs and although his work took him around Canada and the United States, he never made it to Vietnam. It was too far away, too dangerous or too expensive. Now that the country is once again part of the global community he felt it was time to see Vietnam for himself. Mr. Thomson's current stories, other places and other issues, can be seen on his Woodfall Media page.
Photo credits:
Hanoi street food market by Daderot under the Creative Commons CC0 1.0 Universal Public Domain Dedication.
All other photos by John Thomson:
Central Hanoi, Hoan Kiem District
Ba Dinh Street Vendor
Ba Dinh Street Cooks
Old Quarter Street of Shoes
War Museum Concourse
Lunchtime in Hanoi