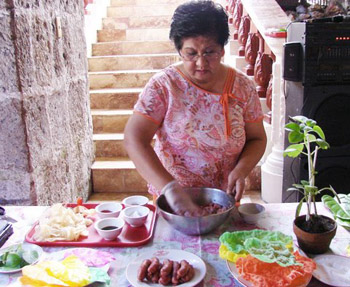 The Philippines, Vietnam, Myanmar, Thailand
by Sandra Scott
I love serving my dinner guests Phad Thai and having them ask, "Where did you learn to make this?" I enjoy their surprised looks when I reply, "At the Peninsula Hotel in Bangkok. And, how do you like the lemongrass drink? I learned to make it at the Governor's Residence in Myanmar."
A cooking class is a delicious way to learn about a country and its culture. Thanks to the popularity of TV cooking shows, hotels and restaurants worldwide now offer a variety of cooking experiences. The lessons vary from demonstrations to hands-on cooking. A few are free, but most cost between $18 and $200.
The Philippines
The village of Lucban was the first stop on my daylong culinary tour of Quezon Province.
"We start in April making thousands of kiping. On May 15 we give thanks to San Isidro Labrador for a good harvest by covering our houses in fruits, vegetables, and kiping. If we cook the kiping we can eat it, too," explained Milada Valde as she prepared the colorful rice paper wafers. The kipings are fashioned into flowers, chandeliers, and other decorative items. While the kipings were drying she demonstrated how generations of her family have been making the town's other local delicacy, Lucban Longganisa.
Cooking classes are not just for adults. Manila's Peninsula Hotel offers "Lutong Pinoy: Sweet Cooking the Filipino Way" especially designed for children. They learn to make Filipino desserts including deep-fried bananas called turron and halo-halo, the Filipino signature dessert, that is a yummy mix of shaved ice, milk, sugar, sweet beans and fruit.
Vietnam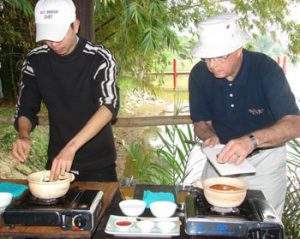 In the historic city of Hoi An, Chef Thanh pointed to the large mirror above his cooking demonstration table and quipped, "Vietnamese TV." Our international group of 20 had arrived at the school via a 25-minute scenic boat ride on the Hoi An River.
After each demonstration, the chef ordered, "Now you try. If you don't do it right do it again – at home!" Each participant had their own gas burner with all the necessary ingredients laid out by the staff. Chef Thanh's quick wit and snappy patter made me wonder if he was practicing for a spot on the cooking channel. We learned to prepare a complete Vietnamese meal including how to make Hoi An Pancakes and food decorations. I will need more practice to make attractive food decorations.
Chef Thanh's advice, "If you make a mistake – eat it!"
Hue was the Imperial City during the 19th Century and emerged as the culinary capital of Vietnam. And no wonder. Legend has it that the finicky emperors demanded something different for every meal. At La Residence Hotel I climbed into a cyclo for a trip to the city's market to get the fresh ingredients for my cooking lesson. I passed on the option to leave at 5 AM to visit a place where they make rice noodles very early each morning. Returning to the hotel's Le Perfum Restaurant, with a view of the Imperial City across the river, I learned how to make one of my favorite recipes, sautéed chicken with lemon grass, ginger and chili.
Myanmar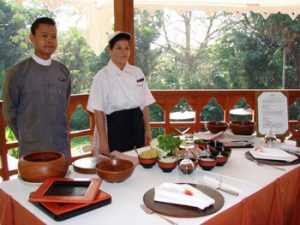 In Yangon my cooking class started with a tour of the outdoor market led by Mr. Ko Ko, the restaurant manager at the Governor's Residence. It quickly became a cultural tour.
Mr. Ko Ko picked up a piece of bark, "This is not food. This is thanaka. The women grind it into a powder and apply it to their face to protect it from sun."
At a stall selling longyis, the traditional sarong-style garb worn by most adults in Myanmar, Mr. Ko Ko asked, "Do you know the proper way to wear a longyi?" Unwrapping his longyi, he explained, "The men fold it like this in the front with a twist knot. The women secure it on the side."
We purchased feather back fish to make Fish Cake Salad and returned to the hotel in a 1940s mini-truck. After my lesson, which took place on the hotel's expansive second-floor teak veranda, I savored the finished product while enjoying the view of the tropical garden.
The Princess Resort, in Lake Inle, is the perfect setting for their "Cooking Experience in an Inthar House." The morning started with shopping in one of the local five-day markets to bargain and buy the ingredients needed for the recipes. The next stop was a local Inthar house, the home of one of the resort's staff, where the staff was waiting to teach Inthar-style cooking. Sharing the finished meal with the family was wonderful way to bridge the cultural gap.
Bangkok, Thailand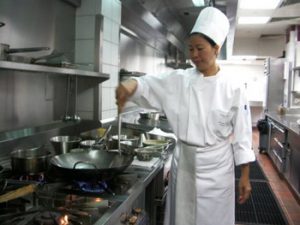 "Good Morning, Madam. Here is your chilled bottle of water. The Sam Yan Wet Market is only 15 minutes away," said the liveried driver of the Peninsula's Mercedes.
And, so began my lesson on how to make Phad Thai with Egg Net. On the guided tour of the wet market I learned about red-skinned dragon fruit and black-skinned chicken. It quickly became obvious why it is called a "wet market." Vendors were constantly spraying their produce to keep it fresh looking. Back at the Peninsula's gleaming stainless steel kitchen I learned how to make Phad Thai and Egg Net. Egg Net is so easy to make that it I use it for making hors d'oeuvres by placing julienne meat and/or veggies on the egg net and rolling them up like spring rolls.
Other delectable choices
Hong Kong's tourist board, as part of their Cultural Kaleidoscope, offers free classes including one on how to make Chinese-style cakes. Traditional delicacies like moon cakes and wife cakes are used to celebrate happy occasions. The Hong Kong Peninsula Hotel's Academy, offers a one-on-one cooking classes on how to make Dim Sum. Dim Sum literally means "to touch your heart," and consists of a variety of dumplings and steamed dishes similar to hors d'oeuvres. Classes are followed by a dim sum lunch in Spring Moon's main dining room. The Conrad hotels in Singapore and Bangkok also have dim sum classes as does the Cooking Studio in Taipei, Taiwan.
Every time I have lemongrass it will conjure up images of Myanmar. When eating Thai food I will recall our relaxing days at the Peninsula Hotel. I have a new appreciation of food decorations after my inept attempts to make some in Vietnam. And, on May 15th I will think of the kiping-covered houses in Lucban. Cooking lessons are a great way to savor travel and keep the memory of the trip fresh every time one of the recipes is prepared.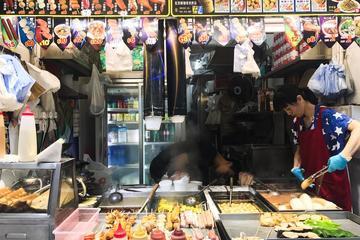 Hong Kong Food Tour: Street Food and Authentic Eateries
If You Go:
Philippines: www.wowphilippines.com.ph
Vietnam: www.la-residence-hue.com
Myanmar: www.governorsresidence.com, 800-237-1236
Thailand: www.peninsula.com, 866-382-8388
Hong Kong: www.discoverhongkong.com
Elsewhere: www.conradhotels.com
About the author:
Sandra Scott is a retired history teacher and the co-author of two local history books. Scott has been traveling worldwide and writing about her travels since 1990. Her retired husband, John, is her traveling/writing partner. Their travels have taken them to over 100 countries, some several times. Along with several columns, their work has appeared in a variety of publications worldwide. www.sanscott.com
All photos are by Sandra Scott.