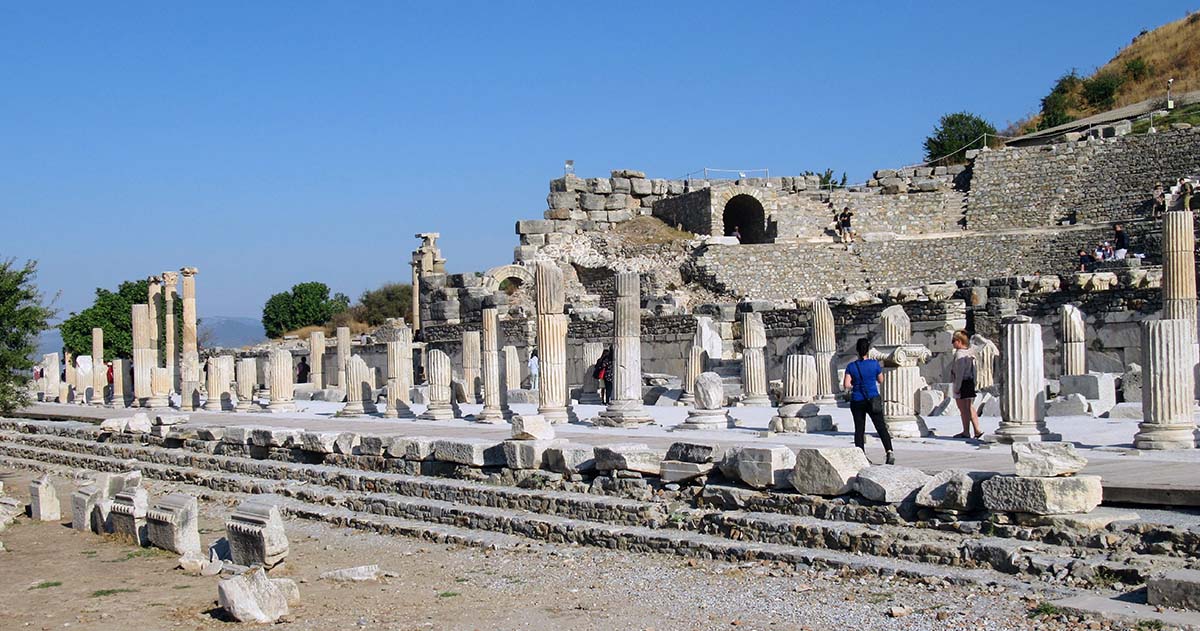 by Elizabeth von Pier
The bus travels up the side of the mountain, and I look out at the stunning landscape, dotted with lemon groves, olive trees, and vineyards. The rugged landscape is dramatic and I hold onto my seat as we take hairpin turns a little too fast. We have just finished a tour of ancient Ephesus and are heading to relax and have lunch in a guesthouse up here in the mountain hamlet of Sirince. Our visit and lunch are arranged in conjunction with Food and Wine magazine.
Sirince lies about eight miles outside of Ephesus but it seems to be of another world. It is famous for its location, fabulous vineyards, and rich fruit wines. It is so beautiful that, at one time, the natives decided to name it Cirkince, meaning "ugly" because they wanted to deter foreigners and tourists from taking over their lovely little town. But today it is called Sirince, meaning "pretty". It contains a dollhouse collection of square white stucco homes, a quaint downtown, and friendly people.
Narrow streets are filled with trucks delivering fresh produce and there are food and wine shops to lure you in. Bright red tomatoes are available for sale from the back of the proud farmer's pickup truck. We stop to sample some olives and bread dipped in cold-pressed extra-virgin olive oil. Next door is a shop selling fresh lemons the size of cantaloupes and locally-made lemon products. A tiki-style bar offers wine-tasting, and next to it you can order a freshly made dish of moussaka and a traditional salad made from sun-ripened tomatoes, thick slices of cucumber, green pepper, red onion, olives, and feta cheese.
At the end of the main street and up a short flight of stone stairs is the boutique hotel, Gullu Konaklari, where we will have lunch. We are a small group and two tables have been set up for us in the outdoor vineyard house overlooking the mountains. A canvas roof over the tables provides protection from the hot September sun and fans keep the air moving. The sides are open, a warm summer breeze blows, and there are breathtaking views of the mountains. This is good for the soul.
Two young servers dressed in starched white shirts and black pants start by pouring each of us a glass of wine made from locally-grown grapes. We toast our fellow travelers and enjoy good conversation about hometowns, recent travel, and shipboard experiences. We nibble on freshly made pita bread, hummus, tzatziki, and a creamy fava puree made from mashed yellow split peas and topped with sauteed red onions, capers, and a dollop of yogurt.
Next comes a large salad made from sun-ripened tomatoes, thick slices of cucumber, green pepper, red onion, olives, and big chunks of fresh feta cheese. Vinegar, extra-virgin olive oil, salt, and freshly ground black pepper are available on the side. Although the salad can be served at any time during the meal, it is traditional to serve it as a starter.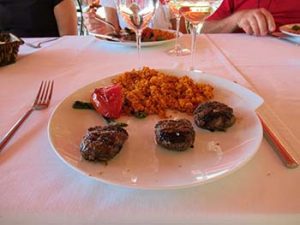 The first course is borek, a savory spinach and cheese pie similar to the Greek spanikopita. Buttery filo crust is wrapped around the filling and baked to a light and crispy perfection. The main course consists of local specialties—kofte balls of ground beef served with tomato pilaf and grilled vegetables made from locally grown produce like we saw in the markets in the town. Dessert is a sweet berry tarte, delicious with a dollop of tangy yogurt.
Be sure to order a frappe at the end of the meal. This is not what you might think. It is an iced coffee drink made from water and instant coffee granules which are mixed to a froth that fills the top third of the glass. It is a pick-me-up at the end of the day—and it has no calories. It may take several sips to learn to enjoy the strong brew with a bitter aftertaste.
The Ancient City of Ephesus is not far away
Sirince is not far from Ephesus, a classical ancient city in Asia Minor within the border of present-day Turkey. It was colonized mainly from Athens with the result that it is very "Greek" by nature. It is one of the most magnificent and best-preserved archaeological sites in the world.
The Library of Celsus is a highlight of the site. Named for Julius Celsus, a Roman governor of the Asian provinces, its classical architecture dates from 110-135 AD. Scrolls and old manuscripts were stored in bookcases in the top two stories and dispensed by librarians. The lower niches on the exterior of the library contain four statues with Greek inscriptions said to represent Wisdom, Knowledge, Destiny, and Intelligence. These are copies; the originals are in the Vienna Museum.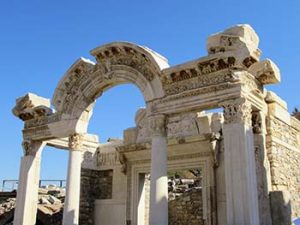 The Temple of Hadrian is the most attractive structure on the "main street." It has an arched top and intact facade with four columns that lead into an inner chamber.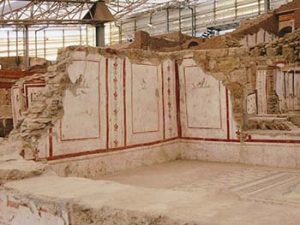 The stunning Terrace Houses are in a newly excavated section. Wealthy and important people lived here. They have incredibly well-preserved mosaics, tiles, and frescoes decorating their interiors and are sheltered from the elements under a protective covering. They are in their original locations, and walkways and staircases have been set up so you can see them up close. They were built in the first century AD and used for 600 years, and consist of entryways with water features, reception rooms, kitchens with arched hearths, and bedrooms. The Hall of Muses contains particularly beautiful and well-preserved frescoes.
The Ionic Temple of Artemis was considered one of the Seven Wonders of the ancient world. All that remains today are the columns. At one time, the famous statue of Artemis, goddess of fertility, was housed here. It is now in the Ephesus Archaeological Museum.
The site offers a peek into the private lives of the inhabitants. A latrine is located near the brothel. Thirty-five toilet holes were cut into a marble slab and were continuously cleaned by running water. It was used by both men and women.
If you go
Holland America, "11-Day Ancient Empires", round-trip Civitavecchia (Rome). Ports of call include Kusadasi (Ephesus), Turkey; Katakolon (Olympia), Greece; Piraeus (Athens), Greece; Mykonos, Greece; Rhodes, Greece; Santorini, Greece; and Salerno (Amalfi Coast, Pompeii, Sorrento), Italy. On this cruise, there is an overnight stop in Piraeus (Athens).
Elizabeth von Pier loves to travel. After she retired from her lifetime career in banking, she has been traveling the world, photographing, and writing. She has been published in the Los Angeles Times and many online travel magazines including In the Know Traveler, Go Nomad, Wave Journey, Travelmag—The Independent Spirit, and Travel Thru History. She also recently published her first book, "Where to Find Peace & Quiet in London
" and is now working on another volume in this series, "Where to Find Peace and Quiet in Paris" which is expected in 2020. Ms. von Pier lives in Hingham, MA.
Photos by Elizabeth von Pier