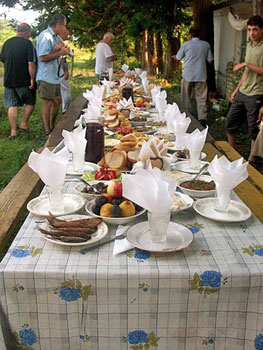 Republic of Georgia
by E.P. Wohlfart
After eight hours in a crowded marshrutka our vehicle – one of the many dusty vestiges of Soviet Russia here in the Georgian Republic – is waved down by two men. On this empty road in the middle of nowhere there is a crossfire of words and I only catch "englesi" before I am shoved out and find myself traipsing behind my suitcase and two strangers, across a tea plantation, wearing the wrong pair of shoes.
I am soon seated with instant friends around a table and toasted with sweet Georgian wine as "the radiant woman who brings the sun." "Emma gamarjos!" Not a bad welcome, I think, for a lowly archaeology student. I do not know it yet, but this is my first encounter with the tamada.
Our interpreter does not bother to translate this word, and she has good reason not to. The tamada is not a mere 'toastmaster'. He is the collective soul of the Georgian people. He is warm and welcoming, a proud father and a dedicated son, a patriot, and an admirer of women. He is an incurable romantic, deeply nostalgic, and he has a kind word for everyone. There is not a feast too informal for him to attend. If there is wine – and there always is – there is a tamada.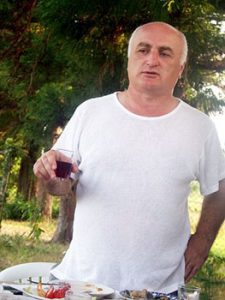 Every evening for five weeks I watch in awe the oral dance of this ancient ritual. We sit down to supper and each glass is filled with local vino¸ which seems to me more like sangria or grape cordial, and beautiful Georgia is toasted – "Sakartvelo gamarjos!"- with the sensitive nostalgia of an aging lover. On occasion, the tamada calls out "Alaverdi!" to one of the more distinguished participants, who then rises and elaborates on the tamada's speech. This lyrical exchange of toast and elaboration often takes five minutes or more and our interpreter struggles to keep up with the metaphors and nuances of poetic Georgian.
A glass half empty is immediately topped up and toasts follow in a succession as quick as speeches are long. Toasts go out to our cook, to family and in-laws or in-loves as Georgians call them, to love, to our guests, to women, and to each of us sitting at the table. We are addressed one by one and praised for our particular traits and accomplishments. During my all too short stay in Georgia I learn from a variety of tamadas that I am a diligent worker, a woman of most hardy stock, an eloquent speaker, and a pearl of Scandinavia. It is no wonder that all Georgians seem to have a strong sense of identity.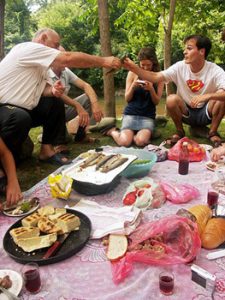 A good tamada makes his job seem effortless. After being called upon to give a few impromptu toasts, in which I stammer about hospitality and teach everyone how to toast in Swedish, I have no illusions left: being tamada is both laborious and an art form. Because Georgians only drink after a toast is made, it is up to the tamada to set the pace for the festivities. He must sense the shifting moods and make people drink more if they are too sober and drink less if they are too drunk. If he is losing the attention of a guest, he must engage and inspire her with a carefully selected toast or by encouraging the best singers present to perform. He must be forceful enough to take charge in every situation, without appearing commandeering or disrupting the romantic atmosphere. Perhaps most impressive of all is his tolerance for alcohol. The tamada must drink each glass "bolonde" – bottom up – and he must never appear intoxicated. That would be disgraceful.
After a few evenings with an experienced tamada it is impossible not to get swept up by the Georgian spirit. When we go out, even if only our little group of Anglophones, we invariably end up electing a tamada and toasting everything under the sky. When we invite our new Georgian friends along and toast them with Russian beer, we learn that when it comes to the sacred toast, beer is a sarcastic and insulting beverage. Oops! Luckily, they forgive us, and we immediately order more wine.
If You Go:
As a citizen of the United States of America, Canada or the EU you do not need a visa to visit the Republic of Georgia. The stamp you receive in your passport upon landing will be sufficient travel documentation for visits less than 90 days. If you do not speak Georgian or Russian, it is wise to arrange for a guide to meet you before landing. Even at T'bilisi International Airport it can prove difficult to find locals who speak European languages.
If you do not have a programme of your own, a variety of package tours are available:
www.travelguidetogeorgia.com
www.exotour.ge
About the author:
E P Wohlfart is an independent historian and writer with an archaeology degree, a laptop, and a maxed-out library card. Occasionally her line of work takes her out of the dusty library and into some very beautiful and hospitable places. More at: www.epwohlfart.com
All photos are by E. P. Wohlfart.