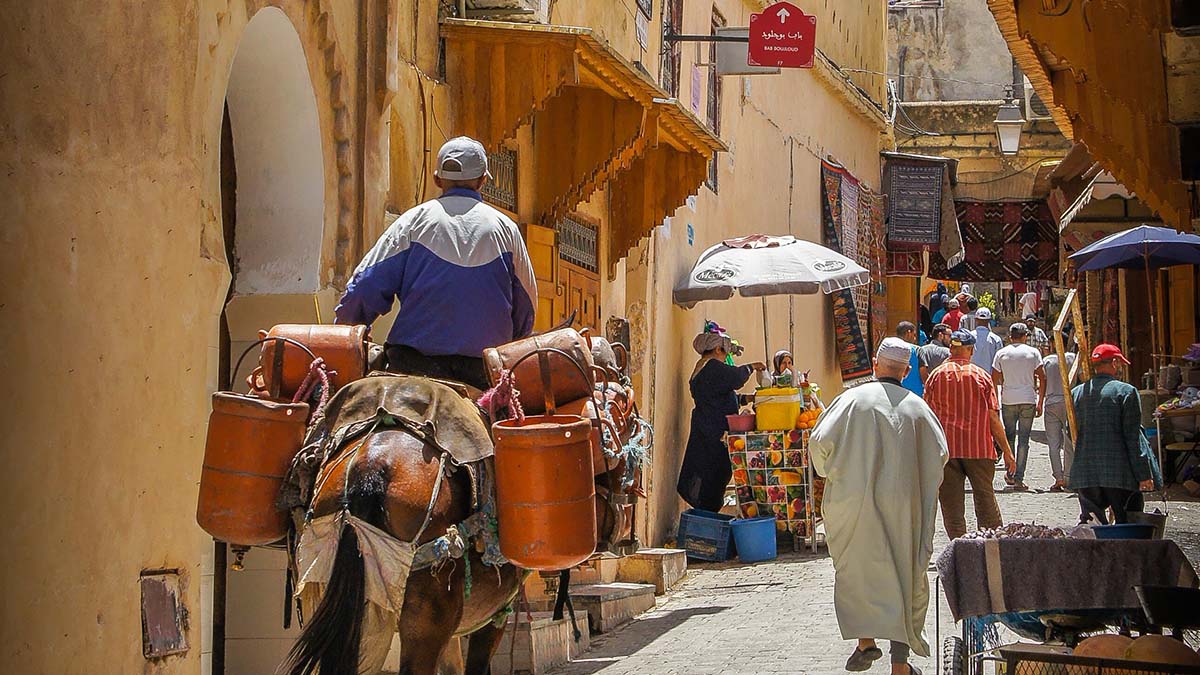 Fes El Bali, Morocco
by Rick Neal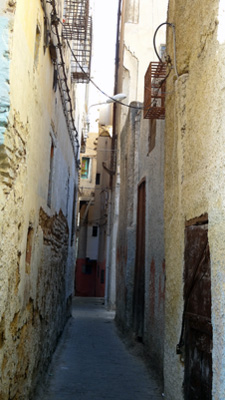 "Balak!"
A stout man shrieks this single word as he slams me against a stone wall. Before I can react a donkey cart laden with white pomegranates whooshes by, missing me by centimeters. As I catch my breath, I guess that balak must mean something like "Look out!"
I'm in Fes El Bali, Morocco, or the medina as it's more commonly known. My tour group and I have entered through Bab Boujeloud (The Blue Gate), one of fourteen gates that lead into the old city. Swarms of people haggle over tables of leatherwork and silverware inside the horseshoe-shaped entranceway. This is one of the few open areas we'll encounter today. Steps away an endless maze of slender roads and enticing alleyways will carry us back in time.
Tracing its origins to the 9th Century, the medina is a winding labyrinth of over 9,000 cobblestone alleys, some of which are barely wide enough for two people to pass. The ancient walled city occupies 540 acres and comprises 187 quartiers, each of which contains a mosque, Koranic school, fountain, and a hammam, a traditional bath house. In spite of the recent appearance of satellite dishes and the tourist invasion its 150,000 inhabitants pretty much live as they have for centuries. This is the Morocco of one's dreams, a place of teeming souks, tantalizing odours, and venerable mosques, a place where the Middle Ages are alive and well.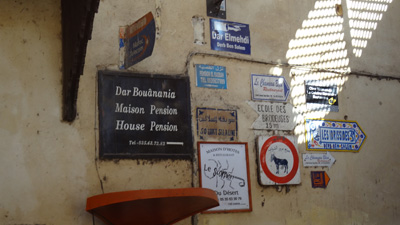 We amble down Talaa Kebira, one of the medina's principal roadways, and soon come to Bou Inania Medersa. This is the most awe-inspiring Koranic school in Fes, and one of the few open to the public. Every room has lofty, sumptuously detailed ceilings with carved cedar beams and stunning onyx marble floors. The walls are covered with handcrafted tiles adorned with dazzling gold and turquoise geometric motifs. Intricate lime-coloured geometrical designs are also on display in the courtyard, where the 14th Century fountain still gushes today. In a corner an imam, a priest, kneels and chants verses from the Koran.
Back on Kebira we continue past mosques, hammams, and fundouks, medieval merchants' stalls arranged around a central courtyard with overhead sleeping quarters. A myriad of single vendor stalls hawk everything from carpets to herbal remedies, from fake Rolexes to babouches, traditional leather slippers often yellow-coloured and usually with pointy toes. A wrinkled woman crouches by the roadside and sells nougat and bunches of fresh mint from a blanket. A smiling elderly man in a jellaba, a traditional men's robe, tries to lure me into his antique store with promises of "the best prices in all of Morocco." In one square, men hammer copper and brass cookware beneath the shade of a sprawling tree as American rap music blares out of a nearby radio.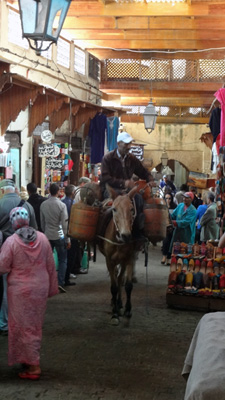 As we descend further into the bowels of the medina, our guide urges us to stay close together. She doesn't have to tell me twice. I would love nothing better than to wander the zigzag of avenues on my own, but finding my way out would be nothing short of a miracle. I'm told that even the best maps are unreliable. The streets are swarming with humanity today; the thrum of voices is omnipresent. Since none of the roads are wide enough for cars to navigate, donkey carts and scooters are the accepted modes of transport, making this the world's largest urban car-free zone.
Our next stop is one of the medina's many hidden treasures. In a tranquil square a Henna Souk is shaded by two graceful plane trees. Vendors sell dyes, hennas, and henna leaves from tiny stalls. Moroccan women decorate their bodies with henna tattoos to bring good luck and ward off the evil eye. The night before her marriage a bride is adorned with henna tattoos, a rite of passage that symbolizes her transition from a girl into a woman.
Ceramic shops offer a stunning array of Fassi pottery. The clay stoneware vessels produced here are the most highly prized in the country. Shaped by hand and set in the sun to dry, the pots are then painted with fine horsehair brushes in a multitude of designs and colours.
Cosmetic stalls are the perfect place to pick up rose-oil face cream and argan oil soaps, inexpensive items here in Morocco. A gap-toothed man offers me some khoudenjal, a mixture of spices whose main ingredient is galangal, a medicinal plant closely related to ginger. "Khoudenjal will make you strong, my friend," he grins, "we call it Moroccan Viagra." I'm not sure if I should be insulted, but I simply reply "La, Shukran" – no, thank you – and continue on my way.
Around the corner we stumble upon the spice sellers of the Souk Attarine, reputedly the busiest souk in Fes. Tables overflow with richly coloured mountains of fragrant saffron, aromatic cumin, pungent paprika, and spicy cinnamon. There are also mouth-watering mounds of black, green, and red olives that just beg to be devoured.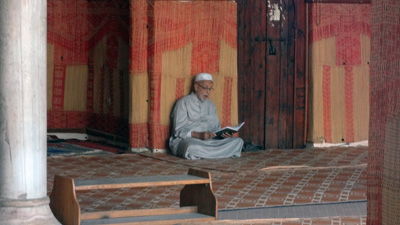 From the Souk Attarine our odyssey continues. Blind alleys that seem to lead nowhere open onto swarming fundouks with gurgling fountains. We pass countless vendors that hawk candles, wood carvings, jewelry, and fresh herbs from shops hardly bigger than a closet. A posse of young boys plays a boisterous game of soccer with two rocks serving as goalposts. The frenetic energy of it all is exhilarating.
Our next stop is one of Morocco's largest and most important cultural monuments, the Karaouiyine Mosque and University. The university, founded in 859, is recognized as the world's oldest and still functions as an important school of religious learning and physical sciences. With space inside for 20,000 worshippers, the mosque is the country's second largest, but it's so tightly wedged between the surrounding shops and homes that one could easily pass by and not even realize that it's there.
Like most mosques in Morocco, infidels are not permitted to enter, though no one seems to object as we peer into the courtyard from the street. The floor is covered in multi-hued diamond-shaped tiles, while a series of gigantic doorways lead to the main prayer area which is hidden from view. Two lanky bearded men wash their feet in a fountain before entering to pray.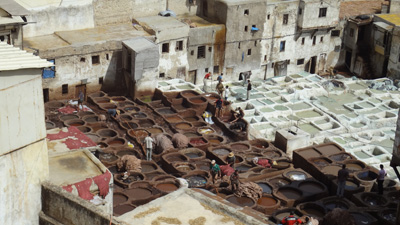 There is one last stop on our schedule, and we don't need a map to find it. The rank stench of the open air leather tanneries serves as a guidepost to one of Fes' most famous attractions. We're led up a staircase to a leather shop that opens onto a terrace where we view the tanneries below.
Dozens of workers dip animal hides into a giant honeycomb of vats that contain white, yellow, and red softening solutions and dyes. The ingredients, unchanged since the Middle Ages, include salt, lime, cow urine, pigeon excrement, henna, poppy flowers, and pomegranate powder. The dyers wade through it all in shorts and bare feet no matter what the weather. Many are crippled by rheumatism by the time they reach forty.
After we pick up some leather ware, we head back to our hotel in Nouveau Ville, the city's newest district. However, we're not done with the medina just yet. That night we head back there for dinner, this time clutching flashlights as we negotiate an endless series of narrow warrens and rickety stairways before we locate the Restaurant Dar Hatim. The dimly-lit exterior looks a bit dubious, but the moment I step inside I know this was a good decision.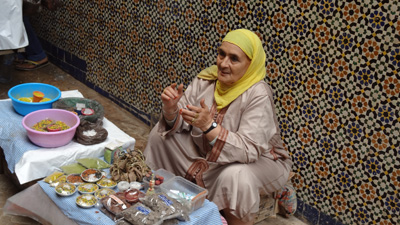 We're seated on plush cushions around hand-carved wooden hexagon-shaped tables. The high ceiling is covered in gorgeous inlaid wood painted in shades of emerald, burgundy, and cobalt. It feels like we're dining in someone's home, and with good reason. A couple of years ago owners Fouad and Karima turned their sitting room and courtyard into a restaurant. They don't have a liquor license, but they have no objections when we bring out cheap bottles of Moroccan wine that we bought at the supermarket.
After a round of appetizers that includes olives, kefta, and stuffed pastries called briouats, we feast on delicious Lamb Tagine. One of Morocco's signature dishes, the casserole is baked in a conical-shaped dish along with apricots and vegetables.
Hours later we thank our genial hosts and return to our hotel completely satiated, slightly intoxicated, and truly grateful for an extraordinary day that none of us will ever forget.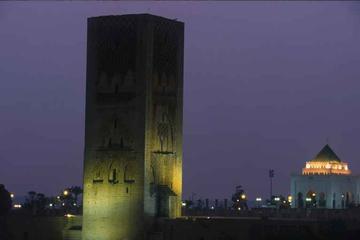 7-Night Morocco Imperial Cities Private Tour from Fez
If You Go:
GETTING THERE
Royal Air Maroc offers daily flights to Fes airport from Casablanca, London and Paris. Ryanair offers non-daily flights from several other European cities. The airport is about 15 km. from the city center. A taxi into town will cost about 150 Dirhams (US$15). If you're not packing a lot of luggage, a #16 local bus only costs 50 cents.
The train station is at the northern tip of the Ville-Nouvelle, the modern area of Fes. Trains run every day to and from Casablanca (4 hours 165 Dirhams), Marrakech (7.5 hours 295 Dirhams), Rabat (3 hours 105 Dirhams), and Tangier (4.5 hours 155 Dirhams). Prices quoted are for first class compartments.
WHERE TO EAT
There are endless dining options in the medina. Street food near the Bab Boujeloud gate is delicious, usually safe and less than half the price of restaurant food. Many restaurants cater to tourists and tend to be a tad pricey. The cosy Café Medina serves up tasty Moroccan fare though it can get crowded. Try the Boricuas – deep-fried strips of dough wrapped around meat and veggie fillings. Mains start around 50 Dh.
WHERE TO STAY
The New City is a fair distance from the medina so most visitors prefer to stay in Fes El Bali. Dar Adam Fez offers a convenient medina location, clean budget rooms, rooftop terrace, and free wifi from only 240 Dh per night. Riad Verus has beautifully restored rooms with original mosaic tiles and inlaid cedar motifs, as well as panoramic medina views from their rooftop terrace. Staff are extremely helpful. Rates start around 400 Dh. There are a number of riads (guest houses) in the medina that offer boutique hotel luxury for about half of what North American properties charge. Expect to pay at least 1000 Dh. Most hotels will also arrange medina tours and even trips to the local hammam.
About the author:
Rick's travel career began as a college student when he impulsively signed up for an international student exchange program and spent that summer working in Turkey. "Don't go there!" the naysayers said, "it's not safe!" Luckily, Rick ignored their advice and discovered that the outside world is a place of wonder worth exploring. Since then his wanderlust has taken him to Central and South America, England, Vietnam, Morocco, and China, where he spent an unforgettable year teaching English. Rick makes his home in Vancouver, Canada, where he writes for various travel publications.
Photo credits:
First photo by Vince Gx on Unsplash
All other photos by Rick Neal.