by Kurt Jacobson
Hidden in fragrant forested areas of Delaware and Pennsylvania are three of the famous du Pont family mansions and gardens. These grand estates have something to draw all ages to witness the glorious past of American industrialism when it was fashionable to build a fortune and leave behind an estate for the public's enjoyment. The three du Pont family members left Nemours, Longwood, and Winterthur to be enjoyed by us common folk, were quite different. What they had in common was they were all part of the gunpowder family's legacy, wealthy and wanted to share these special estates with all who wished to visit.
When I moved from the West to Baltimore, history engulfed me like never before. Shortly after moving to Maryland a work associate at my wife's workplace told her to check out Kennett Square, Pennsylvania and Longwood Gardens. I had no real idea what it would be like, but we were ready to explore our new region and Kennett Square was a mere hour and ten minutes up scenic Route 1. Within the first month of arriving we drove up to Kennett Square and explored the historic downtown and Longwood Gardens not knowing how much both had to offer. We would find out over the few months after repeated visits.
Pierre S. du Pont, 1870-1954, found out about a place called Peirce Farm and its impending sale of trees for lumber. This was no ordinary forest. This was a collection of stately heritage trees planted and tended with care for decades; Pierre couldn't stand the thought of these trees being cut down for lumber. Here is an excerpt from the Longwood Gardens website:
I have recently experienced what I would formerly have diagnosed as an attack of insanity; that is, I have purchased a small farm," Pierre du Pont wrote to a friend soon after purchasing the Peirce farm in 1906. However, he added, "I expect to have a good deal of enjoyment in restoring its former condition and making it a place where I can entertain my friends."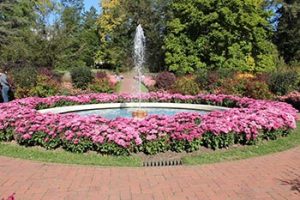 After purchasing Peirce farm Pierre set about planning and building a six hundred foot "Flower Garden Walk" one of the most popular gardens to this day. His love of fountains was ready to blossom at Longwood. Pierre started with a simple pool with a single jet of water in the middle of the Flower Garden Walk. Many more fountains would follow. The Open Air Theater followed five years later and many a performance was held in this stage with modern lighting and fountains. Several concerts are held in this historic venue throughout the summer and if you purchase concert tickets they include garden admission.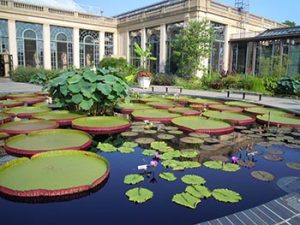 Pierre was just getting started on his country estate. He would go on to add the Italian Water Gardens, an extension on the old Pierce home, a conservatory, and the Main Fountain Garden pumping 10,000 gallons per minute as high as 150 feet high! Pierre also had an astounding Aeolian pipe organ designed for the Conservatory with 10010 pipes. This organ literally had all the bells and whistles and delights visitors to this day with an interactive organ display. Catch concerts played by computer memory of past performances, or by expert organ players throughout the year.
Pierre and his wife had no children and started a plan by establishing a foundation in 1937 to guide the gardens estate's future. Two years after his wife died Pierre received approval from the IRS for his Longwood Foundation to operate Longwood Gardens as a public garden with "tax exempt" status: "for the sole use of the public for purposes of exhibition, instruction, education and enjoyment." Now the public could come and enjoy walking in the forests, meadows, flower gardens and conservatory in peace and beauty where previously only family and invited guests could go. This giant of industry was president of DuPont and Nemours and Company 1915-1919 as-well-as General Motors from 1915-1920. At Longwood, visitors can see glimpses of this great man's life through a self-guided tour of his home and gardens. An estate you will never forget.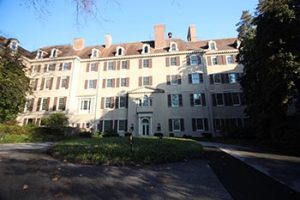 From Kennett Square we travel next to one of the homes of Henry Francis DuPont, 1880-1969, north-west of Wilmington, Delaware. Henry functioned as farm manager on Winterthur since 1914. This was no small farm. At its height in the 1920s the farm encompassed some 2,500 acres and employed around 250 with turkey, chicken, sheep, pig and dairy farms. A prize winning herd of Holstein-Friesian cows were also raised on the farm. In 1927 Henry inherited Winterthur and set about making changes to the humble twelve room home built in 1837 by relatives. During 1928 through 1932 Henry dramatically increased the size of Winterthur by adding a new wing.
Henry and his wife Ruth were collectors of early American decorative art and architecture elements. They opened the home to the ticket buying public where visitors could view their extensive collection. The family moved to a smaller home they called "The Cottage" where they could live in peace and quiet now that the main house was a museum. In 1961 First Lady Jacqueline Kennedy visited Winterthur and was so impressed she invited du Pont to head the Fine Arts Committee, which oversaw the restoration of the White House.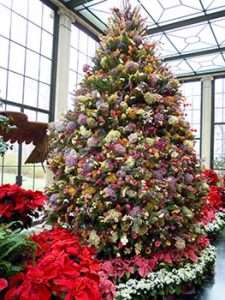 The grounds are also open to the public and feature a "naturalistic" design. This park-like garden is a treat to walk in the spring when the azaleas are in bloom, and songbirds sing the praises of the season. Winter visitors get to see how the wealthy decorated for the Christmas holiday. The tour culminates with the Flower Tree, a very tall, natural Christmas tree decorated in dried flowers. During dreary days of winter this is a warm and inviting place to visit. Spring and fall are also tops in my book and I try and visit the gardens during these gorgeous days in the Brandywine Valley.
The next estate visit is Nemours, named after the ancestral home in France. The story of Alfred I. du Pont is my favorite. Alfred grew up a child of the powder mills and became a great benefactor of the common laborer. He worked hard to become the wealthy person we read about in the visitor center and even enjoyed forming and conducting the Tankopanicum String Orchestra made up of workers and du Pont family members alike. It was said of him, "If mister Alfred knows you in the powder yards, he knows you in Wilmington."
Alfred lost both parents when he was thirteen just weeks apart. At his father's deathbed he remembered being told, "Son, I'm not going to be with you long. You must get an education and then come back, take off your coat and then ask your uncle Henry for a job. I think the old company may need you sometime." Alfred took his father's advice which served both him and the company well. This fourth generation gunpowder maker started as an apprentice powderman in 1884 at the age of 20 by hauling loads of wood and charcoal alongside the regular crews. He did well and advanced swiftly through the ranks. He made partner at the age of twenty-five and eventually bought the company with cousins Pierre and Coleman du Pont in 1902.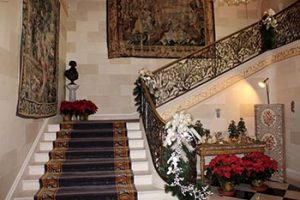 Alfred built Nemours, a large 47,000 sq. ft. mansion and took only 18 months to complete under his expert guidance. Nemours was inspired by Marie Antoinette's Petite Trianon in Versailles. The French gardens cover over 300 acres and features exquisite landscaping. Building Nemours was partly to enchant his second wife, but it seems she wasn't thrilled with Nemours or Alfred. Alfred would face both career and personal difficulties that could ruin a lesser man with three marriages, and being ousted from the company he loved. Alfred's greatest legacy is the Nemours Hospital and outpatient clinics spanning five states specializing in children's care. Come read his storyline in the visitor's center, tour the house and gardens, and see what this amazing man achieved and left to the public.
There is so much to see at these three estates it would be best to stay for two or three days. It would be hard to find a more appropriate lodging than The Inn at Montchanin Village near Nemours. The village of Montchanin is close to the original DuPont powder mills. Once part of the Winterthur estate, the village was named after the grandmother of du Pont's founder.
The Inn at Montchanin Village is now a quiet country inn with a spa, restaurant, and luxurious suites for the discerning traveler. Many of the 24 unique suites have a private courtyard and garden. Krazy Kats restaurant serves fresh, northeast seasonal cuisine in regal-cat inspired dining room. Open for breakfast, lunch and dinner Krazy Kats is one of the best restaurants in the area.
Even if you only have time for one of these famous du Pont mansions it's worth a visit. All of the four du Pont historical properties listed above are easily accessed from Philadelphia airport, Wilmington's Amtrak station or Interstate-95. Come get a taste of American history at its best in the Brandywine Valley.
If You Go:
Longwood Gardens
1001 Longwood RD
Kennett Square, PA 19348
Open Sun-Wed 9-6
Thurs-Sat 9-10
Phone: 610-388-1000
Winterthur
5105 Kennett Pike
Winterthur, DE 19735
302 Winterthur road for GPS
Tues-Sun 10-5
Closed Thanksgiving and Christmas
Phone: 800-448-3883
Nemours
850 Alapocas dr
Wilmington, DE 19803
Open May 1- Nov 13
Tue-Sat 10-5
Sunday 12-5 (mansion 1-4)
Phone:302-651-6913
The Inn at Montchanin Village
Route 100 and Kirk rd
Montchanin, DE 19710
528 Montchanin rd for GPS
Phone:302-888-2133
About the author:
During three years of food blogging as the Fast and Furious Cook Kurt Jacobson saw other food bloggers incorporate travel into their blogs. After following suit, with an occasional travel post he found he liked travel writing better than food blogging. With extensive travels to Japan, New Zealand and all 50 U.S. States travel writing suited him well. Most of his writing has a food element; after all, some of the best travel stories come with a side of food.  In his first year travel writing he has been fortunate to have dozens of articles published in online travel sites and magazines. The best part is the journey is just getting started. Let's take a trip!
All photos by Kurt Jacobson:
Nemours mansion
Longwood flower garden walk
Longwood water lily garden
Winterthur mansion
Winterthur flower tree
Nemours staircase