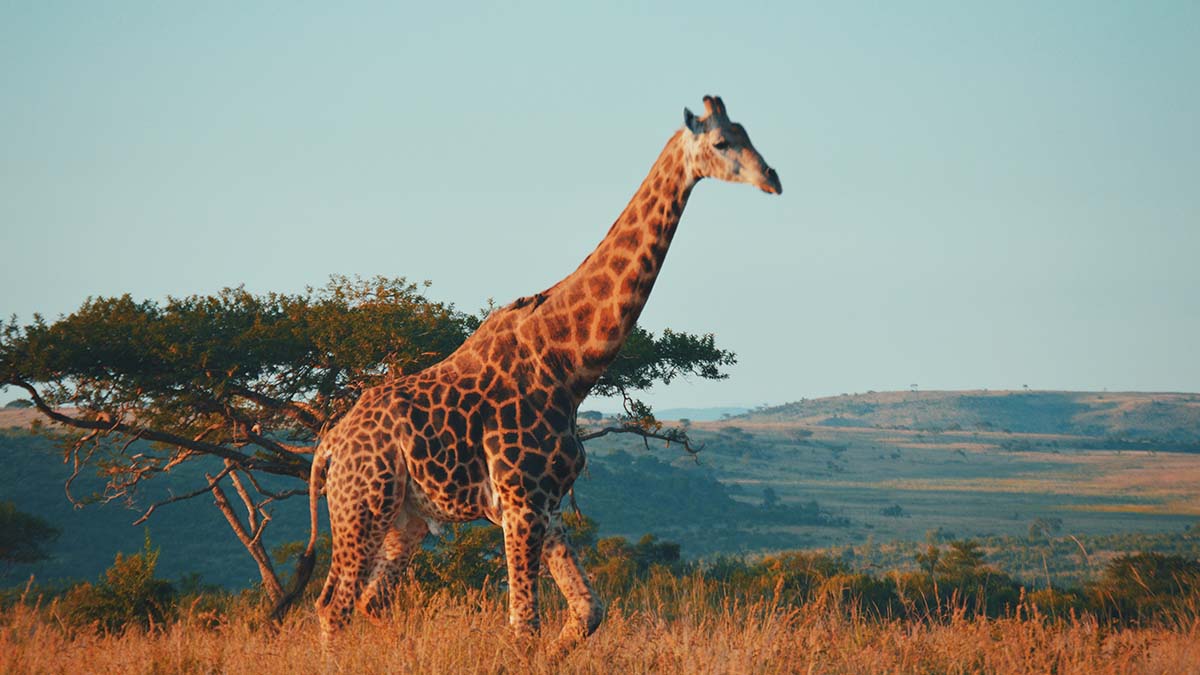 Stretch Your Canadian Dollar
by Theresa (Therri) Papp 
If you want to get the biggest bang for your buck in the declining Canadian dollar consider South Africa. I had been told to bring an empty suitcase and that would be my recommendation to travellers as well. All around, food, drink, clothing and mementos are beyond reasonably priced by Canadian standards while maintaining quality on all accounts that I experienced. If that hasn't got your attention, then how about seeing animals that we would only see in a zoo just metres away from you. I experienced three weeks in South Africa and will share my experiences and provide some recommendations.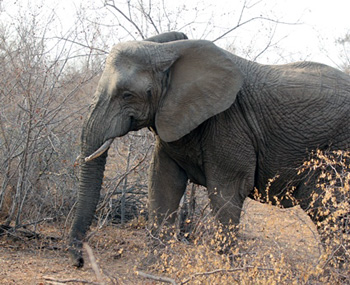 As you fly into Johannesburg you would expect to see the wild game from the runway. Close to the tarmac is a beautiful view of elephant grass (tall grasses) and native trees that bring memories of photos depicting Africa or the Lion King. I travelled there in August which would be the southern hemisphere winter. Well, if that is winter, it sure does not resemble the Canadian winters. Each day, whether in Johannesburg, Pretoria, Durban, or Capetown all provided an average temperature between 26 to 29C each day and sunshine over my three week adventure. South Africa winter certainly is quite manageable.
While in South Africa (SA) I experienced Sun City, Johannesburg, Pretoria, Durban, Stellenbosch and Capetown. Wherever possible, I always take advantage of the hop on, hop off experience. The price is reasonable and I get a good overview and history of the area. Notable mention would be to do the Johannesburg Soweto combo and gain an understanding of the SA history. Various historic memorials can be seen on the tour not to mention seeing Nelson Mandela and Desmond Tu Tus' homes. Imagine two Nobel Peace prize winners hailing just blocks from each other and family still live there. If you are interested in history and wine tours to vineyards, Capetown can satisfy those needs. Wine tours are available in Stellenbosch or part of the hop on hop off ticket by selecting the Purple tour with three stop options. All wine tours are for the transportation only and tasting fees are extra.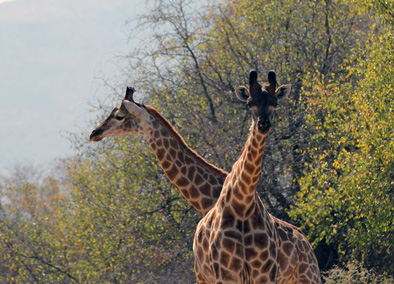 My first experience in SA was a 1.5 hr drive to Sun City. If you have watched the movie Blended you will have seen one of the hotels as the movie was filmed at Sun City Palace and the complex. There are four hotels on the premises ranging up to $8000 per night. Something for everyone, Players golf course, a children's arcade, spa, casino, and high tea at 3 pm is highly recommended to see the Sun Palace hotel as that is the only access to this posh hotel.
SA is a shopper's paradise. The SA dollar is the rand and currently our dollar has the buying power of 1 CDN to 10 Rand. For example, an item priced at R100 (100 rand) translates into $10 approximately. There are designer outlets and stores for the elite shoppers and bargains to be found. Woolworths seems to be the most popular chain store in SA along with other shopping meccas to be found. New clothing there is as inexpensive as used clothing at Value Village. Imagine buying new jeans for the equivalent to $15 and tops or pullovers starting at under $10. A very startling experience was the parking. Large malls charge for outdoor parking whereas our shopping malls are free unless underground. The first hour is free. Strip malls have "car guards" that escort you to a parking spot, greet you, and assist you in reversing out of the parking lot. All this service in return for a coin or two at your discretion. Bad parking habits are not tolerated. You are warned upon entering a parkade that if you do not park between the lines your wheels will be locked and you must pay a fine to get your wheels unlocked in addition to the parking fee. You can also get your car washed while you shop as attendants are available in the parkade.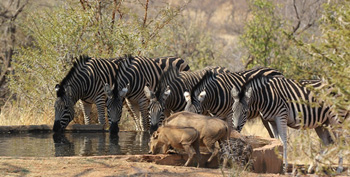 Food is also a bargain either at the grocery store or at the restaurants. Kentucky Fried Chicken appeared to be the most popular fast food to be found in SA with Macdonald's a close second. KFC signage is atop the illuminated street names and almost on every street corner similar to Starbucks can be found in Canada. Both KFC and MacDonald's offer free scooter delivery service for orders. Other restaurants offer bountiful breakfasts that can be found for around $3. Restaurants are also inexpensive offering lunch specials ranging from R57 ($5.70 CDN) which includes a salad and portions that are monstrous. Bottles of wine can start at R110 and up in a restaurant and beer at R25. Evening dinner options can be a full chicken and salad for R90. That would be a feast for a big appetite or a feast and a take home feast for the lighter appetites. Don't worry if you don't finish that bottle of wine. You can take it home. Most places appear to be children friendly with play areas and some even have child attendants. Some restaurants offer a complete experience for children to order their own pizza and help the chef make their pizza. Children put on their own toppings while the parents can enjoy a leisurely lunch or dinner.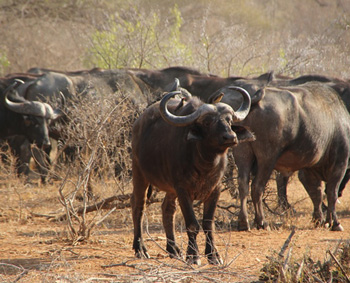 Driving is an experience. Although sidewalks are a rare finding, the large dirt sections next to the road offer opportunities for vendors to set up business and cars can pull off the road to shop; SA people are very enterprising. On most traffic lighted city street corners, men can be found wandering between the lanes selling most anything: Newspapers, toys, pens, crafts, computer gadgets, but I did not see a kitchen sink. Companies and businesses also hire people to advertise at the street light corners to hand out pamphlets. It is always recommended, no matter where you may be in the world, to travel and drive with your doors locked. As anywhere, there are places that you should not venture for safety reasons. Having said that, I did not experience any adverse experiences. In SA taxi services are communal for the locals. Specific hand gestures indicate where you want to travel as the taxi vans travel the streets. People are packed 4 across and 5 deep holding over 20 people per taxi van.
A safari or multiple safaris are a must when traveling to SA. The "Big Five" are the dream citing for anyone visiting SA. The Big Five are the Rhinoceros, Buffalo, Lion, Elephant, and the Leopard that is interchanged with the Cheetah by some. I recommend going with experienced drivers or rangers. There are rules that must be followed for your safety. If you are out with a ranger and follow the rules you will have the most surreal experience of your life! To calm my nervousness, after all these are wild animals and no wild animal should be disrespected or challenged, I heeded the rules. The animals view the jeep as one unit and do not see the numerous people sitting in the open. Do not leave the jeep, no sudden movements, no loud noises, no leaning or extending outside the jeep. The rangers are well trained and know the area well and know the animals. The rhino, buffalo and elephant are not predators but herbivories but can get upset if you enter their space or separate their herd. Once winter sets in on the game reserves, there is no fresh food or greenery to feed the animals and the reserves feed the animals large bails of grasses to sustain them through the winter. At one reserve they were feeding the animals since April. One can only imagine how much an elephant or rhino can eat every day!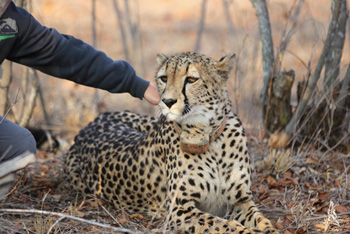 Mabalingwe was my first experience in a wild game reserve. This is under two hours from Pretoria. Your first view of a kudu, impala or warthog is exhilarating and you can't get your camera poised fast enough. After a while the appetite for photographing new wild game gets more and more intriguing. The first 24 hours I had sited and photographed 14 different wild African animals in their natural environment. This included the ostrich, impala, kudu, baboon, warthog, bandit mongoose, giraffe, zebra, hippopotamus, crocodile, hyrax, duiker, hyala, and jackal. Patience is a virtue and wild animals do not pose or come out from behind the brushes. They do, however, need water and that is a good place to see many different animals. The best time of the day to find animals is the early morning and closer to the end of the day. Even in winter, midday is too warm for the animals and they siesta until closer to the end of day. Our morning safari were as early as 6 am and the sunset safari started at 3 pm as it becomes dark around 6 pm.
The next safari experience was at Tshukudu. This was a phenomenal experience. This is a family run private game reserve that borders Kruger National Park and was started in 1980. Other people that have opted for the "do-it-yourself" drive through Kruger reported not much success of spotting all or any of the "Big Five" and some reported far distance viewing. This lodge offers nearly all-inclusive accommodations and an experience of a lifetime. There is no "roughing" it at the lodge, but camping experiences are available. The rooms are a generous size and mine had a deck to enjoy the outdoor experience along with a refreshment and a view that would include wild animals virtually at your back door. Also included was a hearty breakfast buffet with many choices and diversity each day, lunch buffet, high tea before the sunset drive, and an evening dinner buffet. Each day included a morning drive and walk as well as a sunset drive. That is a lot of value in my opinion for top rate service! I paid $200 CDN per night which included a single supplement. Shared double occupancy room for two was around $300 per night. Prices may vary due to season and other factors as it does everywhere. Four meals, two drives and complimentary wi-fi – what more could you ask for? You are allowed to bring your own wine to dinner or you can purchase your choices from the bar. Yes, I also saw all the Big Five within 24 hours of arriving. Three of them were seen from the deck within the first few hours of arriving while enjoying a refreshment and the animals were just metres away! Imagine buffalo walking by your cabin followed by two rhino walking off into the sunset. The elephant walked by when it was dark but the lights illuminated the animals. A photographer's dream come true.
I am returning to Canada with the most amazing memories, spectacular photographs to capture those memories and treasures to share of my experiences that will last me a lifetime. I had been warned and arrived with uncertainty about the safety of South Africa. My experiences can only say that there are unsettling and unsafe places in any town or city and travelers always need to exercise caution. My travels to SA has been an experience of a lifetime.
If You Go:
♦ I typically plan to travel well in advance (approximately a year) and take full advantage of Aeroplan points or Air Miles. That certainly cuts down on expenses.
♦ I always travel with an additional folding bag in my luggage, just in case I find some real bargains.
♦ There are no entry or exit requirements for Canadian travellers. A passport that is valid 30 days after departure is a typical requirement for any country that you visit outside of Canada.
♦ I did not get any additional vaccinations or boosters to routine vaccinations. Most travellers should have a hepatitis A/B vaccine and you may consider a Yellow
♦ Fever vaccination is you plan to venture to other parts of Africa. Check with your health professional before you leave for their recommendations.
♦ These are the websites of the places that I visited:
– City Sightseeing Cape Town (Save your ticket stubs from the City Sightseeing tours and you will get a discount on your next booked tour.)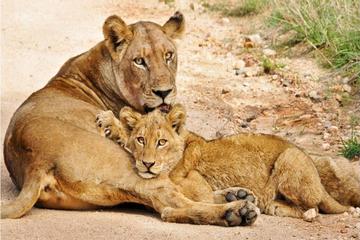 South Africa 14-Day Tour from Johannesburg
About the author:
Therri is an educator, researcher, photographer and writer that enjoys travelling with or without a travel companion. She is a Ph.D. candidate and has contributed articles to newspapers, journals and books. Therri lives in Saskatoon, SK and awaits her next travel adventure.
Photo Credits:
Giraffe by Kelly Arnold on Unsplash
All other photos taken by Theresa (Therri) Papp