Heritage and Hot Dogs
by Gwyn Goodrow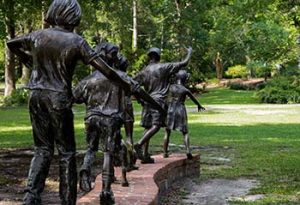 Summerville, South Carolina displays an artist's palette of blooming bright pink azaleas contrasting against the backdrop of green pine forests. Children play on a bridge over a gurgling creek while chirping birds echo their energetic laughter. Add some Southern hospitality, a few friends, and a healthy dose of sweet iced tea, and it's time to explore this paradise known as Summerville, "The Flower Town in the Pines."
Begin your exploration at the Summerville Visitor Center (402 N. Main Street) with brochures, maps and activity suggestions, including museums, events, walking tours and driving tours. Just as a map centers you geographically, a historical context grounds you to the town's development.
With maps in hand, are you ready for the history lesson? The Summerville-Dorchester Museum (100 East Doty Avenue) is just a few blocks from the Visitor Center, on the west side of the railroad tracks. Take a pause at the train tracks – the stories of train travel and train-based commerce are integral to the history of Summerville and the museum.
The Summerville-Dorchester Museum stands on land formerly owned by Eagle Creek Lumber Company as noted in early town records. In the 1920's, the Town of Summerville built a one-story Water Department building on the site. Some fifty years later, the city Police Department resided in the building. Then, in 1993, the Summerville-Dorchester Museum launched its grand opening, showcasing a cistern from Water Department days, holding cells and artifacts from police station days, and numerous historically significant displays of progression from a lumber harvesting outpost to a modern city of more than forty-five thousand residents.
Touring the Summerville-Dorchester Museum, you will hear tales of influential families of the city, from football coaches to teachers to entrepreneurs. My favorite biographical stories were about Saul Alexander and Catherine "Kitty" Springs. Both are stories of intrigue and how hard work, ingenuity, and entrepreneurial spirit were evident during the town's growth. Their legacies live on today in generosity to the city they cherished.
Saul Alexander came to America from Russia in 1900 at the age of sixteen. He worked in New York City for four years before moving to Summerville, South Carolina for the rest of his life. In 1914, Saul opened the Saul Alexander Dry Goods Store and provided tailoring and alterations services. The Saul Alexander Garden House located in the park adjacent to the museum displays a poker table mounted on a Singer sewing machine's treadle base. Mr. Alexander was known as a generous man with integrity and kindness in his personal and business dealings. Upon his death, funds from his estate were secured in the Saul Alexander Foundation, which provides annual distributions to more than fifty religious, educational, and charitable organizations in the Summerville and Charleston area.
Kitty Springs, formally known as Catherine B. "Kitty" Smith Springs, was a Charleston-based seamstress and dressmaker who sold beautiful custom hats using a wagon for transportation. In later years, she became an astute businesswoman and property owner. Various sources report that Kitty was of bi-racial or multi-racial heritage. Possibly the descendant of native Lowcountry Cherokee Indians, African-Americans, and European whites, these cultures influenced her desire to help the local Indians and the multi-racial poor of the area. Kitty donated a parcel of land and money to build St. Barnabas Mission, a day school that also served as a public health center and mission church. Kitty is remembered not only for her economic achievements as a businesswoman but also for her benevolence and generosity. The wooden St. Barnabas Mission Chapel with bright red trim is now known as Bishop Pengelley Memorial Chapel (705 South Main Street).
After touring the museum, stroll along the Walking Trail of Homes and Flowers, a free self-guided tour of 20 homes on Rutherford Street, Sumpter Avenue, and 5th South Street, which begins at the aptly named Azalea Park (105 West 5th South Street). During this one hour walk, you will see majestic homes with meticulously manicured gardens, century-old trees stretching higher than the multi-storied residences, and architecture ranging from Queen Anne Victorian to hunting lodges and Antebellum Plantation home styles. The Dr. William Prioleau House [TOP PHOTO] is a circa 1819 home displaying a red-turreted roofline and white wrap-around porch. Dr. Prioleau was a pharmacist in Charleston and authored influential papers on Summerville as a resort destination for healing lung ailments, boosting the international interest in Summerville's resort inns.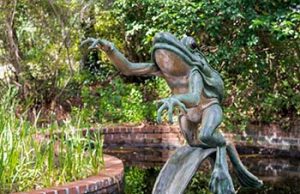 The walking tour ends at the Azalea Park, with winding trails pleading for you to meander its 16 acres while admiring the award-winning sculpture artworks. You will probably work up an appetite with all of that walking. If so, head on over to the fun and funky hot dog restaurant featured on the television series "Diners, Drive-Ins, and Dives." Perfectly Franks Restaurant (119 North Main Street) takes the simple hot dog to a new level, starting with the menu. For less than $4.00 each, feast on the political Benjamin Franklin (hot dog topped with chili and homemade cheese sauce), or croon along while munching the Frank Sinatra (featuring homemade bleu cheese slaw), or feel the southern blues with an Aretha "Frank"lin (BBQ sauce, slaw, and crispy onion toppings). You get the idea by now. The restaurant is open Monday – Saturday 11:15 am – 8:30 pm. Expect a line during the lunch service. The seating area has tables for two, four or more and the regulars eagerly welcome newcomers to join their tables. Burgers, tacos, and salads are also available.
After what was, quite frankly, a delicious lunch, I toured the historic downtown shopping district near the Farmer's Market, where I discovered Guerin's Pharmacy (140 South Main Street), the oldest pharmacy in South Carolina, in business since 1871. Inside, the 1920's soda fountain counter offers ice cream, floats, fountain sodas, and candies, where generational traditions have been established. There are no stools at the counter, true to the historical context in the early 1900's.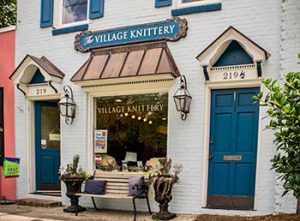 The Village Knittery (219 South Cedar Street) is a must-visit for yarn crafters. The outside appearance as a quaint community shop from Olde England belies the fact that the interior is expansive with plenty of room for project work, shopping, or just admiring the completed items on display. With open seating and experienced crafters on hand, I was delighted at how the owner spent time discussing different knitting tools and techniques to an absolute beginner. Crafters meet to work ongoing projects during the Wooly Wednesdays (noon – 5 pm).
As you wander Summerville's downtown shopping area, or drive through the historic homes district, or shop the fresh farmer's market produce, the echoes of history reach out and guide you through a multi-faceted discovery of this modern community, still deeply threaded into the roots of Americana.
If You Go:
Summerville is located 26 miles north of Charleston, South Carolina, along the I-26 route.
For history and general knowledge:
Summerville Dream
For dining:
Perfectly Franks
For shopping: 
Stroll Main Street historic area
For lodging:
Courtyard Charleston Summerville
Pet-Friendly downtown B&B -The Pink Dolphin
About the author:
Gwyn Goodrow is an avid traveler and enthusiastic crafter residing in central Mississippi, with deep southern roots tracing back four generations to 1850's. She has traveled throughout North America, Europe and Australia/New Zealand. Gwyn's travel articles have appeared in Travel Post Monthly and MilesGeek.com. In addition, she blogs about travel and crafting at www.crochetgetaway.com
All photos by Gwyn Goodrow
The Dr. William Prioleau House
"Follow the Leader" Sculpture by W. Stanley Proctor in Azalea Park
Pine Forest Inn replica room at Summerville-Dorchester Museum
Azalea Park "Hop To It" Sculpture by Kim Shaklee dedicated in 1999
The Village Knittery