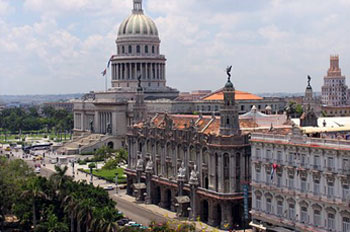 by Ray Mwareya-Mhondera
So much has written about the crumbling decadence, the poverty and third-worldness of Cuba that it is impossible for an artist to perform or visit the country without any fears and preconceived notions.
According to a fellow artist who recently performed in country at a Latino rock conference, "No hay!" [There isn't any] seems to be the current in-phrase in Cuba.
This included foods, coffee..and toilet paper. Determined, I faced the prospect of somewhat reduced nutritional intake with stoic monkish abandon. I would turn tables on deprivation and use our band's first performance in Cuba to introduce our music to the land that gave birth to the "Bay of Pigs."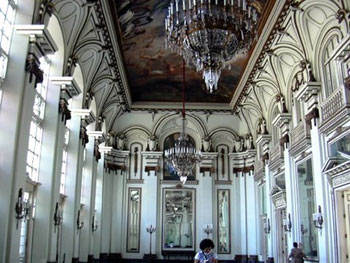 Surprise! The hype was bigger than reality! While the Cuban cuisine can hardly be described as adventurous, it was a far cry from "No hay!" I now believe there is truth in the maxim: "Tourists first – Cubans last," but I saw little evidence where luxury goods were involved. Bathroom requisites especially, soap in particular.
When delightful older ladies quietly, but most determinedly, approach, requesting "Jabon?" you soon learn to take the hotel soap out with you. Ecstatic "Ahs!" came first, profuse thanks immediately followed. It is simultaneously touching and heart warming, a coupling with which I became familiar, for the Cubans understand the art of easy communication.
Despite the economic crisis and closed political space, Cuba is an enormously a optimistic country. Nowhere is this more clear than in the capital. Once regarded as one of the most beautiful cities in the world, I suspect Havana is fast reclaiming that distinction.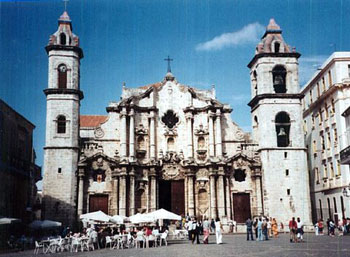 The hub of life on the Plaza de la Catedral in the Old Quarter. The square is not large. It could be dropped without trace into most of the Revolutionary Squares which dominate Cuba's cities and towns. The sixteenth century Cathedral has enormous character, watching over the Plaza like a hen guarding its chicks. These particular chicks are the many stall-holders who, since the communist relax, have been allowed to take on "private enterprise" schemes [largely souvenir stalls] in an effort to aid the economy. Each stall his its own brightly coloured awning so that viewing the Square form the Cathedral steps in the dazzling light sunlight presents a feeling of looking into an emerald casket.
Here it's possible to buy anything – from string to wooden sculpture, from maracas to a sandwich tourist haunt that somehow never seems touristy.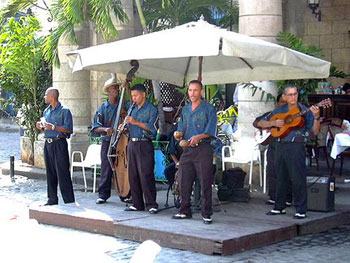 Also in the Square, one of Havana's most exciting Rumba ensembles plays throughout the day at El Patio. An exciting feat for a local Cuban band that send revelers when it munched Portuguese lyrics with our English lyrics when we took together on stage in the evening.
Unless you want to splash 300 rands for two rather bland meals, just order a refrescho and succumb to the fabulous music of the Septeto Sabor playing those old rumba warhorses, El Manisero [The Peanut Vendor], or Siboney. Like Cuba's mangos, musicians are everywhere. They play, they go. Dance groups set up in the street, perform – apparently for the sheer pleasure of performing – and disappear. No one takes a hat round, one of the reasons, apart from the superb music and exciting dancing, that visitors and foreign artists give so freely. "Guantanamera" is ubiquitous, it's more of a national anthem than the real thing,a prison.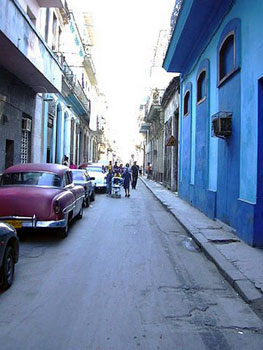 Certainly, there is a fair number of decaying crumbling once-elegant buildings. But Havana is well into a vast renovation program, thanks to the World Heritage Site claim stamped on the city by UNESCO.
It's a stimulating if somewhat confusing experience to walk along the winding Malecon, Havana's beautiful seafront, observing the facades of these once-glorious colonial mansions. A few seem to teeter on the brink of collapse. Others, about to be tackled, are surrounded by heavy girders and cranes. Quite a number have now acquired a glittering pristine elegance.
From old walls of Castillo de los Tres Santos Reyes Magos del Moro [unlike its name, the fort is tiny] there is a sensational panoramic view of the city. Here, gazing across the Bahia de la Habana, one witnesses a city being reborn. Tall, formal skyscrapers vie with 18th and 19th century mansions for domination of the skyline. Then it suddenly dawns that there no competition, surprisingly, the old and the new actually blend in easy harmony.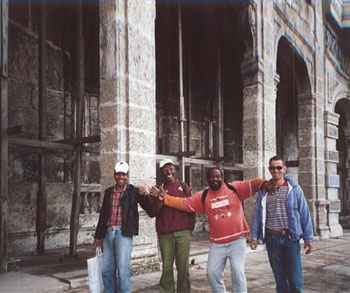 here is little evidence of Cuba's legendary former Head of State, Fidel Castro. Far more in evidence, especially in Havana, are tributes to the American writer Ernest Hemingway who lived in the capital for over twenty years. There are statues and plaques in his honour all over the city. His house is now an intriguing Museum, almost like a shrine. Across the city, many of the writer's ole haunts and watering holes still proudly bear his name. There is even a hotel named after his novel, El Viejo y el Mar [The Old Man and the Sea] where we stayed for several nights. Prices ere quite reasonable – but still beyond the average Cuban's income.
If there were extortionate prices for restaurant meals I saw none of them. On the contrary, as a visitor, eating out in Havana can be surprisingly cheap..and believe it or not, I didn't hear "No Hay" once.
If You Go:
Havana Sightseeing:
www.wordtravels.com/Cities/Cuba/Havana/Attractions
www.iexplore.com/dmap/Cuba/Where+to+Go
www.virtualtourist.com
Cuba Travel Advice:
www.netssa.com
Travel Guides:
www.worldtravelguide.net/cuba (attractions, hotels, restaurants, events, shopping, nightlife)
About the author:
Ray Mwareya-Mhondera is the lead singer of the pop band 'Spoktown' which recently toured and performed in Cuba. He's a former contributor to the Mail and Guardian.
Photo credits:
Photos by Ray Mwareya-Mhondera, Jim Burnett and W. Ruth Kozak.