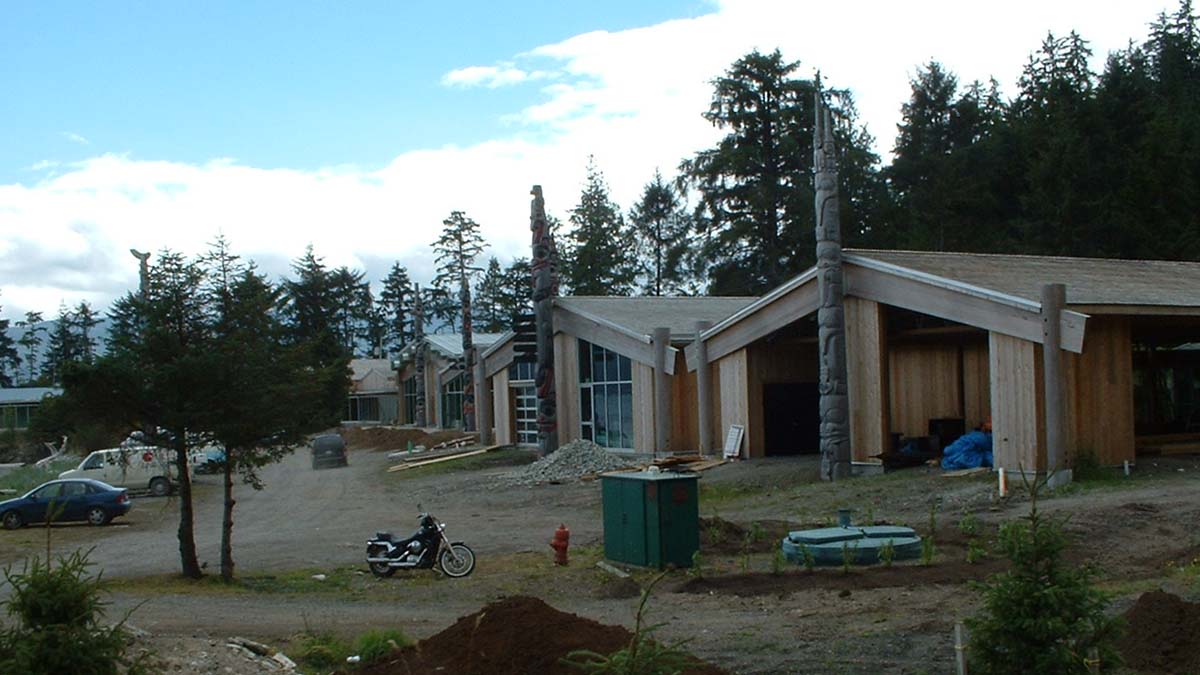 by Peter Kwong
I was mesmerized by a pile of stone sitting inside the brow of a herring skiff. I asked myself this seemingly silly question " Did Haida Indians get their fish with stones?"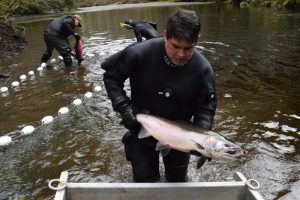 Next to the boat my Haida Indian friend Scott was working on a bench filleting a dozen of King Salmon. He was very much absorbed in his task and oblivious of my presence behind him. Once in a while I observed he would raise his head, cock his nose and squint his eyes to watch vigilantly over the ocean in front of him. It was low tide on the beach with children playing and gathering gigantic shell fish and mussels. Another silly question crossed my mind "Do the great white sharks roam in this remote part of the Pacific Northwest?"
Here I was on a late morning sitting on the front porch of a beach front property with a commanding ocean view. I had stayed the previous night inside my friend's family modest if not slightly dilapidated seaside bungalow. As I sipped a murky stale coffee I tried to analyze why everything appeared topsy-turvy to me since arrival at Masset Indian reserve, Queen Charlotte Island.
"Bungalows"- isn't that an architectural platform invented by the East Indian and brought to the new world by the British? Yet on that long stretch of beach I found that only Bill Reid, the rich and famous totem carver, lives in a traditional long house. Everyone else lived in plain "million dollar view" bungalows on the reserve.
I also felt a little short changed not able to experience an enchanting evening lit up by candle fish. My consolation was to discover that eulachon, a fatty finger size smelt, used traditionally as candle is actually quite tasty. The native had a way to preserve the fish as food staple for the harsh winter by separating the oil and salting the flesh. The processed eulachon can then be preserved without refrigeration. When the time come for the fish is to be consumed the extracted oil is added back onto the dehydrated meat over wild rice. Unlike lox, the cold smoke salmon, eulachon was not prized by the European settlers and hence remained much unknown to the rest of the world.
My stomach did not agree well with the seaweed samosa offered to me at my previous dinner. Coastal people on both side of the pacific consume seaweed as part of the daily food staple. Unlike the Japanese who ground dry seaweeds into sheet for sushi rolls, the native on this side preferred deep fried seaweed sprinkled with salt into a shape like a East Indian samosa.
I was also intrigued to discover that bringing "meat" to the table is a children job in this part of the world. In this bountiful land the bears are huge, ravens are super-sized , the local sitka deer are exceptional small animals. Deer hunting meant children played in the backyard, corralled and wrestled a roaming deer to the ground and clubbed the animal with a nearby stone to bring venison for dinner. If it is possible for kids to hunt on land with stone, is it not too far fetched to believe one can catch fish with stone at sea?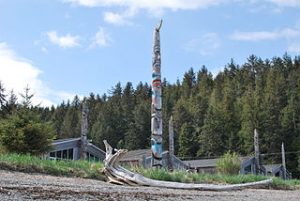 But what flabbergasted me was the absence of a single erected totem pole on that long-stretch of beach on the reserve. Since the beginning of time the people of Haida Gwaii have been carving totem poles as sacred monument to tell the story of it people- folklore, myths and customs. When their huge collection of totem poles were eradicated by the missionaries for preparation of new life separated from their pagan gods, the Haida nation lost bearing of their past, required to reconcile with a integrated present of bungalows, electricity and other amenities of the modern world and ponder their unknown future. Slowly I began to understand the dichotomy split inside my head between my expectation of Haida Gwaii as depicted in Emily Carr paintings at the Vancouver Art Gallery to the super-reality I encountered on the ground.
The Canadian Forces Station (CFS) is located across the highway up on the foothill on the other side of the Indian reserve. It was originally built in 1942 as a Naval Radio Station (NRS) to look out for intruders from Imperial Japan. After the war the detachment operated as an HFDF intercept station of NORAD. When I asked Major LeMay what the motto of the station 'SINE DUBIO SINE MORA' meant, he explained "'Without doubt without delay.' Canada will declare sovereignty by scrambling jets to chase off Russian planes once they enter into our airspace." And then he pointed down to the beach and commented, "Every time when float planes operated by exotic fishing charter swooped down into water near the reserve for trophy size salmon, the Indians sent their speed boats out to sea and threw rocks to chase off the intruding fishermen. In a quixotic way this is how indigenous native declared their sovereignty!"
That somehow explained to me about that mysterious pile of stones.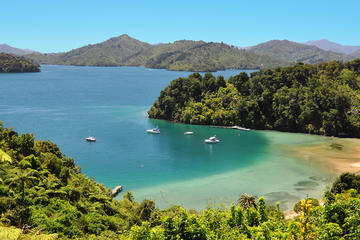 Full Day Queen Charlotte Kayak and Walking Tour from Picton
If You Go:
General Information: www.gohaidagwaii.ca
BC Government Web Site: www.hellobc.com/haida-gwaii-queen-charlotte-islands.aspx
Canadian Forces Station: en.wikipedia.org/wiki/CFS_Masset
Haida Gwaii – Raven and the First Men video:

Celebration in Old Massett (Haida dancing) video:

Photo Credits:
Haida Heritage Centre by Christian and Kristie via Flickr
Haida fishing by Graham Richard / CC BY-SA
Haida totem poles by Karen Neoh / CC BY
About the author:
Peter Kwong was born and raised in Hong Kong. He came to Canada at the age of seventeen to pursue a liberal arts education at Simon Fraser University. A long time resident of Vancouver, Peter is is now retired and able to spend more time on his passion for travel and adventure.