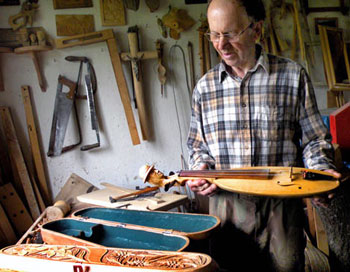 Tatra, Slovakia
by Tom Koppel
Slender and fit, Josef Michlik, an acclaimed carver and folk artist in his 80s, draws his bow smoothly across the strings of a beautiful violin crafted of wood from the local forests. On his walls hang broad mounted antlers, trophies of a lifetime of deer hunting in the Tatra mountains, the highest in Eastern Europe's Carpathian range. In the kitchen, with its traditional tile stove, his wife Maria prepares a snack of blueberry juice and home-made cheese from a milking goat that is brought in each night for protection from the bears and wolves.
My wife I are visiting the Spis region in northeastern Slovakia, which is for her the "old country." Raised on a farm in southern Ontario, Annie spoke only Slovak until she reached school age and had to learn English. This makes the trip a special occasion: returning to her roots, getting to know her Slovak relatives, and discovering the rich culture, stunning traditional architecture and spectacular landscape that her parents and grand-parents left behind when they emigrated to Canada and the US.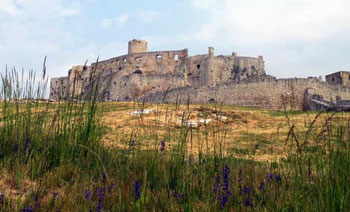 Our hosts, the Filip family, take us by car on day-long outings to towns and sites of particular historic and personal interest. In the foothills, the lush green rolling countryside is planted in canola, maize and barley. Narrow country roads are lined with evenly spaced apple trees. And to the Northwest, the serrated peaks of the High Tatras are always in view.
We clamber through the ruins of enormous Spis castle, built in the 12th century on a stark hilltop already occupied at the time of Christ by migrating Celts. The thick stone walls withstood even Mongol attacks. By the 16th century they enclosed a residential palace of the most powerful family in the Hungarian aristocracy. Ownership changed under the Austrian Habsburgs, and eventually a fire destroyed everything made of wood; what remained was abandoned to the elements. As we leave, dark clouds sweep in. Rain pelts down and lightning flashes over the looming castle. It is easy to imagine a Shakespearean character like Hamlet pacing the high battlements, tormented by his thoughts.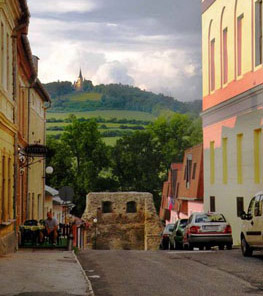 A wonderful surprise is the lovely walled town of Levoca, a former royal city and cultural centre of the Slovak national Enlightenment in the late 18th century. There are arched gateways and streets lined with medieval buildings in pastel colours. Among its landmarks are the 14th century St. James church, with the highest wooden altar in Europe, the 18th century theatre, the multi-columned 19th century town hall, and the open-air "shaming cage," where transgressors were publicly punished. A basilica and field on a nearby hill is a traditional pilgrimage site, where Pope John Paul II once celebrated mass for over 600,000.
The Filips have often attended those masses, and they appreciate the much greater religious freedom they have enjoyed since Communism ended barely two decades ago. The oldest child, Robert, tells us how Stalin ordered the Church crushed. In the 1950s, police raided the monasteries and convents and threw most priests and nuns into prison camps.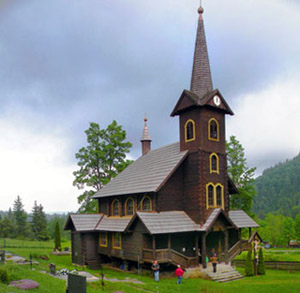 Robert himself felt the oppression as a bright high school student near the end of the Communist period, when church attendance was still discouraged and he was warned that openly practising his faith could hurt his chances of going to university and having a successful career. But then came the Velvet Revolution and the independence of predominantly Catholic Slovakia. One Sunday morning we watch as a stream of proud parents, decked out in their finery, lead their children to the local church in elegant white robes and muster them for a procession and their first communion.
Bitter memories remain, however. In one village, a memorial refers to an uprising against the Nazis near the end of the Second World War, and we discuss the subsequent postwar occupation. It's a pure myth that the Soviets were liberators, says Robert. He tells us how Russian soldiers dragged his grandmother by her long braid into the kitchen and demanded food. Rape and pillage were commonplace. Nor have most Slovaks forgotten how Soviet forces crushed a more liberal form of socialism in 1968, in what was still Czechoslovakia. The leader at the time, Alexander Dubcek, was himself a Slovak and a forerunner of Gorbachev. Gejza, Robert's father, adds simply that the Russians behaved like barbarians.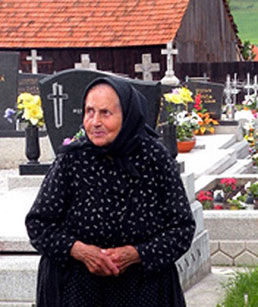 Then we visit an elderly relative who lives in a tiny village and wears the black shawl and somber dress of mourning. A closer look reveals that, although dark, the fabrics and stitching are incredibly ornate and detailed. Opening her closet, she displays her extensive wardrobe and admits a bit sheepishly that women like to appear in church in the finest and most elegant clothes. And she has sewn everything herself, all her life. She takes us to the cemetery and shows us the grave of Annie's great-grandmother, which she regularly tends with flowers and devotion.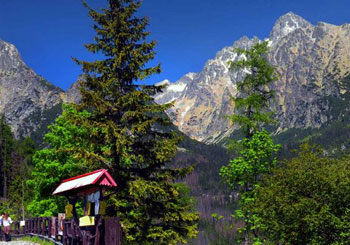 We also spend glorious days in the High Tatra mountains. We ride a funicular railway up into Tatra National Park and hike through the forest of red spruce to a remote waterfall on a major stream. Thunderous water spirals into deep gurgling holes as we sit on a gigantic weathered boulder and enjoy a picnic. There are no mosquitoes to spoil things, even in early June.
Another time, the entire family soars in a dizzying cable car and gazes down as we pass the tree line en route to a barren peak. It is a poignant moment for the Filips. As a young man, Gejza climbed this very same mountain in city shoes, carrying a valise, to collect the needles of a rare high elevation evergreen shrub called kosodrevina, mountain or mugo pine. A doctor had told his wife, Terezia, that she could never have children, but a folk remedy offered an alternative. She soaked in hot baths infused with the needles. The resulting three children (son Robert was followed by daughters Julia and Maria) seem to indicate that this worked, but they had never been up the mountain or seen the shrubs, which spread below us in a broad swath.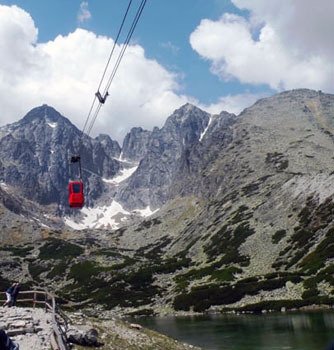 The Tatra region is known for its enchanting alpine villages. Log-built and chalet-style houses feature large balconies, colourful window shutters and other fanciful and ornate woodwork. There are centuries-old wooden churches and attractive, affordable boutique hotels that are popular in summer with hikers, campers and lovers of wildlife. In winter, they host skiers from all over Europe. We spend a night in one of them, in a romantic top floor room with dormers, and eat in a restaurant that serves local wild game and freshly caught fish from the lakes and streams. But most evenings, Terezia pampers us with her Slovak home cooking, a rich cuisine that starts with tasty soups and moves on to pork or chicken main dishes, plus potatoes from their large garden, or pirogies, or dumplings with butter or gravy. And then comes dessert. They say that if you don't gain weight while visiting Slovakia, you have not been treated to true Slovak hospitality. And so we do.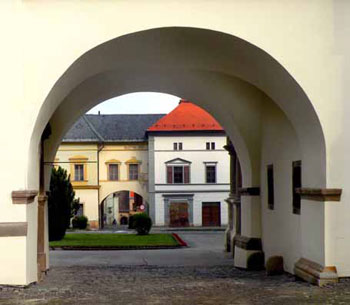 Our final day, we visit Michlik, the carver and instrument maker, a long-time friend of the Filips, who has been featured in documentaries on Slovak national television and played his stringed instruments in a local folk music group. In his village, Zdiar, people speak a dialect, Goral, that is closer to Polish than to Slovak, a vestige of centuries of Polish rule over the region. He regales us with stories about his life. For many years, he was part of a hunting club with access to some of Europe's most pristine alpine wilderness, where boar, lynx and mountain goat still run free. During the Communist period, he supplemented his carving income by keeping sheep and renting out rooms, mainly to tourists from East Germany. He takes us through his workshop, where antique hand tools coexist with a modern lathe and band saw. His latest violin, and its ornately carved wooden case, will be an 18th birthday present for his grand-daughter. We see racks of carefully stacked wood that has to air dry for three to five years. Most of it is now earmarked for his grandson, Marek, who apprenticed under him and is carrying on the proud tradition.
We hate to leave Slovakia, but at least we have a very special souvenir. A framed bas-relief of the Tatras, carved in pale linden wood by Marek Michlik and a gift from the Filips, graces our living room wall.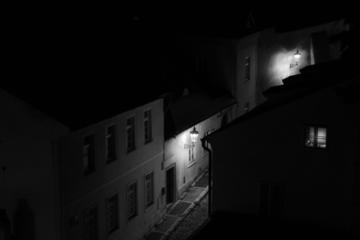 Private Tour of Secret Prague by Night
If You Go:
Lonely Planet Guide to the Czech and Slovak Republics
provides a clear, accurate overview. Useful websites include www.visitslovakia.com, www.tatry.sk, and www.vt.sk
The transportation hub for the compact Tatra region is Poprad. Frequent buses and a narrow-gauge railway connect to the three main mountain villages, which are less than 20 km apart. Smaller Zdiar is 16 km farther east by bus.
The comfortable Penzion Encian in Tatranska Lomnica charges $57 to $64 per night for a double room, depending on season. They offer great breakfasts and a fine dinner menu. Another excellent place in the village is Stara Mama "traditional Slovak" restaurant.
In the foothills, Levoca is the most attractive town, with Spis Castle only 16 km away. Two small historic three-star hotels, Arkada and U Leva, face the main square and charge $70 to $90 in high season for double rooms.
Poprad airport has minimal flight options. Better to take a modern, scenic express train from Prague. Rail Europe makes advance bookings, www.raileurope.com, but it costs less than half as much to buy the ticket and reserved seat to Slovakia yourself in Prague.
British Airways offers convenient connections to Prague via London. www.ba.com
About the author:
Tom Koppel is a veteran Canadian author, journalist and travel writer who has contributed travel features to numerous newspapers and magazines for over 25 years, including the LA Times, Chicago Tribune, Dallas Morning News, Columbus Dispatch, Georgia Straight, Globe & Mail, National Post, Islands Magazine, Sydney Morning Herald and Canadian World Traveller magazine. He recently completed his fifth book of popular nonfiction, about the South Pacific islands.
All photos are by Annie Palovcik.