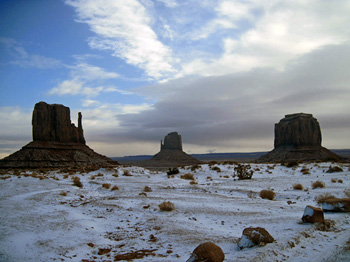 by Victor A. Walsh 
In the winter silence, colossal shafts and spires and mesas of rock rise out of the early morning light as if they are giants glazed in mantles of stone. Their presence is daunting, otherworldly—something I feel implicitly but do not understand.
"The Navajo call Monument Valley Tsé Bií Ndzisgaíí. It means "The Clearing among the Rocks," says Harry Nez, our soft-spoken, middle-aged guide from Navajo Spirit Tours.
Directly in front of us, towering above the snow-splattered dunes of red earth and patches of scrub are two imposing buttes called The Mittens.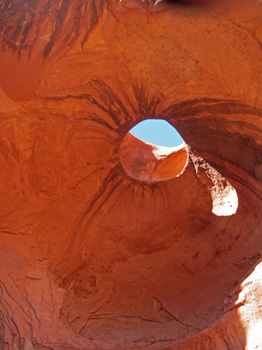 "It looks like a place where the dinosaurs once roamed frozen in a time capsule of volcanic rock," I gasp.
"Actually, the rocks are much older than the volcanoes," says Harry. "Geologists say that they were formed from an ancient sea, but for us they represent the lives of the five-fingered people who came from the underworld."
"On the left," he says, pointing to the closer butte silhouetted black against the horizon, "you can see a man's head frozen in stone. The long narrow column is his hand. On the right in the distance is East Mitten, which is the woman's head and hand."
"The bodies inside the earth," he further explains, "are where the First People, the holy beings, came from. The hands are a reminder to us that the ancient ones will someday return."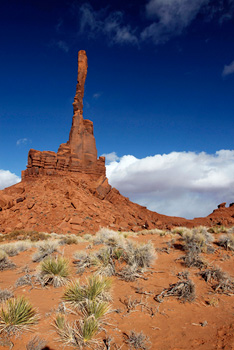 Harry continues driving along the route made famous in John Ford's classic film Stagecoach (1939) through an eerie, snow-dusted landscape of gouged, red-brown hills and gullies cradled by massive buttes. It's as if nothing has changed since that time. There are no paved roads, power lines, restaurants or public restrooms — just a few scattered Navajo hogans veiled in gray mist. But everything, including the Navajo's traditional way of life, is changing.
The 27,000 square-mile reservation, the largest in the nation, is now in the throes of unprecedented crises: a two-decade long drought; an increasingly hotter and dryer climate, and waterways and wells polluted with radioactive waste from abandoned uranium mine tailings.
Rivers are flowing less often. Cottonwood and willow trees are vanishing. Shallow aquifers no longer have year-round water. Sacred springs and ceremonial and medicinal plants are disappearing along with eagles, cranes and bees. Raising sheep and other livestock, integral to traditional Navajo culture, has been declining for decades because of less forage and water. Since the late 1970s there has not been enough water from streams to grow crops.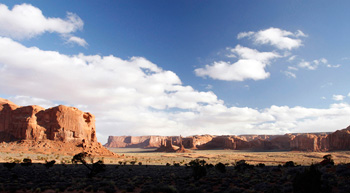 Navajo elders remember snows from the 1940s that were chest high on horses. They mention grass so thick and tall that sheep could get lost in it and soil that stayed damp through spring. It was a world they understood and identified with, but weather patterns now are extreme and unpredictable with no seasonal order. "The wind today is different," says Janis Perry. "It is upset with us. You can see it in our sheep. They are constantly fatigued."
There is less snow pact now, warmer spring months, and more wildfires, insects and dust storms. The latter bury everything, transforming once viable rangeland into desert expanses, especially in the arid southwestern part of the Nation. What is unprecedented and alarming is that the sand dunes and sheets, a typographical feature for thousands of years, are now moving because of sparse vegetation and stronger winds. As they grow and move, local ecosystems are destabilized and disappear, and opportunistic plants such as the rootless Russian thistle or tumbleweed move in.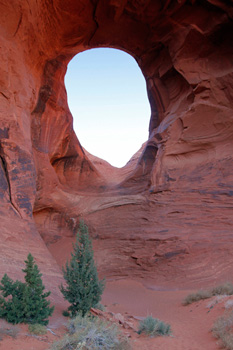 All of this eludes me in winter's cocoon at an elevation of 5,200'. In the afternoon light, the red-rock spires and mesas, sculpted in such a cacophony of shapes, rise above the dust-laden emptiness. They stand alone, as if haunted. North of Totem Pole, the wind hurls sand through twisted juniper trees and across the dusty road, gullies, dunes and knolls of fractured rock. As the sun fades, the horizon of misshapen rock formations looks eerily beautiful in the whirling wind.
Unlike at lower elevations, climate change manifests itself differently in Monument Valley. Even before the drought began in 1994, there was little if any snow pact on the mesa tops while the water level of the nearby San Juan River, a major tributary of the Colorado River, drops about two inches per decade due to declining snow melt.
But no one, as Garry Holiday, owner of Navajo Spirit Tours, reminds me, can accurately forecast weather patterns. This past winter the snowfall was surprisingly deep. Snow melt seeping through sandstone aquifers replenished countless springs through most of this summer, including the four surrounding Rain God Mesa that are used in Navajo healing and rain-making ceremonies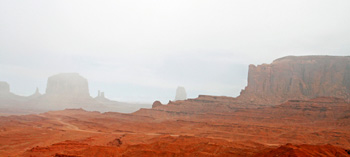 To the Navajo, Monument Valley, the first tribal park in the United States, is more than a park or nature preserve. It is one of the spiritual centers of their ancestral homeland, a living link to their culture and identity, quite separate from Ford's mythic Westerns. Some visitors are drawn by the landscapes they remember from his movies, but Navajo guides instead share stories about the Holy Ones, healing ceremonies, rock art and their clans.
"When I am away from here for a long time and come back here, I always shed tears," says Harry. "But they are tears of joy. It is my connection to who I am as a Navajo."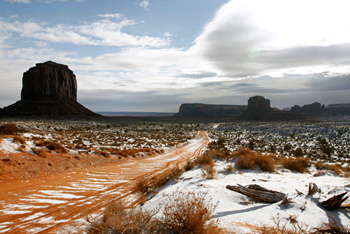 "Monument Valley has an unusual power that anchors us," Garry explains. "There is an inner harmony, beauty and peace. Navajo and non-Navajo, who come here, have been healed emotionally and physically. In our history, no invaders could come in and conquer it." This included the brutal 'Long Walk' of 1863-1864 when the U.S. army under Colonel Kit Carson invaded and forcefully relocated thousands of Navajo people to a New Mexico wasteland called Bosque Redondo. Many of those who escaped capture found refuge in the valley.
What I felt earlier, I now begin to understand. Without these marvels of stone, no Navajo stories of creation, legends, songs or cultural memory would exist. They offer a sense of stability and permanence, even though in the scale of geologic time, I know that they are anything but. But that is not the point. It is their meaning to us that matters.
Looking at the sheer, red-rock faces, I feel a living presence with the past. It is embedded in the rock art of the ancient Anasazi, the fossils of plants and animals, and the aquifer-rock formations that channel water to sacred springs.
With its hidden burial sites and surreal rock formations infused with gods and spirits and the Navajo presence, Monument Valley is unlike any other place that I have visited. This becomes clear to me later when Harry, Dick and I drive to Ear of the Wind, a tunnel-like vaulted rock arch that opens up to the sky, where echoes from the wind can be heard. In my mind, it resembles a cave where a giant once stayed to watch his kingdom.
Harry motions to us to sit a short distance away beneath another arch called Big Hogan. He tells us that giants long ago came here to talk to the coyotes, rabbits and other animals about what would be best for the world.
While listening, I stare up at the vaulted sandstone walls stained with black streams of water called desert varnish. The narrow vent or hole at the top, beaming like a lantern of white light, casts a golden glow across the rock.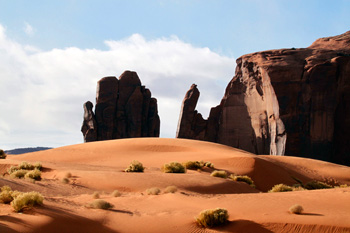 Then a long sonorous cry pierces the silence. Maybe fifty or sixty feet away, we see a young Navajo chanter sitting on a rock ledge. He breathes deeply and then leaning forward, rocks his body back and forth as his high-pitched voice echoes off the canyon walls.
I do not know what the chant in Navajo signifies, except that it is harrowing, full of sadness, perhaps about the ongoing drought, and then calming, soothing, perhaps reflecting his hope for rain to water the land again.
As I look up at the vaulted rock, the chanting softens as it drifts through the sky hole into the other world.
If You Go:
Getting There:
♦ Monument Valley is located within the Navajo Nation, 170 miles northeast of Flagstaff, AZ on the Arizona-Utah border. Farmington, NM and Flagstaff are the nearest municipal airports. Local airports exist at Monument Valley, Kayenta and Page, AZ; Cortez, CO and Moab, UT.
Getting Around:
♦ The best way to get to Monument Valley is by car. The park's entrance is in Utah. From Flagstaff (178 miles) head east on I-40 to US-89 N and follow US-160 E to US-163 N. (Kayenta exit) to Monument Valley Rd. in Olijato Monument Valley. US-163 links to US-191 in Utah. From Farmington (156 miles), head west on W. Broadway, take US-64 W and US-160 W to Monument Valley Rd.
Attractions:
♦ Monument Valley is a magical place for photographers and other outdoor enthusiasts. Along with taking a half-day or full-day tour with a Navajo guide, visitors can stargaze, hike Wildcat Trail, visit the intriguing Valley of the Gods and Goosenecks State Park in San Juan County north of the valley, or drive the scenic section of US-163 to the historic town of Bluff, UT.
Accommodations:
♦ Overlooking the spectacular Oljato-Monument Valley, Goulding's Lodge is an historic icon, famous for its association with director John Ford's Old West movies. The museum, once Harry Goulding's trading post, offers a glimpse into that bygone era. The lodge has a dining room, gift shop, cabins, campground and small theater where guests can watch Ford's westerns.
♦ Adjacent to the park's visitor's center and Navajo-owned, The View Hotel provides breathtaking views of the valley floor, especially the Mitten Buttes. Along with a restaurant, campground and cabins, it has a trading post unlike any other that features Navajo jewelry, earthen pottery, woven baskets and one of the largest rug collections within the Four Corners.
For More Information:
♦ Monument Valley Navajo Tribal Park has information on fees, camping, and tours.
♦ American Southwest provides information on the landscape, accommodations, and the valley's 17-mile dirt-road scenic drive.
♦ Award-winning Navajo Spirit Tours features a beautiful photographic expose of the land, the Navajo guides and tours offered by the company.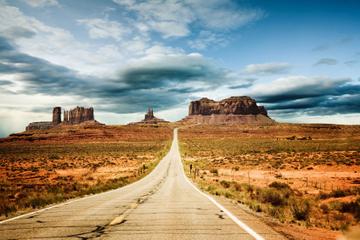 Monument Valley and Navajo Indian Reservation
About the author:
Victor A. Walsh spends his time when he's productively unemployed prowling forgotten or unusual destinations looking for stories that connect a place and its people to their remembered past. His historical essays and travel stories have appeared in the Christian Science Monitor, American History, Literary Traveler, California History, Journal of the West, Rosebud, Desert Leaf, among other publications.
Photos by Richard Miller (1-7), Scott Laws (8) and Richard Miller (9)
West Mitten (L), East Mitten in the foreground, and Merrick Butte (R)
The vaulted sandstone walls of Big Hogan
The spiral-sculpted monolith called Totem Pole
Spearhead and Rain God Mesas cradle the distant spires of Yhe Bi Chei and Totem Pole
Ear of the Wind
Monument Valley veiled in a mantel of morning fog
Merrick Butte (L) on the historic route used in John Ford's film Stagecoach
The Three Sisters
The Thumb surrounded by wind-tossed sand dunes