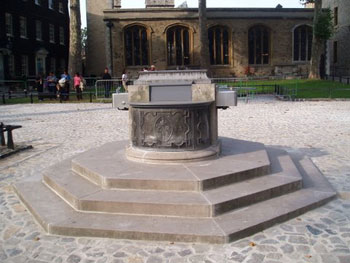 by Becky Garrison
According to my UK friends, only tourists visit the Tower of London (aka Her Majesty's Royal Palace and Fortress). But just as they frequent Times Square whenever they come to New York City, I had a hankering to play tourist for a bit and visit this historic castle located on the River Thames in Central London.
This massive twenty-one-tower complex built by William the Conqueror shortly after he came into power in 1066 served a variety of functions, including a fortress against foreign attack, a repository for the crown jewels, and a refuge for the royal family in times of civil disorder. However, the Tower of London remains notorious as the site for some of England's bloodiest bits, a living testimony to the hell that happened when certain royals ruled the roost.
In preparation for my mini-historical trek to the Tower, I uploaded the soundtrack from Spamalot onto my smartphone. Listening to how Sir Robin the Not-Quite-So-Brave-As-Sir-Lancelot personally wet himself at the Battle of Badon Hill put me in the right frame of mind to visit England's most infamous house of horrors.
Instead of heading straight for the tower, I decided to stop at the London Bridge station and then walk across Tower Bridge. Despite this landmark's medieval appearance, this famous drawbridge didn't grace the London skyline until 1894. As I surveyed the growing mound of ant-like figures converging on the Tower of London, I began to wonder if perhaps I should heed my UK hosts' advice and just skip this site. But given I already had my press ticket in hand, I figured I'd give it a shot.
Once I entered the complex, I found myself accosted by a gentleman dressed in regal robes. At first I thought he was another out of work actor looking to play dress-up but I soon learned he's a bona fide Beefeater, the Yoemen of the Guard who formed the Royal Bodyguard since at least 1509. While he proved to be quite the expert guide, after getting elbowed one time too many by some twittery tourist, I set out on my own.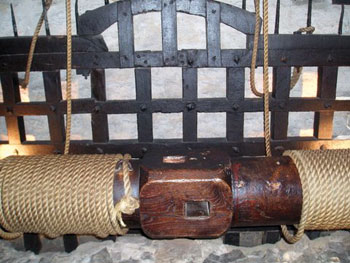 After I passed by Traitor's Gate, the famous entry to the Tower where prisoners would enter from the River Thames to the Tower, I took a counterclockwise tour of the various towers. Passing by a sequence of cells and chapels, I almost felt as though I was traversing through a medieval monastery. That is until I stumbled upon a display of torture instruments clearly designed to stretch someone into submission.
I made sure to stop by and see the greatest working collection of Crown Jewels— scepters, orbs, swords, Oh My! Though to be honest, I found myself more impressed by the armor worn by a succession of kings, most of whom appeared to be quite short of stature.
In recent years, the Tower underwent a thorough "out, damned spot!" removal program. The last execution at the Tower transpired when an eight-man firing squad shot Corporal Josef Jakobs in 1941, the same year that Hitler's Deputy Führer, Rudolf Hess, was held there briefly. Even the famous Bloody Tower now glistens in the golden sun. A pastoral patch on the Tower Green marks the spot where the more prominent prisoners, such as two of Henry VIII's wives (Anne Boleyn and Catherine Howard), lost their pretty heads. All that's left now are a few implements of torture ensconced in glass cases. Let's hope they stay that way.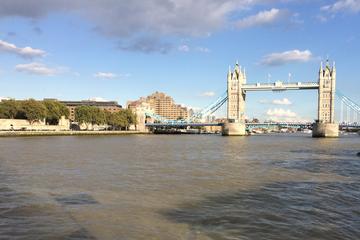 Private Guided Tour: Tower of London
If You Go:
The Tower of London Official Website:
About the author:
Becky Garrison is a freelance writer who has authored six books including Jesus Died for This?: A Satirist's Search for the Risen Christ
, with a seventh book in development. In addition to penning a book on pilgrimages for Zondervan (a subsidiary of Harper Collins), she has written articles about destination travel and travel products for several publications, including 52 Perfect Days, Yahoo, Sportsology.net and Killing the Buddha. Visit about.me/BeckyGarrison
All photos are by Becky Garrison:
1. Site of the scaffold were Anne Boleyn was executed.
2. The Sir Walter Raleigh Room.
3. The Portcullis.