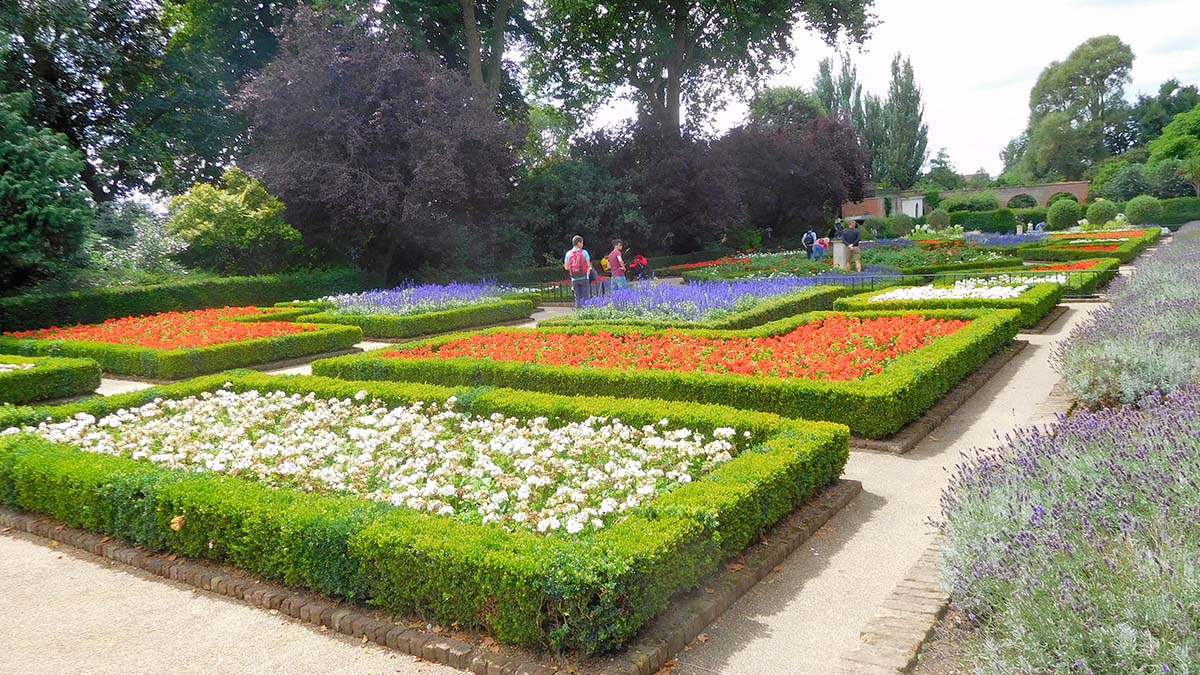 by Elizabeth von Pier
London is noisy and teeming with tourists and horn-honking traffic. Crowds queue up in line or push and shove to see the sights. I spent three weeks there this past summer and, along with everyone else, I visited the usual attractions, queuing up in lines and pushing and shoving. But I also found that not far from the mayhem are lovely little places where you can quietly sit on a shady bench and rest and renew yourself. Here are some of the gems that I discovered.
Japanese and Dutch Gardens in Holland Park
Location: Abbotsbury Road and Holland Walk
Closest Underground: Holland Park, High Street Kensington
Website: www.rbkc.gov.uk/leisure-and-culture/parks/holland-park
Holland Park is a lovely 54-acre park in an elite section of London, a few blocks west of Kensington Palace and Gardens. Stunning Victorian houses and terraces line the streets in this area, and shops, cafes and restaurants cater to an affluent clientele. The park opened in 1952 on what remained of the grounds of Holland House, a large Jacobean mansion dating from the 17th century which had been largely demolished. The northern half of the park is mainly woodland abundant with wildlife (including peacocks), and the southern part is used for sports and recreation.
The Japanese and Dutch Gardens are in the central section, surrounding the ruins of Holland House. This is a more formal area and, besides the gardens, includes an orangery now used as an exhibition space and a restaurant where the old ice house and ballroom were located. The Dutch garden was laid out in the 19th century when Holland House was in its heyday as a gathering place for socialites, artists, writers and politicians. It contains formal beds of perennial and annual plantings along with some modern sculpture and grassy areas where people lounge. The Kyoto Garden was donated by the Kyoto Chamber of Commerce for the 1991 London Festival of Japan. It is a magnificent space containing all the elements of a Japanese garden—water, rocks, a bridge, stone lanterns, trees, flowers and fish. Children holding their parents' hands walk along the stone walkway over the pond, listening to the waterfall up above and fascinated by the koi down below.
Garden of St. Michael's Cornhill
Location: Cornhill Street and St. Michael's Alley in the City borough
Closest Underground: Bank, Monument
Website: st-michaels.org.uk/
As you walk up Cornhill Street toward Leadenhall Market and Lloyd's of London, a blue door on an extremely narrow church next to an even narrower alleyway will catch your eye. This is the Parish Church of St. Michael Cornhill and it stands on one of the oldest Christian sites in Britain, dating back to the Roman occupation. The church was destroyed in the Great Fire of 1666 and was rebuilt by Sir Christopher Wren in 1672.
To get to the churchyard, walk down St. Michael's Alley to the corner, take a left at The Jamaica Wine House and go to the farthest gate. The churchyard is laid out as a garden with lawns, flower beds, shrubs and trees and is an enjoyable place to spend some time on one of the benches or stretched out on the lawn. It is very quiet here, except for the sound of low voices coming from the wine house.
Location: 99 Kensington High Street, entrance on Derry Street
Closest Underground: High Street Kensington
Website: www.virginlimitededition.com/en/the-roof-gardens/the-gardens
Phone 020 7937 7994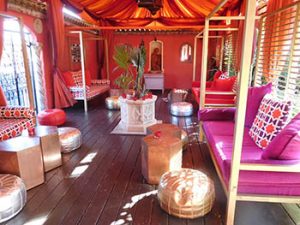 This is an amazing place. It is an event venue so you have to plan your visit according to their schedule. Check their website, which they update weekly, and call before you go. The small effort is well worth it.
The roof garden was created in the 1930's on the 6th floor rooftop over Derry & Tom's department store, now home to many smaller stores. It consists of three lovely themed gardens on one and a half acres. The Spanish garden is small and formal and brings to mind Spain's Alhambra. It has lovely tiles, arches, wicker sofas and chairs, throw pillows, palm trees, a Moorish sun pavilion and panoramic views over London's skyline. The brick-walled Tudor garden is made up of three courtyards and vine-covered Tudor-style archways and is often used for weddings. And the English woodland garden has a big variety of trees, a running brook, a giant chess set and a pond stocked with fish. There are over 70 full-size trees up here, families of ducks in the brook, and four resident pink flamingos. Kensington Roof Gardens is a spectacular and extraordinary landmark that has won many awards over the years and you should not miss it.
Millenium Courtyard of Southwark Cathedral
Location: Montague Close
Closest Underground: London Bridge
Website: cathedral.southwark.anglican.org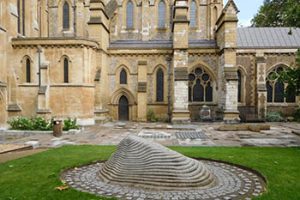 Sitting in the cloister-style courtyard, you are surrounded by lovely grassy areas, benches, trees and shrubs, and a giant chess set. Birds chirp and people talk in low voices. Looking up, you see the spire of a gigantic new building, the Shard, in stark contrast to the architecture of the 15th century church.
The Cathedral is on the south bank of the Thames, close to London Bridge and Borough Market. For over 1,000 years, Christians have worshiped here—it was a convent in 606, a priory in 1106, a parish church in 1540, and a cathedral in 1905. It is the oldest Gothic church building in London and has some exquisite stained glass windows, a 13th century wooden effigy of a knight and a chapel dedicated to John Harvard, founder of Harvard University who was baptized here in 1607. William Shakespeare, Geoffrey Chaucer and Charles Dickens worshiped here, and it is believed that Shakespeare was present when John Harvard was baptized.
Lunchtime Concerts at St. Martin-in-the-Fields
Location: Church of St. Martin-in-the-Fields, Trafalgar Square
Closest Underground: Charing Cross, Leicester Square
Website: www.stmartin-in-the-fields.org/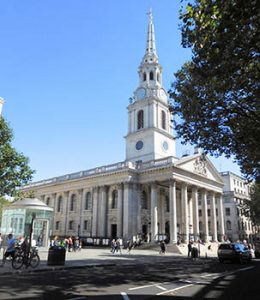 This church is home to The Academy of St. Martin-in-the-Fields, a world renowned chamber orchestra, and three high-quality choral groups. You may be lucky to catch one of their free lunchtime concerts or a rehearsal for an evening concert. Leaving the mayhem of nearby Trafalgar Square, I was there mid-afternoon on a Saturday and delighted in the music coming from a group of talented artists practicing for the Vivaldi concert that night.
There has been a church in this spot since medieval times. The current church was designed by James Gibbs and completed in 1726 in a simple neoclassical style that has been copied throughout North America. The window behind the altar is of a stylized cross and is very unique and controversial. The pipe organ was acquired in 1990 and is considered one of the finest in London, and the acoustics in the church are superb. Handel and Mozart performed here. Downstairs in the crypt is a gift shop and bookstore, a cafe and restaurant, and a brass rubbing center where families can enjoy the Victorian craft. St. Martin's ministry is committed to social justice, humanitarianism and international issues, and it uses the medium of music to increase appreciation and understanding of other cultures. This church has it all, providing fuel for the mind, the body and the soul.
Little Venice and Regent's Canal
Location: North of Paddington Station and Regent's Park
Closest Underground: Warwick Avenue (Little Venice End) and Camden Town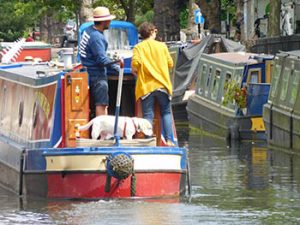 Little Venice is a charming area around Browning's Pool, a picturesque basin of water where the Grand Union and Regent's Canals meet. It is an affluent area surrounded by multi-million pound homes. It also is a tranquil and serene place where you can relax at one of the waterside cafes or pubs or just sit on a bench and lazily watch the world go by. Charming houseboats painted in purples, oranges, reds and blues are moored here and a floating cafe is docked at the side of the lagoon.
After taking in picturesque Little Venice, you can stroll Regent's Canal along a paved walk that follows the canal all the way to Camden Lock and beyond. It is peaceful here, traveled only by the occasional walker and narrow barges that take passengers to destinations north and west of Little Venice.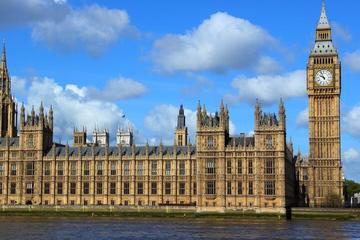 Private Tour: London Walking Tour
About the author:
Elizabeth von Pier is a retired banker who travels extensively throughout the world. In her retirement, she has written and published articles in travelmag.co.uk, WAVE Journey, Travel Thru History, hackwriters.com, and GoNomad. Ms. von Pier lives in Hingham, Massachusetts.
Photos by Elizabeth von Pier