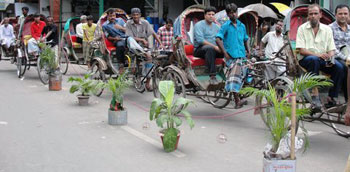 by Paola Fornari
When I arrived in Dhaka a few months ago, I was full of enthusiasm and desire for new adventures. People looked at me skeptically: 'Hmph, you'll see, in a couple of months you'll get real like the rest of us. You won't venture much further than Gulshan II unless you really have to.' Gulshan II is the neighborhood where most expats live.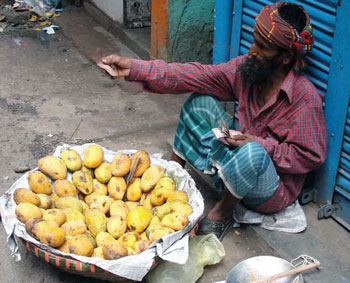 With a population of fifteen million, Dhaka is not the easiest place to get around. It takes about an hour and a half to drive five miles, and it's not safe to walk or cycle. So you eventually give up trying.
As my friends predicted, I soon lapsed into the home-club-nearby shops circuit, anything else seeming like too much of an effort. But that changed one morning in June when I found a message from Virginia Ironside in my junk mail. Virginia Ironside? She's not junk: she's seriously famous! Back in the Seventies I used to read her Agony Aunt column in Woman magazine. She's written loads of books. And now she has a weekly column in The Independent, and a monthly one in The Oldie.
And there's the connection. Virginia had read my expat piece about rickshaws in The Oldie, and liked it. In her e-mail she explained that she had been in Dhaka a few years ago, and had bought some rickshaw art – paintings on tin plate. She had given them away. Did I know if they were still made? Would I be able to find someone who could locate some?
This was exactly the push I needed. I decided to hire a professional guide for the occasion. So a couple of days later Mithu arrived at my home. Together with Willington, my driver, and my Danish friend Anette – new to Dhaka and still not jaded – we ventured off into the old city.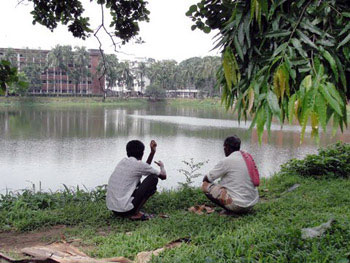 Our two-hour journey was not wasted: Mithu, speaking excellent English, gave us his views on Bangladeshi politics, current issues, transport, and so on. Our first stop was Curzon Hall, named after Lord Curzon, the former British Viceroy to India. It was built in 1904 as a Town Hall, and is now part of Dhaka University's science faculty. It is a harmonious blend of Mughal and European architecture, built in red brick. Set a little back from the busy main road, near a small lake, it has a peaceful feel about it. Curzon Hall is historically significant. In 1948, after the partition that established what is now Bangladesh as East Pakistan, this was the seat of the language movement, which opposed the imposition of Urdu as the sole national language of Pakistan.
We then moved on to Bangsal Road, known by expats as Bicycle Street. This is a busy narrow street which sells everything from bikes to motorbike spare parts to Allen keys – which Anette was looking for … and rickshaw art. Virginia had specified that she wanted hand-painted tin plaques, rather than the 'new-fashioned' screen textile prints.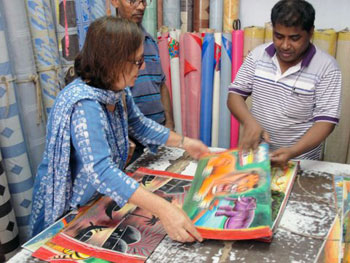 We were in luck. Several shops sold them, and after some good-humoured bargaining, we had bought nine. From Virginia's e-mails, I understood she fancied animals, which we found, and aeroplanes, which we didn't though there were pictures of several other scenes depicting forms of transport which we bought. (Example below)
Then there were birds and flowers. I knew my sister would love a Bollywood one, and there was much discussion about the selection – were the faces too scary? Were the guns too violent?
From Bicycle Street, we headed to Hindu Street, a tiny winding lane packed with shops selling Hindu religious artifacts, bangles made from conch shells imported from Sri Lanka, incense, and all manner of bits and bobs.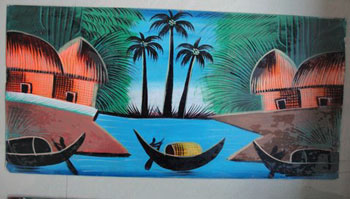 The street was lined with tightly packed with tailors, hairdressers, and hawkers. Women filled up their pitchers at standpipes, and carts laden with pineapples wove their way through the general chaos.
We emerged into a wider street, and right in front of us was the Pink Palace, locally known as Ahsan Manzil. It used to be a government and trading centre, and Lord Curzon used to stay here on his visits to Dhaka. in the mid-19th century it was sold to the Dhaka nawab family, who converted it into a private home. It was left in a state of disrepair after the nawabs, then restored in 1985 and made into a museum.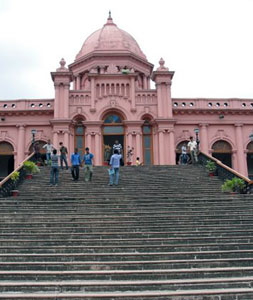 Our last stop was the Sadarghat, Dhaka's boat terminal. It is from here that you can head south towards the Bay of Bengal – or simply cross the river.
No new garments factories are allowed to be built in Dhaka, and the other side of the river is not Dhaka, so there are a lot of factories going up there now.
We wandered up onto a huge boat where a couple of people had found shelter to sleep. Imagining these huge hunks of iron packed with three times their intended capacity brought me closer to those headlines that so often figure in the newspapers here: 'Hundreds drown as ferry sinks.'
And so, past children playing in the putrid water and shoes sheltering from the sun under umbrellas we headed back to our car, hot, hungry and thirsty, glad of our trip beyond the bubble of Gulshan II.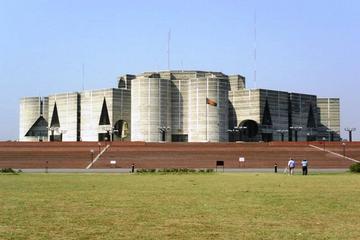 Private Full Day Tour of Dhaka City
If You Go:
City Guide: dhaka.com
wikitravel.org/en/Dhaka
About the author:
Paola Fornari was born on an island in Lake Victoria, and was brought up in Tanzania. She has lived in almost a dozen countries over three continents, speaks five and a half languages, and describes herself as an "expatriate sine patria". She explains her itinerant life by saying: "Some lead; others follow." Her articles have been published in "The Buenos Aires Herald", "The Oldie", and "Practical Fishkeeping."
All photos are by Paola Fornari.