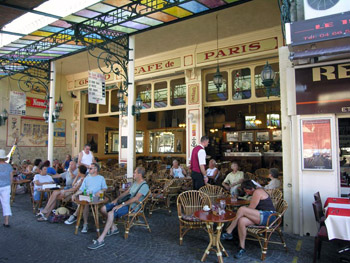 by Glen Cowley
It was one of those storms of which legends were made; a wrathful sea god reshaping the Mediterranean coastline of France. The fury of 1570 carved out a new six kilometre long canal, between the salt water marshes and the sea; giving France a new access route to the Mediterranean. 1640 saw the town that grew upon its shores named Grau du Roi. In 1772 two stone breakwaters were constructed and in 1845 the natural canal was reinforced in stone. And so it remains.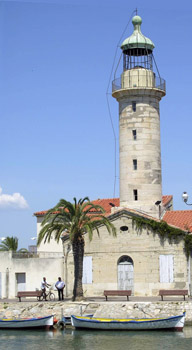 Since its birth fishing and transport have given it purpose and do so to this day, but it was to be the extension of the Nimes-Aigues Morte Railway to the town in 1909 which opened it up for tourism as a major economic driver. The president of France himself declared Grau du Roi a beach resort town in 1924.
German occupation and beach fortifications during World War Two set tourism back and many residents fled the community but at the war's end tourism returned with a flourish. Beaches which had seen hoards of sunbathers give way to barb wire and minefields were reborn. The Sun returned with a flourish to shine all the more brilliantly on these favoured shores.
Today its beaches, quais, shops and cafes lend it a happy party atmosphere. It is a place to come to swim, soak up Sun, enjoy cafe's and restaurants in a seaside environment and shop for inexpensive wares. Arriving by car, train or bus lands you within walking distance of beaches and the old town core running either side of Chenal Maritime, itself thrust deep into the Mediterranean and marked, sea side, with facing lighthouses.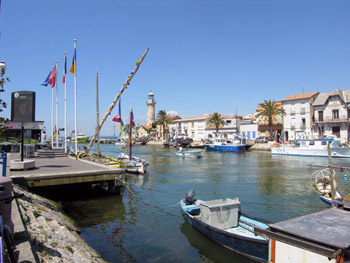 Quai Charles de Gaulle and Quai Colbert occupy either side of the canal and offer a host of cafes and restaurants facing upon a canal full of moored craft of all sorts from recreational through to commercial fishing boats. Water traffic is constant and colourful. In fact colour is inescapable and enhanced under a smiling Mediterranean Sun.
After arrival by bus from Nimes (only 1.50 Euro, one-way) and a short walk to the canal we stopped for a coffee at the open air Cafe Paris with its high ceilinged lounge adorned with posters and plaques, open to the passing throngs. Slowly savouring our cafe a l'onge we watched the parade of visitors and locals, a lightness filling the air. Our quai-side walk later took us by the hotel Belle-Vue-d'Angleterre, once favoured by Ernest Hemingway during his stay here (his posthumously published The Garden of Eden was set in Grau-du-Roi), and stretched on to breakwater end with its lighthouse and Mediterranean vista. There we spied a fishing boat plying methodically toward land harried by masses of squawking seagulls. Our journey was a corridor of shops to the left, boats and open air cafes to the right and Sun above.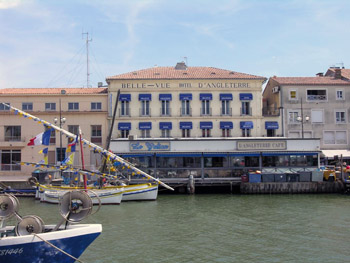 Where the canal meets the sea either shore stretches long and sandy to the left and right with Plage de Riv Gauche and Plage de Riv Droite. Shallow beaches afford a vast playground for waders and swimmers with ample shore space for sunbathers. Families, knots of chattering teenagers, a few topless strollers and more share the beach with hawkers advertising cool treats as they work their cumbersome wheeled kiosks across the beach. Sun screen and water socks are a good investment and more than a few bathers were spotted doing the hot sand dance across the beach.
Far to the east and west of old Grau-du-Roi, with its heritage remembrances, rise the modern developments, both residential and maritime, of Les Grand Mottes and the Camargue Marina.
The tourist information centre is located close to the beach on Rue de l'Anciene Poste off of Boulevard de Marechal Juin which runs along Plage de Riv Gauche. Well worth the visit to pick up brochures and the touring map.
Grau-du-Roi aims to keep its visitors occupied and entertained and to that end is awash with things to see and do. Add to Sun and beach the Seaquarium at Le Palais de la Mer, a healthy beach walk or short town bus trip from the town centre and the arena, home of the unique Camargue Races (a man/bull contest in which both survive to star another day).
Biking and hiking trails lead out from town alongside the salt water marshes where you are certain to spy flamingoes (flamant rose), stoically posed, and fishers patiently testing the waters with super long fishing poles.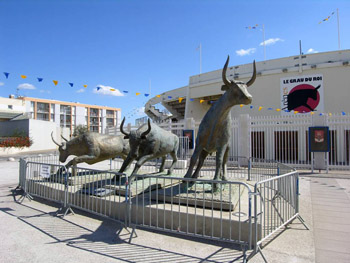 Restaurants abound and we took in a pleasing meal at reasonable fare at a seasonal outdoor restaurant colonizing, with others, a tree shaded enclave; serenaded by by a chanteuse and her accompanying accordion player. The coolness of welcome shade, music and a fine meal reinforced the aura of southern France by the Mediterranean. Walk weary feet drank in comfort.
Returning to the narrow but tidy streets crowded with shops touting their colourful wares from confined spaces we meandered, as much taken by the buzz and colour as by products. Unabashed tourism assails the senses and with it a sense of light frivolity; this is a place exuding fun for everyone from individuals to families.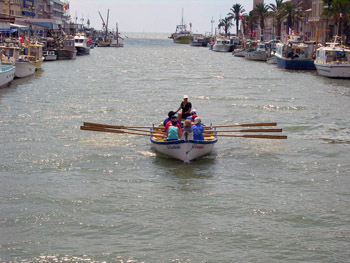 The other, workaday, side of town is revealed in the docks and moorings of craft toiling at sea with care taken towards functionality rather than appearance. Even so there is an aura about this long lasted foundation of the local economy. A business indifferently sharing waters and canal with recreational craft of varying opulence. Crossing Pont Tournant we stopped to watch an 8 man dory, six oars pushing water, making its way inland; its chanting rowers, ladies all, moving as one.
When our feet tired of pavement we took them to the waters, wading seemingly forever along the beach. Behind us Grau du Roi spread its arms merging in the distance with modern towers and marinas yet holding its own. The waterfront playground of Nimes and Montpelier.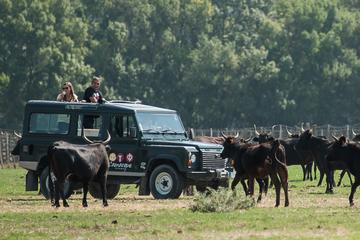 Small-Group Tour Camargue 4×4 Safari from Le Grau-du Roi
If You Go:
You can readily drive here and there is parking relatively close to the beaches but train and bus are so inexpensive it is hard ignore. Subsidized rates of 1.50 Euro will take you by bus or train from the Nimes train station to the town's heart and, for the same price, whizz you back. You can spend a day at the beach and still use Nimes or Montpelier for meals and lodgings or savour the same at Grau du Roi.
A great general site is the tourism Camargue webpage.
For transportation take a look at www.voyage-sncf.com (trains) and www.edgard-transport.fr for bus.
About the author:
Since 1994 Glen Cowley has parlayed his interest in sports, travel and history into both books and articles. He continues to explore perspectives in time and place wherever his travels take him. From the varied landscapes of British Columbia to Eastern Canada and the USA, the British Isles, Germany, Switzerland, the Netherlands, Greece and France he has found ample fodder for features.
All photos are by Glen Cowley.