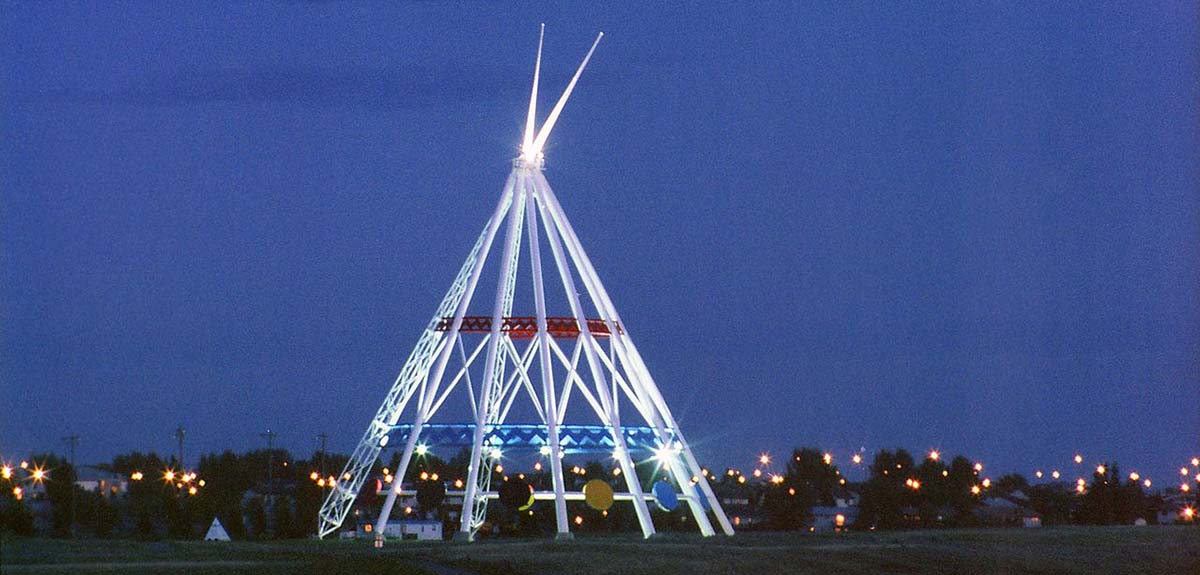 by Darlene Foster
Medicine Hat, Alberta, is not often high on anyone's must-visit list, if it's there at all. But it should be. There are many reasons to visit this oasis in the Canadian prairies, here are ten of them.
The Name
Who wouldn't want to visit a place with such a unique name? There are many stories about how the city acquired its unique name derived from the original First Nation's name Saamis, which means The Medicine Man's Hat. All the legends involve a feather headdress. One story tells of a battle between the Blackfoot and Cree in which a retreating Cree Medicine Man lost his headdress in the South Saskatchewan River at the place where Medicine Hat became a town. The city uses a feather headdress as its symbol. The locals simply call their town, "The Hat" and residents are often called, "Hatters".
The World's Largest Tepee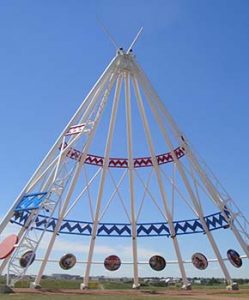 It's hard to miss this towering structure as you enter Medicine Hat on the Trans-Canada Highway from either direction. Originally constructed for the Calgary 1988 Winter Olympics, the Saamis Tepee is a tribute to Canada's native heritage. The colours of the structure are symbolic, white for purity, red for the rising and setting sun and blue for the flowing river. It is the World's Tallest Tepee standing over 20 stories high, weighing 200 tonnes and capable of withstanding 150 mph winds. The ten round storyboards inside the Tepee are hand painted by various First Nations and Metis artists depicting native culture and history. Each storyboard comes with a written description by the artist. There is something magical about standing inside the large open-air Tepee on a sunny, prairie day. It makes me realize what a rich cultural heritage my country has.
Medalta Pottery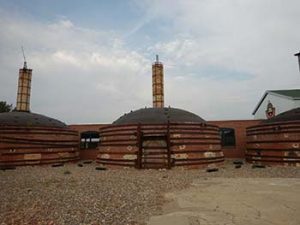 The city is blessed with clay perfect for making pottery, both functional and decorative. The pottery business once flourished in this century-old factory and its earthenware is renowned all over the world. The Medalta Pottery site has now become a museum, ceramic arts facility, art gallery and community hub where live music, markets and social events are held. One can wander the area and view the four huge brick beehive kilns, check out the museum and learn about the people and industry that helped make Medicine Hat. The gift shop sells replicas of the original pottery, made on site. No visit to Medicine Hat would be complete without a stop at the historic Medalta Pottery.
The Esplanade Arts and Heritage Centre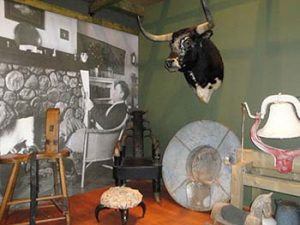 If you enjoy visiting the past, the museum located in this state-of-the-art facility is a delight. The displays follow the original First Nations People, to the settling of the west by Europeans, through the Second World War and the swinging sixties to present day. It really is a virtual walk through time. An ominous iron lung, a reminder of the polio scare from the early 1950s, will send a chill through you. Sepia coloured photo albums and audio recordings add to the experience. Besides the permanent display, interesting temporary exhibits can be viewed as well. An exhibition of women's undergarments through the ages caught my attention on one visit. The centre is also a perfect place to take in musical and dramatic performances. Outside the building stands a bronze sculpture commemorating the German people from Russia who were instrumental in settling this area. I was proud to find my great grandfather's name inscribed on the plaque.
James Marshall's Sculptured Brick Murals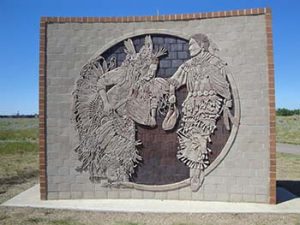 James Marshall is an internationally acclaimed Medicine Hat potter. He is renowned for his large-scale sculpted brick murals which can be found across Canada and overseas. Dozens of these murals are scattered about the city depicting its history and character. You will no doubt spot some as you make your way around. A splendid example of Mr. Marshall's work can be seen at the Saamis Tepee as well as at the local Dairy Queen. A map from the Tourist Information office near the Saamis Tepee is available if you wish to take a self-guided tour to view these amazing works of art.
Red Rock Coulee
An interesting day trip to Red Rock Coulee, 56 kilometres (35 miles) south-west of Medicine Hat will not disappoint. This little-known area is a wonder to behold. Large, perfectly round, red boulders are scattered around a 324 hectare (800 acre) prairie landscape. Some of these boulders are up to 2.5 metres (8 feet) in diameter and are among the largest of these in the world. Virtually in the middle of nowhere, you will most likely have the place to yourself. It is like being on another planet! Research indicates these boulders were formed in prehistoric seas that once covered the area. Sand, calcite and iron oxide collected around a nucleus formed by shells, leaves or bones and grew as the circulating waters deposited more layers. The reddish colour comes from iron oxide. And I thought they were the result of a meteor shower! This is a great place to hike among the stones and view the prairie landscape. The only wildlife we saw were the resident mosquitoes which made us glad we brought bug spray.
 St. Patrick's Roman Catholic Church
A prominent landmark in this city is St. Patrick's Catholic Church. Inspired by the medieval cathedrals in Europe, it is said to be one of the finest examples of Gothic Revival architecture in all of North America. The church was declared a National Historic Site in 1990. Building began in 1912 and completed in 1914, with a number of renovations and improvements since. The amazing round rose windows, installed in 1955, were imported from France. New solid wood doors at the pointed-arch entrance were added in 1979. What is most striking is the copper roof affixed in 1977 covering the 170-foot twin spires that can be seen for miles. It is lovingly known as St. Pat's by the local citizens.
Pioneer Village
Pioneer Village, located on the Medicine Hat Exhibition and Stampede grounds, is a collection of heritage buildings from the surrounding area including a general store, a church, a fire hall, a school and a blacksmith shop. Step back in time as you enter each building. The General Store is stocked with items from the past, with the original prices. Pails of Rodgers Golden Syrup, a ten pound tin for eighty-five cents, rest beside Aunt Jemima Pancake Mixes, and ashtrays in the shape of the legendary cowboy hat. How about a curling sweater or a wooden rocking horse? The yellowed calendar on the wall features Edward VIII and is dated January 1937. It's like time stood still – or a Doctor Who episode.
The Farmer's Market
If you are lucky enough to visit this fair city on a Saturday, a stop at the Farmer's Market should be on your list. This is where you can stock up on local produce, farm fresh eggs, homemade jams and pickles, Eastern European delicacies such as perogies and mouth-watering desserts like kuchen; a pie-shaped coffee cake filled with custard, fruit and my favourite, cottage cheese. It's best to come early as these popular items sell out fast. Tables of local crafts and art are available for sale as well. Stop by and visit with the friendly vendors who always have time for a chat. You will not come away empty-handed.
The Historic Downtown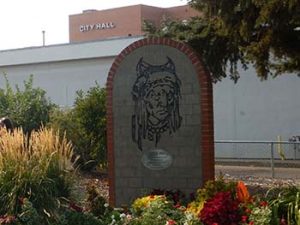 Walking around downtown, past replicas of the original gaslights that line the streets and huge trees planted a hundred years ago shading heritage brick buildings, you can relax and forget the hustle and bustle of large urban cities. Stop and play a game of chess on the large chessboard by the well-stocked library. The original Monarch Theatre, where kids in the past could watch a Roy Rogers and Dale Evans feature for twenty-five cents, still stands. There are many well-kept parks, overflowing with colourful flowers to wander around and contemplate life. Enjoy a coffee or a bite to eat at the many coffee shops and restaurants downtown, serving wholesome, homemade fare. The accommodating residents and shopkeepers, as hardy as the extreme weather, will answer any questions you might have and share a story or two.
So instead of driving through Medicine Hat on the way to somewhere else, or just stopping for gas and a Tim Horton's double-double, stop and stay awhile. You'll be glad you did.
If You Go:
Medicine Hat is on the TransCanada Highway, 296 Km (184 miles) east of Calgary and 465 Km (289 miles) west of Regina.
Air Canada flies into the recently renovated Medicine Hat airport.
About the author:
Darlene Foster is a dedicated writer and traveller. She is the author of a series of books featuring Amanda
, a spunky young girl who loves to travel to interesting places such as the United Arab Emirates, Spain, England and Eastern Europe, where she always has an adventure. When not travelling herself, Darlene divides her time between the west coast of Canada and the Costa Blanca of Spain with her husband and entertaining dog. www.darlenefoster.ca
Photo credits:
World's largest teepee at night by Ken Eckert under the Creative Commons Attribution-Share Alike 4.0 International license
All other photos by Darlene Foster.