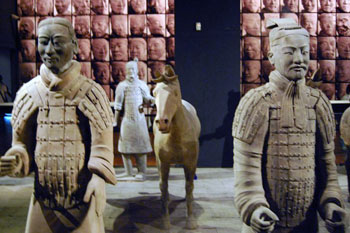 by Keith Kellett 
One day, in 1974, a group of Chinese farmers near the city of Xi'an set out to dig a well. What they found was to become world famous, and some of their finds would tour the major cities, for as many people as possible to see.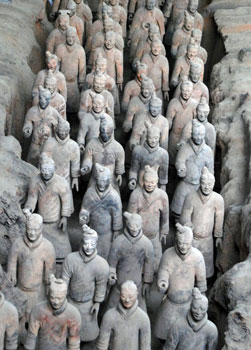 Instead of water, they came face to face with a soldier. Not a miniature soldier, but a life-sized models, in terracotta. And, there were more. The size of the models varied with the status of the soldier being modeled; the officer was always taller than the foot-soldier, and the Generals were tallest of all.
Pottery has, of course, been known about since prehistory, and one of its earliest forms was earthenware, or terracotta.
These particular models date back to about 220 BC, and are believed to have been placed there to guard the first Emperor of China, Qin Shi Huang in the after-life, in a similar way to the ushbati figurines of ancient Egypt.
This was quite a common practice in China. The tomb of Lady Fu Hao, the influential wife of the petty king Wu Ding, who had died a thousand years before, was found to contain skeletons … believed to be servants who had been executed, so they could continue to serve the lady in the afterlife.
Emperor Qin's tomb is only a couple of kilometres away from the soldiers, and occasional random artifacts had always been found in the area. But, the tomb has never been excavated.
When archaeologists investigated the site where the soldiers had been found, they were astonished at what they discovered.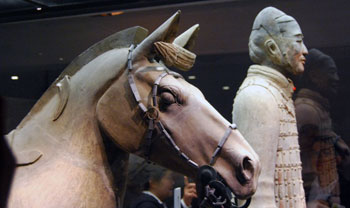 There was much more than the few figures that the farmers found. Here was rank upon rank of model soldiers, each one different; it was believed that actual soldiers had acted as models for each piece. If this was the case, their facial characteristics, and differences in their dress and equipment show from what a large area the soldiers were recruited. There were archers, cavalrymen, charioteers and foot-soldiers. Most of them held real weapons; some of these still exist, but many of these have either decayed over time, or been looted in the past.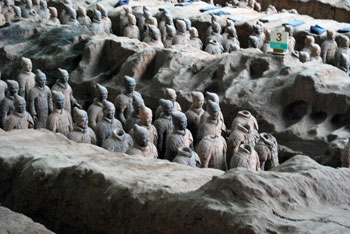 Originally, the figures were brightly painted, but this has faded almost to nothing over the ages. It's believed there are many more still to be discovered; some estimates put the total figure at over 8000. But any further excavation has been put on hold, for it's thought that any still to be discovered figures may have retained their original colours, so they're waiting until such time as a method of fixing those colours can be devised.
Most of the soldiers are still in their original positions, ranged in their files in the three pits which have been excavated so far. Some, though, have toured the world, visiting such places as London, Toronto, San Francisco and Sydney. They proved so popular that, when they were exhibited at the British Museum in 2008, the Museum had to remain open until midnight to accommodate everyone who wanted to see them.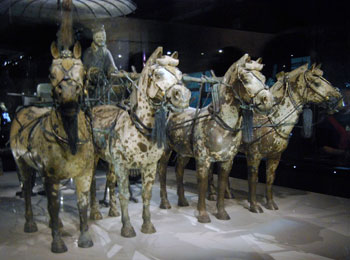 The public aren't allowed into the pits themselves. That's a privilege normally reserved only for trained archaeologists and visiting Heads of State. There's a balcony around each pit, though, from which they can be viewed. But, if you want some close-up images, there's a gallery within the museum in which some selected figures are displayed in glass cases … most spectacular of which is the bronze chariot, provided to convey the Emperor in the afterlife.
Better still, there are more examples in the Shaanxi Museum, in Xi'an. We took many shots here, for we had heard that photography was forbidden around the pits themselves. We subsequently found that was wrong, although use of flash is not allowed. But, people appeared not to be taking a great deal of notice of that!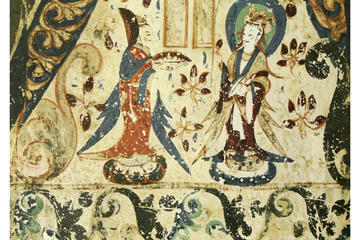 Xian Terracotta Warriors and VIP Access to Tang Dynasty Murals Private Tour
If You Go:
♦ There is an airport at Xi'an which serves most Chinese cities, as well as a limited number of overseas destinations. Most travelers will probably arrive at Beijing or Shanghai, and connect to a domestic flight from there.
♦ From these cities, it is also possible to get to Xi'an by long-distance bus or rail. Typical journey times are 14 hours from Beijing on a standard train; five hours on a 'bullet train'. From Shanghai, the times are given as 18 hours and 11 hours.
♦ Special tourist buses operate to most of the attractions around the city. These are available to independent travelers as well as organised groups. Local people use them, too. The but for the Terracotta Warriors is Line 5, which leaves frequently from the square to the east of the railway station.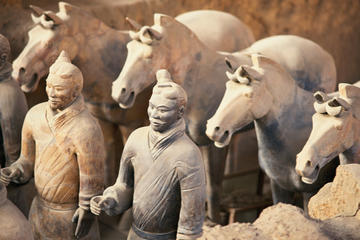 Skip-The-Line One Day Small-Group Terracotta Army Discovery Trip
About the author:
Having written as a hobby for many years while serving in the Royal Air Force, Keith Kellett saw no reason to discontinue his hobby when he retired. With time on his hands, he produced more work, and found, to his surprise, it 'grew and grew' and was good enough to finance his other hobbies; traveling, photography and computers. He is trying hard to prevent it from becoming a full-time job! He has published in many UK and overseas print magazines, and on the Web. He is presently trying to get his head around blogging, podcasting and video. keith-kellett@tinyworld.co.uk
All photos are by Keith Kellett.