Home of Carlos Paez Vilaró
by Paola Hanna Fornari
Today we're going to buy a painting by a well-known Uruguayan artist. The low autumn sun is bright, and the coast road is virtually deserted. Our destination is Punta Ballena – Whale Point – seventy-five miles east of Montevideo, the Uruguayan capital where we live.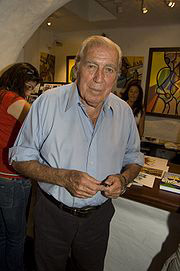 Carlos Paez Vilaró, the artist, spent thirty years developing his unique home/hotel/museum/studio from a shack, into Casapueblo, the massive, rambling, white-domed creation it is today. As in his paintings, there are no straight lines in this unique cliff-hugging structure. Over the years, he added segments, stretching it along the hillside, up towards the sky, and down towards the sea. He compares it to an oven-bird's nest. 'I apologize to architecture for being as free as an oven-bird,' he says.
We start our visit with an introductory video, narrated by the artist's deep, raspy voice. We travel around the world with him to Africa, Polynesia and Europe. We see his huge murals brightening up airports in every continent. We see him with Dali, Picasso, Emperor Haile Selassie, and Brigitte Bardot. But his greatest hero is Albert Schweitzer, whose leprosarium in Gabon he visited.
We see him in 1972, when his son went missing in the Andes plane crash along with a team of rugby companions and friends. For three months Carlos Paez Vilaró kept hoping, and parked himself in Chile, helping with the search long after many had given up. When news came that survivors had been found, he was handed the list to read live on Uruguayan radio, before he knew if his son was among them. He blocked out the names with a sheet of paper, sliding it down, row by row, revealing one name at a time. His son's was fifth, and as he read, he realized another list was forming in the minds of families and friends, of those the mountains had not spared.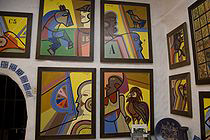 After viewing the video, we wander through the museum looking at his paintings which show the influence of Picasso, Dali, his travels, African rhythms, and Uruguayan constructivism. We eventually choose a small one, painted in 2003, depicting some of his classic themes – on the left a bare-breasted woman sitting at a table, on the right, a higgledy-piggledy mass of houses, and in the background, a huge ship. The black outlines are bold, and the hues are pink and red, touched with greenish blue, like a Uruguayan sunset.
'Would you like to meet the artist?' the saleswoman asks.
She leads us through a honeycomb of stairs and corridors to his studio, filled with old books and antique African carvings.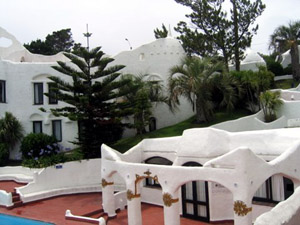 Eighty-six-year-old Carlos Paez Vilaro is like his paintings: striking. He tells us about Africa. 'I fell madly in love in Cameroon,' he says with a smile. 'Don't tell my wife.' He continues. 'Once I filmed an artist painting a nude woman, her hair blowing in the wind, against the backdrop of Kilimanjaro. The film was shown in Cannes.'
'Why have you started using such bold colours?' I ask. 'Your earlier paintings are more restrained.'
'I had heart surgery earlier this year. I was close to death. An artist doesn't choose what to paint – it just happens. These colours must be my last desperate search for the vibrancy of youth. I love life. But it's my sunset now. Every day, here at Casapueblo, we have a ceremony: we watch the sun going down over the water, and observe a few moments' silence.'
We thanked him for the tour and went away with one of his remarkable paintings. It was an honour and a privilege to meet Carlos Paez Vilaro. And whenever I look at the subdued sunset colours of his painting I think of the artist, and all that we learned from him that day.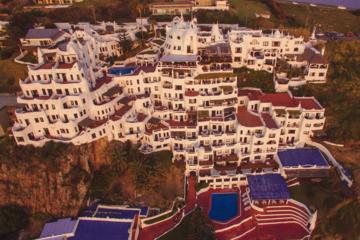 Casapueblo Museum Admission in Punta del Este
Watch a video tour of the Casapueblo museum:
If You Go:
Casapueblo is located about one hour's drive east of Montevideo, Uruguay by car or bus, and just a ten minute ride west of the well-known resort of Punta del Este.
For more information about Carlos Paez Vilaró as an artist, his life, his work, and Casapueblo, see his Wikipedia page.
About the author:
Paola Fornari was born on an island in Lake Victoria. She has lived in a dozen countries over three continents, and speaks five and a half languages. Wherever she goes, she gets involved in local activities, explores, and makes each place home. She recently moved from Uruguay to Belgium.
Photo credits:
Carlos Paez Vilaró photo and works by Carlos Paez Vilaró by: Wagner T. Cassimiro "Aranha" / CC BY
All other photos are by Paola Hanna Fornari.