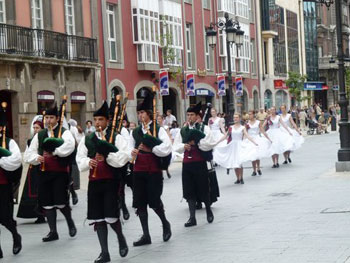 Aviles, Spain
by Chris Herbert
The drone of bagpipes echoes up a narrow cobble stone street. You catch a glimpse of a country dancer's bright white dress across the town square. Not so unusual you say? I would agree if this was the Firth of Forth or we were enjoying a hot toddy in Saint Andrew's Square Edinburgh. But it's unlikely you'll hear a Scottish brogue anywhere near here. This is the city of Aviles in the Principality of Asturias Spain.
We are here for the Beltaine Celtic Festival. That's right a Celtic festival in northern Spain. Legend tells us that Asturian Celtic history began in the 11th century with a visit to the northern shores of Spain by San Balandran.
Despite our late night research we uncover very little about the festival or for that matter Aviles. So we are going on an adventure trusting that it will be everything that festival co-ordinator Juan Carlos says it will be, or at least what we're able to decipher from his e-mails and a little the help from Google translator. Its true things do get lost in translation. Juan Carlos speaks only Spanish, and I must admit we speak muy pobre Español. So when our regional flight from Paris arrives at Oveido airport we have a lot of unanswered questions. Luckily Asturians are able and very willing to share stories of their lengthy history.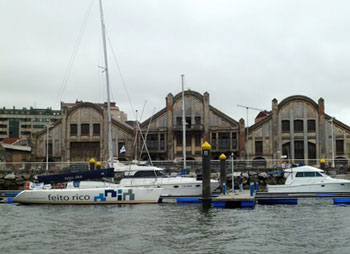 Roman Alvarez Gonzalez is a teacher by profession. We met him during a boat ride along Rio Aviles. Currently he is serving as the Councilor for Culture and Sports in Aviles. Roman's history 101 lesson includes among other things that Aviles sits on the most northerly tip of Spain and is the third largest city in the Principality of Asturias with 80,000 residents. The natural estuary made it a perfect seaport in the Middle Ages and a key to the salt trade with France, when salt was worth more then gold. Sabugo now a district of Aviles began as a fishing port on the Rio Aviles. In part because of over fishing the fishing industry is no longer a major player in the economy. For a time in the mid 20th century shipbuilding and a steel industry also prospered on the waterfront.
Spain's long history includes explorers sailing the earth's oceans in search of new lands, spices and world power. They also saw their share of foreign invaders including the Moors in the 8th century. While they ruled most of Spain for nearly 800 years Asturians take pride in the fact that the invaders never occupied their mountainous home. Asturia stood alone as a refuge from Islamic rule for Spanish Christian nobles. Out of gratitude to this day the heir to the Spanish throne is named the Prince of Asturias. That autonomy is a source of great pride to Asturians but it may be a catch-22, as the principality seems to have been left behind by a more contemporary Spain. Of course depending on your point of view that may or may not be a bad thing.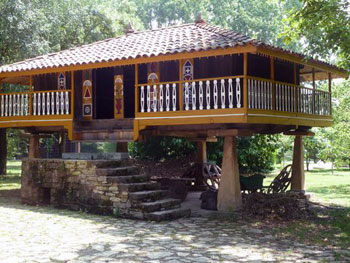 El Café de Joey is in old town Aviles. Joey is Asturian/American and a bit of a history nut. Never reluctant to share his knowledge as he rushes about catering to his customers, Joey tells me over a potato tortilla and cold drink that Aviles was a key to Spain's exploration for new territory. He points out that the 16th century Spanish explorer Pedro Menedez de Aviles sailed from the walled city to the new world where he founded America's oldest continually populated city of San Augustin (St. Augustine, Florida). San Augustin is their sister city and their patron saint. While he stops to top up my glass Joey expounds on Asturians in Cuba. Spaniards sailed from Aviles to the Caribbean Island where they were instrumental in developing the island country's tobacco farming prior to Castro's regime. El Café de Joey now sits where the medieval cities wall once stood.
In the early 20th century Spain fell under the rule of Francisco Franco. From 1937 to 1975 Franco's regime suppressed political rivals and rights, particularly women's rights. Much has changed since the 1970's as Spain transitions to a democracy. But for women it seems that old ways don't die so easily as this part of Spain is still very much a paternal society.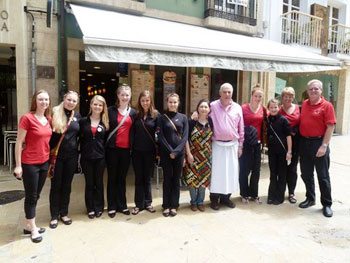 That brings us back to The Beltaine Festival. Celtic music is a big part of Asturian history including bagpipes or gaitas, as they are known in Spain. The Gaiteras are usually accompanied by tamboril (snare drum) and requinta (fife) and folk dancers. The Beltaine Festival attracts Celtic performers from around the Principality of Asturia, Scotland, France, England and this year Juan Carlos took a leap of faith and for the first time invited a Canadian group. From the start of the festival The Inverglen Scottish Dancers performed on the main stage in Parque De La Muelles, in the Plaza De Espana and around the old town to enthusiastic audiences.
Just like those would be invaders of long ago we too found that travelling to Asturias is no simple matter. With no direct flight we arrived in Oveido airport by way of Paris followed by a 20-minute bus trip to Aviles. But if you want to embrace the traditions of Vieja Espana it's worth the extra effort.
Life moves slowly here. Enjoy it. The siesta, one of the wonderful Spanish contributions to civilization is alive and well in Aviles. By mid-day most businesses have closed their doors. We soon learn not to fight it; instead we join the locals on the patio at La Villa-Arga in Plaza Domingo Alvarez Acebal. Maria Jose the villa's owner arrives with tapas and a glass of sidra or fortified apple cider. Some siderias serve the sidra from a kupela (barrel) but in a café it's more likely to be bottled. Holding the bottle well above her head the server fills a glass held at waist height to ensure the sidra is aerated. It is proper etiquette to empty your glass all at once, no sipping allowed. Any dregs can be splashed on the ground. Salud!
In the evening families stroll in the plaza and stop for a drink or dinner with friends. Teenagers play a game of basketball or soccer well into the night at Parque del Quirinal. There is no WII, smartphone or blackberry in sight and yet they carry on.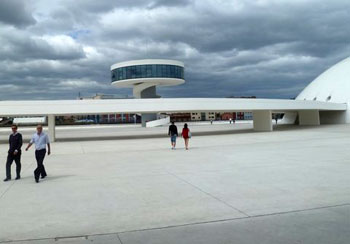 A short train ride away is Gijon, much more touristy then Aviles it is worth a day trip. The Museu del Pueblu d'Asturies preserves the history of the Asturian people and includes a collection of habitats and Horreos from the 17th to 20th century as well as the Asturian Pavilion that was built for the Seville Expo '92. It's well worth a visit. Before catching the train back to Aviles check out the market in Plaza Mayor or just enjoy the sun and sand along Plaza de San Lorenzo.
A prominent Avilesino told me "Asturias is the real Spain." I was overwhelmed by it's natural beauty and the people. He added with a shrug that unfortunately in Asturias "news doesn't travel." That may in part explain why it is difficult to find information on this part of Spain. There is so much history here, ancient and modern. The Beltaine Festival is all but unknown outside the region as is the Niemeyer Centre, an internationally significant cultural centre. The good news is that Aviles and all it offers is there for you to discover for yourself.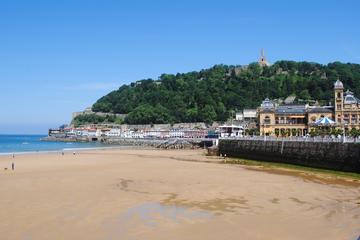 3 nights guided tour Basque Country and Oviedo from Barcelona
If You Go:
There are no direct flights. We flew an Air France regional flight from Paris to Oviedo.
Coach www.alsa.es and rail service www.renfe.es are available to Aviles, Gijon and Santander from Oviedo.
Hotels in Aviles include:
– Hotel La Villa-Arga www.hros.net
– Hotel Don Pedro www.hdonpedro.com
– Hotel Arena
A night will cost you from €65 to €120.
Some of my favourite restaurants include:
– Café at Hotel de la Villa-Arga
– El Nogal de San Francisco
– El Café de Joey
More info is available at www.asturiasguide.com
About the author:
Chris Herbert is a Vancouver BC Canada based travel writer. You can find more articles by Chris in Seniors Living Magazine, The White Cockade, Travel Thru History, The Chilliwack Times and AbbotsfordTimes.com. Your comments can be emailed to stilltravelswell@hotmail.ca.
All photos are by Chris Herbert.