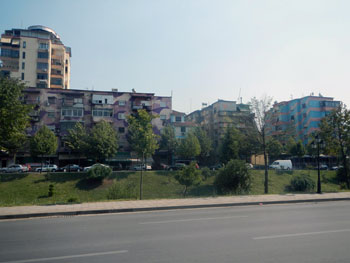 Am I in Tirana or Vegas?
by Angela Lapham
Arriving in the capital of Albania I can't believe how different it looks from the rest of Europe, the dry grass and rocky mountains instantly reminding me of desert U.S.A. Add to this, American flags; American-style sports bars and cafés named after American cities; casinos and carnival rides; a palm tree-d 80s-era international hotel; bootleg McDonalds, KFCs and Pizza Huts; a George W. Bush Street (commemorating his 2007 visit); and deep gratitude towards US troops for ending wars in Bosnia and Kosovo.
The surprises continue. In Tirana, Communist-era flats don't look ugly and grey like they do in other ex-Communist countries, instead recently painted with patterns and shapes of every colour of the rainbow. This cheap way of beautifying the city and instilling pride in its residents was the ingenious plan of the (artist) mayor. The effect is awe-inspiring (albeit probably temporary, as eventually the flats will be replaced by new ones).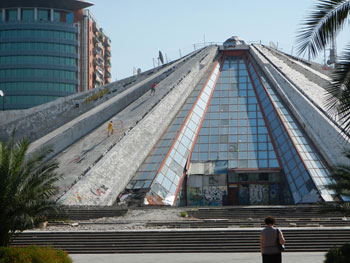 Another intriguing sight is the city's huge pyramid, built in 1988 as a museum dedicated to the life of Enver Hoxha – the harsh dictator ruling Communist Albania from 1941 until his death in 1985. With the end of communism in 1991 it became a conference and music venue (you can still see the fading signage on the door of its defunct club). War in Kosovo saw it repurposed as a NATO base, and its current use is as TV broadcasting center…and climbing wall…and canvas for graffiti. The future plan is to demolish it to make way for a new parliament building. Climb up it, admire the artwork on it, and then get a bird's eye view of it – as well as a generally spectacular view of the city – (preferably at dusk) from the Sky Hotel's breath-taking revolving bar/restaurant .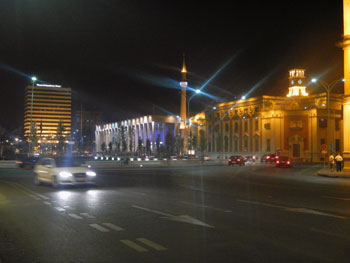 Move onto Tirana's cultural centre, Skanderbeg Square, where you can admire the statue of Albania's national hero, Skanderbeg, and the following:
• Et'hem Bey Mosque welcomes tourists. Closed during Albania's twenty four years of official atheism, in 1991 protestors forced the mosque's reopening and with it a return to religious freedom, to the extent that today it bellows out the 'Call to Prayer' five times a day. But don't think this stops the city still. Pretty much everyone continues to go about their daily business, creating quite the surreal picture for the observer! While sixty percent of the population is Muslim, the vast majority do not strictly adhere to its rituals and the Islam is liberal. Women typically don't wear headscarves, though this is required if entering the mosque (scarves are provided at the entrance).
• The National Historical Museum, marked out by the most amazing Communist-era art mosaic, is also essential viewing and has English descriptions in its main exhibition on Albania's history. Its other exhibition on the history of activism against the Communist regime isn't in English; however, its many photos enable you to make sense of the narrative.
• Not a mad fan of art galleries, I loved the National Art Gallery. What's not to love about gigantic, brightly coloured, Socialist-era artworks of female engineers and muscly, determined industrial workers, apple-pickers and athletes? Or, conversely, works banned during the Communist era that prove fascinating precisely because it's so difficult to identify the controversy contained within! Fortunate then that each artwork is accompanied by an explanation (in English) – something else that sets this gallery apart. Finally, before you leave, be sure to look out the window into the backyard – there's a fine surprise out there.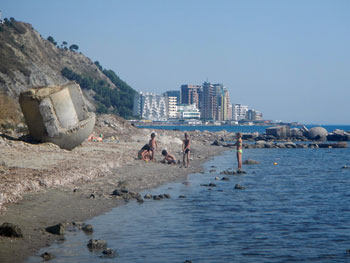 From Skanderbeg Square, catch a free, comfortable shuttle bus to either of the two recently established shopping malls. The 20 minute trip allows you to see the outskirts of Tirana and is a great way to meet people. Just act like a tourist when getting on, i.e. ask passengers whether you're on the right bus or what time the last bus leaves. Doing this, I met a guy who worked at a university and a Japanese engineer who'd been in Albania for 3 years establishing a sewerage plant. Two fascinating conversations. Then, when you're at the shopping centre, you can 'people-watch' while you 'donate' to Albania's developing economy.
Another illuminating short trip out of the city is to the beach-side town of Durres. The 40 minute maxi-taxi ride costs $1.50. Maxi-taxi travel is one of those amazing cultural experiences you'd have missed out on if you were rich: here we are hurtling down the road, the driver's business partner standing up, head out the door yelling the taxi's destination to anyone on the side of the road.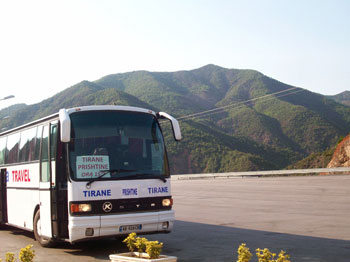 Durres isn't the nicest of beaches. Go to the south of Albania if you want a nice beach. What Durres is good for is bunkers. In fact, you can find these all over Albania (although often on privately owned land), a legacy of Hoxha's paranoia that built 700 000 of them to guard against anticipated nuclear attack. Another Durres oddity is its inundation with resort hotels and bars named after world famous beaches and backing onto crumbling village huts. Chickens are the last things you expect to see at the beach, but there they are ruffling their feathers in the sand! There's a lot of atypical juxtapositioning like that in Albania: sheep graze around Tirana's train station, universities stand side by side with car dealerships and industrial plants. Prepare to think you're 'seeing things.'
Also unexpected was Albania having the best bakeries around: $1 for a huge gourmet-quality grainy loaf. Spread with gourmet local specialties avjar, pixaur and lutenica and take it on one of the several daily buses to my next recommended destination, Kosovo. The bus will take 6 hours to get to the capital Pristina, 4 hours to the historic town of Prizren.
In Pristina, I find as many differences as similarities with Tirana, the main difference being the international presence: United Nations and European Union cars and offices, signs on grand looking government buildings written in English as well as Albanian and Serbian, and the euro currency.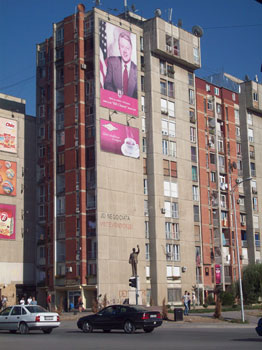 Everyone's patriotic about their new country. Kosovo and Albanian flags wave proudly down the street, the words 'Kosovo Republik' are graffitied on every blank space of concrete, and there's even Kosovo-brand Petrol stations (with Kosovo's flag as its logo). Giant letters spelling the word NEWBORN celebrate Kosovo's recent independence. What a spirit in the air! And, again, it was refreshing to be somewhere where it's not fashionable to hate America. Indeed, in Pristina, it's possible to go down Bill Clinton Boulevard and see a giant waving statue of former US President Bill Clinton!Clinton gained hero status among Albanians for launching NATO's bombing campaign against Serbian forces attacking a newly independent Kosovo.
Pristina's main street is also named after a famous humanitarian. In Mother Teresa Boulevard stands a statue of Albanian Mother Teresa, buildings displaying photos of local literary greats and artists, and a gigantic sign of the first President of Kosovo (serving 1992 to 2000 and again from 2002 to 2006 when he died of cancer). The President had supported Kosovo's independence but strongly opposed using force, instead advocating a policy of Gandhi-like passive resistance. His statue will soon occupy Mother Teresa's position. The Boulevard and its side streets boast fantastic cafes, and bookshops where you can buy English books about Kosovo history and society (I recommend the Kosovo 2.0 magazine and Kosovo flag cloth bags).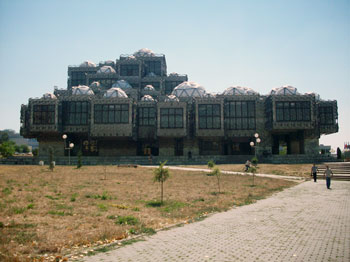 Nearby, you can see pacifism Communism-style in the curious looking Monument of Brotherhood and Unity (facing imminent demolition). And check out the equally unusual looking National & University Library of Kosovo, which includes, among its collections, an American Corner of English resources, events and conversation classes.
As you can see, the ongoing transformation of Albania and Kosovo means several 'quirks' are set to disappear. Visit now! As well as these attractions, you'll enjoy fascinating histories, a liberal Islam rarely communicated to the West, and people delighted to welcome you into their country.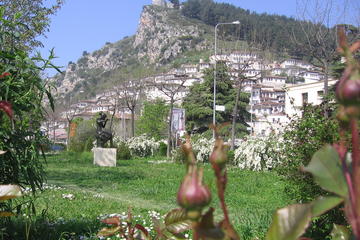 Best of Albania: 3-Day Trip from Tirana
If You Go:
♦ In Tirana, stay at Freddy's Hostel. It's close to everything and you can get a 2-person room with breakfast for $21! Ask them for international bus schedules. You can then buy a ticket from one of the 2 bus companies down the road.
♦ In Pristina, pay approx. $15 per person at Hostel Han.
♦ Bus company covering the region is Barileva Turist.
♦ Very important – If you enter Kosovo through Albania and you want to leave by bus (not plane), travel on to any country except Serbia OR make sure the bus you're taking to Germany, Switzerland or Belgium etc exits through Montenegro (NOT Serbia).
♦ Once you've exited through any country but Serbia (I took the 2hr bus to Skopje, the capital of Macedonia – another interesting place to visit), you'll be allowed to enter Serbia.
♦ And, of course, you could always travel from Kosovo to Albania.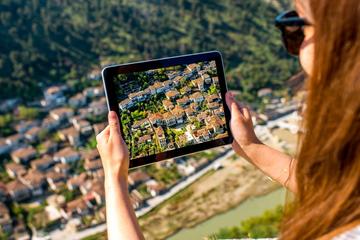 Durres and Berat 2-Day Tour from Tirana including Wine Tasting Experience
About the author:
A history graduate fascinated by people, ideology, Communist history and randomness, Angela loves travelling Eastern Europe. For further info on this region, check out her 'There's a Certain Humanity in the Hague' article in the Fascinating cities section of this website. Home in Melbourne, she looks forward to her next European adventure.
Photos are by Angela Lapham:
Painted apartments
Hoxha Pyramid
Skanderbeg Square at night
Bunker remains on Durres Beach
Tirana to Pristina bus
Bill Clinton Boulevard
National University Library of Kosovo