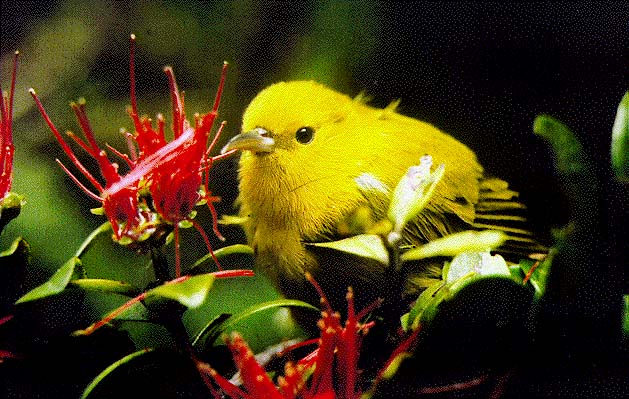 Kaua'i, Hawaii
by Joan Boxall 
Bird-watching is the most popular recreation in America, and the Audubon Bird Count summons us every December to the Christmas Bird Count on the 'Garden Isle' of Kauai in the Hawaiian Archipelago. With David Kuhn, creator of the website, 'Sounds Hawaiian', we add native forest birds to our count. Kuhn leads us into the Alakai Swamp's mist and mud, in Koke'e National Park, on a surreal mission, where we are about to trade eyes for ears.
The Audubon Count has been ongoing for 114 years and is the longest running Citizen Science survey, offering data on population trends of North American birds, from mid-December to early January.
In the early nineteenth century, Audubon, ornithologist, painter/illustrator, naturalist, taxidermist and author of the four-volume, Birds of America, sketched and then water-color painted renderings of over 700 of the 914 species, then topped up, with chalk pastel details. Innovative at that time was his depiction of birds in their natural habitat, in everyday poses. We feel ready to identify some of those, in the field.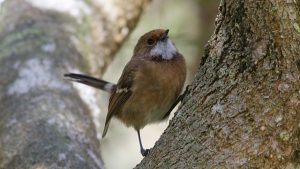 Early-birds we aren't, so we drive from sea level on Kauai's South Shore the day before and stay the night at Orchard Cottage, a cabin situated at 3600 feet, a five-minute walk from The Lodge at Koke'e State Park. Volunteers get a reduced rate with a family membership. We sign up.
Outside, Red Jungle fowl (chicken escapees from 1992's Hurricane Iniki) strut and peck, while we enjoy our home-cooked spaghetti dinner. It's December's early dusk, and we find ourselves constellation-gazing. Orion, The Hunter, with his club and shield, rises up. Alongside are his faithful hunting dogs, Canis Major (the Big Dipper) and Canis Minor (the Little Dipper).
Bedside reading is Hawaii's Birds by the Hawaii Audubon Society, which includes the native birds we'll be spying. I'm cramming as if for a driving signage test: two yellow ones, two red ones and a brownie. The red and yellow ones have curved and straight beaks. On the (olive) yellow side is the Common 'Amakihi (Mr. Curved Beak), and his sweet warbling straight man, 'Anianiau, who, just to make things interesting, is known as the lesser 'Amakihi.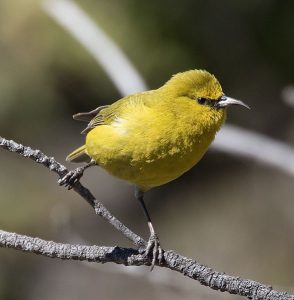 In the red corner is 'I'iwi whose call, like a rusty gate, squeaks from its curved hinge. As it turns out, the bird with the most agile movements and versatile calls turns out to be Kuhn's favorite songster, the 'Apapane. All four are honeycreepers, unique to Hawaii. Oh, and the little brownie? That's the hikers' friend, 'Elepaio, with cocky tail feathers and a curious boldness. I'm ready for my drivers' test and dawn comes quickly on our Jungle fowl alarm-clock.
We introduce ourselves outside the Koke'e Museum at seven, and loosely plot a process for the morning count. I'll record specie sightings, while Kuhn and my husband will spot, look and listen. After a twenty-minute, slick 4×4 mud-road ride to the Alakai Swamp Trailhead, Kuhn provides us with long bamboo walking sticks. Bird counts are open to the public, and we wait for any late arrivals, but it's just us. We count on the way in, so as not to re-count any birds on the way back. It's a linear hike; out and back. 'By the way,' he adds, 'we may get a sixth bird, the 'Akeke'e. It's a long shot.'
It is another LYB (little yellow bird), but with a descending trill. At this point, I suspect that the top six may be harder to spot than previously thought. As it turns out, this isn't about spotting. We won't be eye witnesses; we'll be ear witnesses.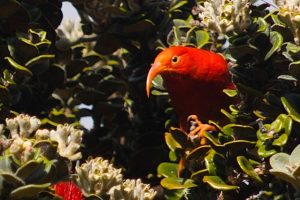 We head out on the Alakai Trail, which in Hawaiian means 'to lead', where the Pihea Trail intersects. Pihea means 'wailing voices', but I'm hoping Kuhn is leading us to where the birds elicit the din (no whining or wailing from us). We're climbing to 4000 feet— puffing, bouncing, and sometimes slithering on meshed redwood planks, all-the-while inhaling mist that blows in wisps across the trail. We're teetering on the ridge above the Kalalau Valley. Tack it up to the altitude. I'm dizzy with delight. And my ears feel like gramophone horns— two stretching lobes, leaning into the rain forest for the slightest incantation from our bird buddies.
We hear trills, warbles, slurs, cheeps, chips, buzzes, squeaks and something like a cell phone. 'The cell phones are crickets,' says Kuhn, pursing lips to forearm in a kissing-call to attract Apapane.
'One more Apapane,' says Kuhn, and I switch to pencil as the paper puckers in the dampness.
Kuhn's love calls succeed, and we count 33 of them, thanks to his audacious ear. We walk in silence, and after two hours, re-route.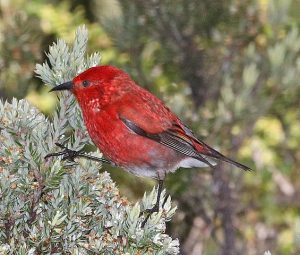 'Did you see that?' asks Kuhn. I observe a flutter of red, like two valentines. 'Two 'Apapane mating, right on the trail,' says an ecstatic Kuhn. 'Never seen that.'
We continue on with smiles on our faces. Kuhn stops again minutes later. His composure is ruffled. He's riveted on the forest, hanging on every note.
'I've got to catch a glimpse just to confirm that sighting,' he says. Moments later he reappears.
'Yes, it's an 'Akeke'e, an endangered species, only found in Kauai's Waimea Canyon region, present and accounted for.'
'What drew you to this work?' I ask Kuhn.
'Probably growing up on a duck farm…I was a hunter.'
Just like Audubon. Just like Orion. And now, listening and recording have become Kuhn's shield, dog, gun, chalk pastel and paintbrush… for conservation and enjoyment.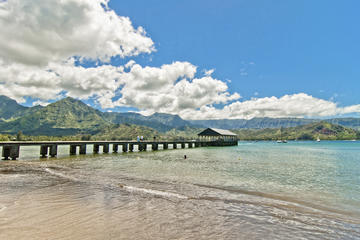 Private Tour: Kauai Waterfalls, Hidden Beaches, Ancient Sites, Kilauea Lighthouse and Hanalei Bay
If You Go:
♦ Birds of Kauai: www.kauaibirds.comwww.kauaibirds.com
♦ Bird Watching in Hawaii: www.hawaiiaudubon.com/birding/kauai.html
♦ www.hawaiiaudubon.org/#!kauai-birding/c1yzp
♦ Kauai Bird Recovery Project: kauaiforestbirds.org/about-us/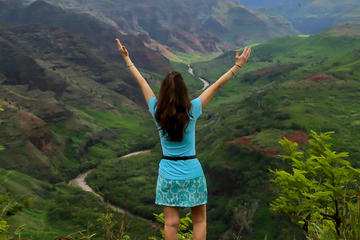 Best of Kauai Tour
About the author:
Joan Boxall is a Vancouver writer with a keen interest in bird watching. At present (December 2014) she is back on Kauai to attend the Christmas Bird Count again. She is a member of the BC Travel Writer's Association.
NOTE: David Kuhn's Websites are here – soundshawaiian.com/birds_kauai.html and www.birdquest-tours.com/ourteam.cfm?team=37
Photo credits:
'Anianiau – USGS / Public domain
'Elepaio – HarmonyonPlanetEarth / CC BY
Amakihi – Bettina Arrigoni / CC BY
'I'iwi – Kanalu ChockCamera location20° 46′ 03.6″ N, 156° 14′ 09″ W View this and other nearby images on: OpenStreetMap – Google Earth 20.767667; -156.235833 / CC BY-SA
'Apapane – ALAN SCHMIERER from southeast AZ, USA / CC0