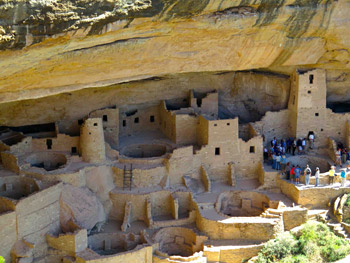 by Luke Maguire Armstrong 
Mesa Verde is a place where natural beauty mixes with history in a uniquely dramatic way. One finds the earthy splendor of the American Southwest and a window to one of North American's most unique groups of indigenous people—the Anasazi. Regardless of the current state of accomplishments in our modern American culture, the Anasazi still have one up on us since they lived in cliffs. Why do we live in houses when we could be living on the sides of cliffs?
Ancient Pueblo peoples, as their progenies prefer to be called, inhabited what is today call The Four Corners, which contains portions of the intersection of Arizona, New Mexico, Utah and Colorado. Each state offers a first hand glimpse of what remains of this intrepid culture. Colorado's Mesa Verde National Park features some of the finest places to see their intact cliff dwellings from the Pueblo III period between 1100-1300 AD.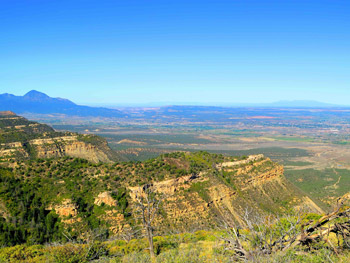 Evidence of settlement on the Colorado Plateau only dates back to AD 550, but signs of human presence on the plateau go back at least 10,000 years to the Paleolithic Age. For much of the known history of these people, they existed as tribes of wandering hunter gathers. Forging for food is easier than farming.
Corn and squash entered the picture as early as 1500 BC. Long before it had been domesticated in Mexico. Slowly these two staples spread to the Southwest of the US.
While historians are not sure what led to the people of Mesa Verde settling down after millennia of roaming, what is certain is that for over seven centuries their culture flourished in Mesa Verde. They worked together to maintain a water distribution system, divided labor, hunted, gathered, cultivated crops, made clothes, baskets, and everything else they needed to live and thrive.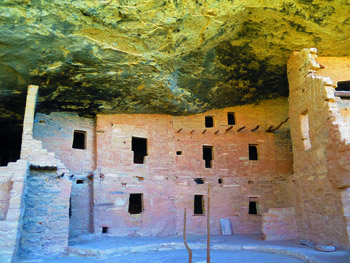 The Anasazi are rich in history. What is emerging is from the archeology work is a complex and, somewhat egalitarian, society. They succeeded to thrive for millennium in a sparse land with harsh winters. The archeological evidence of the Anasazi date back to 1200 BC—a time known as the "Basket Making Era" since they had baskets, but no pottery, and lived in camps or caves, surviving off a staple of cultivated squash and corn.
They continued to develop and by 900 AD had large villages and a complicated trade system. Then in 1100 AD they took to the skies and made their villages on the faces of cliffs. The cliffs offered a variety of advantages from a tactical standpoint, and as protection from cold winds, which swept the valleys in the winter.
Ancient Pueblo People living in Four Corners fared better than many indigenous peoples in America. While the number of villages were reduced dramatically when the Spanish came, some held on, and today there are more than 60,000 modern Pueblo Indians living in 32 pueblos. As you drive through the park, there are dozen of stop off points where you can see for yourself these cliff dwellings. Turn your radio dial to 91.1 and you can hear the Uto language as it's spoken today. The sheerness of the scenery, the history intact in preserved cliff dwellings, the grace and nuance of the Uto language from the radio—it's an intimate encounter with the past amid some of North America's most stunning scenery.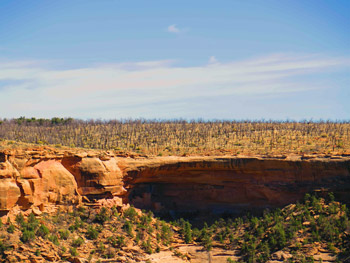 If you're coming from Denver, you'll enjoy the scenic, mountain-carved route along US Highway 160W and US 285S. I drove in from Grand Junction, along US 50. If you can do this drive in the fall, roll your windows down and you can smell the yellow and red leaves bursting in bright patches amongst ever-steady green pines. Carved cliffs of rock will add earthy tones to the pallet, and blue sky might cause you to turn the radio down so as to let the evolving panoramic fill your senses.
When you enter the state park, there will be plenty of places to stop along the way. There's a lot of history burned into these hills from the seasonal wildfires. The Bircher Fire of 2000 ignited 23,000 acres. Evidence is everywhere. Sometimes the landscape will give way to dead forests with subtle green underbrush re-emerging under a skeleton forest.
If You Go:
♦ TripAdvisor's Mesa Verde Page has plenty of reviews of the various sites to see and places to stay.
♦ Visit Mesa Verde has plenty of resources about treks within the parks.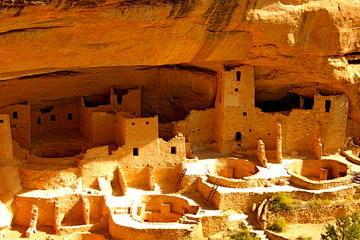 Mesa Verde Experience Tour
About the author:
When he's not traveling or getting mauled by rodents in the jungle, Luke Maguire Armstrong (TravelWriteSing.com) spends his time being rejected by girls in bars in Antigua, Guatemala. After taking the wrong lesson from Into The Wild, he took out a student loan and planned to hitchhike from Chile to Alaska. He stopped in Guatemala, where he spent four years directing Nuestros Ahijados' health and education programs. He has been interviewed by Christiane Amanpour and featured on ABC News 20/20. His is the author of the travel anthology The Nomad's Nomad.
All photos are by Luke Maguire Armstrong.