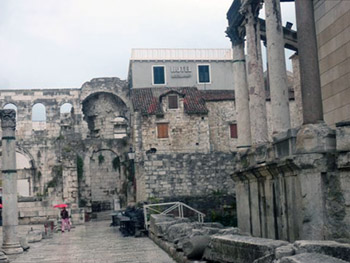 by Wynne Crombie
Slanted sun rays fell upon the two-thousand- year-old boulders that formed one wall of our Split hotel room. The Peristil Hotel was a part of the Diocletian Palace, the basis of today's Split.
The Roman emperor, of the same name, had viewed this as his retirement, "mega-mansion" and eventual burial ground for himself. It is ironic justice that the Christians he murdered during his reign (284 – 305 A. D) are buried there instead.
The Underground Tour is a must. Diocletian had added a subterranean floor (podrum), or basement, as his "support area", where the cooking, wine making and palace fix-it shop were all located. The ventilation system was elaborate for its time. This was a needed commodity because he used this area to deposit garbage, some of which remains to this day in pulverized form. Pieces of the Emperor's original wine-making apparatus are still in place.
These underground halls were originally only a substructure to support the upper structure. Today, these cellars enable us to see the exact ground-plan of the south part of the palace where the emperor Diocletian lived with his family. These halls play a significant part in the everyday life of 21st century Split.
Today's residents live in the quarters there Diocletian's soldiers once lived. There are some 220 buildings within the palace walls that are home to about 3,000 people. In Diocletian's time, it had some sixty thousand inhabitants. UNESCO has declared the entire section of the city enclosed by the old palace walls, a World Heritage Site.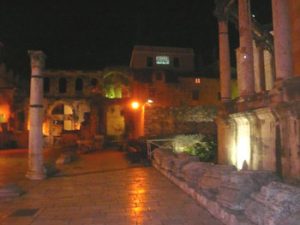 Within this warren of narrow cobblestone streets, pre-Romanesque churches exist alongside cafes, bars, shops, boutique hotels and apartments.
During basement restorations, scientists discovered stone elements older than the Palace itself. You can see part of the marble table that was once in the Diocletian dining room!
The Vestibule, at the southern end of the Palace, served as an entrance to the Emperor's residence. Mostly, it was a waiting room for visitors summoned to see the emperor.
This ancient foyer is a marvel in antiquity. Statues stand in rounded niches. Its white rotunda wall is capped with a large, open dome and glittering color mosaic. If you catch the sun just right you can take a spectacular photo of sunlight shining through the dome.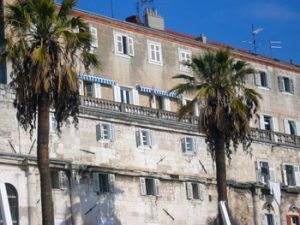 From the Vestibule, the network of corridors wind around to where they form a number of galleries and souvenir shops. A lot of handcrafted items, such as paintings, jewelry and embroidered items are for sale. At the end of the "shopping corridor" you climb a set of stairs and come out onto the Peristyle Square. Take time out to sample coffee at Luxor's Café before discovering St. Dominuis Cathedral a few steps away.
Diocletian originally had the eight-sided Cathedral built as a mausoleum for himself. In 316 A.D. he was laid to rest and spent 170 years of eternity there before someone stole his remains… no telling who. To this day, they have never been found.
The original doors have been taken inside and covered with glass. The twenty-eight carved wooden panels by the 13th century artist, Andrija Buvina, showing the life of Jesus… from the Annunciation to the Ascension… is worth the price of admission alone. (10 Kuna – $2)
After the Emperor's remains were taken from his mausoleum, and, with the rise of Christianity, the mausoleum was transformed into a Catholic Cathedral. So much for Diocletian's campaign to eradicate Christianity.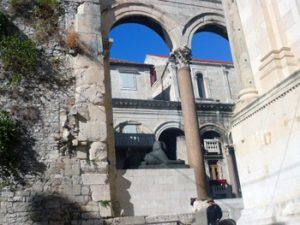 A small black sphinx, perched near the entrance to the cathedral, is one of sixteen that Diocletian had his slaves drag over from Luxor. Nearby is a column he pilfered from Greece. In total, Diocletian looted some 28 granite and marble columns from the Greeks and Egyptians, just to decorate his final resting place. The sphinx is in remarkable shape with just the nose slightly smashed in. It lies just outside the Cathedral's entrance in the Peristyle where the Split Summer Musical Festival is held every July and August.
I walked into the narthex of the octagonal- shaped building. As cathedrals go, this is rather small. The plethora of Romanesque architectural features is rather overwhelming. Side by side ornate carvings are topped by a vaulted ceiling. If you look way up, you can see busts of Diocletian and his wife Prisca, around the dome. That's the only evidence they were ever here. Where was his original resting place? His sarcophagus is thought to have been placed somewhere in the middle of the cathedral.
I headed to the right and climbed the stairs to the Cathedral's museum. Krunoslav, the museum's archivist, was standing behind an array of brochures describing the museum in seven different languages. I was his only customer.
"Dobro Jutro." he said, "I'm not busy. Come, I'll give you a solo tour."
My first impression was, so much jewelry and objects d'art crammed into one place. How was everything protected? There didn't appear to be much of a security system in this rather small room.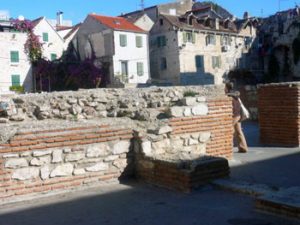 Krunoslav walked me past vestments encrusted with gold thread, and Baroque reliquaries containing remnants of martyred saints. Peering at the ornamental minute stitches on these early vestments, you can't help but compare it to mass production of the 21st century.
The oldest item was a book of 7th century masses in Croatian, the so-called Split Book of the Gospels. There were relics of St. Arnira and St. Arnir, both 12th century. Martyrs, next to chalices embedded with rubies and diamonds.
Krunoslav told me that not much has changed here since 300 A.D., except for the addition of the 197 ft. bell tower adjacent to the cathedral. It was built in stages from the 12th to the 16th centuries. Weather took its toll and some restoration took place from 1890 to 1906. The tower is built in both Romanesque and Gothic Renaissance styles. Alas, during the 19th century reconstruction, the bell tower's original Romanesque sculptures were removed. The tower defines Split to this day. Split's Roman heritage really began in, Solona, just above Split in the hills. (a twenty- minute bus ride from town) We ventured out for a look. This is ancient Split from the Roman times, including an amphitheatre. Check out this outdoor arena; it was once three stories high and sat 15,000. Hard to imagine that this pile of Roman ruins was once the largest city on the eastern Adriatic coast.
An hour's bus ride took us out to Trogir. The entire town is on the UNESCO World Cultural Heritage list and rightly so. Situated on a small island, (you walk across a small bridge) it was founded in the 3rd century, B.C. by the Greeks. Walk around and take in the ornate stonework and delightful restaurants and shops.
Split is a city like no other – a superb blend of Croatian and Roman antiquities just waiting to be explored.
More Information:
Tourist Board of Split Official Website
There is no direct flight from the U.S. to Split. However, many European airlines fly to Split, Zagreb, and Dubrovnik.
Split Tours Now Available:
Grand Split Walking Tour
Split Wine Tasting
Small group Split Walking Tour and Split Car Tour
Split Culinary Tour
Where to stay:
If you are an antiquities fan, there is no place but the Hotel Peristil. This wonderful little 3 star hotel is built right into the Diocletian Palace. About $150/night (double)
Where to eat:
– Restoran Tifani: Located right in the Peristil Hotel. Grilled meats and fish are staples. Great, friendly service. – entrees $10-$30
– Kanoba Varos: The word, Kanoba, means Croatian food. We found many locals eating here. Very atmospheric. Fish and grilled meat plus Croatian favorites like cevapi (sausages) and palacinke (filled crepes) – entrees, $12-15
– Hotel Park Dining Room The hotel is located just outside the Old Town. International cuisine. (expensive)
About the author:
Wynne Crombie has a master's degree in adult education and teaches English at Harper College outside of Chicago. She met her husband of forty years, (Kent)in Berlin. Wynne was teaching with the Department of Defense School System and Kent was an Air Force Security officer. They have four grown daughters.
Photo credits:
All photos are by Wynne Crombie.