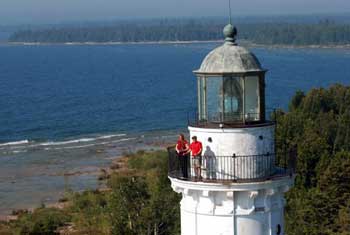 Door County, Wisconsin
by Liz Bruckner
As I stand in the middle of Country Ovens in Door County, Wisconsin, surrounded by every kind of cherry-infused food imaginable, it takes all of my restraint not to perform a one-handed sweep that will send each package of chocolate-covered cherries into my bag. For someone who came to the fair state expecting to see not much more than hoards of cheese and Packers jerseys a-plenty, already this is so much more than what I had in mind.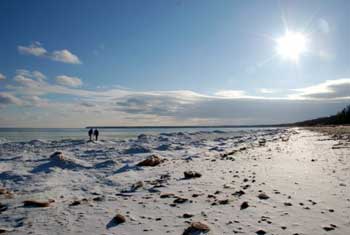 Before my flight and subsequent drive to Door County, I admittedly didn't know much about the area. Upon arrival, I quickly learn that a dozen tiny, charming towns populate the county, that's located just 45 miles northeast of Green Bay. The area received its name from the French, when it was dubbed Porte de Mortes (or "Door to Death"), because of the treacherous strait between the peninsula and the islands off its northern end, which today is the resting place of countless sunken ships. More recently acclaimed as the Cape Cod of the Midwest, in warmer months it's a go-to destination for golfers the world over as there are 11 gorgeous courses to choose from. Door County also boasts multiple white sand beaches that line Lake Michigan for tourists to laze about on, while in the winter, ski hills, cross-country trails, hiking paths and ice-fishing huts make it the perfect getaway with nary a billboard or chain store in sight. And let's not forget the cherries.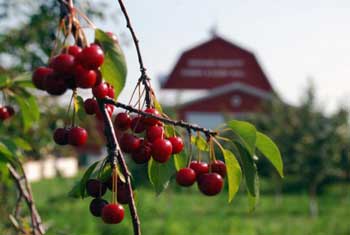 To be clear, the versions found in Door County orchards aren't the run-of-the-mill variety. Here the Montmorency red tart cherry reigns supreme, and in Country Ovens, a family-owned and operated business established in 1987, they're utilized in every form imaginable – from cherry salsa, cherry fudge and cherry BBQ sauce to cherry wine, cherry jam and cherry ketchup. The area prides itself on its cherry orchards, and has since the early 19th century. Ideal growing conditions make it the perfect environment for the fruit to sprout, and with approximately 2,200 acres of cherry orchard fields, approximately 12 million pounds of them are produced each year.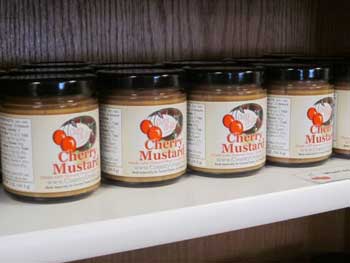 With my sweet tooth satisfied, I make my way to the Harbor Fish Market and Grille in Bailey's Harbor for dinner. Known as a hot spot for in-the-know vacationers, I quickly see why the restaurant has such acclaim after I inhale my spectacular five-course meal. I then waddle back to the car and head to The White Lace Inn in Sturgeon Bay, my not-so-humble abode for the next two days. The bed-and-breakfast Main House is a beautifully restored 1880s Victorian home that's gorgeous inside and out, which becomes all the more apparent when the owner, who took ownership of the property in 1982, shows me to my room in Hadley House – one of the four homes that comprise the inn. There, an enormous room, laden with perfectly-preserved antiques, two roaring fireplaces, heated floors and a whirlpool big enough to sleep in awaits. I happily settle in and call it a night.
The next morning, after a fantastic breakfast, I take in the sights in Sturgeon Bay, settled in 1835 and the largest city in Door County by a long shot. There are shops a plenty with kitschy goods, plus lots of old buildings and beautiful bridges to admire since it's an old industrial town. I make a point of stopping in at Door County Confectionery and buy a pound of the best Peanut Butter Fudge my taste buds have ever been privy to.
Next, I drive to Peninsula State Park, one of five of Door County's parks, and home of Eagle Bluff Lighthouse – one of 10 in the area – which was constructed in 1868 after President Andrew Johnson ordered it be built. I learn from a park ranger that the Door Peninsula was first settled 11,000 years ago, that it was home to a game farm in 1920s and '30s, and that that following WWII, a small group of German prisoners-of-war placed to work at the park and in nearby orchards gained acclaim for their hard work, and for singing as they constructed buildings, cut wood and picked cherries.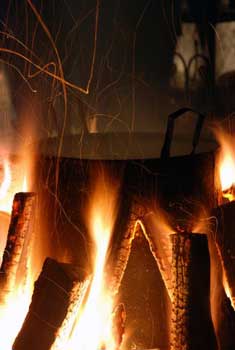 No trip to Door County would be complete without taking in a fish boil, so I visit the White Gull Inn in Fish Creek – built in 1896 by a German-born doctor who established it and many surrounding buildings with the style of European health spas in mind – for an experience only available here. When I arrive, people are already gathered around the boiling spot where they're waiting for the boil master to weave a yarn about the 100-year-old tradition of boiling white fish and potatoes over an open fire, which began when lumberjacks and fishermen adopted it as an economical way to feed themselves and their families. After roughly 15 minutes of the historical run-through, the boil master douses the fire with kerosene, causing the water and oil from the fish to boil over. After the spectators make way for him to head indoors with dinner, we pile into the restaurant for our own plateful of white fish, potatoes, coleslaw and – what else? – Door County cherry pie for dessert.
On my last day, I head back to Fish Creek for a morning at Hands On Art Studio, a repurposed barn that's now a do-it-yourself destination offering would-be artists the opportunity to work with fuse, blow and paint glass, metal sculpture, tile mosaics, throw and paint ceramics, jewellery and more. Though the business is a very young 12 years old, it's unlike any art studio I've visited, and after trying my hand at plate design in the fused glass studio, I arrange to pick up my creation the next day.
Before the day is done, I walk the shorelines of Lake Michigan at Whitefish Dunes State Park, located in Sturgeon Bay. With miles and miles of dunes that have been formed into ridges by many a mighty wind, this could easily be the most beautiful park I've ever seen. The big dunes are the main draw – the tallest, Old Baldy, measures in at 93 feet high – but I'm warned to stay off since the grasses holding the dunes together are delicate and the lightest step could cause the sand structures to crumble. Plank-and-rope boardwalks lead the way to numerous beautiful walking trails, and a quick drive leads me to Cave Point County Park, where I spend my last hour in Door County. I walk out onto the rock overlooking a steep cliff, admiring the sweeping waves that have helped craft the limestone caves below, and feel so thankful to have had the opportunity to visit such a beautiful dot on the map that just a few weeks ago, I didn't even know existed.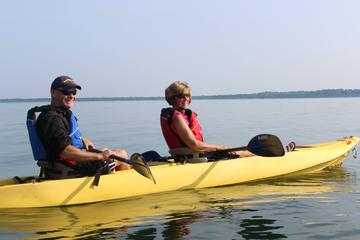 Door County Kayak Tour
If You Go:
Transportation: Door County is approximately 45 miles northeast of Austin Straubel International Airport in Green Bay, so you'll need to use the Door County – Green Bay Shuttle (920-746-0500), Door County Trolley (920-868-1100), or a rental car to get there.
Where to Stay: The White Lace Inn, 16 N. 5th Avenue, Sturgeon Bay, www.whitelaceinn.com
Where to Eat: Harbor Fish Market & Grille, Bailey's Harbor, www.harborsfishmarket-grille.com
Door County Candy, 24 N. 3rd Avenue, Sturgeon Bay, doorcountycandy.com
White Gull Inn, 4225 Main Street, Fish Creek, www.whitegullinn.com
Where to Play: Country Ovens, 229 E Main Street, Forestville, www.countryovens.com
Peninsula State Park, 9462 Shore Rd., Fish Creek, dnr.wi.gov
Hands On Art Studio, 3655 Peninsula Players Road, Fish Creek, www.handsonartstudio.com
Whitefish Dunes State Park, 3275 Clarks Lane Road, Sturgeon Bay, www.dnr.state.wi.us
County Website: www.DoorCounty.com
About the author:
Liz is freelance journalist who's writing experience lies mainly in parenting, beauty, health and profile features for many of Canada's top magazines, websites and newspapers. Though the bulk of her traveling has been through Europe, she has lofty goals of visiting Canada and the U.S., one little town at a time. She lives in Peterborough, Ontario, Canada.
Photos credited to: DoorCounty.com/Door County Visitor Bureau and Liz Bruckner.