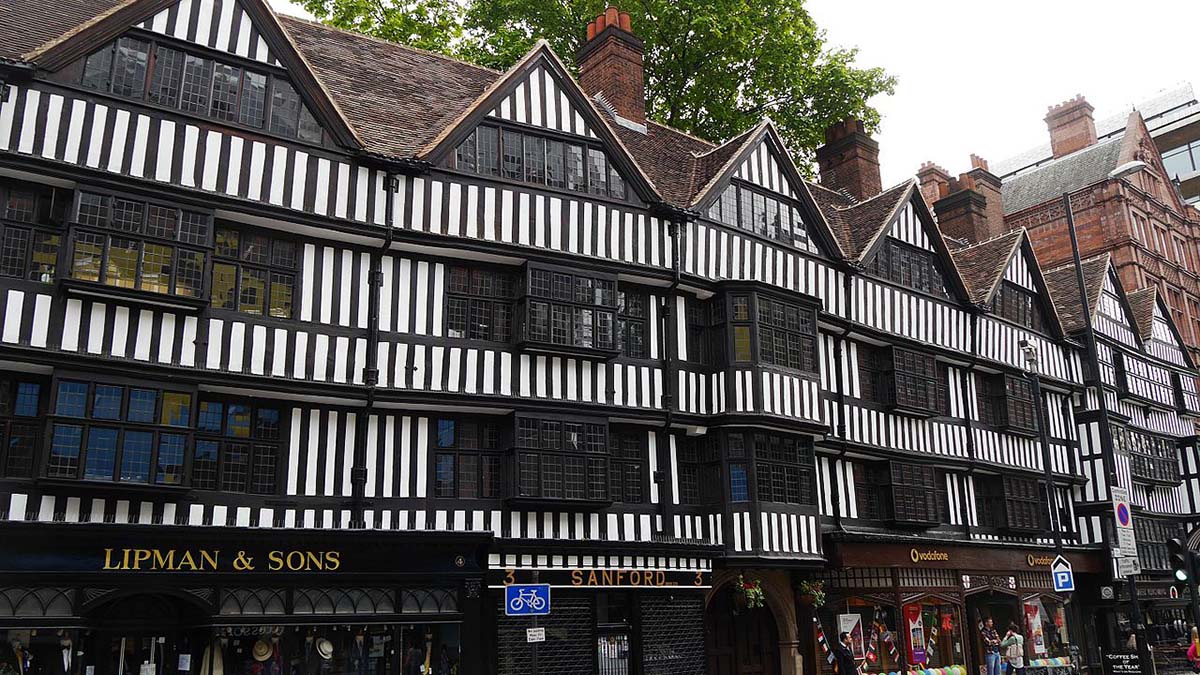 by Andrea Kirkby
Little appears to be left of Shakespeare's London. We know where he worked, and where he lived; but the Blackfriars theatre is no more, and though Ireland Yard (where Shakespeare bought a house when he could afford it) still exists, the buildings are much later. Nothing's left of his successive houses in Bishopsgate, Southwark, and Cripplegate, and the Globe has gone along with all the other theatres.
So you might think an article on Shakespeare's London would be quite short. But in fact, it's amazing how many places are left that are linked with his life. Let me take you along on a tour of Shakespeare's London; though we're going barely a couple of miles in distance, we'll be going back four centuries in time.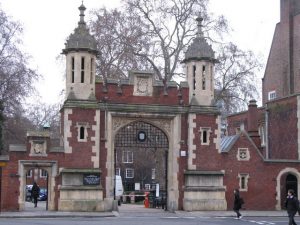 Let's start at the Inns of Court, the centre of London's legal world. In Queen Elizabeth's day they represented an alternative to the great universities as a place of education, and had their own literary subculture. The poet, and later divine, John Donne, studied at Stavies Inn and then Lincoln's Inn after three years at Oxford; masques by Francis Beaumont (one half of Beaumont and Fletcher), and George Chapman were performed in the Inns – they also sponsored a performance at Whitehall, with scenery by Inigo Jones. Plays and masques were put on every year to celebrate Christmas – which then stretched all the way from the beginning of Advent in November to Candlemas, in February. In 1602, the Middle Temple hosted the premiere of Shakespeare's Twelfth Night by the Lord Chamberlain's Men; Shakespeare himself probably took a role. Amazingly, Middle Temple Hall, scene of that performance, is still not only intact, but almost unchanged from how it looked then.
The hall was completed in 1573, and is one of the latest works of Gothic architecture in England. It's a refined work, with lozenge patterns in the brick of its walls, and a glorious double hammer beam roof. (I'm blasé about hammerbeams. I'm East Anglian, and in my home counties of Norfolk and Suffolk we have some of the greatest hammer beam roofs around. But this is an immensely impressive roof, among the best anywhere.) The wooden screen is finely carved, and the stained glass shows the coats of arms of Elizabethan members of the Temple. You see just what Shakespeare himself would have seen – even down to the way the tables are still arranged in long rows, since Middle Temple Hall is still in use as the dining hall in which students eat their dinners. (That explains why it is not always open. It's worth visiting when the Middle Temple has an open day.)
It's a short walk from the Middle Temple to one of the few buildings in City of London that survived the Great Fire of 1666 – Prince Henry's Room, a superb testament to the richness of Jacobean architecture and decoration. Its proud wooden façade, two huge bow windows surmounting a minor entrance to the Temple, gives you some idea of its wealth; inside is a splendid plasterwork ceiling, decorated with the three feathers that are the badge of the Prince of Wales.
It was built in 1610, when James I's son Henry was Prince of Wales, and when Shakespeare was writing his last play, The Tempest. (Henry died young; that's why you haven't heard of Henry IX. Instead, we got Charles I – and a Civil War.)
The Middle Temple wasn't the only one to host a Shakespeare premiere. Gray's Inn Hall – neater, and smaller, and twenty years older than Middle Temple Hall – hosted an entertainment by a then relatively little known playwright in 1594: The Comedy of Errors.
The Inn's Chronicles show that actors were not considered respectable enough to consort with up-and-coming young lawyers; they refer to the play being put on by 'A company of base and common fellows.' Presumably that included one William Shakespeare.
Although, like Middle Temple Hall, Gray's Inn suffered damage from bombing in the Second World War, it's been well restored. The hammer beam roof (only a single hammer beam here) was rebuilt; but the wooden screen, said to have been built from the timber of ships in the Armada, was saved. So again, what you see is pretty much what Shakespeare saw.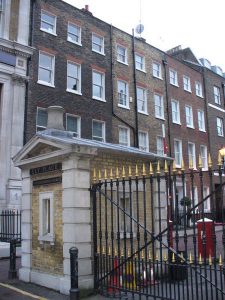 Staples Inn [TOP PHOTO], on Holborn, has no Shakespearian connection as far as I know, but it is one of the best examples of half timbered building remaining from his London. It was another of the Inns of Court in those days, before they consolidated into the four that remain today. Its long façade and many gables curve sinuously where the wood has warped with age, and the timber beams set up an insistent rhythm that beats against the whitewashed plaster between. Outside, traffic hoots and purrs its way down Holborn; but in the little court inside the Inn, it's quiet and cool, as if you'd stepped back five centuries in time.
Further down Holborn is Ely Place, and here again the Shakespearian connection is a little tenuous; it's mentioned in Richard III:
My Lord of Ely… when I was last in Holborn
I saw good strawberries in your garden there;
I do beseech you send for some of them.
This was the London palace of the Bishop of Ely; you can still see his chapel, the Gothic church of St Etheldreda. But Shakespeare being a man of the theatre, I think you would have been more likely to find him in the little pub that is tucked away down a dark little passage, drinking a pint of beer. The Mitre was originally the hostelry for the Bishop's servants, and you can still get a pint of beer here, and admire the remains of a cherry tree in the front bar round which Queen Elizabeth was said to have danced on May Day.
And there is still a Strawberry Faire in Ely Place every summer.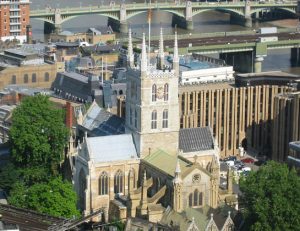 But to track Shakespeare down in the theatreland of his day, you'll need to cross the river Thames, and head to Southwark. The theatres came here because it was outside the boundary of the City of London, and so outside its restrictive by-laws. As well as the theatres, there were bear-pits, taverns, bath houses, and brothels; Southwark was where London came on holiday. It must have had something of the atmosphere of Coney Island or Blackpool.
A lot of what you see this side of the river is nineteenth century; the railway arches, the fine Victorian buildings on Borough High Street, the old warehouses by what used to be docks and wharves. But look hard and there are still vestiges of Shakespeare.
For instance in Southwark Cathedral – which was, in Shakespeare's day, just the parish church of St Mary Overy – you can find a monument to Edmund Shakespeare, the playwright's brother. When he was buried here in 1607 the family had enough money to send him off like a gentleman, with the tolling of the great bell, for which they paid 20 shillings; even so, he was buried in an unmarked grave.
Nearby is the new Globe Theatre, a rebuilt Elizabethan theatre that looks like a half-timbered gasometer. American director Sam Wanamaker had the idea of rebuilding it after a fruitless search for traces of Shakespeare's theatre; the Globe now plays both classical drama, and contemporary pieces, throughout the summer. It's an authentic audience experience; 'groundlings' are admitted for only five pounds, but have to stand in the pit throughout the performance – no sitting allowed.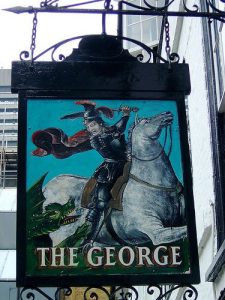 But again, I feel closest to Shakespeare in the pub. Pubs and theatre were always linked, and a number of inns' courtyards served as impromptu theatres, with actors performing on a cart in the yard, and the audience leaning over the balustrades of the galleries all around.
Southwark's inns and taverns were notorious. Borough High Street was the main road south out of London; the Tabard tavern was where Chaucer's Canterbury pilgrims began their journey. Shakespeare sets Jack Cade's plea in Henry VI Part II at the White Hart, and there's a strange back-story link too; Sir John Fastolf, the 'original' of Falstaff, owned a tavern just down the road, the Boar's Head. Though most of the taverns have gone, the names of the little alleyways that run off the High Street still commemorate pints sunk and pubs past.
Head for the George and you'll see a rare survival; the last galleried inn in London. What you see dates from 1676, and is only one wing of what would have been three, surrounding the entire yard; but what you see probably isn't very different from the inn Shakespeare might have known, since the rebuilding was faithful to the original design.
And the George might not be a bad place to stop. But I'm off up the road, to the Market Porter in Borough Market, for a bag of crisps and a pint of porter – or as Shakespeare might have said, cakes and ale.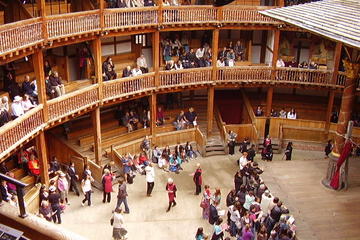 Shakespeare Walking Tour in London
If You Go:
Tube stations for the tour: Temple; Chancery Lane; London Bridge.
Photo credits:
Staple Inn: Edwardx / CC BY-SA
Lincoln's Inn, off Lincoln's Inn: Mike Quinn / Gateway to Lincoln's Inn, off Lincoln's Inn Fields, WC2
Prince Henry's Room 17 Fleet Street: User:Mahlum / Public domain
Gatehouse, Ely Place: Colin Smith / Ely Place
Southwark Cathedral: Kevin Danks / CC BY-SA
George Inn pub sign: Nickfraser / CC BY-SA
About the author:
Andrea Kirkby has been traveling since her grandfather took her off to Bergen and Hardangerfjord at the age of nine. She has walked to Santiago de Compostela, climbed Oman's highest mountain, and drank an awful lot of Belgian beer. After too many years in investment banking, she now works as a freelance writer – and has more time for traveling, by plane, train, 2CV and camel.