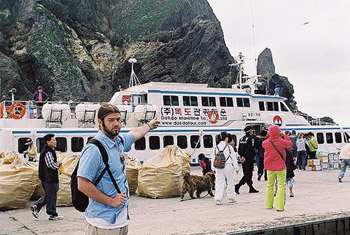 by Jonathon Engels
I had never heard of Dokdo, not even by the English name of Liancourt Rocks, until one of my six-year-old students explained to me the significance of his pencil. There was an insignia "I love Dokdo" on it in the same fashion of the New York t-shirts. In six-year-old, slightly garbled EFL-speech, he explained the following:
Dokdo is easternmost entity of Korea, at least disputably. The two tiny islands, a little more than a twentieth the size of New York's Central Park, are situated between mainland Korea (135 miles/217 kms) and Japan (155 miles/250 kms). Obviously, in such a situation, both countries are claiming ownership. Japan refers to the islands by yet another name: Takeshima.
My first question, of course, was why two grown countries would be fighting over two rocks in the middle of sea. The answer I got, as seems to be the case in many international disputes, was oil-related. Though no discovery had been made, it was highly suspected vast quantities of natural gas rested off the islands' shores. For the time being, the stupendous fishing around Dokdo was reason enough.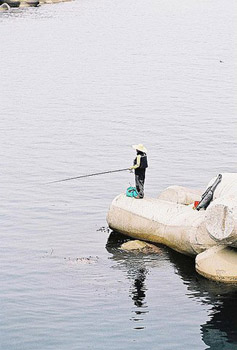 So, when I noticed that Adventure Korea, the Seoul-based travel agency for miguks (Korea's version of gringos), was hosting a trip to Dokdo, I seized the day.
While my students all hearted Dokdo, none of them had been. From Seoul, the trip there takes all-day. The island has had only two permanent residents in its history, a husband and wife subsidized by the Korean government and whose home was destroyed by waves, so as another deterrent, you arrive knowing you'll have to leave soon thereafter. There's nowhere to stay.
It's a hell of journey, busing across the country then riding the high seas for several hours to Ulleungdo. As our boat pitched to and fro, the absence of Dramamine became fairly apparent. Under ten, our tour group was tiny compared to other Adventure Korea outings. It seemed but a small percentage of the adventurous were willing to make this trip.
After three hours of tidal roughhousing, the boat pulled into Ulleungdo. At fifty-four miles (87 kms) away, it's the nearest truly inhabited island to Dokdo and notably closer than Japan's Oki Island, nearly twice that distance. These are facts that do not go unnoticed in the dispute.
My problem was that it meant after nearly eight hours of travel, I'd have to get on another boat. Though we were staying three days on Ulleungdo, a magnificently secluded destination in the Sea of Japan (or East Sea as it is known in South Korea, or East Sea of Korea as it's known in the North), our guides had arranged the now-or-never Dokdo extension for the day of our arrival. I hadn't come all this way to not see this place, so with only the time it took to drop off my bags, I was back aboard a vessel and headed out to sea again.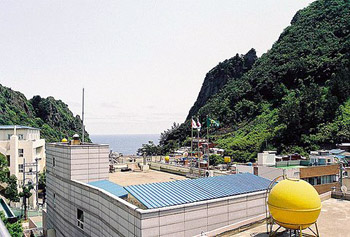 Getting to Dokdo was going to take three hours round-trip. And, because the seas were rough, like thousands of other annual tourist, it was doubtful we'd even get to dock and set foot on Dongdo, the eastern of the two islets that compose the bulk of Dokdo. Seodo, to the west, is a conical rock that doesn't even have a place to land. The rest of the territory is composed of eighty-nine "islands" that could be mistaken for boulders that have rolled into the water.
As the tour circled the islands, cameras went mad. Even though Dokdo was underwhelming, barren stone splattered in bird droppings, we'd all undergone hours of travel to get there. Whatever the islands looked like, years of conflict have ensued over them. Serious national pride was on the line out there in the middle of sea, where hardly a soul was watching.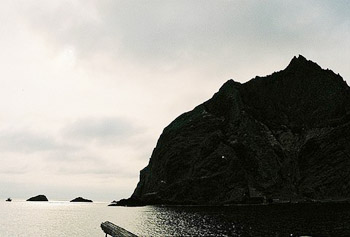 We got lucky in that the boat rocked its way next to the little concrete slab port where Korean police changed shifts and offloaded cases of soft drinks and snacks. Tourists are prohibited, but up the steep face of Dokdo, there is a path leading to the island's lone dwelling, used by the border police. It appeared a rather drab existence.
Even so, around thousands of Japanese who don't live there annually claim residence on Takeshima and nearly 900 Koreans on Dokdo. In 2005, when Japan introduced a new national holiday, Takeshima Day, Koreans protested and demonstrated to the point of a mother and son amputating their own fingers and man setting himself alight. In 2006, the "Dokdo Riders" set out on a global tour to raise awareness.
It's one of the rare contentious places I've been, and the most the difficult to get to, where I left feeling less stirred by the conflict. Strangely, I don't regret the journey at all.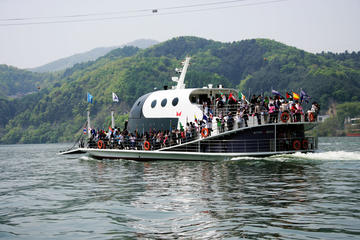 Magnificent tourist attractions in South Korea ! Nami Island & Petit France
If You Go:
For more about the history and controversy surrounding Dokdo/Takeshima or for more on tourism in Ulleungdo, these links will provide you with all you need to know.
Getting There: Because the islands are far away and trips to them infrequent, I recommend joining a tour group. Adventure Korea (www.adventurekorea.com) and WinK Travel and Culture Group (www.meetup.com/travel-715) are good options.
If you want to try on your own, here's the info you'll need. For more on the history and conflict surrounding Dokdo, Takeshima, or Laincourt Rocks, visit: www.dokdo-takeshima.com
About the author:
Jonathon Engels, a patron saint of misadventure, has been stumbling his way across cultural borders since 2005 and is currently living in Antigua, Guatemala. For more of his work, visit his website and blog (jonathonengels.weebly.com) or pick your social network of preference: Facebook (www.facebook.com/jonathon.engels), Twitter (twitter.com/JonathonEngels), or LinkedIn (www.linkedin.com/pub/jonathon-engels/24/a90/394).
All photos are by Emma Gallagher.